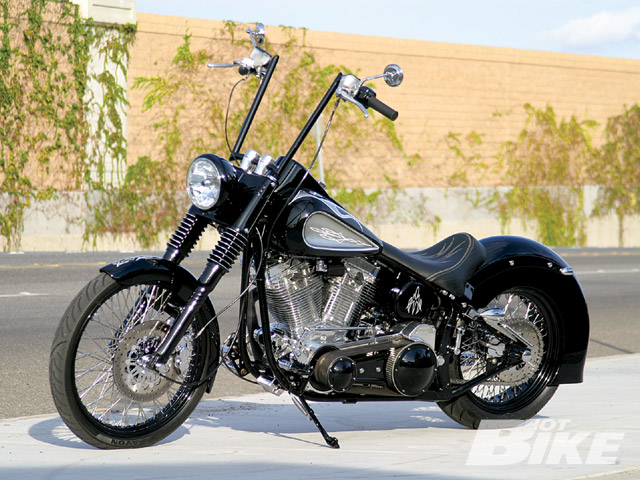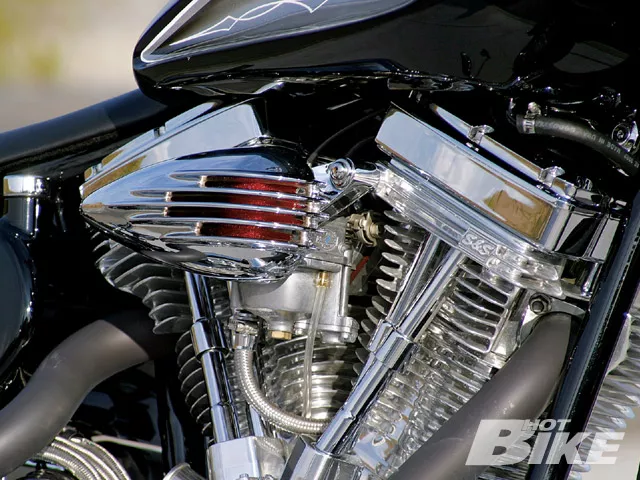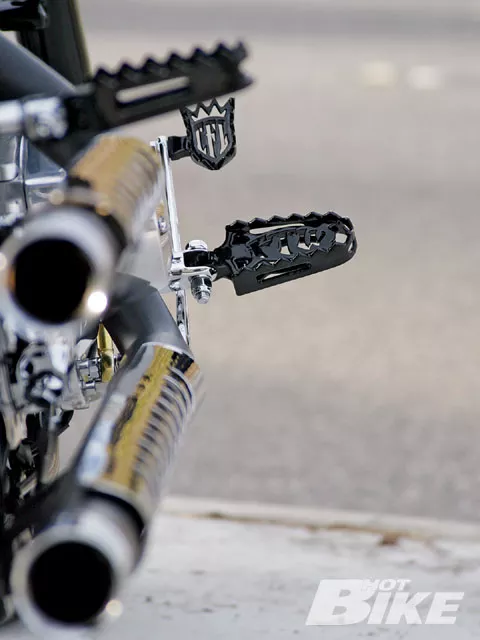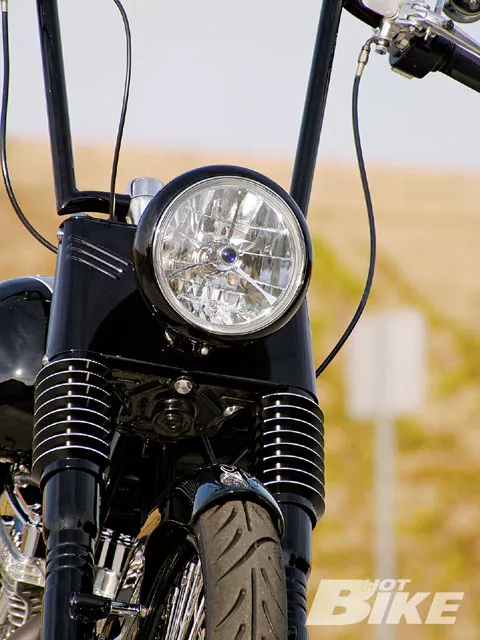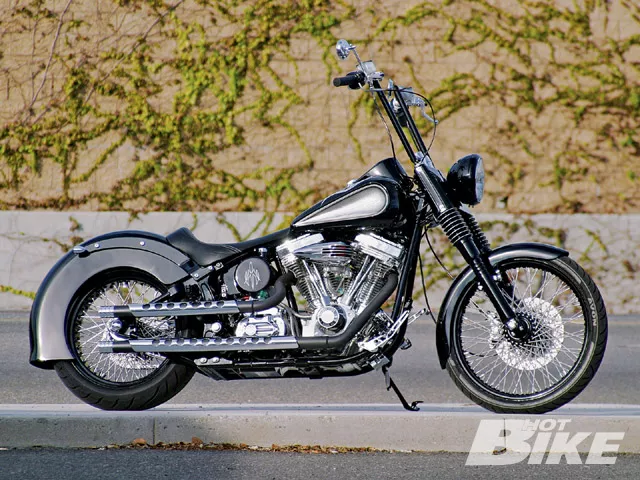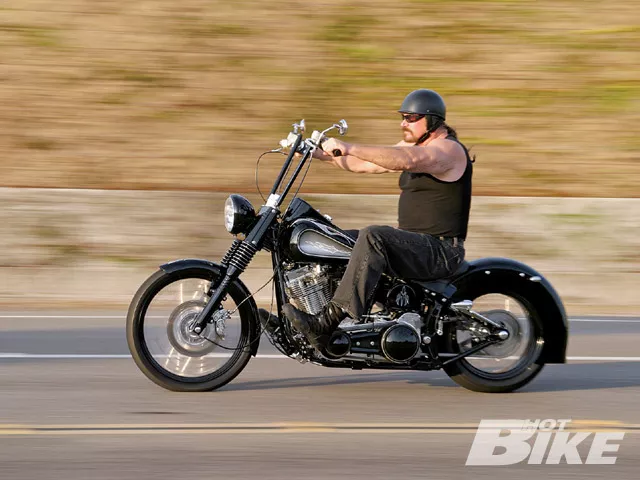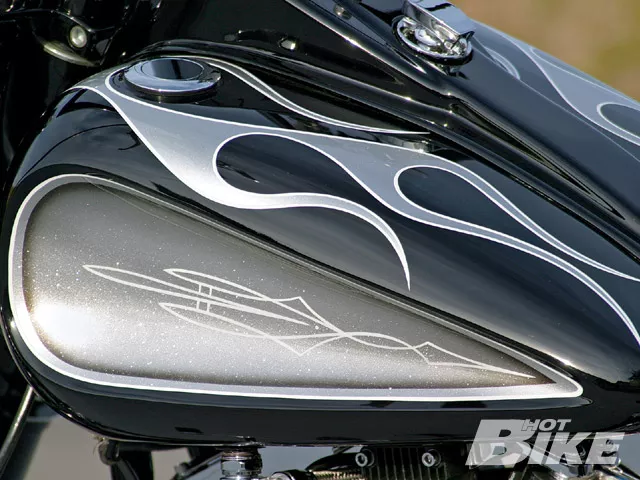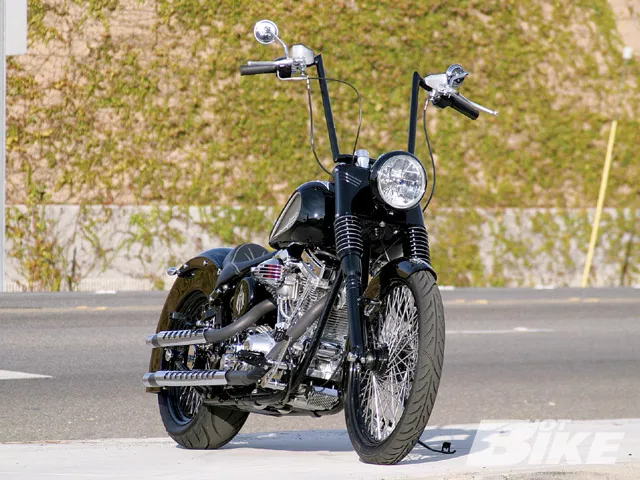 In the Vol. 41, No.6 issue of HOT BIKE we ran an Under the Radar article on Illusion Motorsports. In that article we showed you a pic of one of the shop's recent creations, a made-over and hopped up 1991 Heritage Softail. We threatened we were going to give you a full feature on the bike so you could get a better look at it, well, here it is.
This bike started out as a stock 1991 Heritage Softail. Mark Lipp has owned the bike since it was new. Of course like most of us Mark had made a few changes like pipes and what not, but then after many years and many thousands of hard riding miles, Mark decided it was time to give the bike a face-lift. Mark had heard stories about some of the outrageous creations coming out of Illusion Motorsports in Westminster, California, so last year he decided to go see for himself. While checking out some of the tricked out bikes at the shop, Mark's blood began to pulse through his veins as goose bumps ran down his neck and arms when he envisioned his bike evolving into something like one of the jaw-dropping customs sitting before him. From that point on, Mark's original idea of just doing a "few" upgrades quickly grew into a major bike build, which led to a long discussion with shop owners Rod and Rusty.
If you ever have a chance to meet Mark one of the first things you'll learn about him is that he doesn't do anything half-assed. Mark likes cars and bikes and when he decides to do something, he does it right. So naturally when it came to freshening up his ol' gal, Mark wanted nothing but the best components.
The bike was completely torn down to the frame and the re-build was ready to go. The old Evo was replaced with a polished 124ci S&S; engine hooked up to a Primo 3-inch belt drive. To get the power from the trans to the rear wheel a 530 O-ring chain was used while stopping duties were left up to an Exile Sprotor. The frame was up and rolling with a set of Ride Wright 80-spoke wheels wrapped in Avon rubber. Next, new fenders were cut and narrowed so there wasn't more than a 1/4 inch of clearance from the sidewalls on the tires. Then the stock H-D tank was hacked, hammered, and re-welded so that it had dished sides. The H-D fork slider covers were sent out to get coated in black and when the Illusion guys reassembled the frontend they added a pair of Ness Black Diamond Cut Fork Boots to match the black ball-milled and machined lower legs. The headlight nacelle was also doused in black and an Adjure Trillient headlight was installed.
Pretty much everything on Mark's bike was upgraded; West Coast Choppers FTW forward controls, a Brembo front caliper and rotor as well as Brembo brake and hydraulic clutch master cylinders, and a custom fitted Hi-End seat were added. Even the rear fender struts were re-contoured to fit the rear fender perfectly.
After four months of down time, Mark's bike was finally ready to rip the SoCal streets again. For a guy like Mark who has high expectations for anything he does, he was more than satisfied with how the bike turned out, which only makes sense because fitment and function are key elements at Illusion. As you can see Rusty and Rod enjoy their work.
| | |
| --- | --- |
| SPECS | |
| BIKE OWNER | Mark Lipp |
| SHOP NAME | Illusion Motorsports |
| SHOP PHONE | (714) 894-1942 |
| SHOP WEBSITE | illusionmotorcycles.com |
| YEAR/MAKE/MODEL | '91 HD Heritage Softail |
| FABRICATION | Rod and Rusty at Illusion |
| ASSEMBLY | Rod and Rusty |
| BUILD TIME | Four months |
| | |
| --- | --- |
| ENGINE | |
| YEAR/MANUFACTURER | '08/S&S; |
| TYPE/SIZE | EVO/124ci |
| BUILDER | S&S; |
| CASES | S&S; |
| CYLINDERS | S&S; |
| HEADS | S&S; |
| ROCKER BOXES | S&S; |
| CARBURETOR | S&S; G Series |
| AIR CLEANER | Speedline |
| EXHAUST | Illusion |
| | |
| --- | --- |
| TRANSMISSION | |
| YEAR/MANUFACTURER/TYPE | '08/{{{Prowler}}} six-speed |
| CASE | Prowler |
| CLUTCH | Primo |
| PRIMARY DRIVE | Primo Brute 5 |
| | |
| --- | --- |
| FRAME | |
| YEAR/MANUFACTURER | '91 H-D |
| RAKE | Stock |
| STRETCH | Stock |
| | |
| --- | --- |
| SUSPENSION | |
| MANUFACTURER FRONT | H-D |
| LENGTH | H-D |
| TRIPLE TREES | Stock |
| MANUFACTURER REAR | Shotgun Shocks |
| SWINGARM | H-D |
| | |
| --- | --- |
| WHEELS, TIRES, AND BRAKES | |
| MANUFACTURER FRONT/TYPE | Ride Wright/{{{80}}} spoke |
| SIZE-HEIGHT/WIDTH | 21×2.15 |
| TIRE/SIZE | Avon/80/{{{90}}}/21 |
| CALIPER | Brembo |
| ROTOR | Brembo |
| MANUFACTURER REAR/TYPE | Ride Wright/80 spoke |
| SIZE-HEIGHT/WIDTH | 18×5.5 |
| TIRE/SIZE | Avon/180/55/18 |
| CALIPER | Exile Sprotor |
| | |
| --- | --- |
| FINISH/PAINT | |
| COLOR | Black, Silver |
| PAINTER | Luke the Painter |
| GRAPHICS | Flames and Metalflake |
| PLATING/POLISHING | Sport Chrome |
| POWDERCOAT | Specialized Coatings |
| | |
| --- | --- |
| ACCESSORIES | |
| FRONT FENDER | Tombstone/Illusion |
| REAR FENDER | Ness/Illusion |
| FENDER STRUTS | Ness |
| GAS TANK∩ | H-D/Illusion |
| OIL TANK | Custom Chrome |
| DASH | Ness |
| GAUGES | Police Special |
| HANDLEBARS | Monkey Style |
| RISERS | West Coast Choppers/Illusion caps |
| MIRRORS | Round |
| HAND CONTROLS | Brembo/H-D |
| FOOT CONTROLS | West Coast Choppers |
| FOOTPEGS | West Coast Choppers |
| LICENSE MOUNT | Yaffe |
| SEAT | Hi-End |