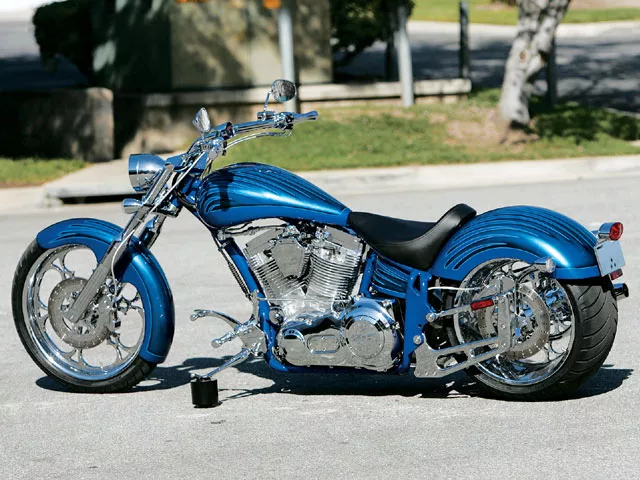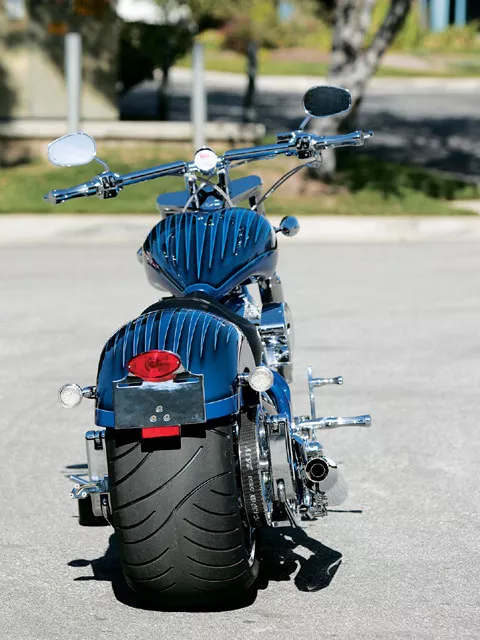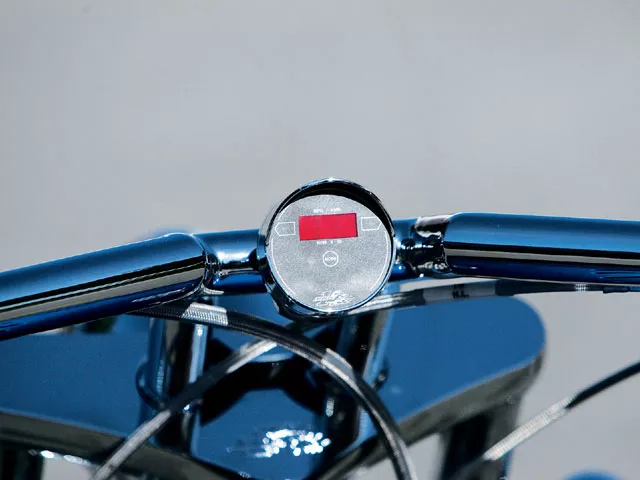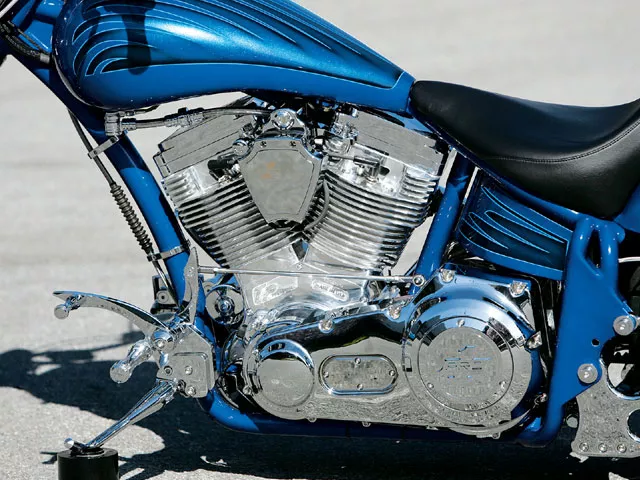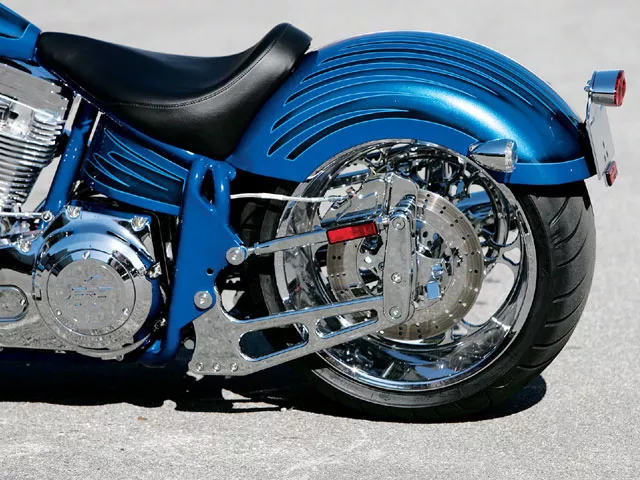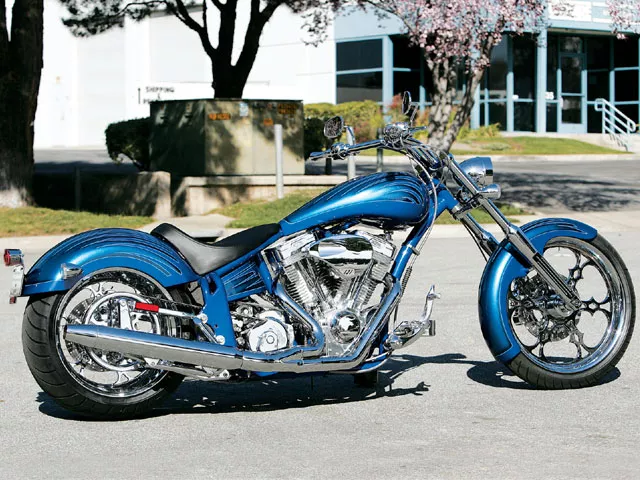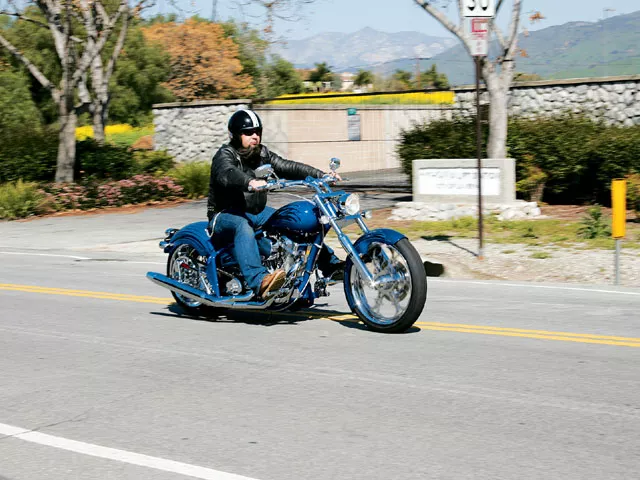 When you think about custom billet parts for your Harley-Davidson or custom V-Twin motorcycle, Pro-One Performance in Pomona, California, should be at the top of your list. Starting back in 1989 with a small eight-page catalog and around 90 parts, Pro-One has grown to a huge warehouse with a full line of quality billet products and a line of motorcycles; something for everyone. However, aside from parts Pro-One also has its own line of production bikes: two chopper models and two Pro-Street models available for sale in the U.S., Canada, and Australia.
A few weeks ago we were invited to Pomona to test ride one of the Pro-Quad chassis bikes. This isn't a new setup; actually this chassis has been around since 1998 with stock-size tires but has grown up and now runs on a 10-1/2-inch wheel with 300mm Avon rubber. The Pro-One team designed the Pro-Quad chassis to handle the power of today's high-horsepower big-inch motors. We asked owner Steve Seidner to explain the Pro-Quad chassis: "The Pro-Quad chassis four-link rear suspension system is modeled after the four-link systems used on most high-performance pro-class drag cars. The quad link system puts the parallel link arms into compression and/or tension under hard acceleration or braking. Stock swingarms tend to bend or flex under these conditions, which can result in unstable suspension reaction. With the four-link design, the arc of the rear axle is improved and the theoretic pivot point of the swingarm is moved further to the front of the bike resulting in a more accurate and effective transfer of power to the ground."
The Pro-Quad chassis is offered in a chopper and a Pro-Street model. The bikes are built in-house with mostly Pro-One parts. The Pro-One Quad frame comes with a 38- or 40-degree rake in the neck with a 5-inch backbone stretch and is designed to accept a 280 or 300 rear tire with an 18×10.5-inch-wide rim. All frames are powdercoated color-matched with custom-painted sheetmetal, and the rear section is all triple-plated show chrome. All four bikes are offered with a 114ci TP motor with a no-charge optional upgrade to 121ci. They also feature an RSD Baker six-speed transmission and a 3-inch open belt primary. You can also choose from conventional or inverted forks. In addition, all of the bikes feature Pro-One chromed billet aluminum wheels with matching pulleys and brake rotors as well as a wide range of paint and seat options.
Once we got to the shop and pulled the helmets from our heads we could see the colorful blue paintjob on the Pro-Quad Dominator just waiting for us to ride. At first the frame is not what you are used to seeing-we stopped and looked over the bike some more. In no time we were in the saddle, turning the key, and dropping it into gear. At first the roads we headed out on were smooth and the bike felt the same. There was plenty of power pouring out of the 121ci TP motor. As we hooked a left, the street before us was under construction with potholes, steel plates, and loose asphalt everywhere. To our delight, the once-smooth road still felt that way. The manner in which the bike traversed this mess left a light feeling on both our hands at the bars and lower back and seat. The frame seemed to move and flex as needed. The next leg of our trip took us out through the San Bernardino Mountains with more than 31 miles of countless switchbacks and tight turns. The bike was a joy to ride with good ground clearance and easy maneuverability into turns at the handlebars. We didn't have to muscle the bike to lean into the turns even with the wide rear tire of the bike. As we headed back, we were able to hit some open highway and really pull back on the throttle. We opened up the motor and sailed through all six gears. Overall, it was a very nice ride with a lot of power and a different look. It may not be for everyone but if you are looking for that "something different" this may just be it.
Our test bike retails for $37,500. For more information, contact Pro-One at (800) 884-4173, or visit www.pro-one.com.
| | |
| --- | --- |
| PRO-ONE PRO-QUAD PRO-STREET | |
| Model | Dominator |
| Engine/Displacement | TP/121ci |
| Induction | 45mm Mikuni carburetor |
| Primary Drive | Chain |
| Clutch | Baker/wet |
| Transmission | Baker Drivetrain |
| Final Drive | 65-tooth, 1-1/8 drive pulley |
| Front Brake | Pro-One billet calipers |
| Rear Brake | Pro-One billet calipers |
| Front Wheel | 21×3-1/2 front Pro-One |
| Rear Wheel | 10-1/2 Pro-One |
| Front Tire | 120-70×21 Avon tire |
| Rear Tire | 300mm Avon |
| Frame Rake/Stretch | 38 degrees/4 back, 2 up |
| Fuel Tank | 4-gallon Pro-One |
| Seat Height | 25 inches |
| MSRP | $37,500 |