Mark Rankin's bike collection is a case study for own purpose-built motorcycles. He's got his cruiser (1999 FLH), his Dyna (2000 95-inch FXD), and then he has his hot bikes: a 2002 90-inch XL and a 1998 Hammer XL punched out to 1250cc. "I like the carburetor bikes," he says. "My personal history includes approximately 10 years of racing experience in the 1990/2000's with AMRA in the Super Modified Class and I worked as a H-D mechanic for 5 years at an aftermarket Harley-Davidson repair shop." Right now, he's employed as a Social Worker for a large regional hospital in Grand Rapids, MI. The moto side of the Force is still strong with Rankin, however, as you can see from his two Sportsters below.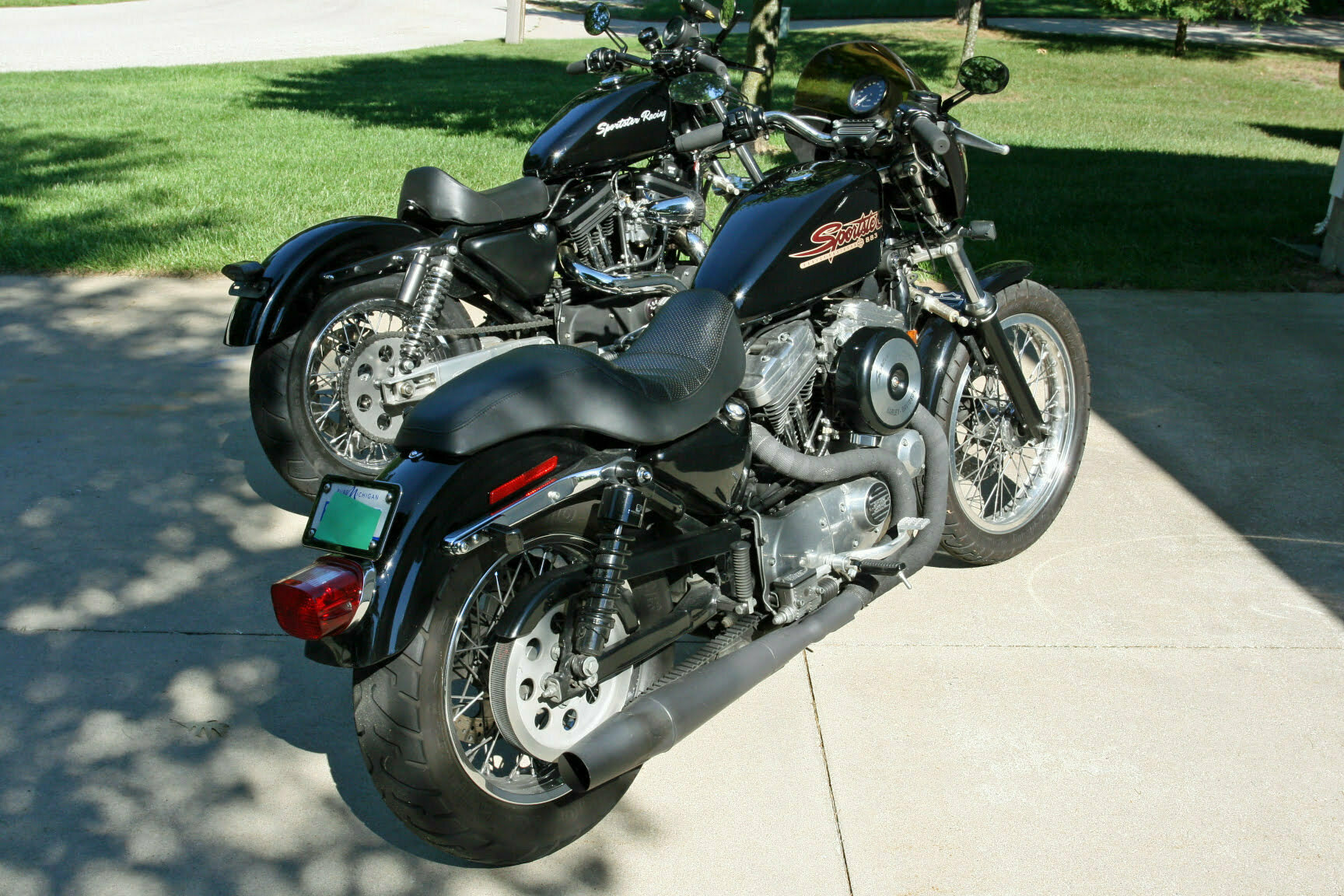 Rankin's 98 Sportster has a stock bottom end (except for Red Shift 567 cams) topped with the 1250cc Hammer cylinders and pistons, running at 10.5:1 compression The 1200 Harley-Davidson heads atop the mill are ported with high lift springs and valves. JIMS solid lifters with S&S roller rockers, Zipper adjustable push rods and tube cover kit, Thunderheader pipe, and a Mikuni 42 mm flatslide carburetor round out his beefed-up powerplant. Other features include lightweight spoke wheels with aluminum rims shod with Shinko tires and Twin Tech ignition with Accel coil. Mark Rankin's way more about performance than style.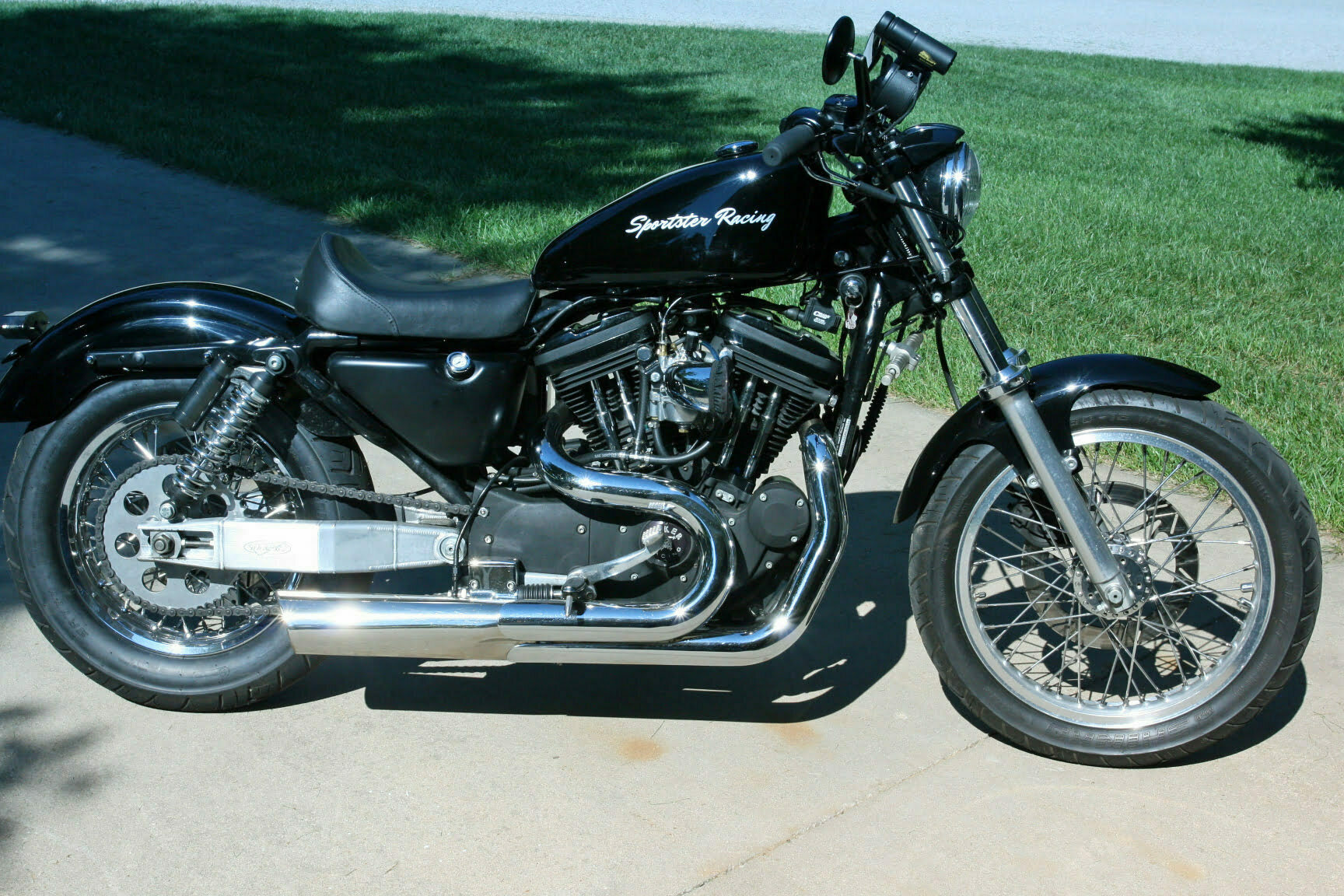 Here we see Mark's 2002 XL 90 Inch. It started life as 2002 883R which he bought in 2013 from a mechanic at Harley-Davidson of Madison, WI. Back then it had a Zipper 1250 Super Hammer kit in it and it was the standard stock orange color. The next year he sent the bottom end out to Dark Horse in WI and had them bore the cases for the 88/90 inch Axtel cast cylinders, install S&S rods, and balance the bottom end. Dan at NRHS reworked the Buell Thunderbolt heads for an 88 inch at 10.5:1 compression. "Then last winter I had Dan Norlin at Hammer port the heads and bore the cylinders for it's current 90 inch configuration" which includes the following:
Axtel cast 90 cylinders with .35 squish band

High dome Hammer pistons with 12:1 compression

643 Red Shift cams

Jims solid lifters with S&S roller rockers

Zipper adjustable push rods and tube cover kit

Buell Thunderbolt heads ported by Hammer

S&S "G" carb with Thunderjet and Carls air horn

Trac aluminum swing arm extended 2 inches

Bitwell tracker bars, grips

Autometer shift light with AEM fuel/air ratio gauge

Lightweight spoke wheels with aluminum rims with Shinko tires

Andrews transmission gears

Pingle electric shift kit, Pingle powerflow gas valve

Sumac rear fiberglass fender, Ultma Shootout solo seat

Ness front ABS fender

Bitubo piggyback rear shocks

Chain conversion

Patriot and Bassini exhausts

Twin Tech ignition with Crane coil

Front stabilizer shock with fork brace

465 pounds with fluids

Custom paint by Guy Weersing from Muskegon, MI
Mark tells us it runs 10.9's/11 seconds flat in the 1/4 mile.
Like what you see here? Then you'll love our custom bikes section.