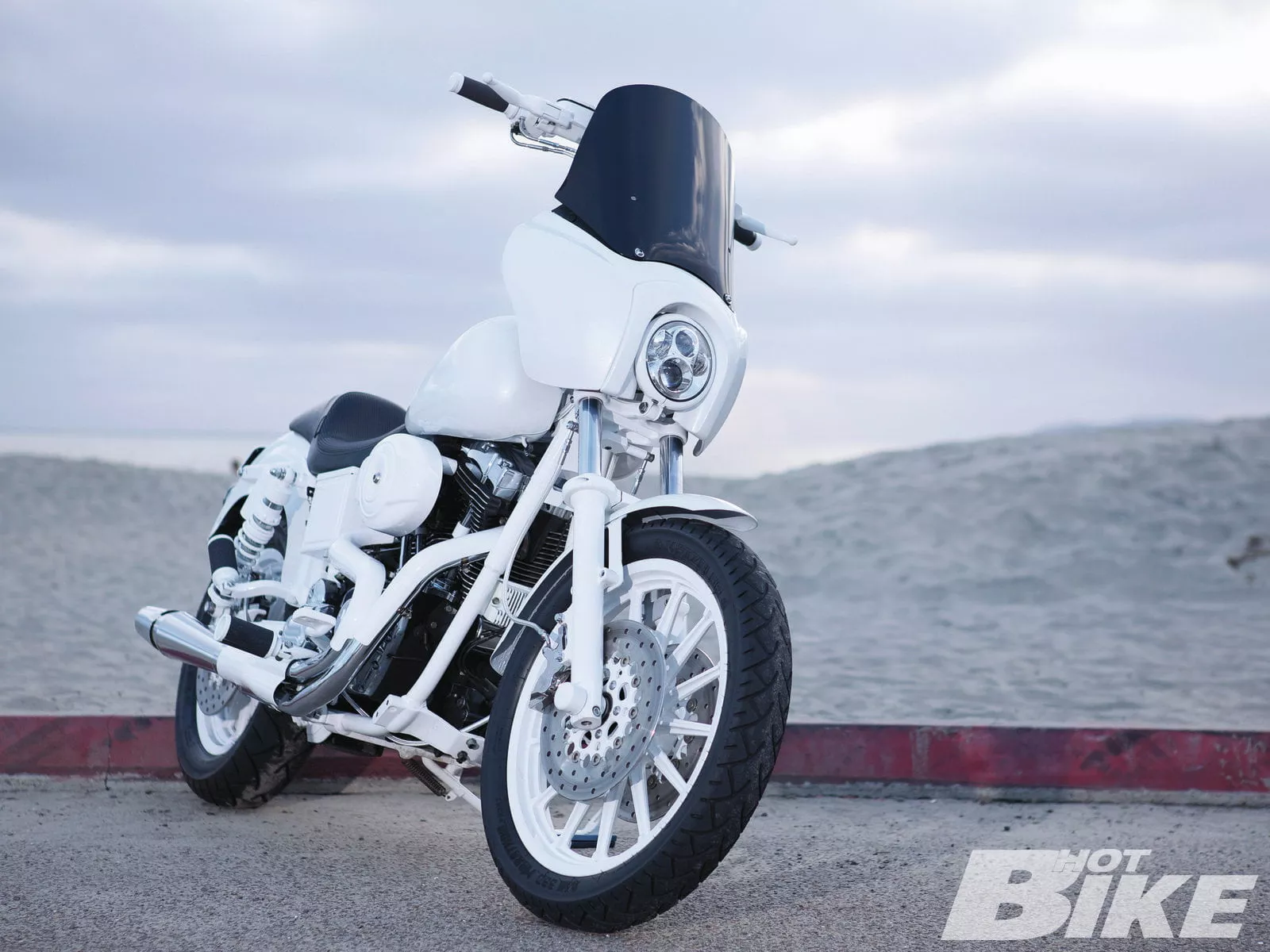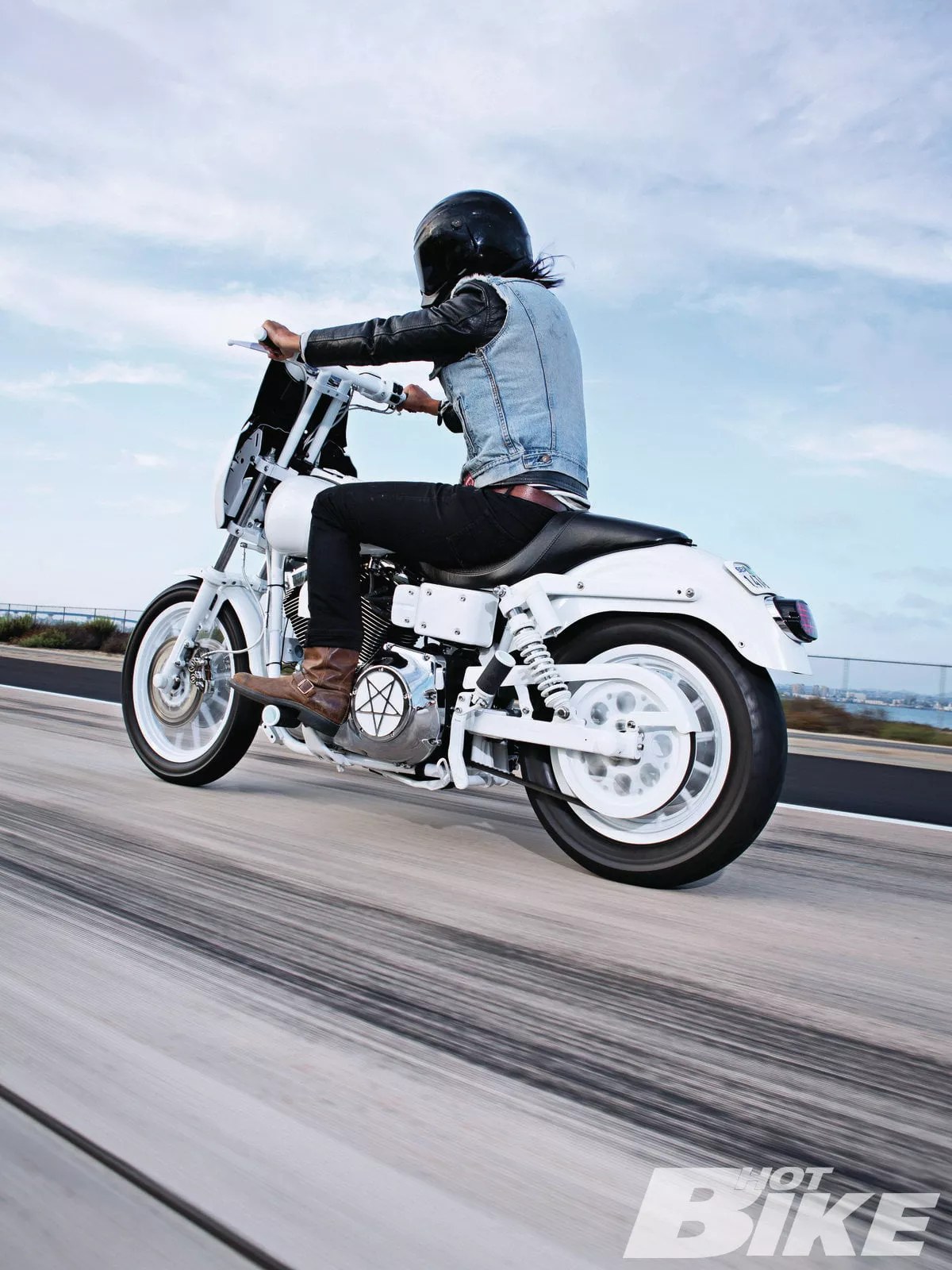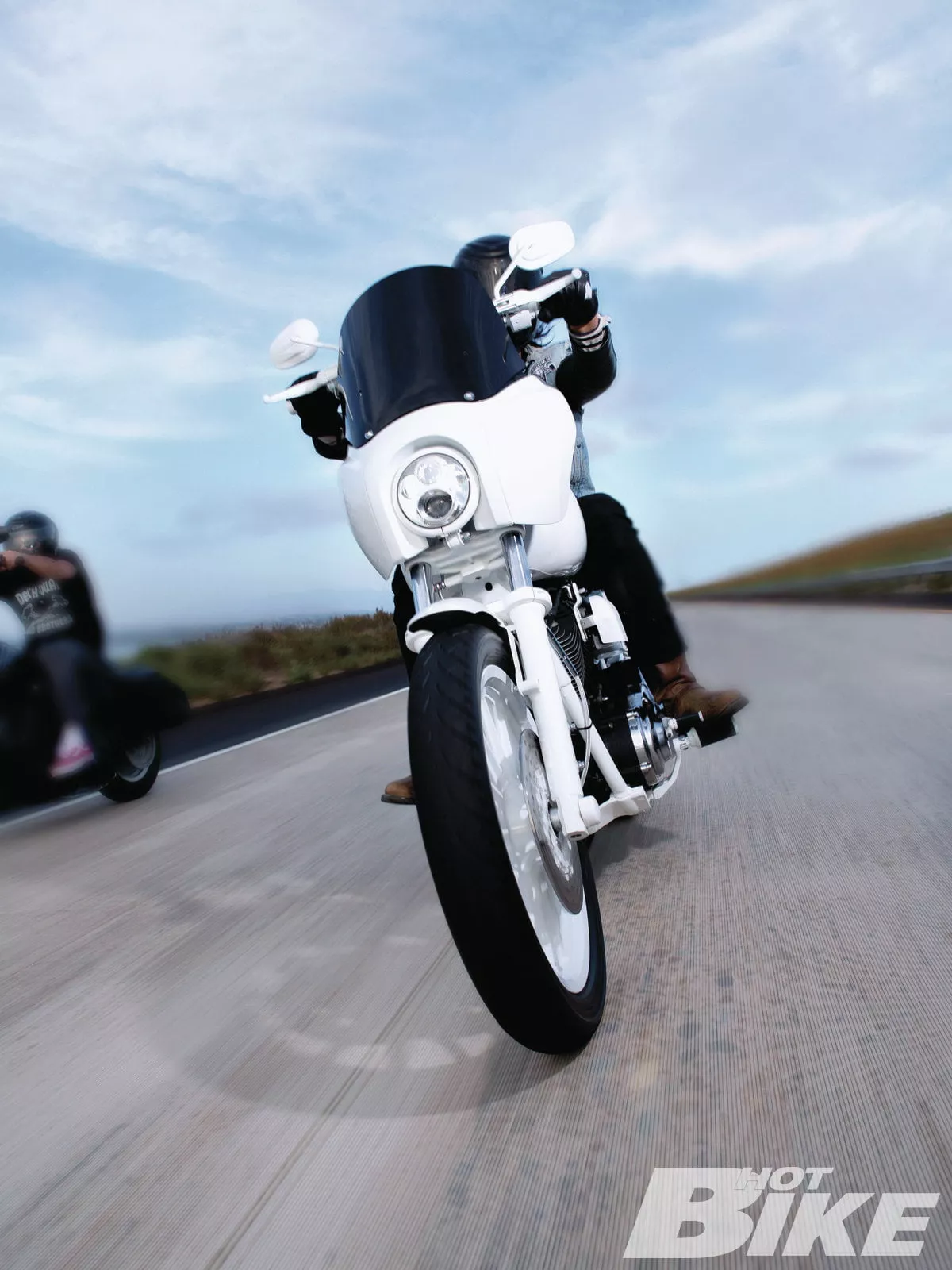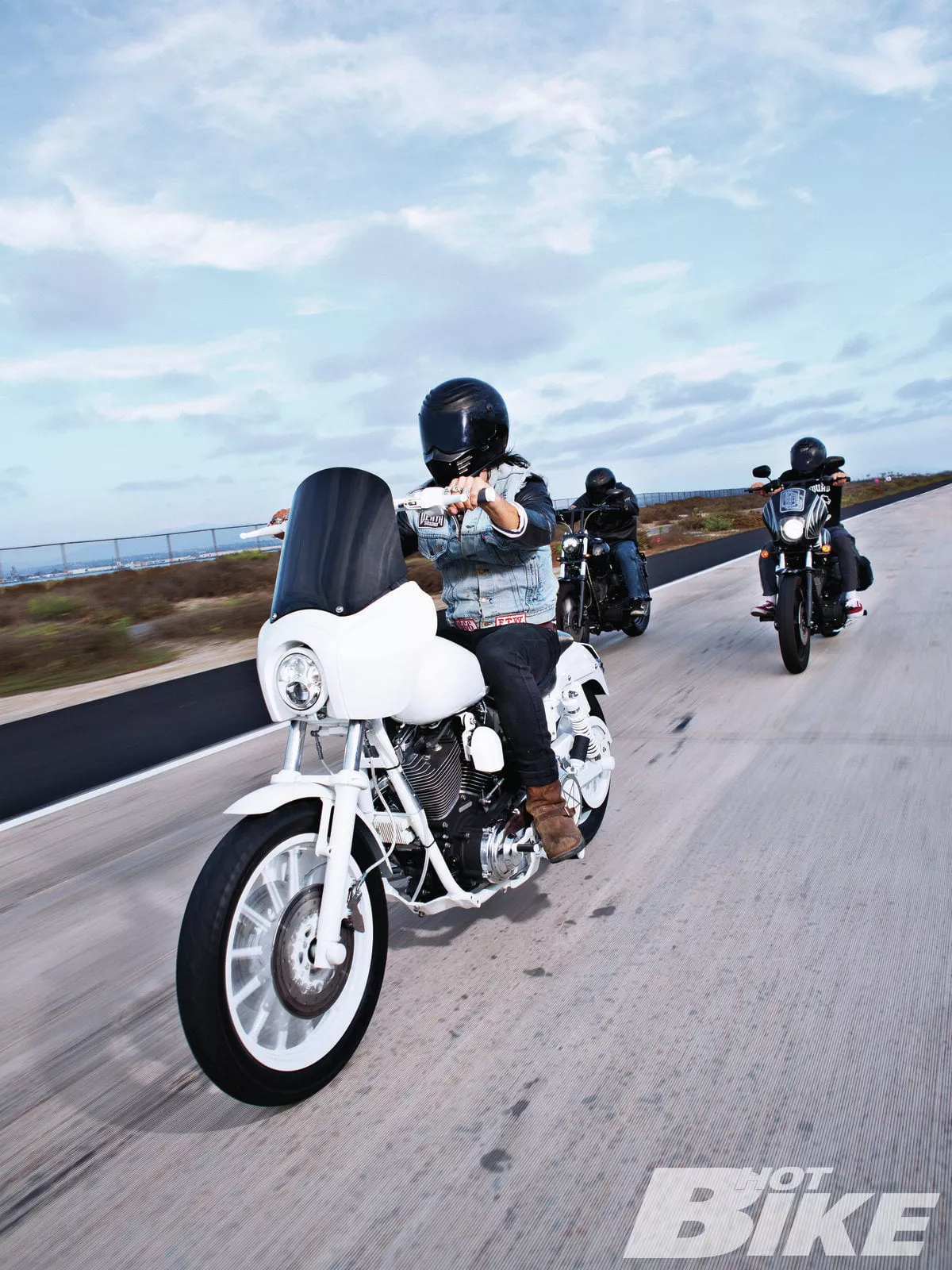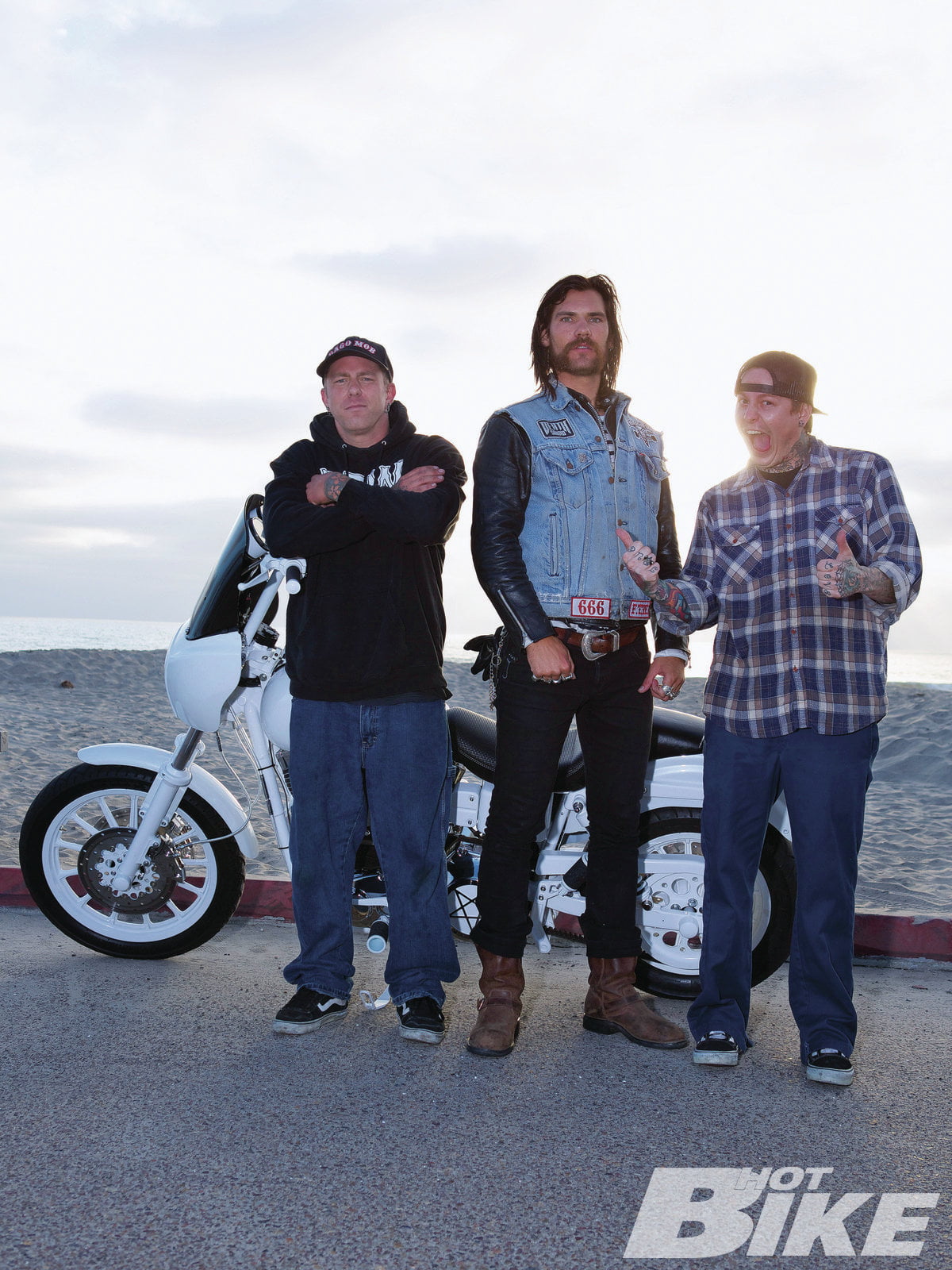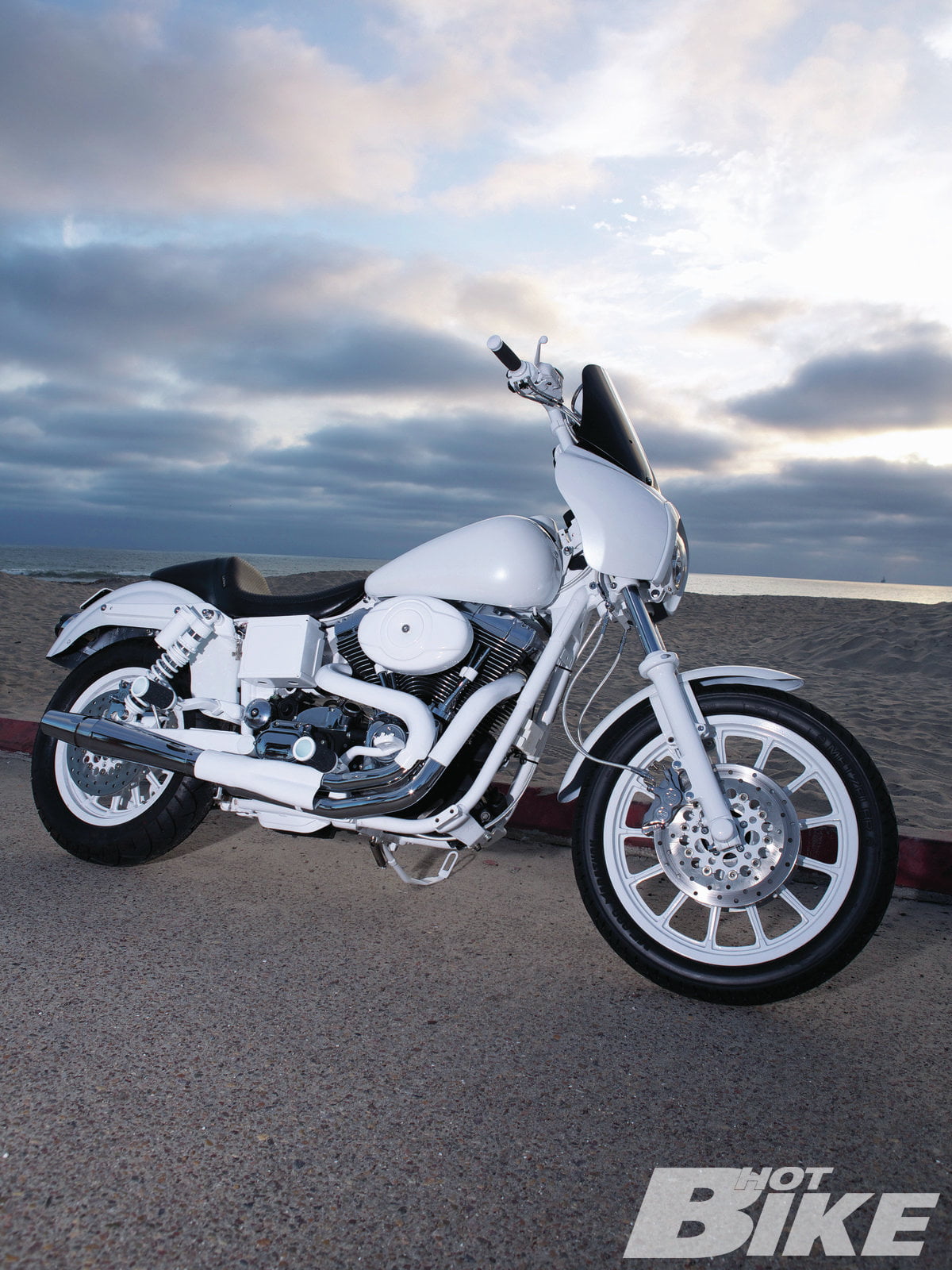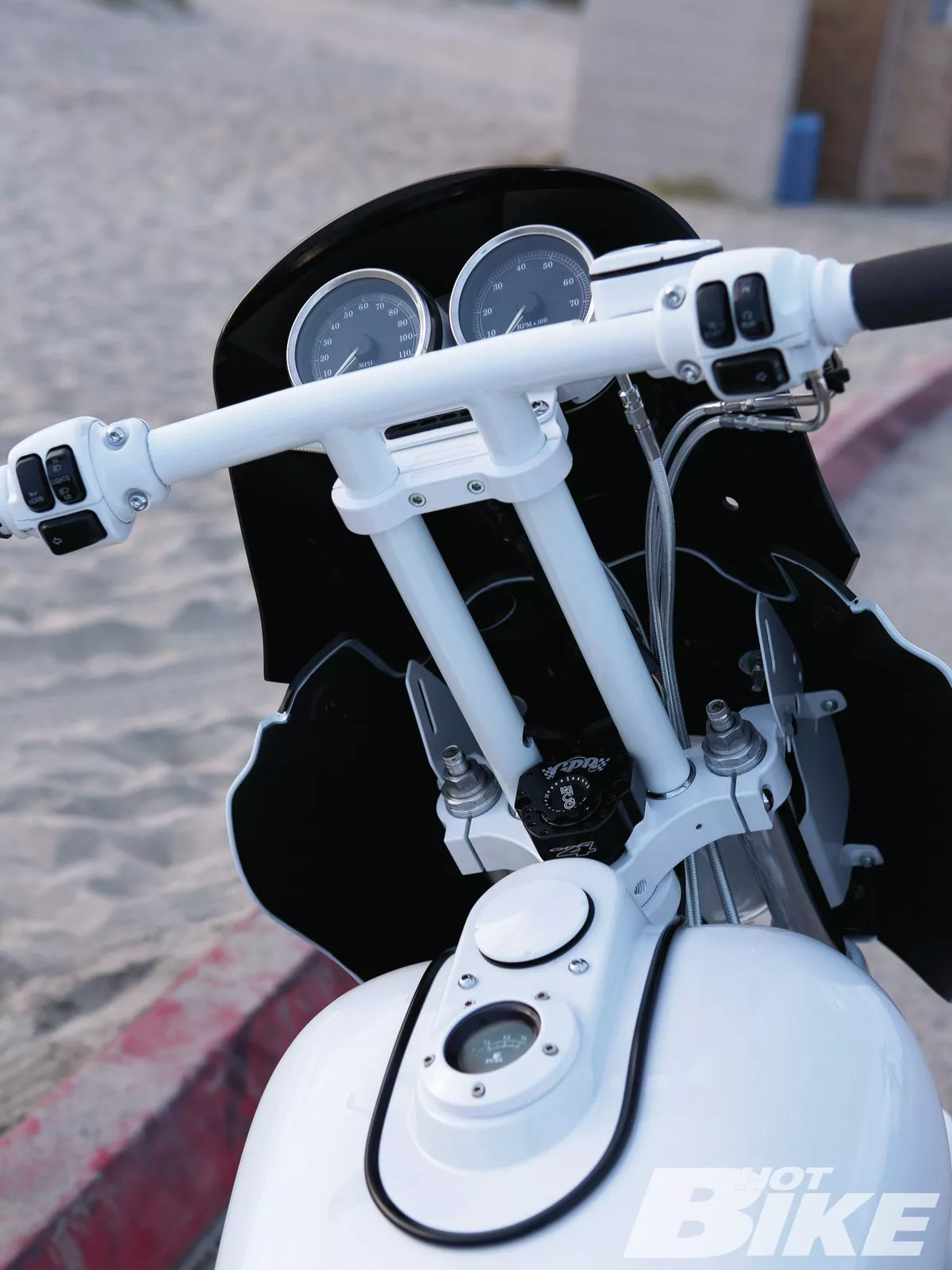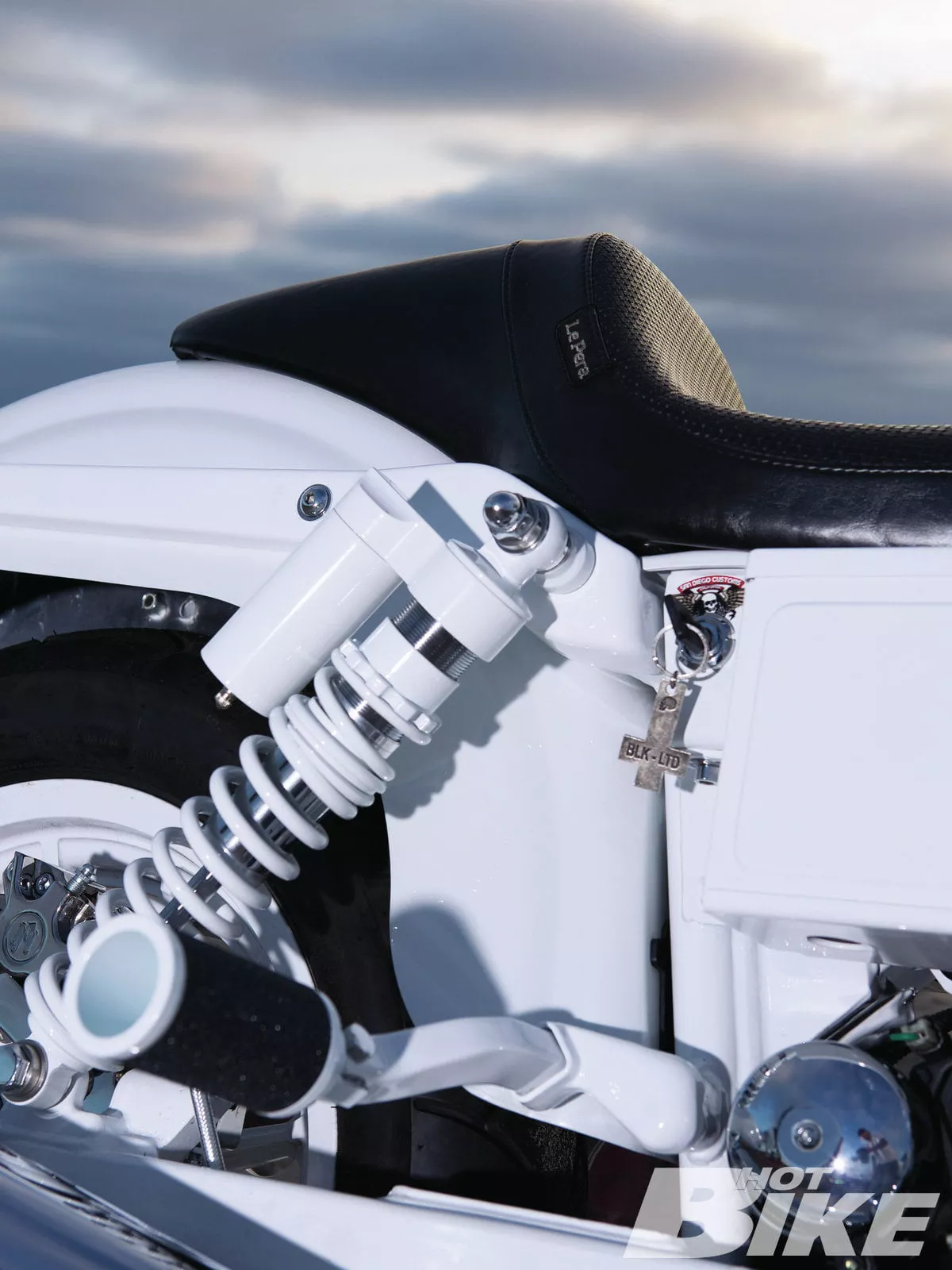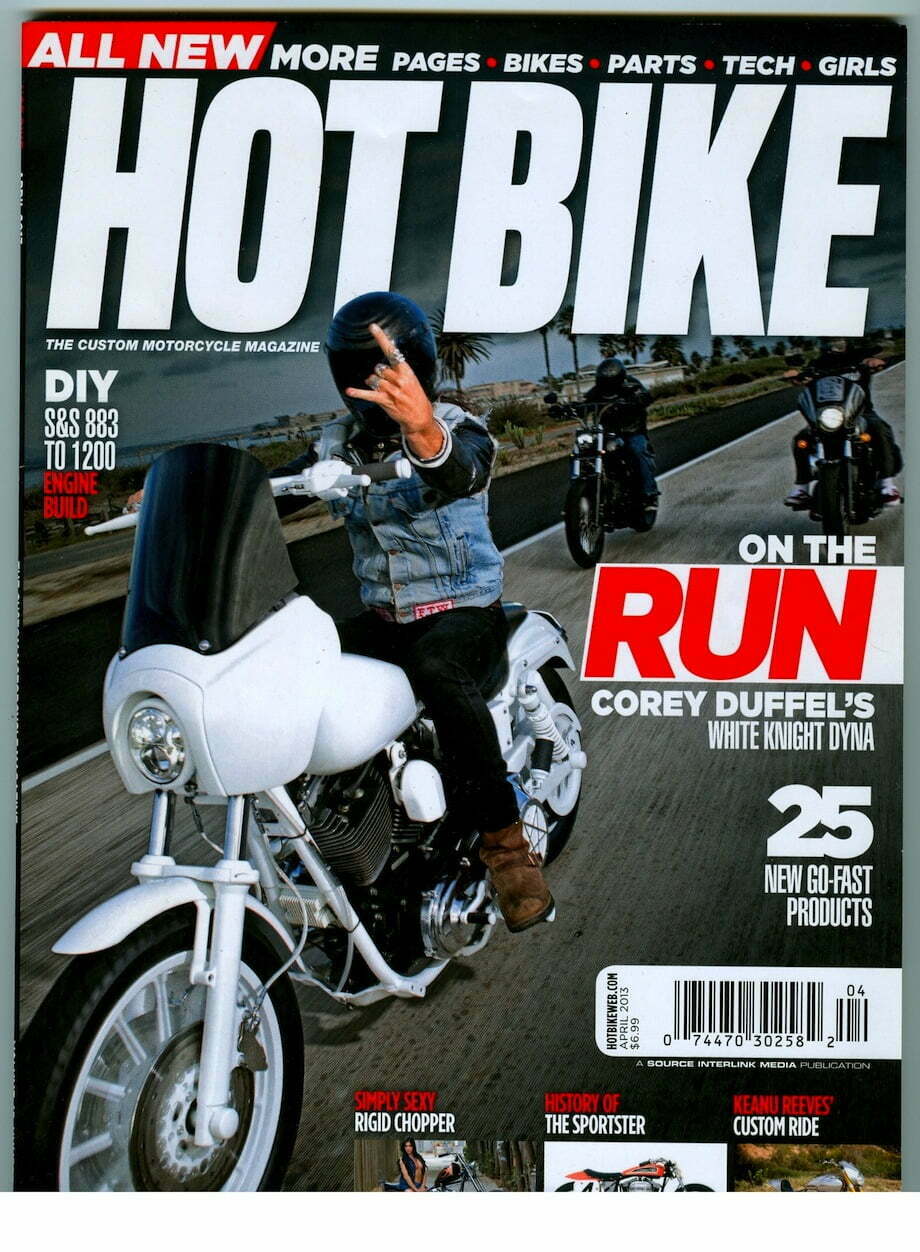 Blacked out. Murdered out. Monotone. It seems like chrome and black are the yin and yang of the custom world and are at a constant battle in popularity. But what happens when going against the norm becomes the norm?
For those that don't know, bike owner Corey Duffel isn't one to follow the trends or blend in a crowd. As a world-renowned professional skateboarder, he has made his name riding fast and going big with nothing but his talent to keep him alive. When it came time to build him a two-wheel machine to fit his lifestyle, he enlisted the help of San Diego Customs to build this 2002 Dyna. Ironically they are known for building all black bikes. Not this time.
We sat down with Corey to get his take on this White Night racer.
So how did you come about getting this bike built?
It was almost a joke in a weird way. The bike was originally all blacked out. I had it on Craigslist ready to sell. A couple of people came over to see it and backed out. I figured I liked the bike so I deiced to keep it. I rode it down to San Diego, where I go quite a bit for my job. I decided to leave the bike down at my friend's shop so when I fly down there, I would have transportation. I figured if there was anything that needed to be done to the bike, it could be down while it was down there. I jokingly said it would be pretty rad to make it all white. The funniest thing about it was a few years ago, when I first blacked out the bike, my old lady told me why didn't I white-out the whole bike? She said, "Screw going with the trend that everyone else does, we should white the thing out." A few years later it we ended up doing it. It kind of just turned into a fun project. We started bullshitting saying it would kind of be cool to make this part or that part white. And it all started off small. At first I wanted my tins, and said, let's do white bags. After we did those we just kept it going. Looking at it, the style is good.
Is it a pain to keep clean?
When you do a quick run around town, it's not bad, but we put about 1,000 miles on it, it gets pretty damn dirty. A little Simple Green does the trick. I have another bike at home also and after you bring it back home and clean it up, I usually say, "I'm going to ride the black bike for a bit. I don't feel like cleaning that again." You don't want to clean it again once it's finally clean. That's because damn it looks good when it's clean. That's the only nightmare about it.
How does it ride?
I have a good time riding it. It wasn't built just to look at. It's a performance machine. I can't stand when a bike is slammed down. I want to ride it hard. I ride the bike how I like to ride my skateboard, which is fast and having a good time. It rides a little bit different than an average Dyna or FXR. It's now down low to the ground. It's not a Lowrider. It's a wheelie machine. It's fast and feels great. No complaints.
What's been the reaction to the bike?
It was pretty wild how many photos I have seen on Instagram and Facebook. It's one of those things you either like or just go, "What the hell is this?" That's kind of the way it is. It's loud and obnoxious, but I dig that. I'm against the grain. I don't want to be like everyone else. I've never been that way growing up. It's definitely recognizable. It's cool that people recognize and dig it, the bad part is the cops also recognize it. I'm usually the only all-white bike.
So are you done with it?
To tell you the truth, there's nothing more to do to it except maybe an occasional 666 sticker or another pentagram.
Any last thoughts?
Live fast, ride faster and have a good time on the bike. If you don't like it, suck it. If you like it, hell yea, rock and roll.
Specifications
General
Owner Corey Duffel
Shop San Diego Customs
Shop Phone (619) 234-6666
Website sandiegocustoms.com
Year/Make/Model 2002 H-D FXDXT
Fabrication San Diego Customs
Build Time A lifetime it seemed (60 days)
Engine
Year/Type/Size 2002 H-D 1550
Builder San Diego Customs
Cases Stock
Cylinders 1550 H-D
Heads H-D stock – flowed
Rocker Boxes Stock
Cams Andrews 37G
Throttle Body H-D Screamin' Eagle – modified
Air Cleaner H-D Screamin' Eagle HiFlo w/ K&N; filter
Ignition Module H-D Screamin' Eagle race module
Exhaust Thunderheader
Transmission
Year/Type 2002
Clutch Stock with Screamin' Eagle race plates and spring
Primary Drive H-D stock
Frame
Year/Type 2002 FXDX
Rake/Stretch 28 degrees
Suspension FXDX adjustable with Bel Ray fork fluid
Frontend 2004 FXDX adjustable, modified
Length Stock
Triple Trees GPR FXDXT top triple tree / stock lower FXDXT tree
Rear Shocks Works Performance piggyback system, custom color
Wheels, Tires, and Brakes
Front 19-inch H-D stock 2002 mag wheel, modified for 1″ axle
Builder/Size H-D
Tire/Size 19×110
Calipers Performance Machine
Rear H-D 16-inch
Builder/Size H-D
Tire/Size 16×150
Caliper Performance Machine
Finish/Paint Norton Custom Designs
Colors White Pearl
Paint/Graphics Kevin Norton
Powdercoating Jose at San Diego Customs
Accessories GPR Stabilizer
Dash H-D modified
Handlebars Death Squad 12 inch
Grips Performance Machine
Foot Controls Death Squad
Headlight H-D LED Hi Intensity
Taillight Drag Specialties lay down, smoked
License Mount Drag Specialties (modified)
Seat Le Pera
Who Is Corey Duffel?
Corey "Duff" Duffel was born on April 11th, 1984 and is from Walnut Creek, California, and one of the worlds most well-known skateboarders. He is best known for his fast-paced skating style, skating big gaps, rails, stairs, and any other large obstacle most wouldn't. Duffel has been skating since age 10, and turned pro at age 18. He has sustained a broken, nose, cheek bone, collarbone, both wrists numerous times, left femur, countless ribs, has torn his scrotum and has had at least five concussions . Corey has a serious two-wheeled habit consisting of scads of Harleys, British bikes and Vespas. He is a gigantic rock-n-roll and punk fan and is currently raising money to support music education in public schools. An all-around outlaw with a heart of gold Mr. Duffel will continutue to truly live life his way.