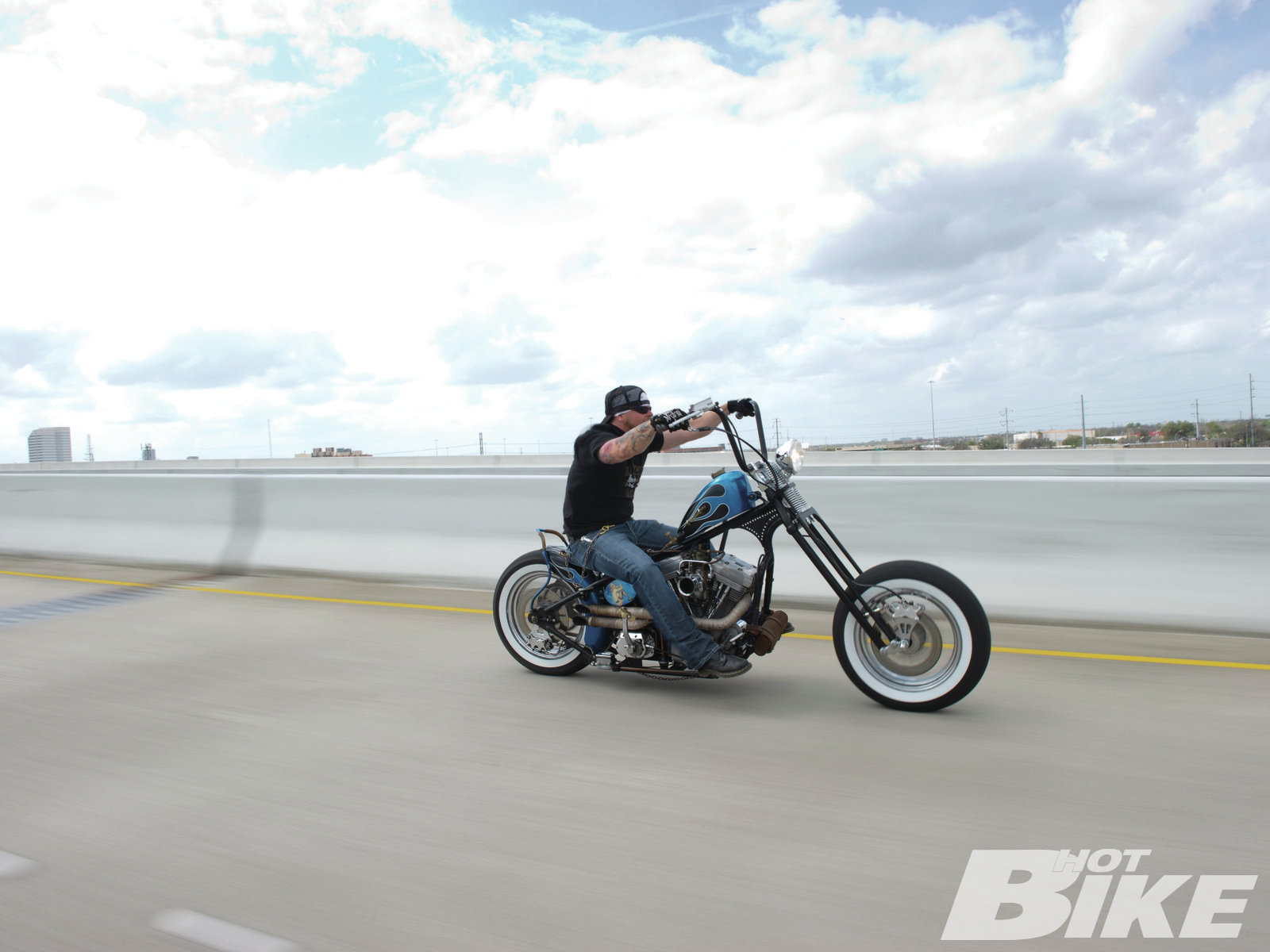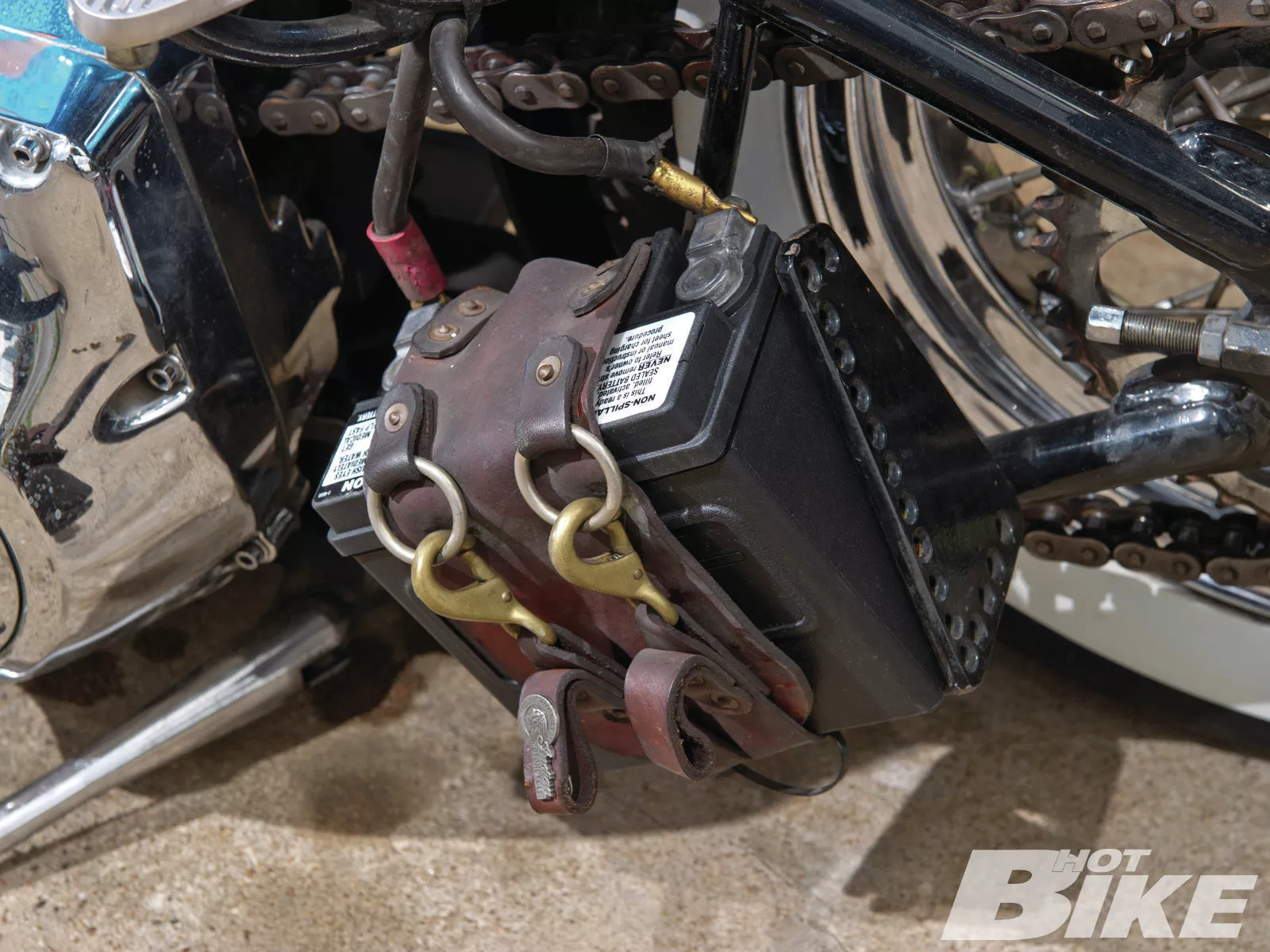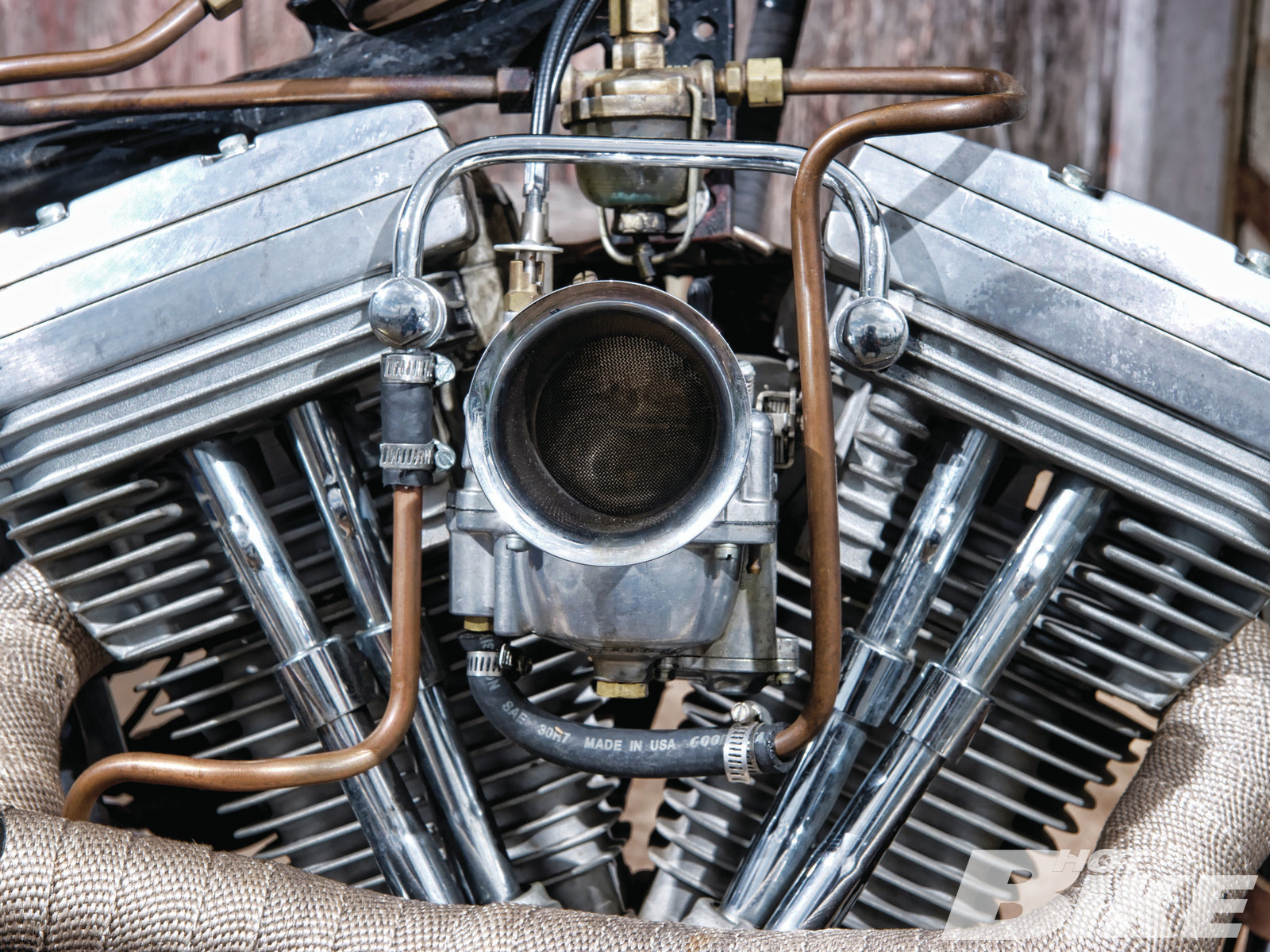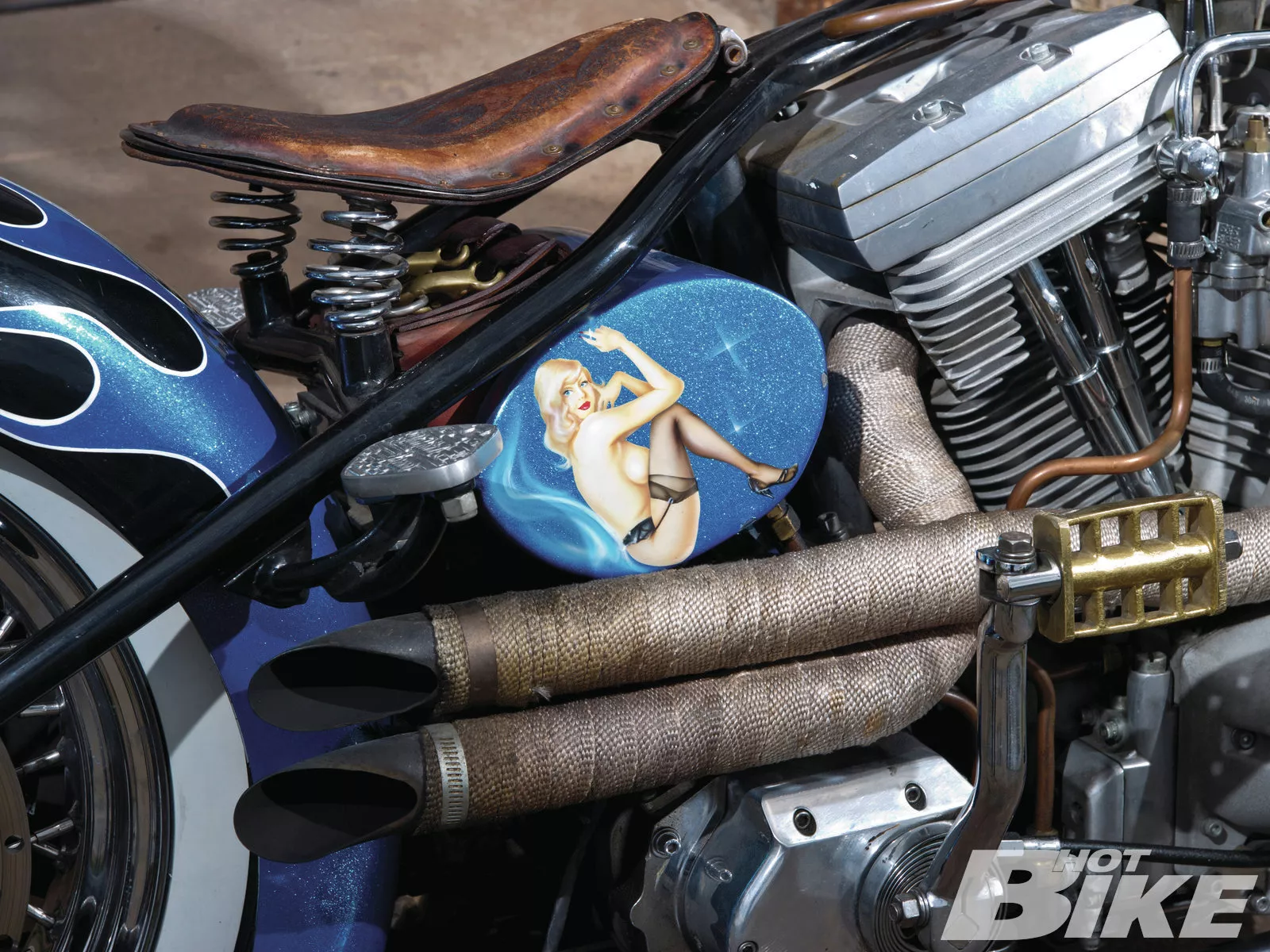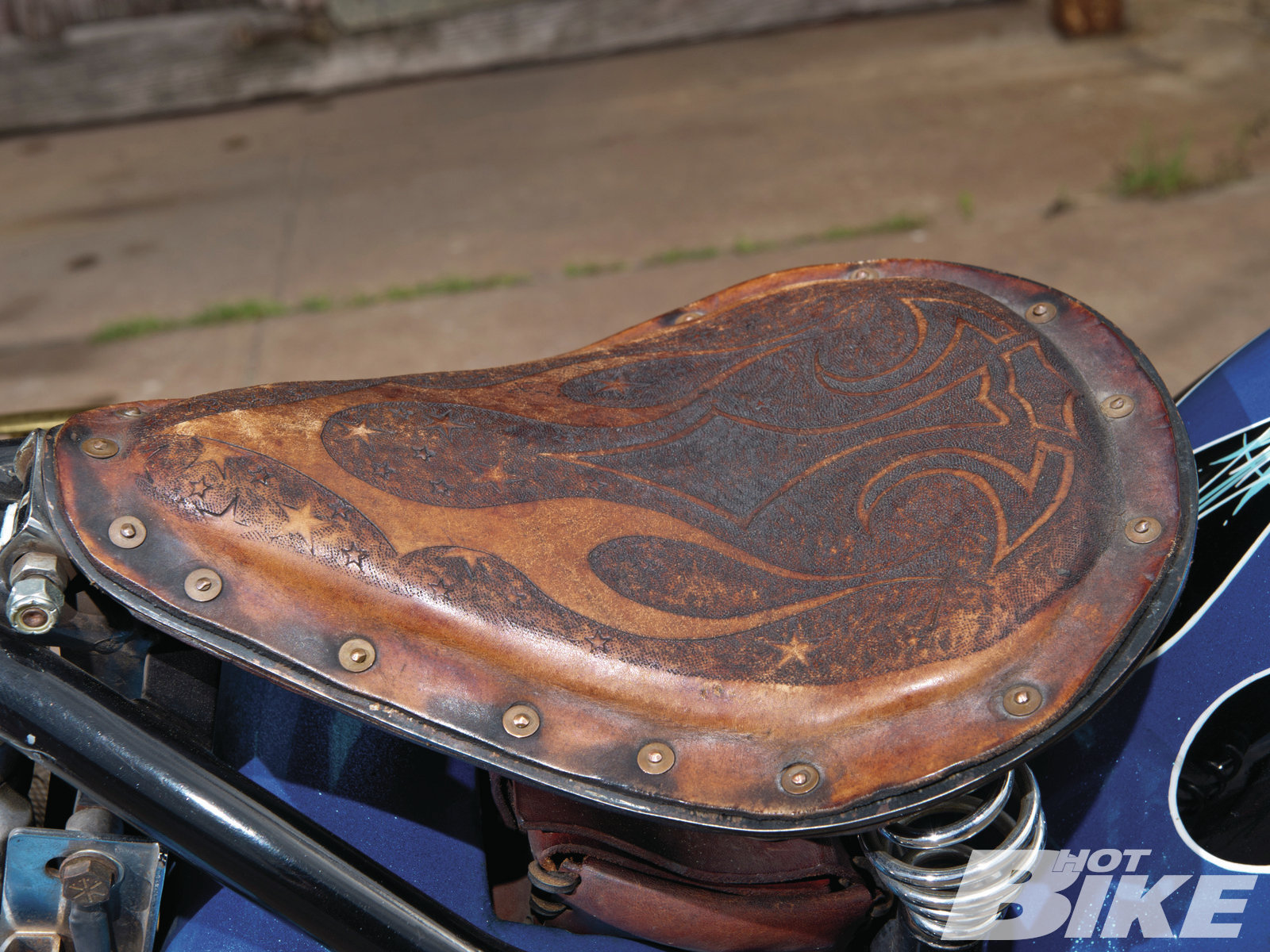 Editor's note: Just a few years ago, the high-dollar, long, low, drop-seat, pro-street style of bike ruled the custom motorcycle scene. It seemed that everywhere you turned was another version of the same style of bike with its extensive bodywork and massive rear tire. While not totally extinct, those extravagant, big-budget bikes have fallen inline with the economy and all but dried up, leaving the door open for a flood in the budget conscious, garage-style bike build. Upon initial glance, a garage-style bike might look less refined than the elegant pro-street predecessor, but they require the same amount of skill, craftsmanship, and creativity—actually maybe even more creativity. Often a mix of aftermarket, hand-crafted, modified stock, and maybe even NOS automotive parts, a garage-style bike isn't about the glitz and glamour of being ogled at a bike show, it's about the good times that can be had riding to the show. Chopper or bobber, rigid or dual suspension, built in a scant 10×10 livingroom or crafted in a fully outfitted shop, a garage-style bike doesn't always fit into the exact same box, it's one of those "you'll know it when you see it" kind of bikes. Clinton Wallace's rigid Evo is a perfect example.
One of the main reasons I decided to build this bike was because, I'm sure like most people who have a stock bike, I got tired of spending a lot of money on custom parts and still having a stock-looking bike. I knew what I wanted to build but did not have the means to do all the fabrication myself, so I set out to find someone who could do the fabrication. That's when I found Danny Sanchez of Cutthroat Customs (CTC) in Humble, Texas. I got with Danny and we worked together on each component. I would explain what I wanted and he would get it every time, sometimes he would put his flare to it and it would be better than I was expecting.
The frame started out as a Paughco rigid that we modified by adding 2 inches of stretch to the downtubes, 1-1/2 inches to the backbone, and we raked the neck to 38 degrees so that the finished bike would fit me better. We started out modifying a peanut tank and I wanted to mount it high on the backbone because I like that Frisco look. Then Danny came up with the idea to flatten the entire bottom of the tank and mount it above the backbone, which turned out to look really cool. So I told him since the gas tank came out so good, go ahead and make an oil tank, and he nailed it. The oil tank is an oval style with a pocket at the back for the battery. However, rigid bikes tend to need adjusting and tightening so I got with my buddy Chris Galan and had him make me a hand-tooled leather tool bag that I could stuff in the "battery box" under the seat. I moved the battery to the side of the bike and had Chris make a leather tie-down strap to hold the battery in place.
The bike has a '30s Ford emergency brake handle modified for a jockey shifter. This was an absolute must when building the bike as there isn't anything better than riding a jockey shift. It also has a '50s Ford taillight for a brake light. I used Lake Pipe caps for the front forward controls and the rear pegs. The points cover is hand-engraved from Court House Customs. The rod for the rear brake master cylinder was a grounding rod that we modified, and we used some small brass-coated chain to make sure the rod could never slip out. I had Jesse Galvan lay down a black and blue paintjob, complete with mini flake hot rod flames and airbrushed pinup models. I call this the Pinup Bike.
When I originally was planning out the bike, I asked my wife if she was going to be riding, and she said probably not much because she was very busy at the time. So the bike was built just for me to ride and in the style I wanted; very little rear fender. As you might guess, as time passed she changed her mind, so I told her if she could fit on the fender she could ride along with me. On the first run out we stopped for fuel, and when she got off we noticed that the belt she was wearing had taken some of the paint off the sissybar. She was expecting me to flip out but I was just amazed that she was tough enough to ride in that little area that I didn't complain. I walked into the local Wal-Mart bought some leather shoestrings and wrapped up the lower part of the sissybar, and we were off—no more worrying about paint, problem solved. My wife has made a lot of miles on the back now. So now I'm in the process of building my next bike, but this time it's going to be set up for both of us—you know, kind of that '70s king and queen style. HB
Specifications
Bike Owner|Clinton WallaceCTC
Shop Name|Cutthroat Customs (CTC)
Shop Phone|(281) 446-2009
Shop website|ctcfab.com Year/Make/Model|'06/Custom Rigid/Pinup Fabrication|CTC
Assembly CTC|& Owner
Build Time|Four months
Engine
Year Manufacturer|'99/H-D
Type/size|Evo/80ci
Builder|H-D
Cases|H-D
Cylinders|H-D
Heads|H-D
Rocker Boxes|H-D
Carb|S&S; Super E
Air Cleaner|Velocity Stack
Exhaust|CTC & Owner
Transmission
Year/Manufacturer/Type|'06/Trick Shift/Six-Speed
Case|Trick Shift
Clutch|Primo dry Clutch
Primary Drive|Primo Belt
Frame
Manufacturer|Paughco, modified
Rake|38 degrees
Stretch|2-inches up, 1-1/2 inches out
Suspension
Manufacturer|Front DNA
Length|4 inches over
Triple Trees|DNA
Manufacturer Rear|None
Wheels, Tires, and Brakes
Manufacturer Front/Type|DNA/40-spoke
Size-Height/Width|16×3-1/2
Tire/Size|Metzeler/130/90-16
Caliper|PM
Rotor|PM
Manufacturer Rear|DNA/40-spoke
Size-Height/Width|16×3-1/2
Tire/Size|Metzeler/150/80-16
Caliper|PM
Rotor|PM
Finish/Paint
Color|Blue, Black, flake
Painter|Jesse Galvan
Graphics|Jesse Galvan
Accessories
Rear Fender|CTC
Fender|Struts CTC
Gas Tank & Cap|Reworked Peanut
Oil Tank|CTC
Handlebars|Paughco 13-inch Apes
Hand Controls|Jay Brake
Foot Controls|CTC
Footpegs|CTC
Headlight|Unknown
Taillight|'50s Ford
License Mount|CTC
Seat|Chris Galan-Bexar Bone