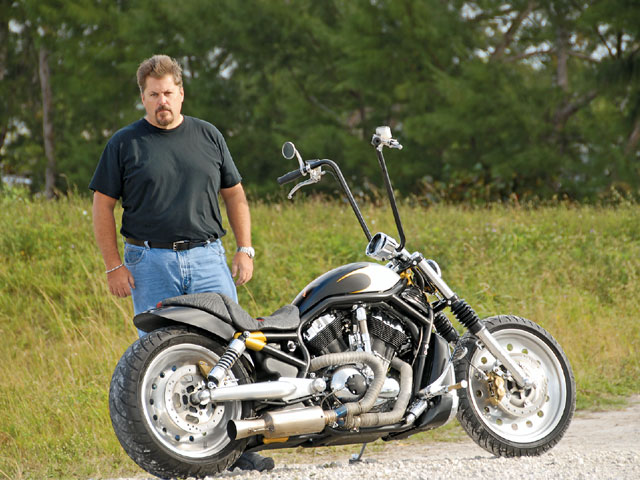 Here at HOT BIKE we get a lot of rides-Harleys, hogs, whatever you want to call them-submitted by our readers each month. "Pick of the Pen" is an opportunity to dedicate a few pages to our favorite reader-submitted bike each month. This month's bike is from owner Marc Ruben of Miami Beach, FL. Here's the story of Marc's bike, in his own words.
I took a V-Rod out on a rental in Orlando in the fall of 2002 and said, "This is cool-I'll have to get one of these." In January '03, I ended up buying an '02. Over the four years that I've owned the bike, it went from a basic '02 Silver/Aluminum VRSCA with some Screamin' Eagle upgrades to a highly modified "drag-bike" look that is somewhat typical for V-Rods. The bike's current incarnation was my attempt to go in the total opposite direction of the entire custom V-Rod genre, as it's a great powerplant and a kick to ride, but I needed a bike with serious attitude, and I have always been a big fan of bobbers.
The first couple of years, really cool V-Rod stuff was pretty hard to find, so I had parts made to suit my taste. I called Chuck at Rowe Machine after I watched an early episode of American Chopper, and had him CNC-cut and polish my stock aluminum wheels to my spec. Over the past few years, the chain drive, seat, and rear fender were all fabricated or modified as the bike evolved. This was OK, but what I really wanted was something totally different and out there.
I disassembled the bike last summer, then took the frame and tins to David at Flawless Customs for modification and paint. I told him I wanted a vintage scallop look with a '50s Vargas girl on the tank and a Coop devil's head on the rear fender. The resulting paintwork is nothing short of spectacular, since he's an amazing artist, as well as an accomplished painter. I got to work assembling some parts like an Exile internal throttle, internal brake lines, and custom switches mounted in the Kryakyn horn cover. I also had some parts custom made, such as the primary side knock-off, which was fabbed by Greg Westbury of Westbury Cycles and Hot Rods. The chain-drive conversion was done by Paul Diemer of Eagle H-D, and the elephant, ostrich, and stingray seat was made by James Dean Custom Seats. As for the aluminum tiki shifter knob and peg, I found those on eBay. A lot of the current modifications are very subtle. It was very important to me that the bike didn't look like a bunch of bolted-on aftermarket parts, and that when finished it would be very unique and would have an "old school" look of toughness. The assembly went well, since I had technical support as needed from Ski-rod and Stuart at Peterson's, my local H-D dealer. Upon completion, I took the bike up to Daytona just in time for Biketoberfest and put 250 miles on it over the weekend. Everywhere I rode the bike I got great comments, especially from the non V-Rod crowd, who really appreciated seeing something totally different done with a V-Rod. In the end, not everybody gets it, but it definitely does get their attention.
| | |
| --- | --- |
| SPECS | |
| YEAR/MODEL | '02/V-ROD |
| FABRICATION | MARC RUBEN/VARIOUS |
| ASSEMBLY | MARC RUBEN/VARIOUS |
| FRAME | H-D |
| FRONT END | H-D/KIJIMA FORK BOOTS |
| ENGINE | H-D |
| PIPES | D&D; W/BURNS ULTRALITE MUFFLER |
| TRANSMISSION | H-D |
| PRIMARY | CHAIN |
| FRONT/REAR FENDER | NONE/H-D BOBBED |
| GAS TANK | H-D |
| WHEELS | STOCK/ROWE MACHINE |
| BRAKES | BREMBO |
| PAINT | FLAWLESS CUSTOM DESIGNS |