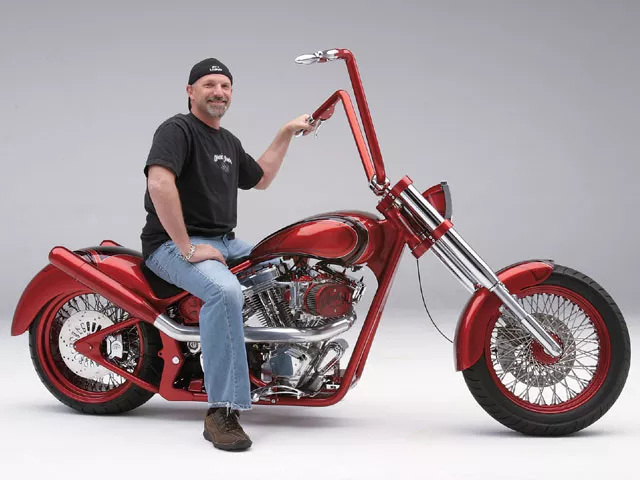 There's an old joke that says, "How do you get to Carnegie Hall? Practice, practice, practice." But what about going to the Playboy Mansion? If you're Mark "Junior" Skelnick, owner of Lifestyle Cycles in Anaheim, CA, getting into Hef's sacred pad means building a bike and getting it put on display during a charity shindig.
That's not how it got started, though; it's just one place the bike has been since Lifestyle put it together. A lot of great things begin over beer and b.s.-this bike among them. Junior and one of the execs from American IronHorse Motorcycles (AIH) were having a talk next to an American IronHorse Outlaw one day when Junior informed the AIH exec that the bike wasn't his idea of an "outlaw" at all. "Well," the exec responded, "why don't you show me one, then?"
That dropped gauntlet was all the motivation Junior needed to reinvent a stock Outlaw by making it meatier and angrier than AIH's version. It went through some serious surgery for its rebirth; this was no bolt-on-only surface customization job. The shop took the stocker all the way down to the bare bones; the only things that didn't get replaced or modded were the AIH brake calipers.
A lot of the bulking up and aggressive new stance comes from the suspension and frame. Lifestyle stretched the chassis 2 inches out and added meatier Mean Street 73mm forks for more upper-body muscle.
Junior didn't stop there, however. His crew swapped out most of the stock sheetmetal for new Russ Wernimont pieces: a longer rear fender to bulk up the back, a shorter one up front for the chopped look, and a concave gas tank with a simple swoop and no stretch. Junior replaced the old oil holder with a round New York City Choppers tank to further separate the bike from its former stock life.
Living on the edge isn't just about looking mean, though. Part of being an outlaw means bucking the system and living on your own terms, and Junior threw some of that philosophy into this scoot as well. Most fabricators make their handlebars out of steel, but Lifestyle had Classic Steel bend aluminum tubing for the apes, which made for some extremely lightweight handholds (with ape-hangers being illegal in some states, they also lend the bike some hooligan cred). However, the real stars of the show for this project are the taillights in the exhaust pipes. No, you read that right. Junior had his boys build them into the Bassani pipes. You can't get much more outside the box than that. "The hardest part was getting that taillight into the pipes, but it works now. We melted a lot of light assemblies. The vibration and heat just killed it," Junior told us. "We built a torpedo behind the lights that diverts the heat. That's how we got it to work."
Lifestyle shot a lot of ambition into the lighting, but there was plenty left for the paint. Junior loves red; all of his bikes are covered in it. This time, however, he wanted more depth than a simple shoot-and-coat-it monochrome job. That's why he had Buck Wild lay down black, then silver metalflake, and finally red candy on it. It's a combination that's not only full-bodied but badass blood-red.
After the dust settled in the shop, Junior sent photos of his outlaw to the execs at American IronHorse, where the pics garnered more than a few amused smiles. You'd think a little "I told ya so" like this would be a nice finish in and of itself. But using its bad-boy looks to weasel your way into one of the coolest parties in town so Playmates can fawn all over it the whole night doesn't exactly suck, either.
| | |
| --- | --- |
| SPEC SHEET | |
| GENERAL | |
| OWNER | LIFESTYLE CYCLES |
| SHOP | LIFESTYLE CYCLES |
| PHONE | (714) 490-0155 |
| WEBSITE | WWW.LIFESTYLECYCLES.COM |
| YEAR/MAKE/MODEL | '03/AMERICAN IRONHORSE/OUTLAW |
| FABRICATION | LIFESTYLE CYCLES |
| ASSEMBLY | LIFESTYLE CYCLES |
| BUILD TIME | EIGHT MONTHS |
| | |
| --- | --- |
| ENGINE | |
| YEAR/TYPE/SIZE | '03/S&S; EVO/107CI |
| BUILDER | LIFESTYLE CYCLES |
| CASES | S&S; |
| FLYWHEELS | S&S; |
| RODS | S&S; |
| PISTONS | S&S; |
| CYLINDERS | S&S; |
| HEADS | S&S; |
| VALVES | BLACK DIAMOND |
| ROCKERS | S&S; |
| ROCKER BOXES | S&S; |
| PUSHRODS | S&S; |
| PUSHROD TUBES | S&S; |
| CAM | WOOD |
| LIFTERS | S&S; |
| CARBURETOR | RIVERA DUAL MIKUNI |
| AIR CLEANER | MIKUNI |
| IGNITION | DYNATECH |
| EXHAUST | BASSANI/LIFESTYLE |
| | |
| --- | --- |
| TRANSMISSION | |
| YEAR/TYPE | '03 ROADMAX/SIX-SPEED |
| CASE | ROADMAX |
| GEARS | ROADMAX |
| CLUTCH | PRIMO PRO CLUTCH |
| PRIMARY DRIVE | PRIMO/LIFESTYLE |
| | |
| --- | --- |
| FRAME | |
| YEAR/TYPE | '03/AMERICAN IRONHORSE |
| RAKE | 38 DEGREES |
| STRETCH | 2 INCHES OUT |
| | |
| --- | --- |
| SUSPENSION | |
| FRONT | MEAN STREET |
| LENGTH | 2 INCHES OVER |
| TRIPLE-TREES | 6 DEGREES |
| REAR | |
| SWINGARM | DAYTEC {{{240}}} |
| SHOCKS | PROGRESSIVE SUSPENSION |
| | |
| --- | --- |
| WHEELS, TIRES, AND BRAKES | |
| FRONT | |
| BUILDER/SIZE | RIDE WRIGHT/18X3.5-INCH |
| TIRE/SIZE | METZELER/150/70X18 |
| CALIPER | AMERICAN IRONHORSE |
| ROTOR | RIDE WRIGHT |
| REAR | |
| BUILDER/SIZE | RIDE WRIGHT/18X8.5-INCH |
| TIRE/SIZE | METZELER/ME880 240/40X18 |
| CALIPER | AMERICAN IRONHORSE |
| ROTOR | RIDE WRIGHT |
| | |
| --- | --- |
| FINISH/PAINT | |
| COLOR | RED CANDY OVER SILVER METALFLAKE AND BLACK |
| PAINTER | BUCK WILD |
| GRAPHICS | BUCK WILD |
| MOLDING | CASEY AT BUCK WILD |
| | |
| --- | --- |
| ACCESSORIES | |
| FRONT FENDER | RUSS WERNIMONT DESIGNS (RWD) |
| REAR FENDER | RWD |
| GAS TANK | RWD |
| OIL TANK | NYC CHOPPERS |
| HANDLEBARS | CLASSIC STEEL |
| HAND CONTROLS | CLASSIC STEEL |
| FOOT CONTROLS | LIFESTYLE CUSTOM SHOP |
| FOOTPEGS | FAB TECH |
| HEADLIGHT | RWD |
| TAILLIGHT | LIFESTYLE CYCLES |
| LICENSE MOUNT | LIFESTYLE CYCLES |
| SEAT | BITCHIN' SEATS |