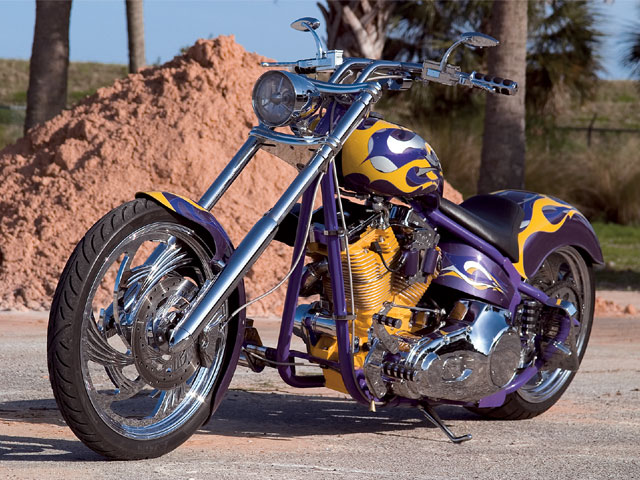 Ever since Rick Wisehart of Carthage, IL, was a gangly teenager, he's been chasing his insatiable need for speed. No matter whether it was a homebuilt chopper bicycle or a dirt bike-as long as it had two wheels, Rick was on it. "On my 14th birthday, I was cruising along on my dirt bike and was struck by a truck. It was a pretty rough accident that left me in the hospital with a broken leg," Rick said. Rick then decided he might be better off riding three-wheelers for a while-plus, they held the crutches better. But that phase didn't last very long; with a healthy leg and two unhappy parents, he had to get back on two wheels.
Ten years later Rick made the move from dirt bikes to V-Twins and bought his first Harley, an '86 Dyna Low Rider. "Even though I really liked that bike, everywhere I went I saw something I liked better. So I sold the Dyna, bought a '93 Softail Springer, and instantly began to customize it," said Rick. Then, two years and several thousand dollars later, he realized he still wasn't satisfied. After selling the Softail, Rick decided that maybe a production custom with a 200 rear tire and 113ci motor from Ultra Motorcylces would fulfill his custom desires.
"It took a couple of months, but once again I wasn't satisfied. The Ultra was sold, and I was on the hunt for a new bike. My search took me about 40 miles south from Carthage to Quincy, IL, where I ended up at Hot Bike of Quincy," said Rick. "After explaining my quest for the ideal bike, I was pointed in the direction of a Big Dog Boxer." Since that bike had 107 cubic inches and a 180mm rear tire, Rick thought he had finally found the holy grail he'd been looking for.
Unfortunately, his new prized possession didn't last very long. "Two weeks after I bought the Big Dog, I let my buddy take the bike for a spin. The guy ended up taking a wrong turn and was rear-ended by another bike. Long story short, I ended up back at HBQ and picked up yet another Boxer," Rick said. Then, a few months later (you can see where this is going, right?), Rick was back at the HBQ dealership. This time he met up with John Poppe and explained to John that he loved the way the Big Dog rode, but he still needed more horsepower.
Luckily for Rick, he was talking to the right person, as John just happened to be the man behind HBQ's custom division Exxxtreme Customs. When customers can't find what they are looking for on the HBQ sales floor, they're turned over to the skilled hands of John and his head fabricator, Kai Schutte, who turn dreams into one-off custom machines. During their conversation, John pointed out to Rick that he was one of those people who would never be truly happy with a slightly modified Harley or even a production custom. Rick had to have the biggest, baddest, and best of everything-in other words, a ground-up custom.
"As John and I began to lay out parts and ideas for the project, I noticed a Fatboy that looked really familiar up on one of the lifts. It turned out to be my older brother Robbie's bike, which was in the shop to get a makeover and horsepower boost of its own," said Rick. "Right then and there I laid it out for John and told him, 'I don't care what it takes-I want my bike to be bigger and badder than my brother's.'"
John was right on track with Rick's line of thinking and instantly recommended a 124ci S&S; mill and what was, at the time, one of the largest rear tires available in the V-Twin market, an Avon 250, as the basis for his custom. As soon as he said "124," John had Rick hooked, and from that point on they began to load the project with the best components available to create a killer custom that would smoke Robbie's hopped-up Harley and still hold up against the ground-pounding punishment through which Rick was known to put his bikes.
"I told John I wanted something long and sleek, and he recommended a 250 Softail frame from Rolling Thunder with 38 degrees of rake and 2 inches of stretch in the downtubes," Rick said. Rick also wanted a good adjustable suspension in the rear that wouldn't put his ass to sleep on long trips, and for that John suggested a Legend Air Ride system. He also recommended a set of 6-degree raked trees and 6-inches-over-stock-length forks from Mid-USA to get the long, low look Rick was after.
The more Rick and John talked, the more parts were added to the build list, such as wheels from Carrige Works, a six-speed transmission from Mid-USA, Wicked Bros. pipes, a Force Winder air cleaner, and a gas tank from Independent. There were a few components John left off the build list, knowing that he and Kai would handle those in-house, such as the front fender, rear fender with internal struts, and the pullback handlebars with built-in risers. Once the list of parts was complete, the last question John asked Rick was the hardest: What about paint? "After weeks of thinking about it and looking through several magazines, I still couldn't come up with a paint scheme," Rick said. "I just came up with three colors (purple, yellow, and silver) and told John and his painter Mark Easton to have at it."
It took a total of three months for John and Kai to turn Rick's list of parts into a reliable, triple-digit-displacement, wide-tired, Fat Boy-killing machine. "When I saw the bike for the first time, I immediately knew it was exactly what I'd been missing in my life. I even decided to get a personalized license plate that reads 'OTHR WM,' which stands for 'other woman,'" Rick said.
Apparently Rick's older brother Robbie wasn't too happy being left in the dust. So Robbie had John and Kai install a 124 into his Fat Boy as well. "He can't keep up, but he comes close," Rick said. It's probably the fastest Fat Boy around, but it's still not an Exxxtreme Custom."
| | |
| --- | --- |
| SPEC SHEET | |
| GENERAL | |
| OWNER | RICK WISEHART |
| SHOP | EXXXTREME CUSTOMS |
| PHONE | (217) 228-7433 |
| WEBSITE | WWW.HOTBIKEQUINCY.COM |
| YEAR/MAKE/MODEL | '03/EXXXTREME CUSTOMS |
| FABRICATION | JOHN POPPE/KAI SCHUTTE |
| ASSEMBLY | JOHN POPPE/KAI SCHUTTE |
| BUILD TIME | THREE MONTHS |
| | |
| --- | --- |
| ENGINE | |
| YEAR/TYPE/SIZE | '03/Evo/124ci |
| BUILDER | Kai Schutte |
| CASES | S&S |
| FLYWHEELS | S&S |
| RODS | S&S |
| PISTONS | S&S |
| CYLINDERS | S&S |
| HEADS | S&S |
| VALVES | S&S |
| ROCKERS | S&S |
| ROCKER BOXES | S&S |
| PUSHRODS | S&S |
| PUSHROD TUBES | S&S |
| CAM | S&S |
| LIFTERS | S&S |
| CARBURETOR | S&S |
| AIR CLEANER | Force Winder |
| IGNITION | Crane |
| EXHAUST | Wicked Bros. |
| | |
| --- | --- |
| TRANSMISSION | |
| YEAR/TYPE | '03/SIX-SPEED |
| CASE | MID-USA |
| GEARS | MID-USA |
| CLUTCH | RIVERA |
| PRIMARY DRIVE | RIVERA |
| | |
| --- | --- |
| FRAME | |
| YEAR/TYPE | '03/ROLLING THUNDER SOFTAIL |
| RAKE | 38 DEGREES |
| STRETCH | 2 INCHES UP |
| | |
| --- | --- |
| SUSPENSION | |
| FRONT | |
| LENGTH | 6 INCHES OVER |
| TRIPLE-TREES | MID-USA |
| REAR | |
| SWINGARM | ROLLING THUNDER |
| SHOCKS | LEGEND AIR RIDE |
| | |
| --- | --- |
| WHEELS, TIRES, AND BRAKES | |
| FRONT | |
| BUILDER/SIZE | CARRIAGE WORKS/21X2.15 |
| TIRE/SIZE | AVON/{{{90}}}/90-21 |
| CALIPER | PM |
| ROTOR | CARRIAGE WORKS |
| REAR | |
| BUILDER/SIZE | CARRIAGE WORKS/18X8.5 |
| TIRE/SIZE | AVON/250 |
| CALIPER | PM |
| ROTOR | CARRIAGE WORKS |
| | |
| --- | --- |
| FINISH/PAINT | |
| COLORS | PURPLE, YELLOW, SILVER |
| PAINTER | MARK EASTON |
| GRAPHICS | MARK EASTON |
| PLATING/POLISHING | PRECISION PLATING |
| POWDERCOATING | POWDERCOAT PLUS |
| | |
| --- | --- |
| ACCESSORIES | |
| FRONT FENDER | JOHN POPPE/KAI SCHUTTE |
| REAR FENDER | JOHN POPPE/KAI SCHUTTE |
| FENDER STRUTS | JOHN POPPE/KAI SCHUTTE |
| GAS TANK | INDEPENDENT |
| OIL TANK | ROLLING THUNDER |
| DASH | NONE |
| GAUGES | DAKOTA DIGITAL |
| HANDLEBARS | KAI SCHUTTE |
| RISERS | BUILT IN |
| MIRRORS | {{{MINI}}} MIRRORS |
| HAND CONTROLS | EXCEL |
| FOOT CONTROLS | EXCEL |
| FOOTPEGS | EXCEL |
| HEADLIGHT | HEADWINDS |
| TAILLIGHT | JOKER MACHINE |
| LICENSE MOUNT | JOKER MACHINE |
| SEAT | KAI SCHUTTE |