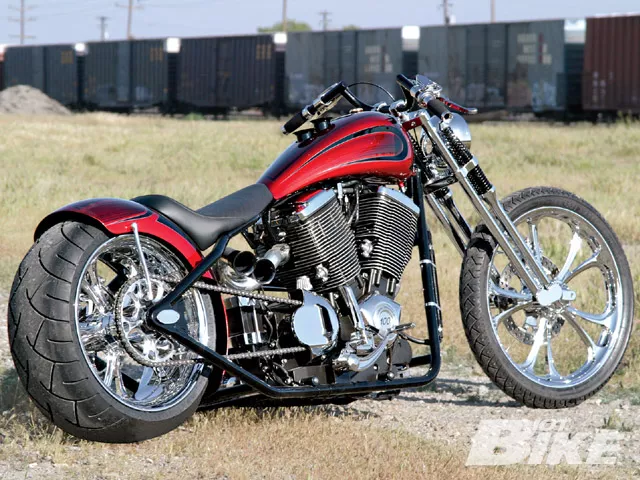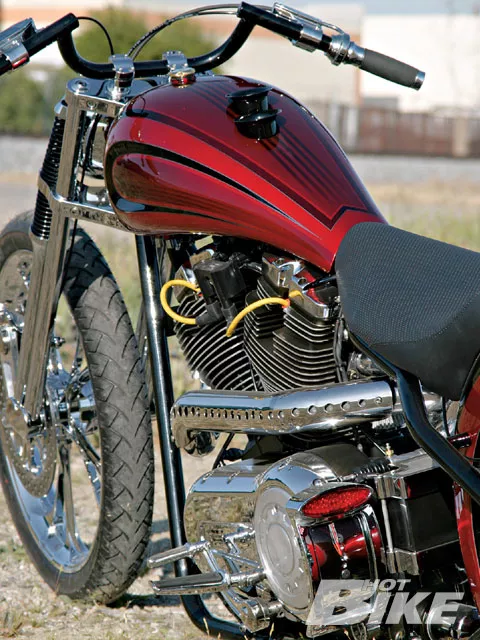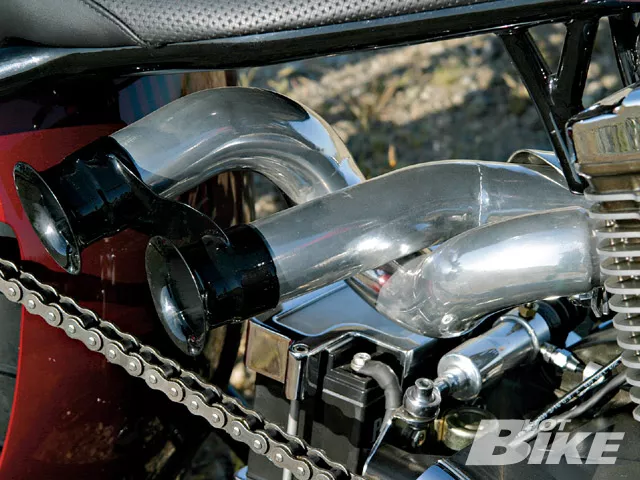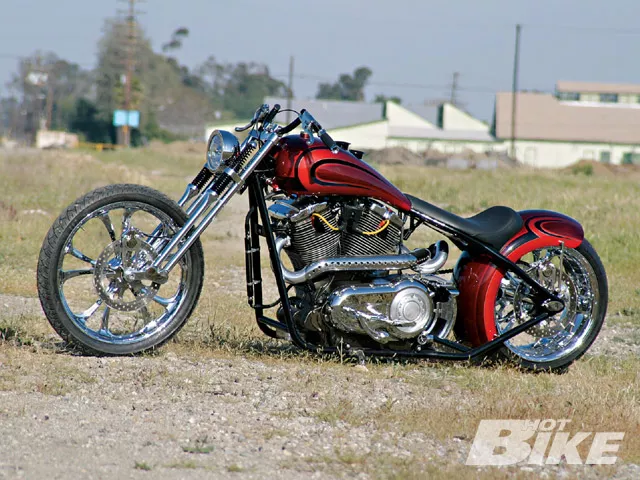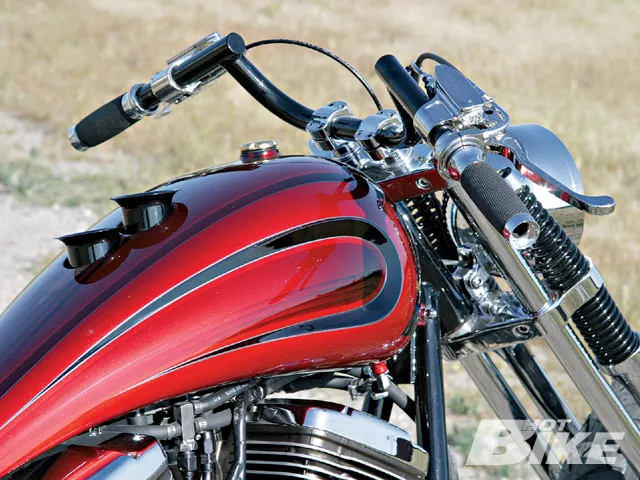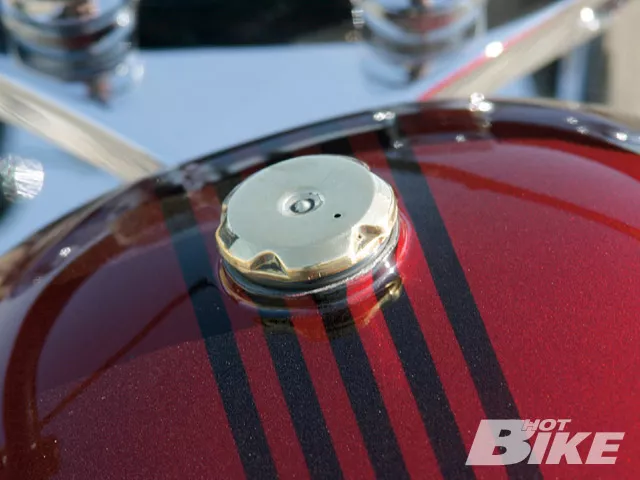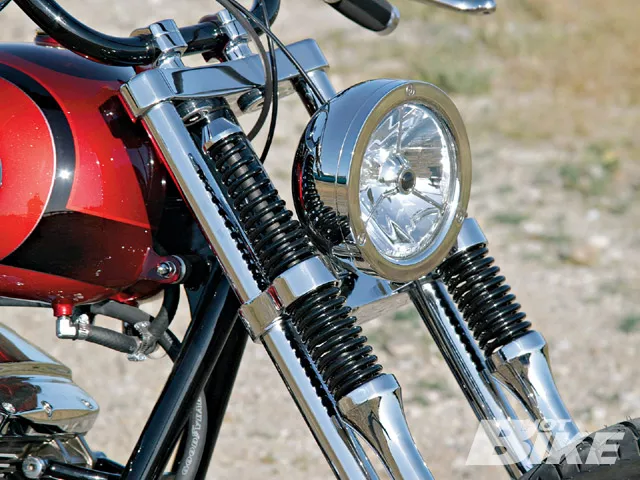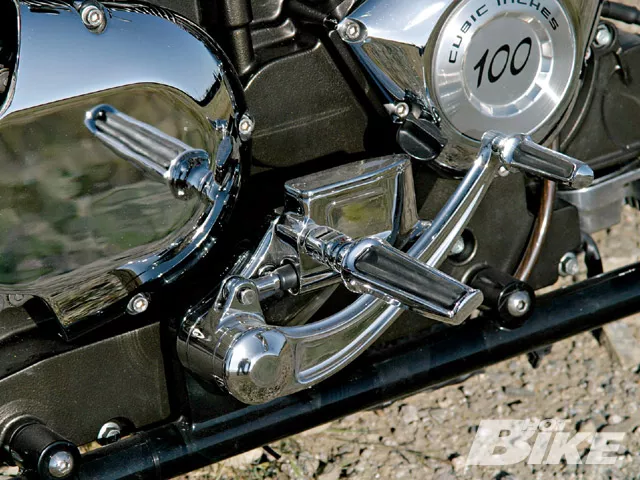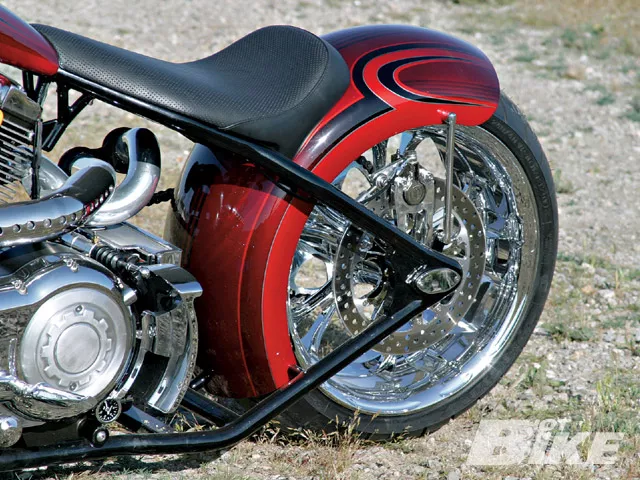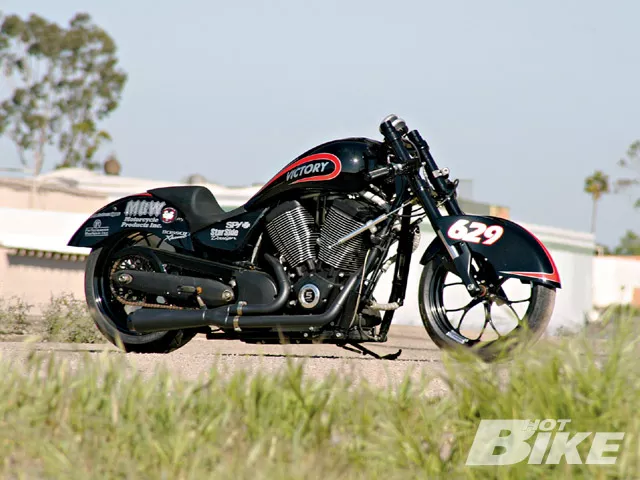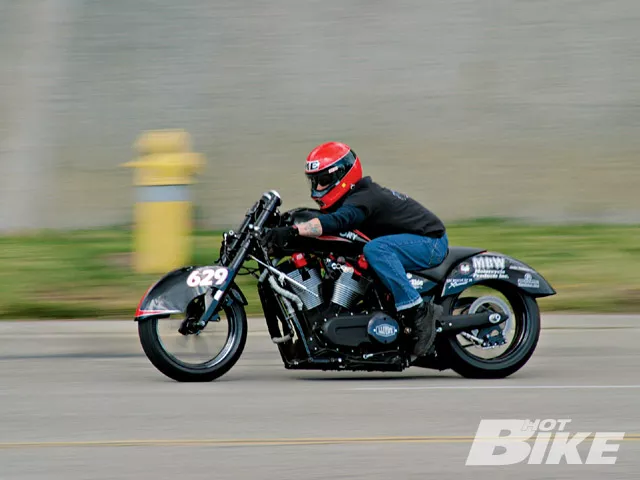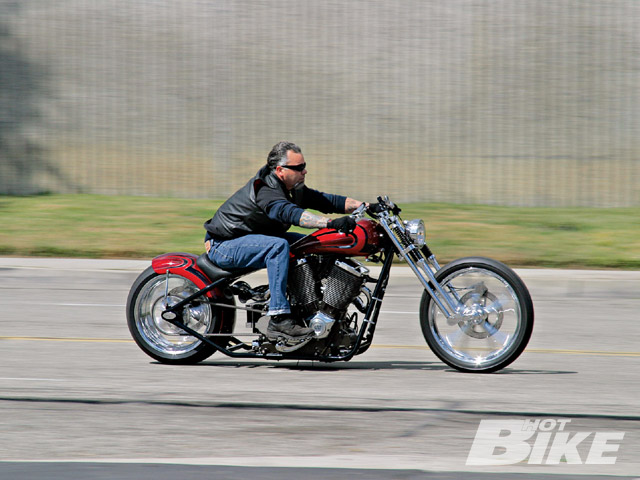 James Crosby is certainly no stranger to building things that look great and run fast. His father was a crew chief back in the '60s for Summers Brothers Racing, a job that put him in the pits when Bob Summers piloted the "Goldenrod" with its 2,400 horsepower to a little over 409 mph James was too young at the time to participate, but grew up with a wrench in his hand. His father had his own shop and while the other kids were out playing sports, James was wiling his time tinkering on everything from dune buggies to hotrods to racecars.
Eventually James opened his own shop. After a relatively tumultuous period when he went through a little street racing phase, James closed his shop for a bit and worked for a couple different companies, finally deciding to come back after a little hiatus to follow his dreams and start building bikes and hot rods again. The first bike James ever built was back in 1985, and since then he has worked on a number of projects, including finishing the last bike that Johnny Chop began before he passed.
A few years ago James got together with Matt Waring of MBW Motorcycle Products, which produces an array of aftermarket Victory products, and Lloyd Greer of Lloyd Motorworkz, a performance company with an emphasis on Victory motors, deciding to get together and try their luck on the salt at Bonneville. They did pretty well, hitting upwards of 117 mph with pretty bad salt conditions.
The next winter at the V-Twin show in Cincinnati James and Matt were hanging out at their booth looking at the Bonneville bike and started talking about putting together a hotrod Victory. Matt had always wanted to build one, and James was quick to jump on board. He wanted to build something of a cross between a hot rod, an old bobber, and a pro-street. But more importantly, they wanted to create a full custom Victory not built on a Victory chassis. The premise was to prototype the marketplace and to see if there was a place for this kind of bike.
James started with a 2003 Victory Vegas and got rid of the frame, using a rigid frame from Mike Santoro at Mad Mikes Frames with 38 degrees of rake and 2 1/2 inches of stretch in the backbone. Jeff Delisle at Delisle Custom Products supplied a Springer fronend that is 6 inches over, giving the bike a unique stance, like some crazy bobber-hotrod combo. For wheels and brakes James went with Performance Machine. Of course the bike had to be as minimalist as possible, so they left off anything that wasn't absolutely necessary. Jeff Delisle made the rear fender and James modified it a bit.
James wanted to get more performance out of the engine, so he sent it to Lloyd for a little work, make that a lot of work. Lloyd bumped up the displacement from 92ci to 104ci with one of his hop up kits that included new cams, cylinders, pistons as well as some other goodies. James decided to keep the original tank, but wanted to do a seriously cool modification to it. Upon first glance it looks like just a couple of stacks coming out the top of the tank, which it is, but there's a little more to it. The bike has a downdraft injection system and James wanted to utilize that and make it look like the stacks come straight out the top of the tank, so he cut holes through the entire tank and ran the stacks up. With a beefed up Barnett clutch installed, James changed up the stock clutch cable/bell crank with a modified hydraulic slave cylinder for a lighter and smoother hydraulic clutch setup.
James finished the bike up by sending the tins out to Doug Starbuck at Starside Design for a classy custom red and black paint job. Once the bike was back together, James noticed the 92ci badge on the side of the engine. Being that he didn't have one that read 104ci, he just pulled the 100ci badge off the black race bike and called it close enough. In the end everyone involved was really happy with the results, and they discovered that Victory motorcycles can hang with all the others on the custom scene.
| | |
| --- | --- |
| SPEC SHEET | |
| BIKE OWNER | Matt and Jen at MBW Motorcycle Products |
| BUILDER | James Crosby Designs |
| YEAR/MAKE/MODEL | 2003/Victory Vegas |
| FABRICATION | James Crosby Designs |
| ASSEMBLY | James Crosby Designs |
| BUILD TIME | 3-months |
| | |
| --- | --- |
| ENGINE | |
| YEAR/ MANUFACTURER | '03/Victory |
| TYPE/SIZE | Freedom/104ci |
| BUILDER | Lloyd at Lloyds Motorworkz |
| CASES | Victory |
| CYLINDERS | Llyods |
| HEADS | Victory |
| PISTONS | MBW/Wiseco |
| ROCKER BOXES | Victory |
| CAM(S) | Llyods EFI Victory |
| EXHAUST | James Crosby Designs |
| | |
| --- | --- |
| TRANSMISSION | |
| YEAR/MANUFACTURER | '03/Victory |
| CASE | Victory |
| CLUTCH | Barnett |
| PRIMARY DRIVE | Victory |
| | |
| --- | --- |
| FRAME | |
| YEAR/MANUFACTURER | '08/Mike Santoro-Mad Mikes Frames |
| RAKE | 38-degrees |
| STRETCH | 2 1/2 inches |
| | |
| --- | --- |
| SUSPENSION | |
| MANUFACTURER FRONT | Delisle Custom Products |
| LENGTH | 6 inches over |
| TRIPLE TREES | Delisle Custom Products |
| MANUFACTURER REAR | None |
| | |
| --- | --- |
| WHEELS, TIRES, AND BRAKES | |
| MANUFACTURER FRONT/TYPE | PM/Casino |
| SIZE HEIGHT/WIDTH | 21×2 1/8 |
| TIRE/SIZE | {{{90}}}/90-21 |
| CALIPER | PM |
| ROTOR | PM |
| MANUFACTUERER REAR/TYPE | PM/Casino |
| SIZE-HEIGHT/WIDTH | 18×8 1/2 |
| TIRE/SIZE | {{{240}}}/50-18 |
| CALIPER | PM |
| ROTOR | PM |
| | |
| --- | --- |
| FINISH/PAINT | |
| COLOR | Crimson Red and Black |
| PAINTER | Doug Starbuck-Starside Design |
| GRAPHICS | Doug Starbuck |
| PLATING/POLISHING | Millennium Plating |
| POWDER COATING | Concept Powder |
| | |
| --- | --- |
| ACCESSORIES | |
| REAR FENDER | Delisle-Modified |
| GAS TANK & CAP | Victory-James Crsoby/Matt Hotch cap |
| OIL TANK | in case |
| HANDLEBARS | Delisle |
| RISERS | Delisle |
| MIRRORS | None |
| HAND CONTROLS | PM |
| FOOT CONTROLS | PM |
| FOOTPEGS | PM |
| HEADLIGHT | Alloy Art |
| TAILLIGHT | Alloy Art |
| LICENSE MOUNT | Alloy Art |
| SEAT | Bitchin' Seat Company |
| ELECTRICAL | Todd's Cycle/modified Victory harness |