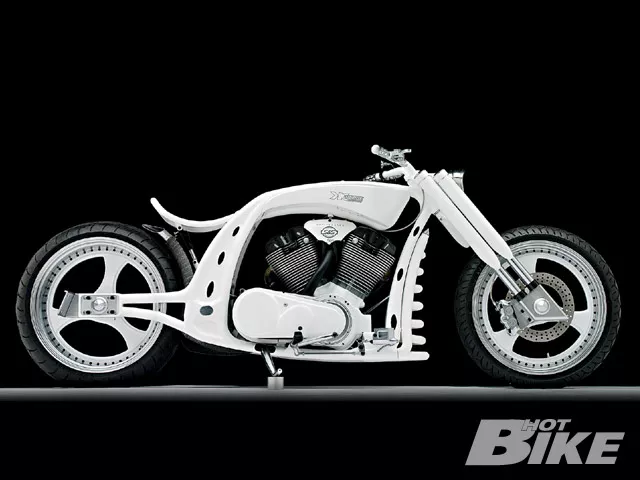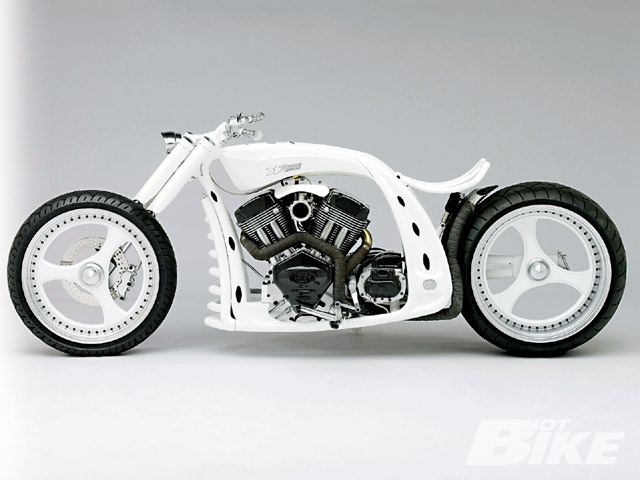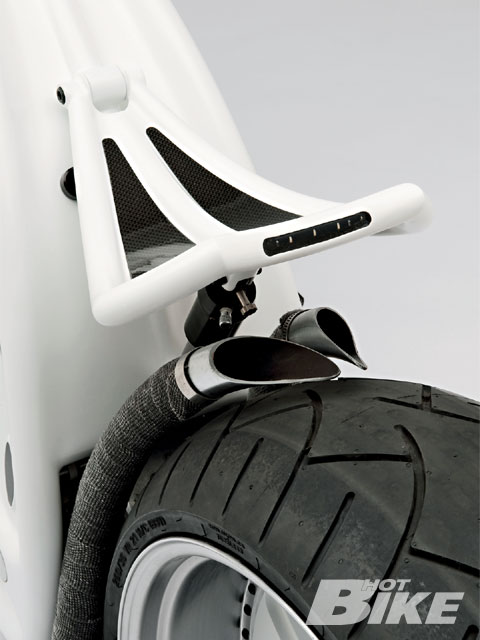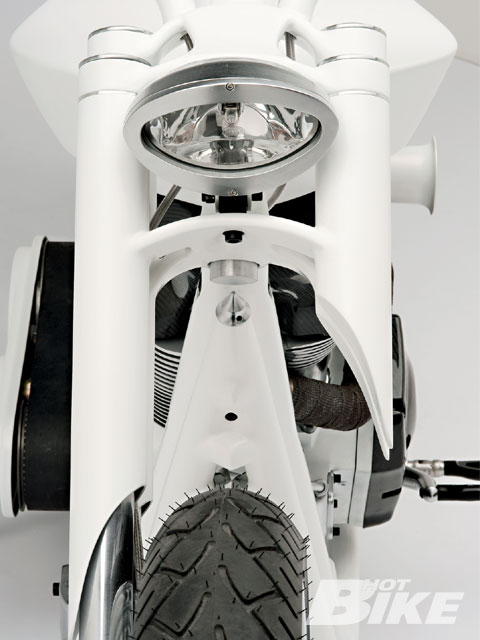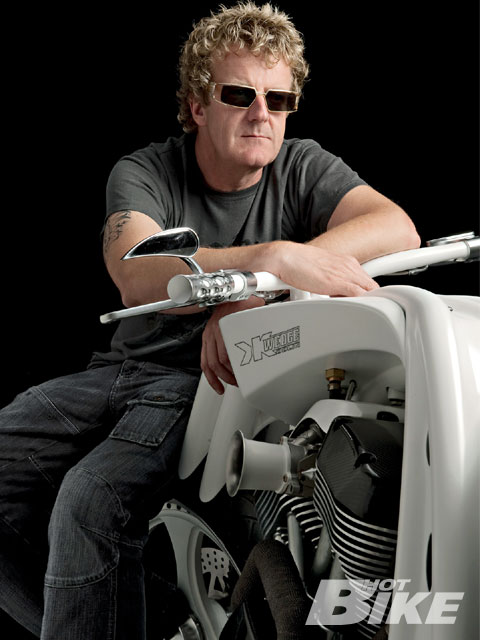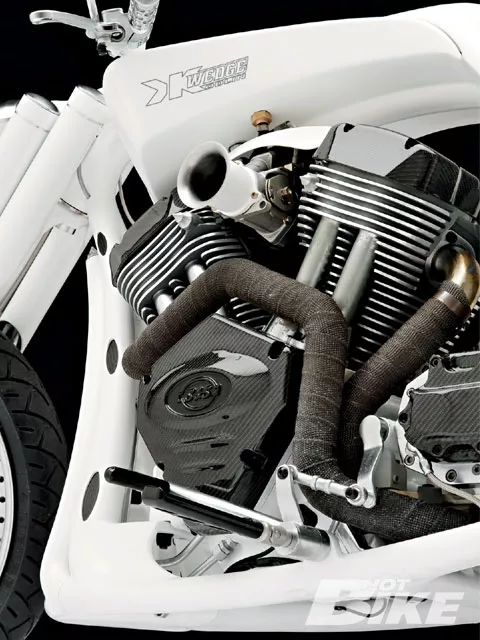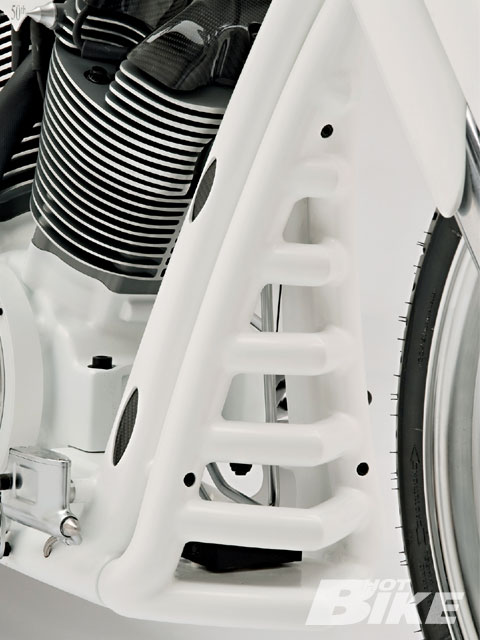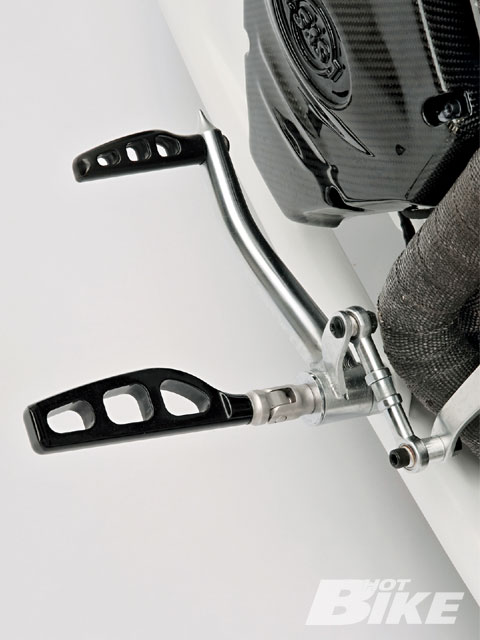 There are some names that can't be found in the Yellow Pages, especially when it comes to handcrafted motorcycles. Not that Fred Kodlin hasn't been listed in his local phonebook, not to mention all serious listings of high-end custom bike builders, but you won't find his face plastered on a cookie cutter yellow page ad next to a cookie cutter bike. When invited to build a bike for S&S;' prestigious 50th anniversary bike show by then S&S; President Brett Smith, Fred didn't hesitate to state which engine he wanted: The X-Wedge. A lot of American customizers had taken on the task of building bikes around S&S;' newest engine platform in all styles of bikes, from bagger to chopper, mild to wild. However, none of them have been as radical as Fred's "K-Wedge." But then again what do you expect from Germany's top customizer. This year marks Fred's 25th anniversary in the bike business, first at his workshop at Jesberg, now at the much bigger facilities at Borken in the German state of Hessen.
"This is really my first X-Wedge powered motorcycle – and we didn't start the project until after the engine arrived at the workshop," said Fred. Fred has a reputation for building his high-end projects in short time allotments that sometimes seem impossible. "Fortunately, I am backed by a superb team that will do the day work with my other "stock" bikes, the parts business, and add some of their spare time to projects like this," Fred stated. The helping hands were more than necessary, as the one-off machine really started as some raw tubes and uncut sheets of metal.
"For the S&S; project, I wanted to build something really special, something that has never been done before, something that would really catch people's attention," remembers Fred, as he explained the short and radical history of the bike. Knowing that every single one of the 50 selected builders would give his very best Fred realized that he needed to build an extraordinary bike, which would have some technical tricks, a unique design, and some extras that nobody else would think of. Plus the bike would have the typical Kodlin curves, as incorporated in so many of Fred's project bikes and stock frames. As time was pressing on the project, Fred knew that he could fall back on some old tricks he had used in previous projects and use this bike to develop them further. The Kodlin workshop is perfectly equipped with everything necessary to build a one-off motorcycle: Fred's stock frames are manufactured at Borken, as are his one-off bikes. So when the X-Wedge engine arrived, the tube bending started.
As much as the one-sided rear section might look like a swingarm, it's actually a rigid. The only suspension for the rider comes from a bicycle-shock mounted under the seat. Since there is no rear fender, Fred incorporated an LED taillight/brake light into the back of the seat to provide some visuals for those behind the bike. Speaking of fenders, you probably noticed that there's no front fender as well. This enabled Fred to show off his three-spoke single-side design wheels, a 21×3.5-inch front and a 21×9-inch rear. Adding to the radical Street Fighter look and single-sided theme is Fred's one-off single-sided front fork, which is completely handmade. The left side is cut-off, but the frontend is designed to act like an inverted fork-it's just that both legs are mounted to the right side. A four-piston Performance Machine (PM) caliper helps slow things down up front.
To raise the bar even further and really make the bike different, Fred decided to turn the X-Wedge 180 degrees in the frame, which meant the entire drive assembly had to be modified. While at it, he ordered some custom-made carbon covers for the engine and gearbox, which would underline the high-tech performance look. If your eyes follow the drivetrain from the engine along the modified Primo-Rivera belt drive to the Baker six-speed gearbox, it seems that something is missing: No belt? No chain? How does that work? Fred has used the idea several years ago in his "Sodom" hardcore chopper, later refined it in the radical hub-less "Shine" bike which had hub-less wheels front and rear, then again in 2004 for a still relatively unknown bike he built for a customer. The concept is called friction drive and utilizes a heavy-duty spring that presses a solid drum against the rear tire. In this bike the drum is driven from the gearbox and features its own brake disc, equipped with one PM four-piston caliper.
The bike thrives on Fred's ideas of minimalism – just what you need to ride. "And that's what it's all about," said Fred. "Despite the radical look, the bike was built to be ridden." Fred is never shy to prove that his creations are road-worthy. Ever since his induction into the Hamsters in 2004, he has done the famous "Hamster trek" from California to Sturgis four times – on bikes he had built literally the month before.
A few "stock" Kodlin parts were used on this bike, like the headlight. Living up to the spirit of the competition, almost everything is handcrafted and unique – like the oil tank, which is housed in the tubing in front of the downtubes, (that section that looks like the facemask of a football helmet). "I wanted to add as much muscle as possible without hiding the technology and the tricks," Fred stated. In his other friction drive projects, Fred hid the friction drive system. But with this minimalist design of this bike, the friction drive-drum is a little bit more exposed for the eyes to see.
"This is a 'muscle bike' by style and definition," stated Fred. "No fancy paintwork, no ape hangers, no gimmicks – just pure and raw motorcycle." This would score high in the eyes of the S&S; crew for sure – but would it also score with the judges? "I don't care if I win bike shows any longer," Fred commented. "I build what I want to build." Which obviously doesn't stop him from winning bike shows. After the success at the S&S; bike show (Fred's X-Wedge won top honors in its class), the bike was exhibited at Verona Bike Expo in January 2009 and was selected by the AMD judges as the Best International Bike, winning Fred a ticket to the 2009 World Championship of Custom bike Building at Sturgis-and definitely a frontrunner for the competition's prestigious title. The bike was built in 28 days, working 18 hours a day. Based on its stout, defined lines you could call it a custom Pitbull; but with its technical, forward thinking intricacies, Science Friction might make more sense.
Spec Sheet
| | |
| --- | --- |
| BIKE OWNER | Fred Kodlin |
| SHOP NAME | Fred Kodlin Motorcycles (FKM) |
| SHOP PHONE | +49 (0) 5682 7071-0 |
| SHOP WEBSITE | |
| YEAR/MAKE/MODEL | '08/Kodlin/K-Wedge |
| FABRICATION | FKM |
| ASSEMBLY | FKM |
| BUILD TIME | 28 days, 18 hours a day |
| | |
| --- | --- |
| ENGINE | |
| YEAR/ MANUFACTURER | '08/S&S; |
| TYPE/SIZE | X-Wedge/117ci |
| BUILDER | S&S; |
| CASES | S&S; |
| CYLINDERS | S&S;/FKM |
| HEADS | S&S; |
| ROCKER BOXES | S&S;/Carbon Fiber Covers |
| EFI | S&S;/FKM |
| AIR CLEANER | FKM |
| EXHAUST | FKM |
| | |
| --- | --- |
| TRANSMISSION | |
| YEAR/MANUFACTURER/TYPE | '08/Baker |
| | Drivetrain/Six-speed |
| CASE | Baker Drivetain/Carbon Fiber Cover |
| CLUTCH | Primo-Rivera |
| PRIMARY DRIVE | Primo-Rivera/FKM |
| | |
| --- | --- |
| FRAME | |
| YEAR/MANUFACTURER | '08/FKM |
| RAKE | 38 degrees |
| STRETCH | 5 inches out, -2 inches up |
| | |
| --- | --- |
| SUSPENSION | |
| MANUFACTURER FRONT | FKM |
| LENGTH | 2 inches over |
| TRIPLE TREES | FKM |
| MANUFACTURER REAR | None |
| SWINGARM | None |
| | |
| --- | --- |
| WHEELS, TIRES, AND BRAKES | |
| MANUFACTURER FRONT/TYPE | FKM/Three Spoke |
| SIZE-HEIGHT/WIDTH | 21×3.5 |
| TIRE/SIZE | Metzeler/ 120/70×21 |
| CALIPER | PM |
| ROTOR | FKM |
| MANUFACTUER REAR/TYPE | FKM/Three Spoke |
| SIZE-HEIGHT/WIDTH | 21×9 |
| TIRE/SIZE | Metzeler/ 260/35×21 |
| CALIPER | PM/FKM |
| ROTOR | FKM |
| | |
| --- | --- |
| FINISH/PAINT | |
| COLOR | White Pearl Bronze Matte Silk |
| PAINTER | FKM |
| | |
| --- | --- |
| ACCESSORIES | |
| GAS TANK∩ | FKM |
| OIL TANK | FKM |
| GAUGES | FKM-Motogadget |
| HANDLEBARS | FKM |
| MIRRORS | Arlen Ness |
| HAND CONTROLS | FKM |
| FOOT CONTROLS | FKM |
| FOOTPEGS | FKM |
| HEADLIGHT | FKM |
| TAILLIGHT | FKM |
| SEAT | FKM |