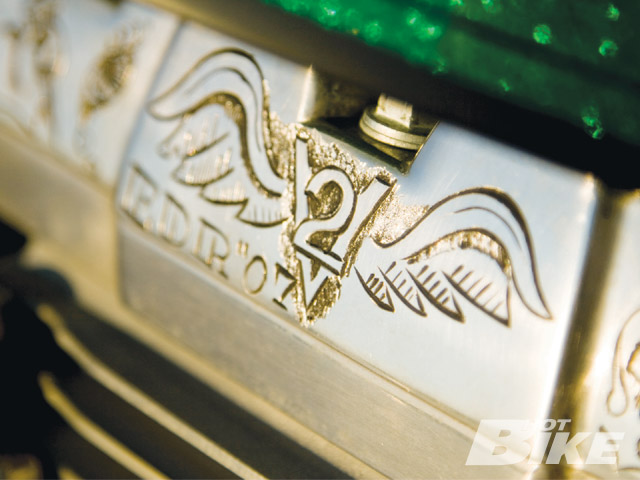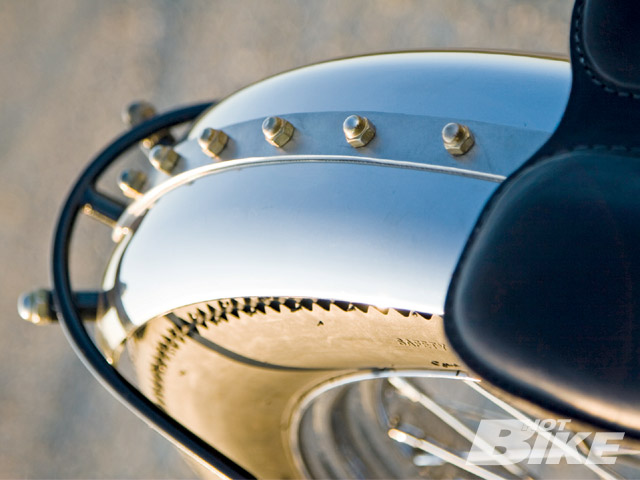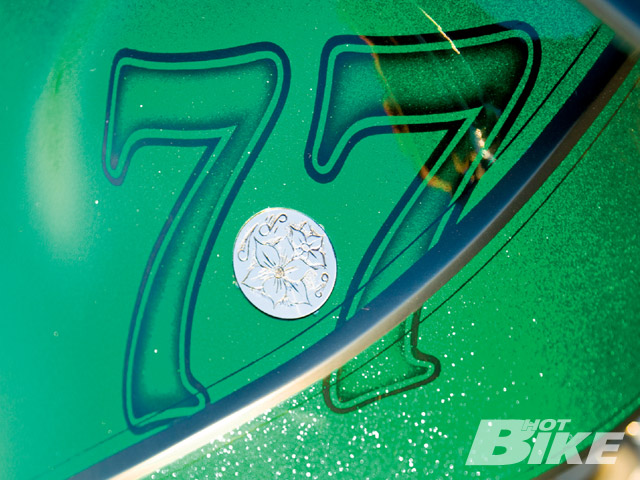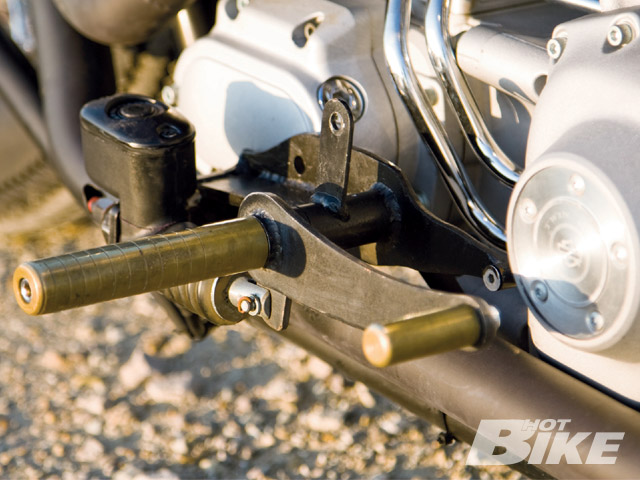 Rich Phillips is not your average bike builder. Drawing inspiration from his artistic background, Rich is a consummate artist, a man committed to creating, no matter what the medium. He has worked mostly on custom, hand-tooled seats and seat pans, but his work has taken him from that to building ground-up custom bikes and one-off parts, to his latest venture, directing and starring in an Indie movie about the motorcycle world he lives in.
Motorcycles have fascinated Rich since he was a kid, but his mother threatened to kick him out if he ever got one. So as soon as he moved out, he went out and bought a Harley. Unfortunately his uncle backed over it by accident, but that's another story.
By trade Rich is a seat guy. He started at 15 working for his other uncle in the auto upholstery business and became proficient at sewing and pattern making. Around the time he turned 27 Rich decided to go out on his own, opening Rich Phillip's Cycles, to focus solely on creating one-off motorcycle seats. He never did like the stock seats on his bikes, so he took the skills he learned at his uncle's place and translated them to fabricating seat pans and tooling leather–it was the perfect medium for his art.
Eventually his art was noticed by the motorcycle world, in particular when Twisted Choppers contacted him, asking him to do the seat for Kill Machine, their Biker Build Off bike. A lot of guys contacted Twisted Choppers wanting to do the seat, but they had seen Rich's work and came looking for him. The experience exposed Rich to the inner circle of high-end builders, and helped get his name out to the community.
About four or five months later Rich began building his first ground-up custom, a board-track racer style bike called Early Bird. That bike got tons of accolades for its hand-made leaf spring frontend, one of Rich's first parts offerings. Another key component on Early Bird that caught people's attention was the suspension system for the seat pan which featured a small mountain bike shock on a swivel. Like all artists, Rich always had a vision of how he wanted the bike to look, long before it actually took shape.
Rich's latest creation, this 2004 (once) Softail custom build was no different. Rich picked the bike up and had decided he wouldn't customize it, just ride it as is and not even worry about it. But we all know how that goes. His vision took over and before he knew it the rear section of the frame had been cut off and he was looking at throwing some taller wheels on it. Pretty soon he was changing everything.
"I wanted to be able to sit down in the bike and have that stretched out look, but still maintain a traditional feel with the design. If you look at the bike, all the lines point downwards. I wanted everything to look sleek and slender. And I really like the look of taller wheels," said Rich.
He used the original frame but turned it into a rigid and raked it out 38 degrees. Rich also fabricated a lot of parts on the bike. Of course, once again Rich made his own leaf-spring frontend and got rid of the stock fenders and brakes, but he also tried his hand at fabricating a gas tank and was successful on the first try. He made the handlebars, foot pegs and controls, exhaust pipes, seat pan and seat, and modified the rear fender.
Mechanically the bike is stock except for the air cleaner and aftermarket primary and clutch.
The motor has an engraving that Rich did himself with dental tool that says 1977, the year he was born on one side, and E.D.R. '07 on the other, signifying its first big run, the El Diablo Run.
Essentially the bike has been an ongoing project. It's been in a constant state of flux. Even now, as we go to print, the gas tank has been replaced with something different. "I don't build bikes for customers. I would rather build for myself and get that artistic freedom that comes along with that–this bike is my daily rider and it keeps me busy," stated Rich.
Rich has expanded his business in the last few years to building motorcycle parts, like his leaf spring frontend, as well as the seats and seat pans he is famous for. His latest adventure, Free to Wander, an Indie film about the motorcycle world he lives in, came out just before 2009 Daytona Bike Week, and is definitely something to check out.
**Specs
| | |
| --- | --- |
| BIKE OWNER | Rich Phillips |
| SHOP NAME | Rich Phillip's Cycles and Leather |
| SHOP PHONE | (314) 392-7841 |
| SHOP WEBSITE | |
| YEAR/MAKE/MODEL | '04/H-D/Custom |
| FABRICATION | Rich Phillips |
| ASSEMBLY | Rich Phillips |
| BUILD TIME | Three Months |
| | |
| --- | --- |
| ENGINE | |
| YEAR/MANUFACTURER | '04/H-D |
| TYPE/SIZE | TC/88ci |
| BUILDER | H-D |
| CASES | H-D |
| CYLINDERS | H-D |
| HEADS | H-D |
| ROCKER BOXES | H-D/Rich Phillips |
| EFI | H-D |
| AIR CLEANER | Goodson/Rich Phillips |
| EXHAUST | Rich Phillips |
| | |
| --- | --- |
| TRANSMISSION | |
| YEAR/MANUFACTURER/TYPE | '04/H-D/Five Speed |
| CASE | H-D |
| CLUTCH | BDL |
| PRIMARY DRIVE | BDL |
| | |
| --- | --- |
| FRAME | |
| YEAR/MANUFACTURER | '04/H-D, Rich Phillips |
| RAKE | 38 Degrees |
| STRETCH | None |
| | |
| --- | --- |
| SUSPENSION | |
| MANUFACTURER FRONT | Rich Phillips |
| LENGTH | 2 inches under |
| TRIPLE TREES | Rich Phillips |
| MANUFACTURER REAR | Rich Phillips |
| | |
| --- | --- |
| WHEELS, TIRES, AND BRAKES | |
| MANUFACTURER FRONT/TYPE | Custom Chrome/Spoke |
| SIZE-HEIGHT/WIDTH | 21 |
| TIRE/SIZE | Avon/21×3 |
| CALIPER | None |
| ROTOR | None |
| MANUFACTURER REAR/TYPE | Midwest/Spoke |
| SIZE-HEIGHT/WIDTH | 19 |
| TIRE/SIZE | Firestone/19 |
| CALIPER | Exile |
| ROTOR | Exile |
| | |
| --- | --- |
| FINISH/PAINT | |
| COLOR | Green Metal Flake |
| PAINTER | Liquid Illusions |
| GRAPHICS | Liquid Illusions |
| PLATING/POLISHING | Rich Phillips |
| POWDERCOAT | Tacony Powder Works |
| | |
| --- | --- |
| ACCESSORIES | |
| REAR FENDER | Rich Phillips |
| FENDER STRUTS | Rich Phillips |
| GAS TANK∩ | Rich Phillips |
| OIL TANK | H-D |
| HANDLEBARS | Rich Phillip |
| HAND CONTROLS | PM |
| FOOT CONTROLS | Rich Phillips |
| FOOTPEGS | Rich Philips |
| HEADLIGHT | H-D |
| TAILLIGHT | Model A |
| LICENSE MOUNT | Rich Phillips |
| SEAT | Rich Phillips |