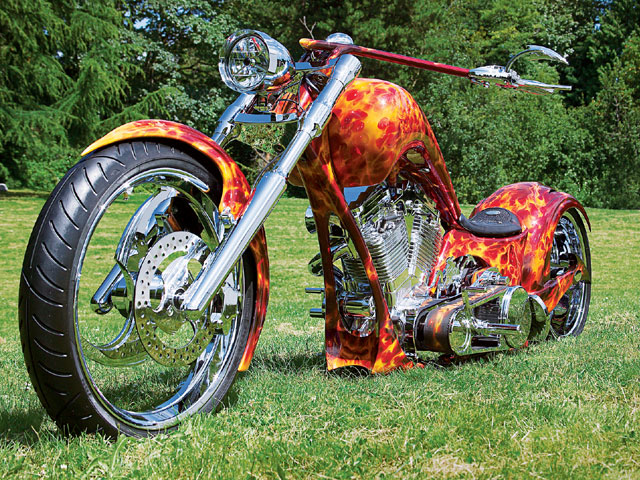 Underground builders are undoubtedly the lifeblood of this industry. Small shops and even guys working out of their garages are among the ones who continue to push new boundaries of style and design. They build with unbridled passion and an absolute disregard for the status quo. One such builder is Robert Carroll, and his latest creation is the She-Devil.
Hailing from the great Northwest, Robert isn't your typical dyed-in-the-wool biker type, but rather one of the new school of custom builders who has managed to cast a fresh light on custom bikes. Oddly, Robert credits his penchant for watching the Orange County Choppers crew on the Discovery Channel for the initial inspiration to construct this machine. Working with a talented painter and fellow Washingtonian, Mike Lavallee, the two of them dreamed up She-Devil. Robert spent the next six months hand-fabricating the entire bike himself. In many cases, not only did he construct the components, but he actually had to buy and learn how to use the tools to do it. In the process, he created Puget Sound Choppers so the innovation could continue. Not bad for a freshman effort!Beginning the project with a Lowlife chassis from Independent Cycle, Robert went right to work cutting and fabbing. Unlike off-the-shelf products, the unique bodywork was constructed from raw sheetmetal and hand-formed to the unreal shapes you see here. The flowing lines of the frame were tweaked to suit Robert's vision of two-wheeled elegance. Sitting on a 300-series rear tire and Weld Venom wheels, She-Devil is suspended by Legend's Air Ride in the rear and Perse forks up front. The trick triple-trees are also from Perse, and Puget Sound Choppers hand-fabricated the bars. Controls are by Ness and mounted to the bars with all the wiring running internally. Foot controls are mid-mount from Independent Cycle and linked to the transmission via a one-off She-Devil Linkage that Robert hand-carved from aluminum block. Utilizing a belt-drive primary, also from Independent, PSC linked the Baker six-speed trans to a very healthy 113-inch motor from the folks at TP. The 4-inch bore of the TP is fed through a 45mm Mikuni, and spent gasses are expelled via Martin Brothers Trend Kill pipes to produce a robust 113 horsepower with 120 lb-ft of torque that's ready and willing to turn that monster rear tire into molten rubber.
With all the big parts in place and the bike fully mocked up, things started to get really interesting. The long, low, and mean look Robert was after was coming to life, and the bike was now ready to receive the intense paint job both he and Mike Lavallee had dreamed up. Stripped back down to its essence, She-Devil's frame and body were first turned over to G&L; Auto Body for final smoothing and filling. From there it went to Killer Paint Studios in Snohomish, WA. The plan was to create something like nothing else-and they certainly succeeded with the insane detail encompassed in the She-Devil paint. You may recognize the Killer Paint Studios name from TV shows such as Monster Garage or Overhaulin', where Mike has done several high-profile projects. After spraying on five base coats of House of Kolor Kandy, he began airbrushing the staggering detail work. Taking inspiration from many sources and even utilizing an actual model at one point, he has more than 100 hours of work in the paint job alone. The lifelike flames have become a trademark of Killer Paint and are used generously throughout the bodywork. A virtual wall of fire frames the realistic detail of five unique airbrushed she-devils, as well as countless other facets. But the detail work doesn't end there.
From the beginning, Puget Sound had opted only for top-shelf parts and enlisted Bill Wall Leather to make the unique seat. Beginning with a handmade seat pan, Robert molded and shaped his own foam before shipping it off to Wall. Knowing the seat had to be as radical as the bike, he stitched togther a combination of stingray, shark, and cowhide accented with sterling silver lettering. Further detail parts such as the Ness headlight, Dakota Digital speedo, and LED taillight round out what is undoubtedly one of the wildest choppers we've seen in a long time. Layer upon layer of detail work has produced a bike that crowds can't stop marveling at-and all of it from a builder just getting started. Maybe we need to call the guys over at the Discovery Channel….
| | |
| --- | --- |
| SPEC SHEET | |
| GENERAL | |
| OWNER | ROBERT CARROLL |
| SHOP | PUGET SOUND CHOPPERS |
| PHONE | (253) 988-4794 |
| WEBSITE | WWW.PUGETSOUNDCHOPPERS.COM |
| YEAR/MAKE/MODEL | '05 INDEPENDENT LOW LIFE |
| FABRICATION | PUGET SOUND CHOPPERS |
| ASSEMBLY | PSC |
| BUILD TIME | 6 MONTHS |
| | |
| --- | --- |
| ENGINE | |
| YEAR/TYPE/SIZE | '05 TP 113ci |
| BUILDER | TP PERFORMANCE |
| CASES | TP |
| FLYWHEELS | TP |
| RODS | TP |
| PISTONS | TP |
| CYLINDERS | TP |
| HEADS | TP |
| VALVES | TP |
| ROCKERS | TP |
| ROCKER BOXES | TP |
| PUSHRODS | TP |
| PUSHROD TUBES | TP |
| CAM | TP |
| LIFTERS | TP |
| CARBURETOR | MIKUNI 45 |
| AIR CLEANER | THUNDER CYCLE |
| IGNITION | CRANE HI 4 |
| EXHAUST | MARTIN BROTHERS DESIGN |
| | |
| --- | --- |
| TRANSMISSION | |
| YEAR/TYPE | '05 RSD SIX-SPEED |
| CASE | BAKER |
| GEARS | 6-SPEED |
| CLUTCH | RIVERA PRO CLUTCH |
| PRIMARY DRIVE | INDEPENDENT |
| | |
| --- | --- |
| FRAME | |
| YEAR/TYPE | '05/INDEPENDENT LOW LIFE |
| RAKE | 40 DEGREES |
| STRETCH | 4 INCHES |
| | |
| --- | --- |
| SUSPENSION | |
| FRONT | PERSE |
| LENGTH | 2-1/2 INCHES OVER |
| TRIPLE-TREES | PERSE |
| REAR | |
| SWINGARM | INDEPENDENT |
| SHOCKS | LEGEND AIR RIDE |
| | |
| --- | --- |
| WHEELS, TIRES, AND BRAKES | |
| FRONT | |
| BUILDER/SIZE | WELD VENOM/21-INCH |
| TIRE/SIZE | AVON 120/70 |
| CALIPER | PSC CUSTOM |
| ROTOR | WELD |
| REAR | |
| BUILDER/SIZE | WELD VENOM/18X10 |
| TIRE/SIZE | AVON {{{300}}}/35 |
| CALIPER | PSC |
| ROTOR | WELD |
| | |
| --- | --- |
| FINISH/PAINT | |
| COLORS | RED/BLACK |
| PAINTER | KILLER PAINT |
| GRAPHICS | MIKE LAVALLEE |
| MOLDING {{{GL}}} | BODY WORK |
| PLATING/POLISHING | ART BRASS |
| POWDERCOATING | NONE |
| | |
| --- | --- |
| ACCESSORIES | |
| FRONT FENDER | PSC |
| REAR FENDER | PSC |
| FENDER STRUTS | PSC |
| GAS TANK & CAP | PSC |
| OIL TANK | INDEPENDENT |
| GAUGES | DAKOTA DIGITAL |
| HANDLEBARS | CUSTOM PSC |
| RISERS | PSC |
| MIRRORS | ARLEN NES |
| HAND CONTROLS | ARLEN NESS |
| FOOT CONTROLS | INDEPENDENT |
| FOOTPEGS | INDEPENDENT |
| HEADLIGHT | ARLEN NESS |
| TAILLIGHT | PSC |
| TURN SIGNALS | PSC |
| LICENSE MOUNT | BILLET 4U |
| SEAT | BILL WALL LEATHER/PSC |