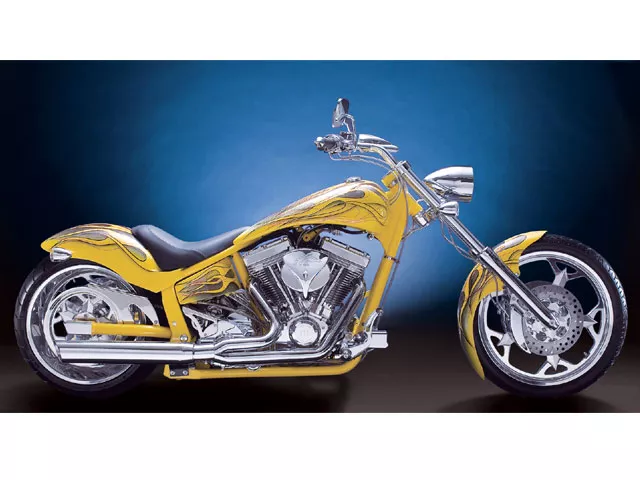 The year 2006 marks a milestone in the history of the American IronHorse Motorcycle Company. The Fort Worth, TX-based custom cruiser/chopper manufacturer is celebrating its 10th year in business this year. Anyone familiar with the motorcycle industry will tell you just how tough accomplishing this feat truly is. AIH is charging hard into 2006 after racking up record numbers in 2005 for production, sales, and profitability. With all that momentum pushing the company forward, current CEO Wil Garland told us, "As we hit the 10-year mark, we want to look back and recognize our founders, our customers, our dealers, and the countless individuals and companies that have helped AIH come this far."
From the company's modest beginnings back in 1995, when founders Bill Rucker and Tim Edmondson found themselves working in a one-room shop, to its current 224,000-square-foot facility, the company has come a long way. The present manufacturing plant easily handles production, assembly, paint, polish, design, and engineering.
To help celebrate its first decade in business, AIH has some kicked off some ambitious projects. First and foremost on that list is the introduction of a special anniversary limited edition of its well-known Texas Chopper. Added to that, the company has expanded its line of apparel and factory parts and accessories. The year 2006 will also see the establishment of the American IronHorse Riders (AIR) group.
When the 2006 bikes hit showroom floors, customers will have their choice of six different models in addition to the special anniversary Texas Chopper. Only 125 of the anniversary bikes will be built, making them a sought-after commodity. Starting with a Texas Chopper platform, AIH designers and engineers have blended their talents, creating a beautiful motorcycle with performance and design at the top of their list. The bike starts off with the well-known 8-up/4-out softail-style frame, but instead of being powdercoated, it's been treated to a chrome finish. Adding some serious horsepower, the guys from Texas have included a show-polished S&S; 124-inch motor, complete with black and polished Diamond Cut barrels and heads. Giving the bike attitude is a 3-inch open-belt primary drive hanging from the left side coupled to a Barnett lock-up Scorpion clutch. Add to that a Progressive Suspension airtail adjustable rear suspension, and you've got the makings of a special motorcycle. Not content with stopping there, AIH has thrown in many one-off components to make this bike stand out from the crowd. Some of these items include special black wheels highlighted with machine-etched details and matching pulley and rotor carriers, along with the familiar AIH digital information center mounted between the chromed V-bars. Not stopping there, the bike is finished out with what AIH calls its VVS1 paint scheme, which consists of candy reflex red, jet black, and platinum metal-flake accents, adorned with 10-year anniversary badging.
Comprising the rest of the lineup are two rigid-frame bikes, the Tejas and the LSC, and four softail-style bikes: the flagship Slammer, Texas Chopper, Outlaw, and Legend. Of these models there are three choppers: Texas Chopper, Legend, and LSC. The other three models-Slammer, Outlaw, and Tejas-are Pro-Street-style bikes. All the bikes come standard with an S&S; 111-inch motor (117-inch and 124-inch S&S; motors can be added as an option) fitted with a Super G carburetor, enclosed chain primary, two-into-one AIH exhaust complete with integral heat shields, six-speed right-side-drive transmission, digital information center, and V-style handlebars. Rear tires on all the bikes are all either 240mm or 280mm Metzelers. New for 2006, AIH has added hydraulic clutches to all of the models. Each bike in the line has a 38-degree raked neck and a set of 4-degree triple trees, giving all the bikes a total of 42 degrees of rake. One late addition to the component lineup is the option of purchasing chrome wheels in a variety styles. This is possible due to the close relationship between AIH and RC Components. The best part of the wheel program is that it's backed by a three-year manufacturer's warranty. AIH offers buyers more than 2,500 base paint, accent, and graphic treatments, assuring riders that their bike will stand out in a crowd.