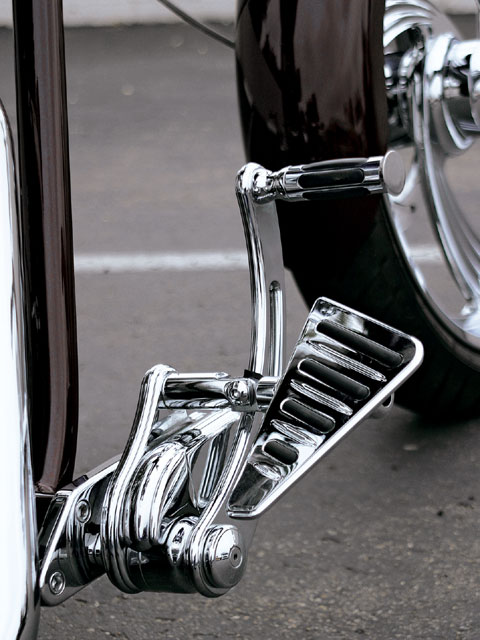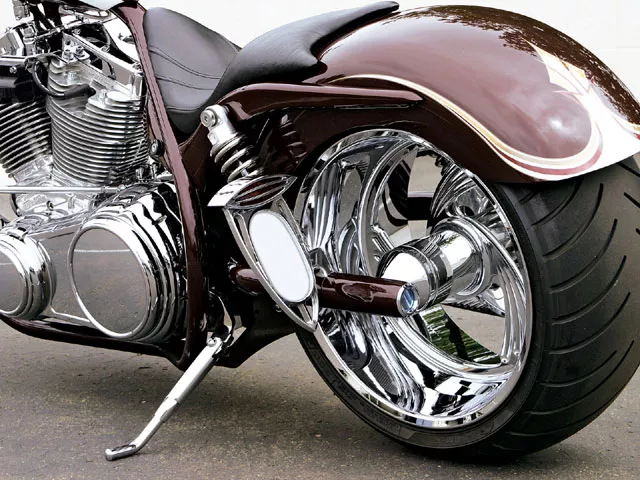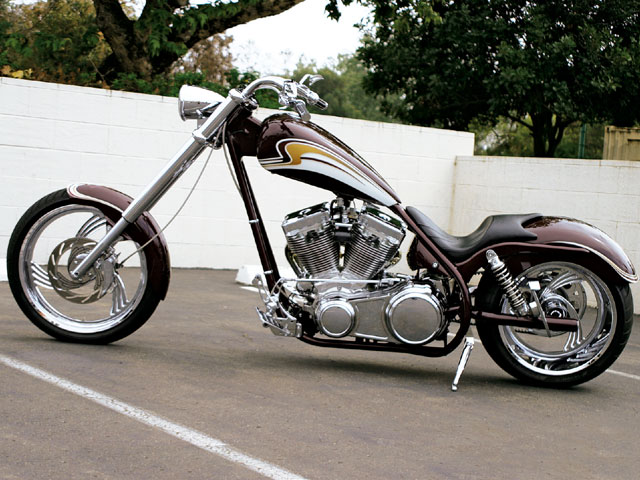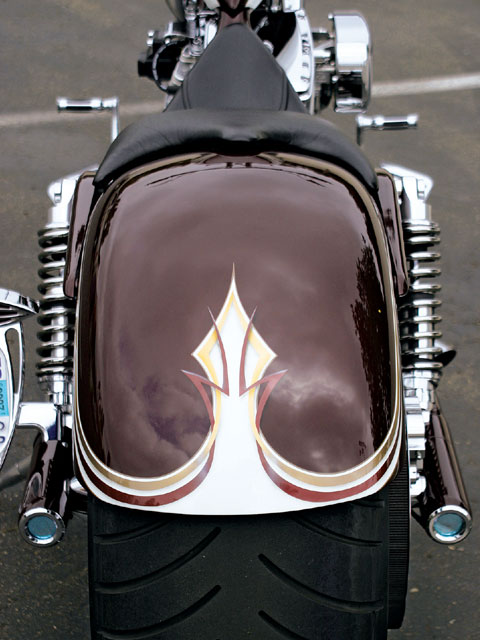 Bikes don't build themselves, people build them. Just look at Butch and Donnie Olhausen. Back in 1972, they had a great gig going in San Diego. By day, they rode the waves of Southern California, but when night fell they earned their keep refurbishing pool tables at local bars. It was the same work their father did, but the boys took it a step further, opening Olhausen Pool Tables, and over the last 30 years or so they've grown it into one of the largest pool table manufacturers on the planet.
While all this was going on, a guy named Randy Aron passed his time in the San Diego sun on a motorcycle. First as a hobby, but as the years bled into one another, more and more of his buddies came to him to work on their iron. And like the Olhausens, he turned it into a career. CycleVisions is his shop, and he's been a full-time pro for 12 years now.
About 10 years ago their paths collided when Butch came into CycleVisions to check it out. By the time he walked out, Randy had a new order to create Butch's next motorcycle. Two custom bikes and several years later, Butch was back yet again. This go around he had a hankering for fat of the 300mm variety.
As fate would have it, Randy had just finished a Ness Highliner and couldn't resist showing it off, but it kinda backfired: Butch wanted a test ride. Randy had two routes to go here: hand Butch the key and hope for the best, or ride himself with Butch as bitch.
Neither one was interested in hot three-legged fender-monkey action, so about an hour later Butch returned the key and bike to the shop. Randy was hooked. The rubbermount frame gave just about the smoothest ride he'd ever experienced. He ordered his own on the spot. "It's like a Road King on steroids," Randy said. "I've done a dozen of these bikes, both Low and Highliners. Just ride it once and you'll fall in love with it." That's a pretty strong comfort endorsement, considering this bike's raked out to 42 degrees and stretched up 6 inches. Add in the 12-over forks and you don't exactly have tour bike geometry.
What you do have is the start of a cool long chopper. If the frame gives this bike a Road King feel, then the "on steroids" part must come from the 124-inch S&S; heart. Butch originally wanted a 145, but changed his mind, citing the additional heat as a deal breaker. Randy styled it up with his own handmade pipes and MoFlow air cleaner.
Stylistically, the bike's a hybrid of Ness and CycleVisions designs. The wheels, brakes, tanks, and controls all came from Arlen and Cory's Dublin, California, operation, but Randy did the fenders and taillight. You don't see too many rubbermount choppers, and of those you do, few are brown. It could be Butch loves himself a good root beer float and wanted to make a statement, but it's probably something a little more personal. According to Randy, "It matches Butch's Prevost Luxury Coach and trailer."
Well, when you own and operate a tremendously successful business you can afford the toys that go with it. It's a legacy the Olhausens picked up from their father, himself a pool table technician, and are passing on to their kids who also work in the family business. Hopefully it's only a matter of time before the next generation catches the bike bug, too.
|||
|—|—|
| SPEC SHEET |
| GENERAL|
| OWNER| Butch Olhausen |
| SHOP| CycleVisions |
| PHONE| (619) 295-7800 |
| WEBSITE| www.cyclevisions.com |
YEAR/MAKE/MODEL '06/Special Construction | FABRICATION| CycleVisions |
| ASSEMBLY| CycleVisions |
| BUILD TIME| Six months |
| | |
| --- | --- |
| ENGINE | |
| YEAR/MANUFACTURER | '06/S&S; |
| TYPE/SIZE | 124ci |
| BUILDER | S&S; |
| CASES | S&S; |
| CYLINDERS | S&S; |
| HEADS | S&S; |
| ROCKER BOXES | S&S; |
| CARBURETOR | S&S; |
| AIR CLEANER | CycleVisions MoFlow |
| EXHAUST | CycleVisions |
| | |
| --- | --- |
| TRANSMISSION | |
| YEAR/MANUFACTURER/ | |
| TYPE | '06/Jims/6-speed |
| CASE | Jims |
| CLUTCH | Jims |
| PRIMARY DRIVE | Arlen Ness |
| | |
| --- | --- |
| FRAME | |
| YEAR/MANUFACTURER | '06/Arlen Ness Y2K |
| RAKE | 42 degrees |
| STRETCH | 6 inches up |
| | |
| --- | --- |
| SUSPENSION | |
| MANUFACTURER FRONT | Arlen Ness |
| LENGTH | 12 inches over |
| TRIPLE-TREES | Arlen Ness |
| MANUFACTURER REAR | |
| SWINGARM | Arlen Ness |
| SHOCKS | Works |
| | |
| --- | --- |
| WHEELS, TIRES, AND BRAKES | |
| MANUFACTURER FRONT/TYPE | Arlen Ness |
| SIZE-WIDTH/HEIGHT | 21×3-inch |
| TIRE/SIZE | Avon Venom/21-inch |
| CALIPER | Arlen Ness |
| ROTOR | Arlen Ness |
| MANUFACTURER REAR/TYPE | Arlen Ness |
| SIZE-WIDTH/HEIGHT | 300mm |
| TIRE/SIZE | Avon Venom {{{300}}} |
| CALIPER | Arlen Ness |
| ROTOR | Arlen Ness |
| | |
| --- | --- |
| FINISH/PAINT | |
| COLORS | Burgundy and White |
| PAINTER | Uptown Cycle Paint |
| GRAPHICS | Uptown Cycle Paint |
| MOLDING | Steve Moses |
| | |
| --- | --- |
| ACCESSORIES | |
| FRONT FENDER | CycleVisions |
| REAR FENDER | CycleVisions |
| GAS TANK | Arlen Ness |
| OIL TANK | Arlen Ness |
| GAUGES | Arlen Ness |
| HANDLEBARS | Arlen Ness |
| MIRRORS | Arlen Ness |
| HAND CONTROLS | Arlen Ness |
| FOOT CONTROLS | Arlen Ness |
| FOOTPEGS | Arlen Ness |
| HEADLIGHT | Arlen Ness |
| TAILLIGHT | CycleVisions |
| TURN SIGNALS | None |
| LICENSE MOUNT | Arlen Ness |
| SEAT | {{{Avalon}}} |