When someone commits the cardinal sin of a bad custom job to a classic motorcycle, it usually falls to someone else to atone for it. Mish-mashing a bunch of parts that would've gone great separately in other projects, then laying on a butt-ugly paint scheme is the carpool lane to a bad nickname, like, say, "Screamin' Chicken." That's how the story on this 1950 Panhead got started.
"I first found the bike as an ugly '80s-style running bike that we named the "Screamin' Chicken" due to the bad paint job on the tank. Needless to say it didn't stay that way for very long," Sean Gallagher said. "It was, however, a strong-running Panhead, so I was not complaining." Why would anyone complain about that? A strong Pan in the hand is worth two in the junkyard. When Sean got his mitts on the chicken, he wasted no time skinning it. "I had the idea in my head for this bike for a long time," he said. "I had been riding the bike in its previous form for a while and decided it was time to build it with the vision in mind."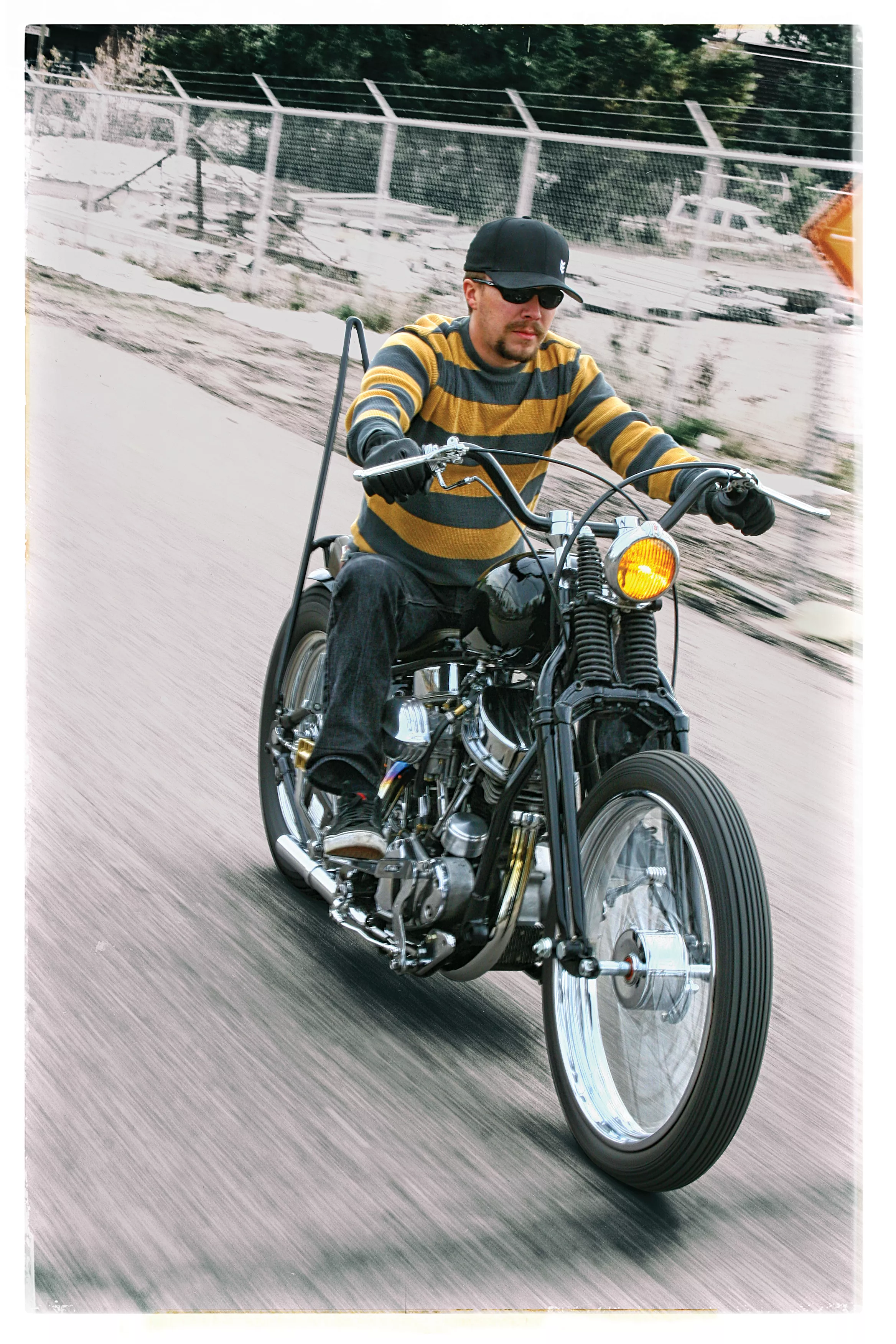 Sean picked the 1950 up about four or five years ago. With its ugly frame, Fat Bob gigantor tanks, 8-inch over front end and the poultry-esque paint job it was about the ugliest thing he'd ever seen. About a year later Sean and his friend Sven rebuilt it in four days as a strutted chopper. It was fun as hell but definitely not the picture bouncing around in his gray matter.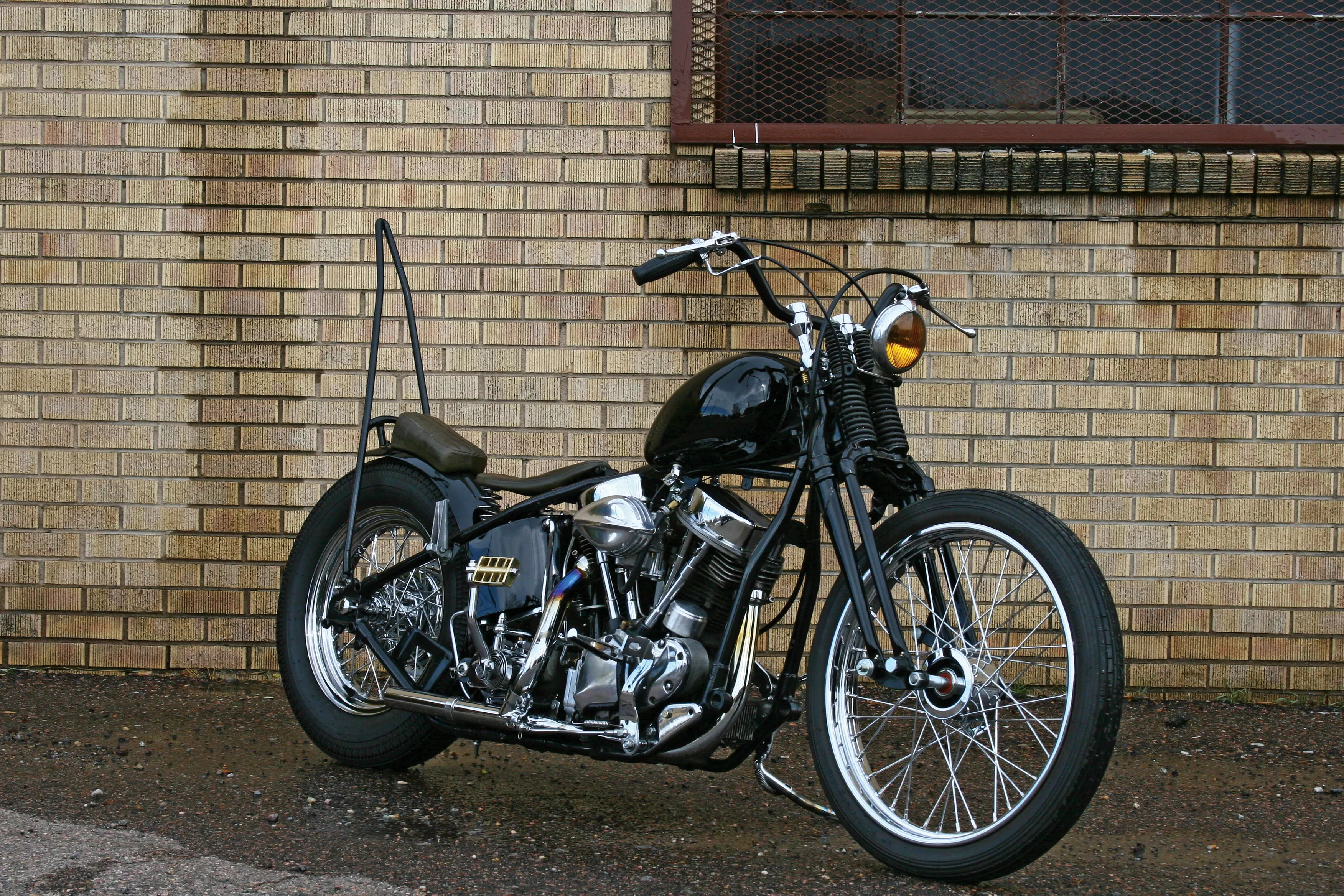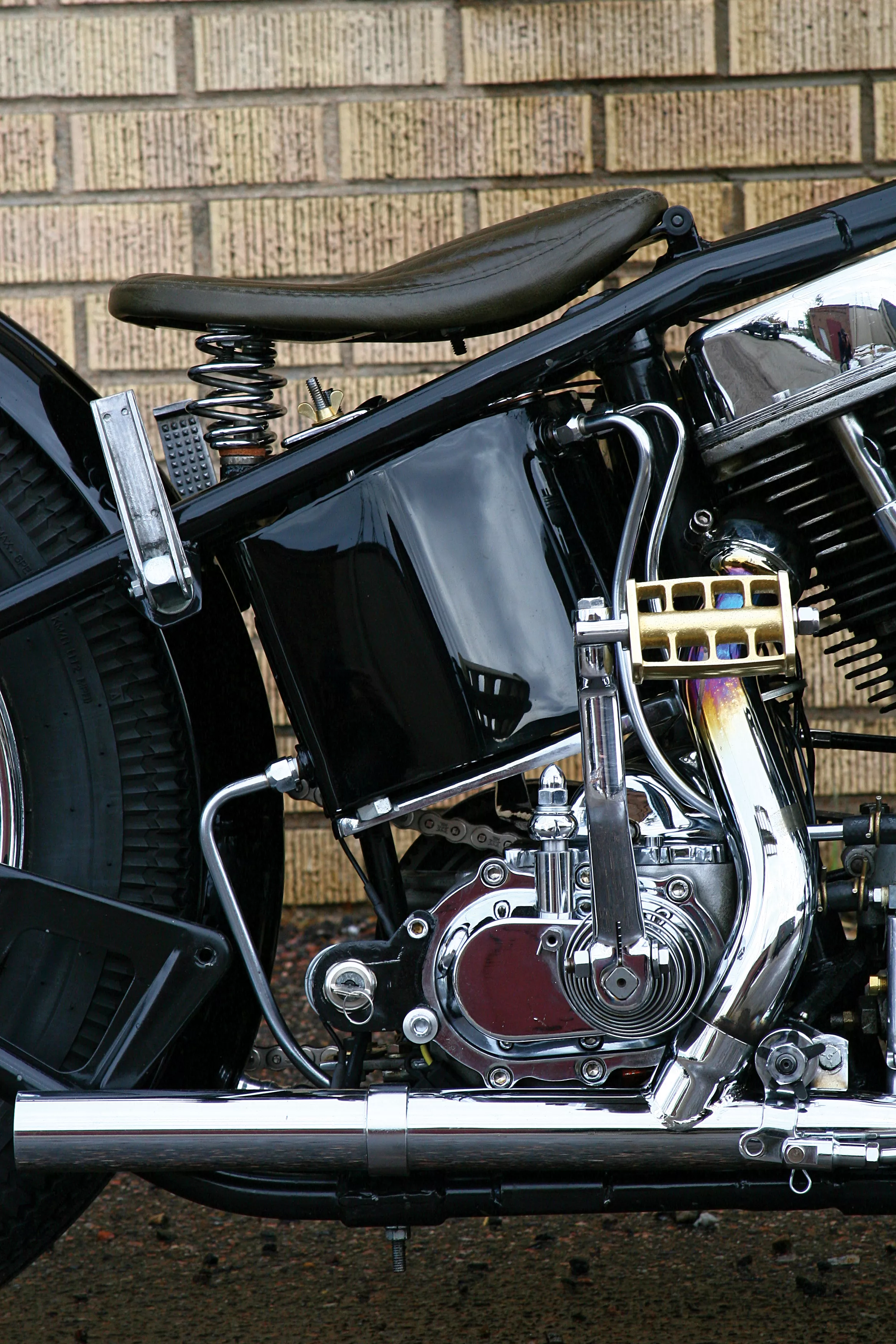 No, translating his mind's eye into a real chopper didn't take place until 2010. When December dropped the usual snow all around, Sean rolled up his sleeves and got down to business tearing into his chopper. Its motor ran plenty strong, but he had the guys at Deluxe Motor Shop take a look and tighten it up to make sure it was good to go. Not much was needed, which is exactly what you want to hear a shop say. With the motor's clean bill of health approved by the shop, Sean subtracted the old parts from the equation, sold them on eBay, and used the proceeds to secure the replacements he needed. Only the motor and transmission made it to the new incarnation.
This bike was intended to be a rider, not a trailer queen that sometimes gets out of the garage for a Starbucks run. Sean didn't want the price to get insane. He really kept on budget, with the main expenses being paint and some of the nice chrome parts. Sean knew all along that he wanted an all-gloss black chopper with chrome: "I feel that it's classic and timeless. I love the wild paint, flake, '60s and '70s styles, but personally I can never get tired of how it turned out. Plus it's the nicest paint I've ever had on a bike! I decided to add some brass accents here and there just for a little extra detail." Even though there are newer parts on the bike, he thinks it has lots of cool old parts, and overall it has a traditional bobber look.