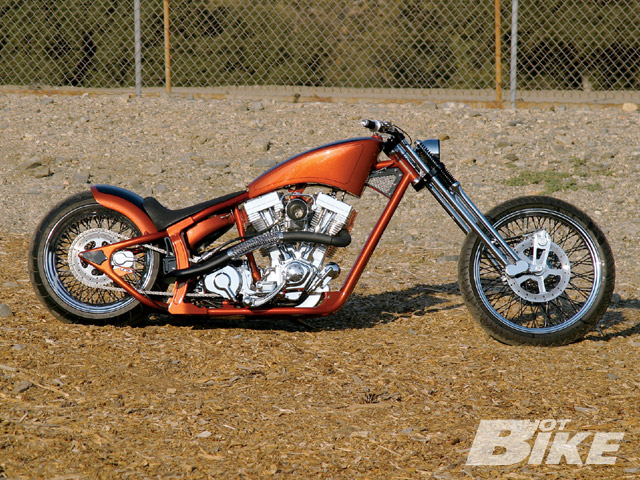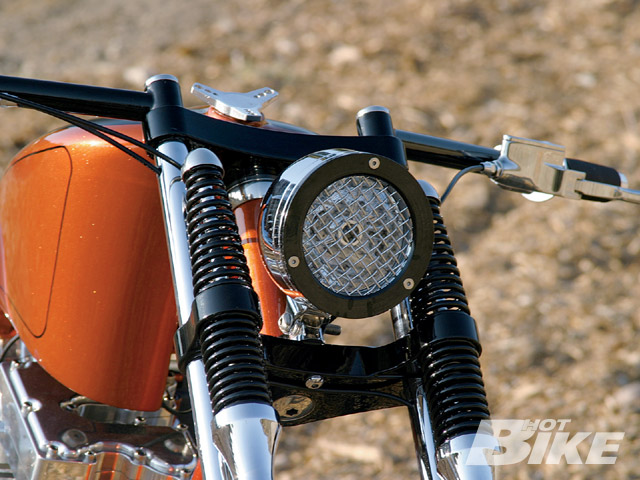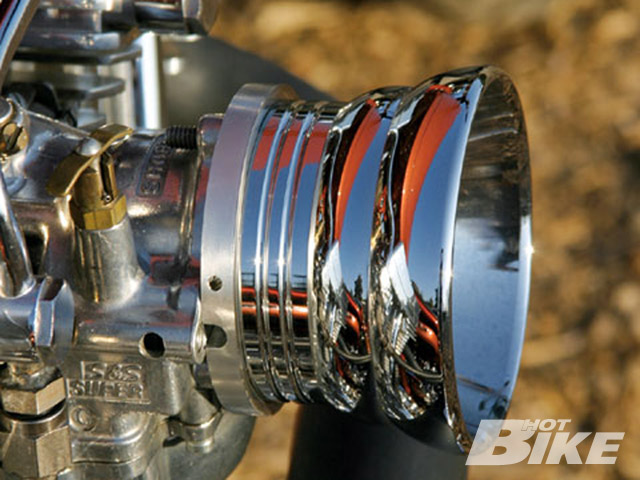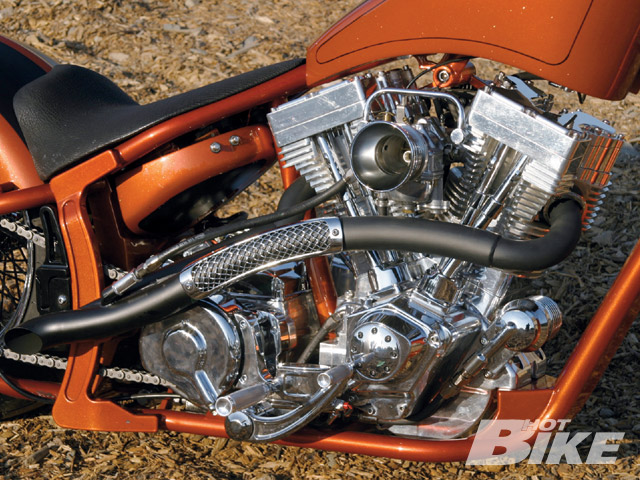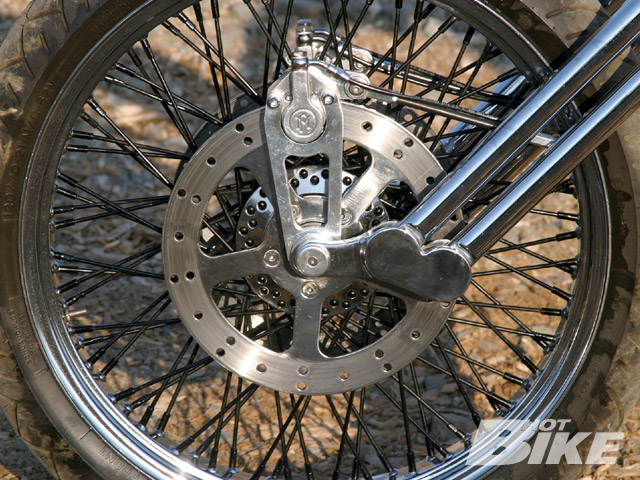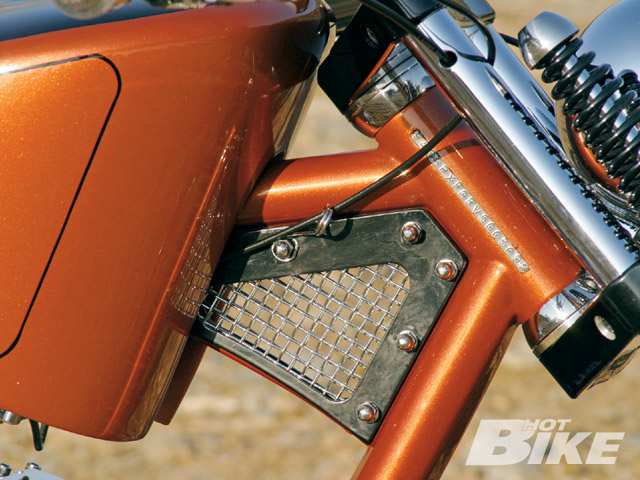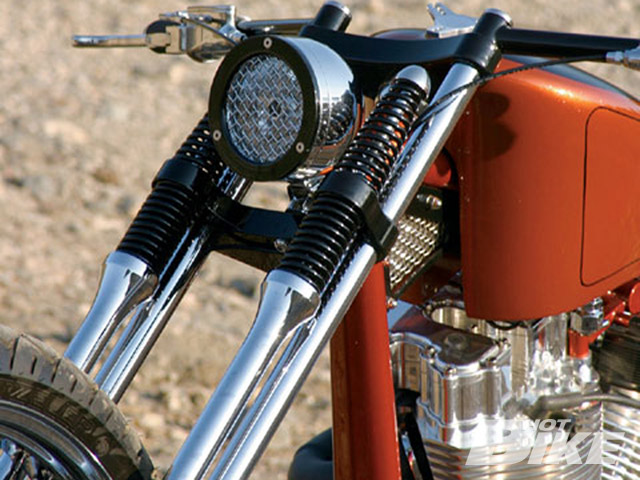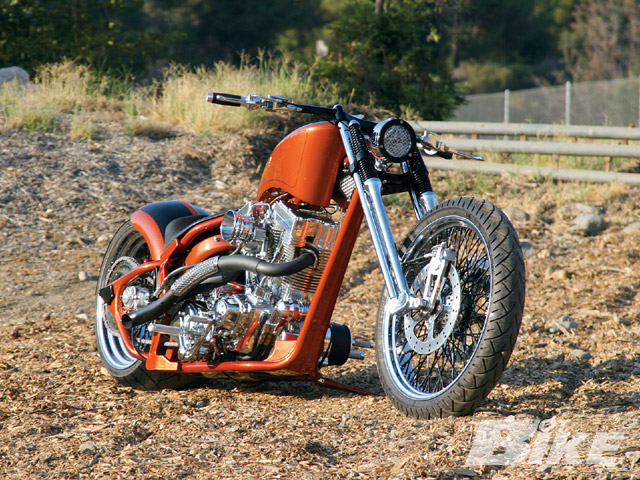 Talk with any custom motorcycle enthusiast and chances are within a few short minutes you'll realize that they are also fans of the four-wheel method of transportation as well. Now, when I say four wheels I'm not talking about your average mini van or soccer mom french-fry-oil-Duracel-powered SUV, I'm talking about cars and trucks that have been customized, modified, or built with style and passion. It must be the ability to appreciate the blood, sweat, and tears that go into designing and building a method of transportation that wasn't just assembled to commute from the office to parent teacher meetings, but a machine that has sex appeal, style, and mad horsepower-these guys just get it.
Robert Rester is one these guys. With a thriving company in the custom grille market in the automotive industry, Precision Grilles, Robert knows car and truck guys are just as finicky about their build projects as motorcycle guys. So when he decided he wanted a custom bike built for both personal use as well as to add some eye candy to his display booths at the automotive shows he attends, Robert turned to his long time friend and manufacturing colleague Robbie Lane of Alloy Art.
Robert knew that Robbie wasn't a "ground up" bike builder per se (Robbie designs and manufactures motorcycle parts) but he knew Robbie would be a great point man to spearhead the project. Right off the bat Robbie had an idea as to how the bike should look. He wanted to incorporate some of Robert's grille products into the bike without going overboard, you know, clean and classy.
After four months of entrusting Robbie to lead the build of a custom bike that would help his company draw attention on the automotive show scene as well as turn heads while he cruised the local hot spots, Robert was more than pleased with the outcome. However, now a year and a half later, Robert is itching for yet a new ride and is now considering selling the Copper Top to fund his next promo/personal bike. I guess no matter if it's cars, trucks, or motorcycles if you're an enthusiast of sexy curves and horsepower you're never really satisfied and always looking for a new project to satiate your desires.
With a plan in mind, Robbie tapped his good friend Jeff Delisle of Delisle Customs to build the bike. "I brought some design ideas to Jeff and asked him to do the fab and build on the project," Robbie told us. "Jeff has a great eye for style so I told him to incorporate some of his designs into the build as well." Jeff started with a Chopper Guys Pro Max Softail-style frame with a single oval shaped downtube. Aside from building killer bikes, Jeff is equally known for his billet springer frontends. So naturally he built and mounted one of his springers to the neck. To handle the rear suspension a Legend Air Ride system was installed. Rolling stock was handled with a pair of Ride Wright spoked wheels, a 21 front and a 18×10.5 rear, both of which were wrapped in Avon's finest. While Jeff was busy working on the chassis, Robbie ordered a monster of a powerplant, an unassembled 120ci Enginuity Motor Company engine. When the parts arrived Robbie drove them over to Bennetts Performance where he knew they would be meticulously assembled by the father and son team, Bob and Eric Bennett.
When it came to skinning the bike, Robbie and Jeff decided that they wanted to bring in local metalsmith Jason Wilson of Sacred Steel to pound out a stretched and arched gas tank for the backbone, as well as craft a compartment that would sit under the seat and hide the battery and electrical. Since there wasn't going to be room for the oil tank to sit under the seat like a stock Softail, Jeff fabricated a custom tank into the front of the swingarm. Once all the fabrication was complete, the frame and sheetmetal were sent to Starbucks Customs to get covered in several coats of copper and flat black, similar to the popular Copper Top batteries.
As everything was coming together, Robbie was busy machining an assortment of parts for the build like the risers, foot control mounts, gas cap, headlight, taillight, and passenger pegs. With the build was nearing completion, Robbie and Jeff began to look for ways to incorporate some of the Precision Grille product line into the project. They used some of Robert's stainless steel mesh grille material and cut and shaped it to wrap around the custom two-into-one pipe Jeff made as well as a cover over the head light and a deco piece in the neck gusset-as stated earlier, clean and classy.
| | |
| --- | --- |
| SPECS | |
| BIKE OWNER | Precision Grilles |
| SHOP NAME | Delisle Customs/Alloy Art |
| SHOP WEBSITE | www.delisleproducts.com/www.alloyart.com |
| YEAR/MAKE/MODEL | '07/Custom |
| FABRICATION | Delisle Customs/Alloy Art |
| ASSEMBLY | Delisle Customs |
| BUILD TIME | Four Months |
| | |
| --- | --- |
| ENGINE | |
| YEAR/MANUFACTURER | '07/Enginuity |
| TYPE/SIZE | Evo/120ci |
| BUILDER | Bennetts Performance |
| CASES | Enginuity Motor Co. |
| CYLINDERS | Enginuity Motor Co. |
| HEADS | Enginuity Motor Co. |
| ROCKER BOXES | Enginuity Motor Co. |
| CARBURETOR | S&S; |
| AIR CLEANER | Delisle Customs |
| EXHAUST | Delisle Customs |
| | |
| --- | --- |
| TRANSMISSION | |
| YEAR/MANUFACTURER/TYPE | I.C. |
| CASE | I.C. |
| CLUTCH | I.C. |
| PRIMARY DRIVE | I.C. |
| | |
| --- | --- |
| FRAME | |
| YEAR/MANUFACTURER | 07/Chopper Guys |
| RAKE | 40 degrees |
| STRETCH | 5 inches out, 11/4 inches up |
| | |
| --- | --- |
| SUSPENSION | |
| MANUFACTURER FRONT | Delisle Customs |
| LENGTHS | 2 inches over |
| TRIPLE TREES | Delisle Customs |
| MANUFACTURER REAR | {{{Legend}}} Air Ride |
| SWINGARM | Chopper Guys/Delisle Customs |
| | |
| --- | --- |
| WHEELS, TIRES, AND BRAKES | |
| MANUFACTURER FRONT/TYPE | Ride Wright/Spoke |
| SIZE-HEIGHT/WIDTH | 21×3.5 |
| TIRE/SIZE | Avon/120 |
| CALIPER | PM |
| ROTOR | PM |
| MANUFACTURER REAR/TYPE | Ride Wright/Spoke |
| SIZE-HEIGHT/WIDTH | 18×10.5 |
| TIRE/SIZE | Avon/280 |
| CALIPER | Exile Sprotor |
| ROTOR | Exile Sprotor |
| | |
| --- | --- |
| FINISH/PAINT | |
| COLOR | Copper/Flat Black |
| PAINTER | Starbucks Customs |
| GRAPHICS | Starbucks Customs |
| | |
| --- | --- |
| ACCESSORIES | |
| REAR FENDER | Delisle Customs |
| GAS TANK∩ | Sacred Steel/Alloy Art |
| OIL TANK | Delisle Customs |
| HANDLEBARS | Delisle Customs |
| RISERS | Alloy Art |
| HAND CONTROLS | PM |
| FOOT CONTROLS | Alloy Art/PM |
| FOOTPEGS | Todd's Cycle/Alloy Art |
| HEADLIGHT | Alloy Art/Delisle Customs |
| TAILLIGHT | Alloy Art |
| LICENSE MOUNT | Alloy Art-Mako Shark |
| SEAT | Bitch'n Seat Co. |