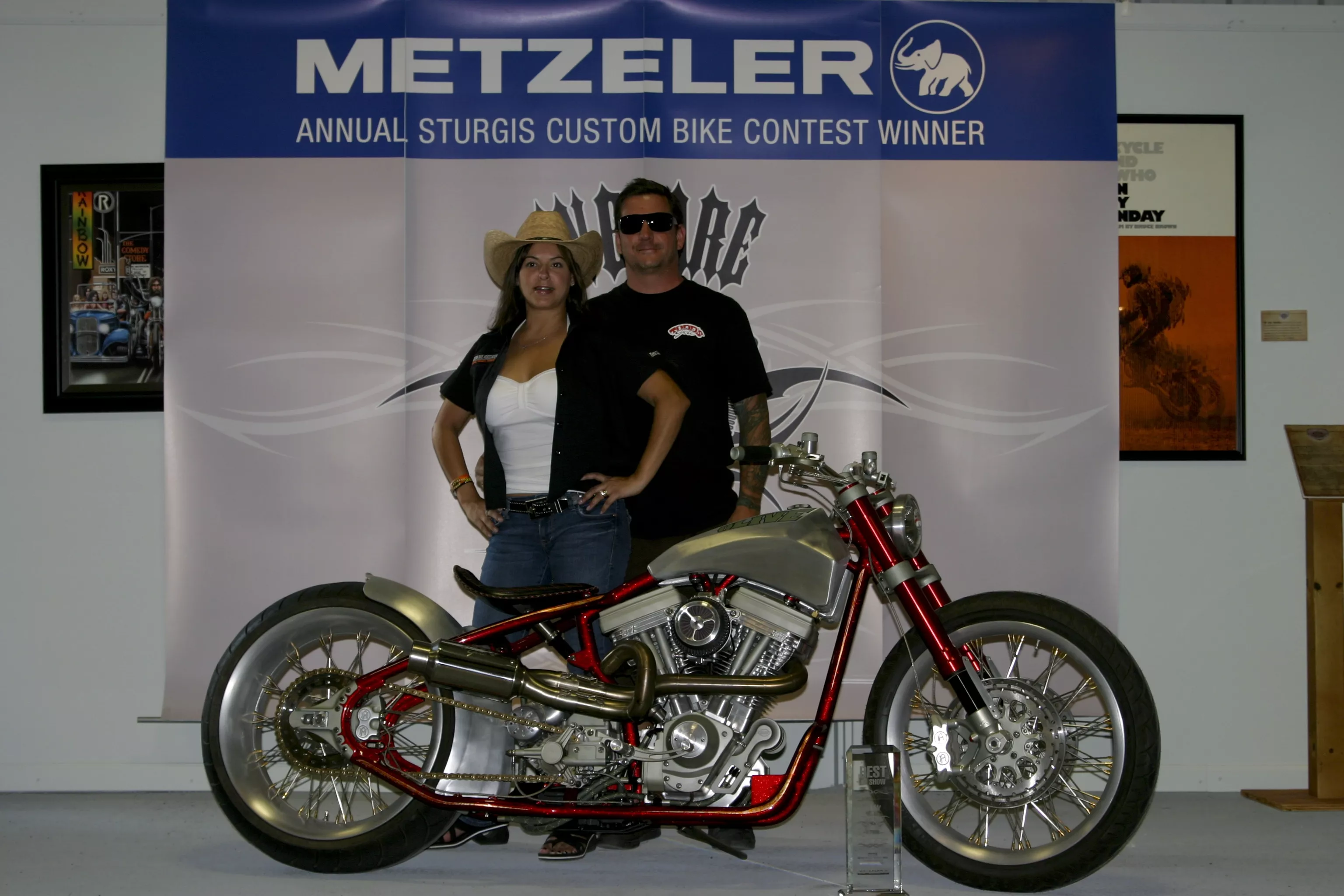 You should have been there! The 7th Annual Sturgis Metzeler Custom Bike Contest has become more than an annual affair for Metzeler, it is a yearly must-do for many of America's best and wildest builders. There's no better measure of its success than the number of custom builders who have eagerly taken part in every Annual Sturgis Metzeler Custom Bike Contest, each with custom builds rolling on Metzeler tires.
This year's show took place at "The Legendary Buffalo Chip", sharing the site with Michael Lichter's Exhibit "Rebel Rousers". It is the only show judged by Custom Bike Association certified judges, assuring all of the contestants the highest possible level of professionalism. This year's judges included Eddie Trotta of Thunder Cycles, American Iron Editor Chris Maida, Bob Cashwell of Drag Specialties, Paul Cox of Cox Industries, and Athena Ransom from Vagabond Choppers. A special thanks goes out to all of these judges for their fantastic dedication.
Due to its history, this year's show had the largest number pre-registration entries in the contest's history. And each year the judging is more and more difficult because the level of craft, artistry and engineering in the builds just keeps getting better and better. Tradition has shown, the bikes entered in the Annual Metzeler Custom Bike show are the bikes that set the trends. The Best of Show winner from Todd's Cycle was an outrageous Unlimited Custom complete with a 21″ rear Metzeler ME880. Todd's Cycle is the first repeat winner in the history of the contest. Pushing the limits of custom bikes, the People's Choice Award winner was Russ Deuker of Full Tilt Customs, with a bike sporting two rear wheels.
Best of Show winner, Todd Silicato of Todd's Cycle, earned himself an unbelievable booty of: inclusion in the 2010 Metzeler Ad Campaign, 3 day apprenticeship with Eddie Trotta, a feature article in American Iron Magazine, a trip to Sturgis 2010 , a seat at the Annual Round table at the Cincinnati V-Twin Expo, 4 sets of Metzeler Tires, a trophy (don't forget the trophy), a $500 gift certificate towards a Baker Transmission or Builder's Kit, a certificate for an All Balls Starter, a certificate for an Boyesen Power X Wing, a certificate for an Danny Gray Seat, and a certificate for a Kicker Audio set including 5.25 Coaxial Speakers & ear buds.
The winners in each class this year at the 7th Annual Metzeler Custom Bike Contest were: People's Choice, Russ Deuker of Full Tilt Customs; Custom Class, Ron Finch of Finch's Customs; Chopper Class, Larry Moore, Moore's Customs; Bobber Class, Mark Shadley, Shadley Bros; Consumer Class, Kirk Kaprenstein from Concord, California; Stage 3 Class, Darren Knoll from Maxwell, Iowa; Production Class, Mark Dirico of Dirico Motorcycles. A congratulations goes to all of these winners and a deeply appreciated thank you goes to every contestant who proudly took part in the event.
In concert with the show, once again the Metzeler semi was located on Lazelle Street. With the help of local dealer Sturgis Yamaha, BMW, it provided service to the growing loyal following of Metzeler ME880 customers. Metzeler gives a hearty thanks to the sponsors that donated prizes for our contest: Baker Drivetrain, All Balls, Boyesen, Danny Gray, and Kicker Audio. We look forward to seeing all of you next year.
For more than 100 years, Metzeler has met the rider's toughest demands with unflagging innovation, setting the trends that others follow. Whether one is drawn to the longevity of its classic design or its uncompromising performance, Metzeler is chosen by more riders and builders than any other tire on the road, making it a true icon in the world of upgrade tires. For more information about the entire line of Metzeler products, visit www.us.metzelermoto.com
www.us.metzelermoto.com.