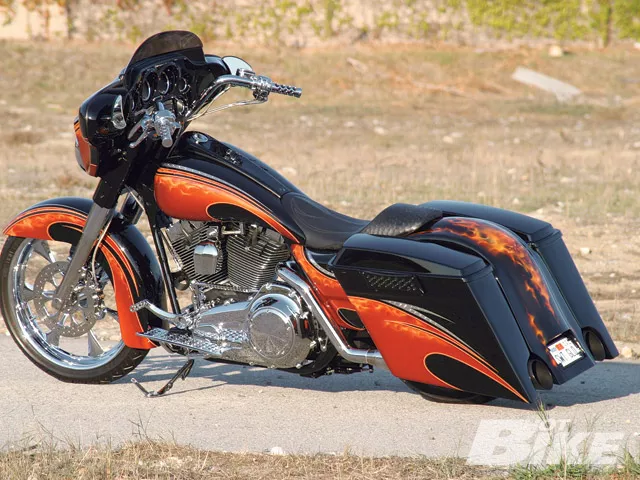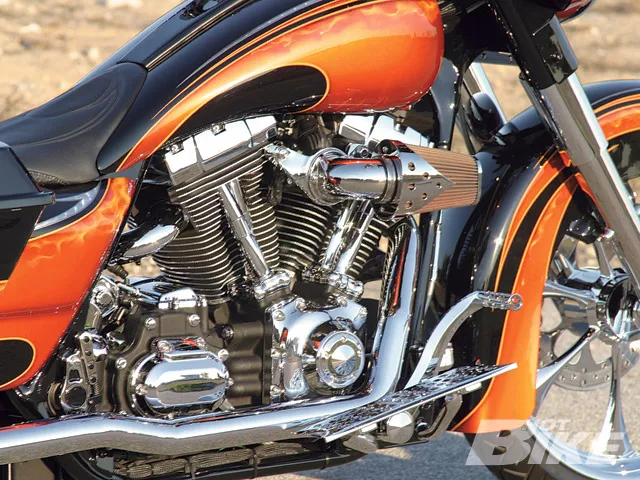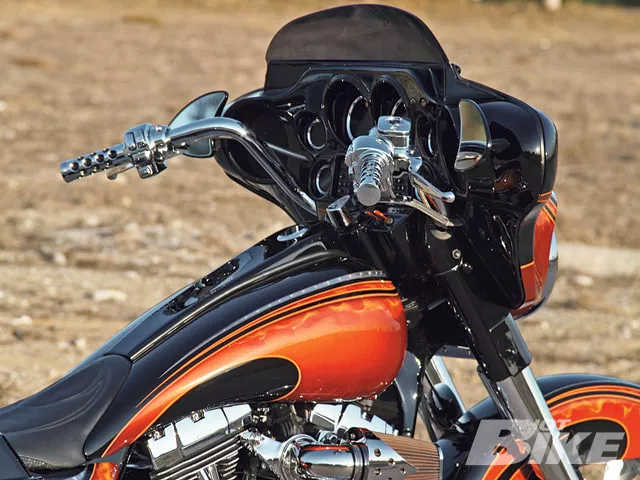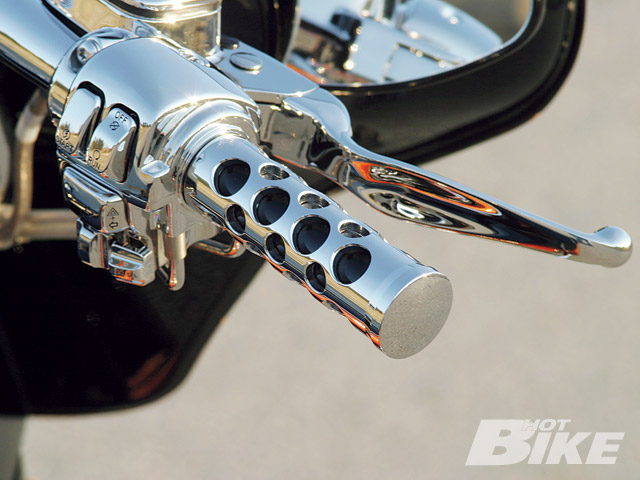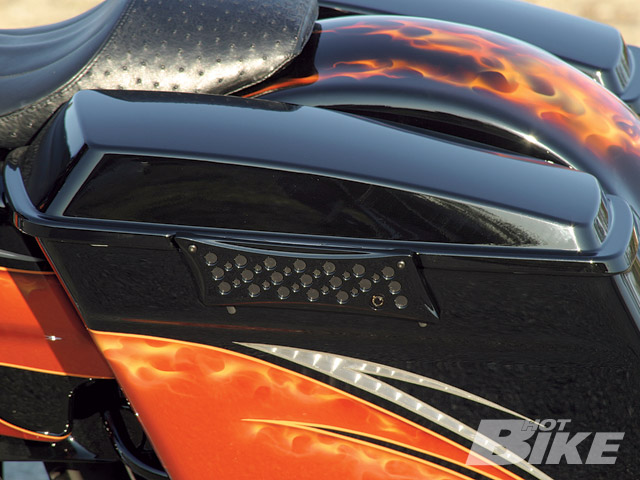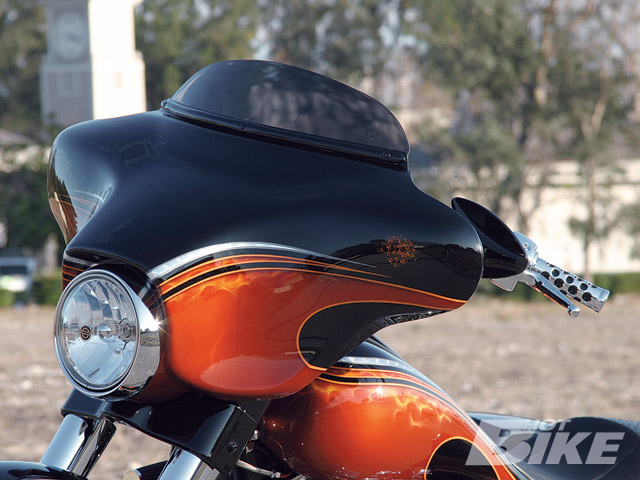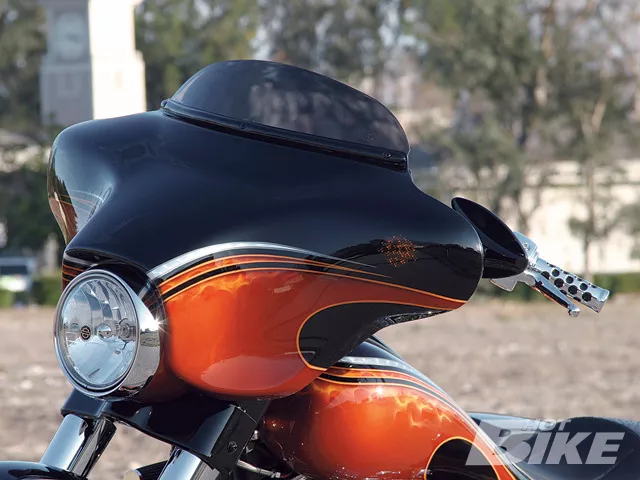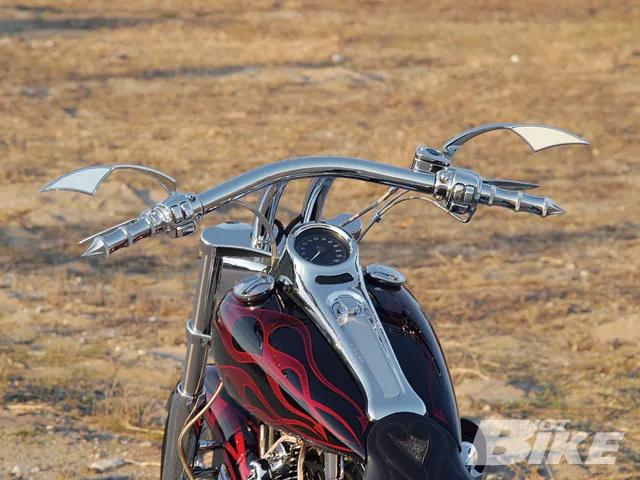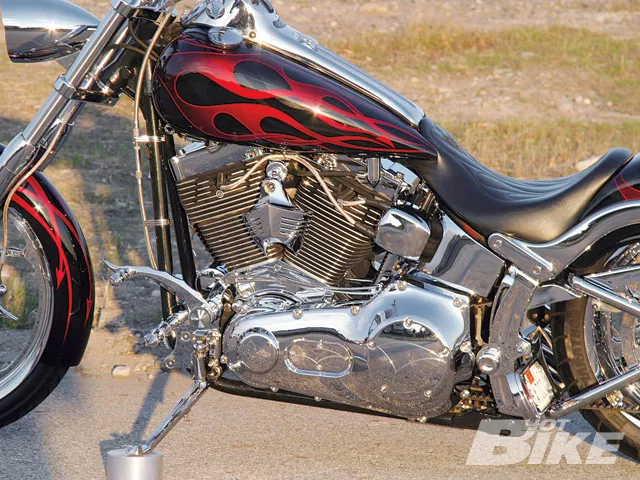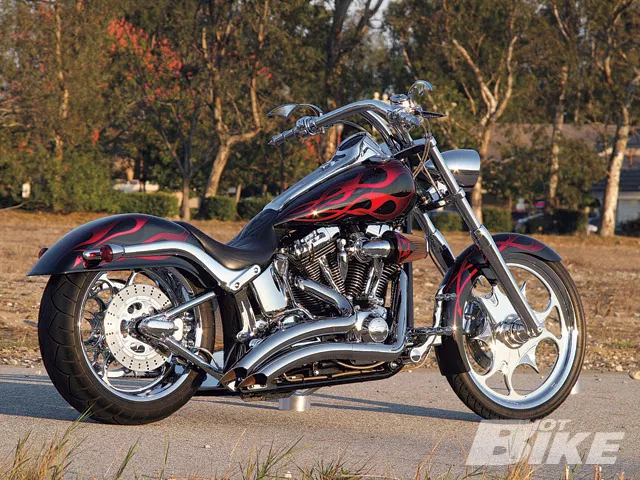 Several years ago, Gary and Maryann Hummel found themselves at a crossroads. With their daughters all grown up and out of the house, their home was eerily silent, save for the victory dance they did after they realized they had the place all to themselves. That killed a few minutes, but what to do with the rest of their free time? Clean the garage? Sell fruitcakes door-to-door? Take up yodeling? Strangely, none of these glorious options appealed to the long-married couple. Hopping on a hog, on the other hand…
Gary brought up buying a bike to Maryann. She was down with the idea but twisted it a little; she wanted her own. That was fine by Gary; it meant no fidgety fender cling-on to worry about. A short while later they were on the road, he on a Wide Glide, her on a Deuce. The mods came shortly thereafter.
One of their daughters had married Levi Lewis, a Harley mechanic who worked at the local dealership. As the Hummels grew more and more comfortable as riders, they wanted more bang out of their respective motors. Levi helped them out on nights and weekends, providing the information and technical know-how to custom tailor their V-Twins to a T.
As things stand, the two bikes were great for day-tripping around SoCal, but the Hummels yearned for longer rides. While they liked Gary's bike for day runs, it didn't have the storage capacity they were looking for, so the couple bought this 2007 Street Glide and turned it into their dream dresser.
It almost goes without saying that they recruited their son-in-law, Levi. "He did a tremendous job," Gary told us. "We wanted it kept lean and low. That's hard to do in a bagger." The Legend Air Ride shock set and lowered bags were a big part in morphing this machine into a ground-hugger, but it wasn't exactly an easy process, either. None of the aftermarket bags Gary found flowed the way he wanted. They either created a jagged line up top or didn't sit flush with the rear fender. They solved the problem by stretching a set of Milwaukee Bagger saddlebags to flow downward an inch and a half from front to rear.
Up front, the tank was stretched and an inch was shaved from the forks to do their part for the long and low look. Gary also tossed the right side front brake to really show off the money side of his ride.
It's not all show, though-this Glide's got plenty of go. What few top end parts Levi didn't swap out he outsourced for modification. Levi sent the barrels and heads to Diamond Heads for, well, diamond cutting, then over to Dave Mackie Engineering for headwork and polished valves. Henderson Performance ported the EFI out to 46mm to make sure the hungry new motor gets plenty of air and go juice.
What struck us as odd (and cool) about Gary's motor configuration, though, was the exhaust system. Finding a pipe set that looked good with his new bags was a bit of a chore due to the big gap up front. The answer presented itself during Laughlin when he was talking with some techs from Bassani and Vance and Hines. It seems Vance and Hines dresser headers fit nice and smooth to a set of Bassani slash-cuts, and the combo looked great on his reborn ride.
Maybe not as great as the finish, though-it's a mix of chrome, powdercoat, ceramics, and paint that mesh together into a head-turning beauty. Mike Logan at Concept Powder Coating not only colored the frame, he also molded out its welds and coated the bag latches so they'd better match the paint. He even blacked out the shocks. Even though the pipes are chromed from the front, they were ceramic-coated along the sides. Not only does that help with heat resistance, but blued exhausts tend to reflect into a bike's paint. Ceramic coating is a great way to avoid that and makes sure the flamed paint scheme laid down by Ted Cordts and Gerald Mendez looks its best.
"Yeah, I may have gotten a little carried away with this one, but it can all be repainted and touched up," Gary joked. It's won three major shows, but it's a rider's bike first and foremost; no trailer queens for the Hummels. "I think you make a choice as to what you want a custom bike to do, show or go. I chose riding it versus strictly showing it, but without Maryann it never would've happened."
The Deuce, well, it's Maryann's baby boy, and his name is Thor. Run your eyes over the bike and one thing sticks out. Actually, several things stick out, and in various directions. "I went pointy but non-directional," she said. "With all these points if it falls on you, you're dead." Changing her bike is an ongoing process that started with the wheels and controls. Things progressed with a tire-hugging, wraparound front fender, smoothed out rear fender, some slight metal work on the gas tank, and a headlight swap. New bars, a chromed swingarm, and seat from High End capped off the transformation.
After that it was on to paint. She checked out six or seven painters before GM Bootleg gave her some advice. If you can't find what you want, find what you don't want. Go to shows, photo bikes and cars that interest you, and go from there. That did the trick. "I didn't want a girly bike. I wanted one that was me. More of a porcupine, less of a bunny rabbit," Maryann told us.
The couple looks at motorcycling as a totally different world. It's their hobby now, one they enjoy at least three days a week. They've done two overnight runs on the Street Glide and plan to hit the Grand Canyon next. After that? Maryann gets her Street Glide. HB
Street Glide Specs
OWNER
Gary Hummel
YEAR/MAKE/MODEL
`07/H-D/FLHX
FABRICATION
Levi, Ted, Doug, and Gary
ASSEMBLY
Levi Lewis and Gary Hummel
BUILD TIME
4 months
ENGINE
YEAR/TYPE/SIZE
'07/H-D/103ci
BUILDER
Levi Lewis
CASES
H-D
FLYWHEELS
H-D
RODS
H-D
CYLINDERS
Dave Mackie Engineering
HEADS
Dave Mackie Engineering
ROCKER BOXES
H-D
PUSHROD TUBES
Arlen Ness
CAMS
Andrews
EFI
Henderson Performance EFI
AIR CLEANER
K&N;/Paul Yaffe
IGNITION
Screamin' Eagle
EXHAUST
Bassani/Vance & Hines
FINISH
Diamond Heads
TRANSMISSION
BUILDER/YEAR/TYPE
'07/H-D/six-speed
FINISH
Powdercoat
CASE
H-D
CLUTCH
H-D
PRIMARY DRIVE
H-D
FINAL DRIVE
H-D
FRAME
YEAR/TYPE
'07/H-D Street Glide
RAKE
Stock
STRETCH
Stock
MOLDING **
Mike Logan at Concept Powder Coating
**FINISH
Powdercoat
SWINGARM
H-D
SUSPENSION
FRONT
BUILDER **
H-D
**YEAR/TYPE
'07/Street Glide
MODIFICATIONS
1-inch under
TRIPLE TREES
H-D
REAR
YEAR/TYPE
'07/Legend Air
MODIFICATIONS
Swingarm molded
SHOCKS
'07 Legend Air
WHEELS, TIRES, AND BRAKES
FRONT
SIZE/TYPE
21×3.25/Renegade Wheels Phoenix
TIRE MAKE/SIZE
Metzeler 120/70-21
HUB/SPOKES
Renegade Wheels
CALIPER
PM 6-piston
ROTOR
Renegade Wheels
REAR
SIZE/TYPE
8×4.5/Renegade Wheels Phoenix
TIRE MAKE/SIZE
Metzeler 150/70-18
HUB/SPOKES
Renegade Wheels
CALIPER(S)
H-D 4-piston
ROTOR(S)
Renegade Wheels
FINISH/PAINT
COLOR(S)
Sunburst Orange Pearlescent,Silver Leaf, Spun Aluminum
PAINTER **
Ted Cordts at GM Bootleg
**GRAPHICS & ARTIST NAME
Gerald Mendez at GM Bootleg
MOLDING
Ted Cordts at GM Bootleg
CHROME PLATING/POLISHING
MJB Polishing & Plating
POWDERCOATING
Mike Logan at Concept Powder Coating
ACCESSORIES
FRONT FENDER
H-D/GM Bootleg
REAR FENDER
Milwaukee Bagger/GM Bootleg
FENDER STRUTS
Milwaukee Bagger
GAS TANK(S)∩(S)
H-D/GM Bootleg w/ Drag Specialties cap
OIL TANK
H-D
DASH Paul
Yaffe/GM Bootleg
GAUGES
Dakota Digital
HANDLEBARS
Wild One
MIRRORS
PM
HAND CONTROLS
Ness/Battistini
FOOT CONTROLS
Accutronix/Battistini
FOOTPEGS
Battistini
HEADLIGHT
Battistini
TAILLIGHT
GM Bootleg
TURN SIGNALS
GM Bootleg
LICENSE MOUNT
Milwaukee Bagger
OIL COOLER
H-D
SEAT
High End
ELECTRICAL
Levi Lewis
COIL
H-D
STARTER
H-D
SPEC SHEET
Deuce Specs
OWNER
Maryann Hummel
YEAR/MODEL
'01/H-D Softail Deuce
FABRICATION
Ted Cordts at GM Bootleg
ASSEMBLY
Levi Lewis
ENGINE/SIZE
H-D/95 ci
EXHAUST
Vance and Hines
TRANSMISSION
'01 5-speed
GAS TANK
H-D/GM Bootleg
FRONT FENDER
Fat Katz/GM Bootleg
REAR FENDER
H-D/GM Bootleg
FRONT SUSPENSION
'01 Glide/Forking by Frank
REAR SUSPENSION
'01 Legend Air Suspension
WHEELS
Pro-One
TIRES
Metzeler
HANDLEBARS
Carlini Designs
SEAT
High End