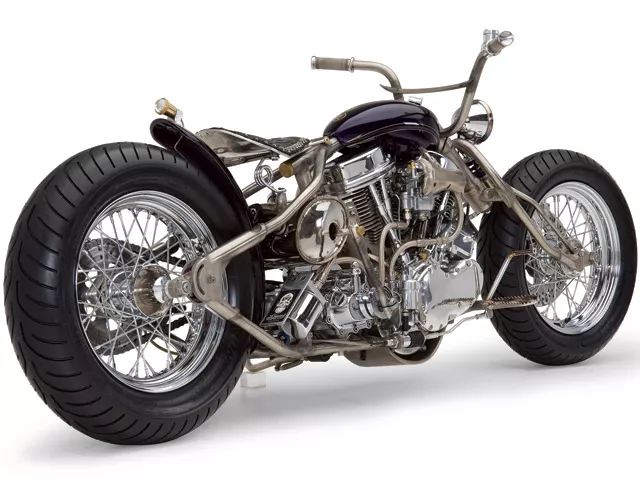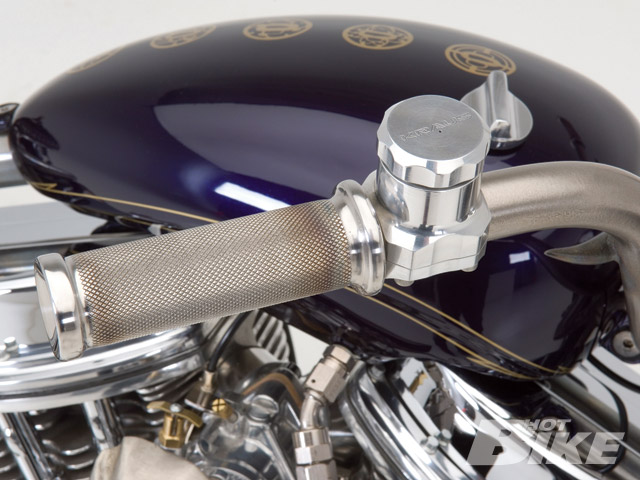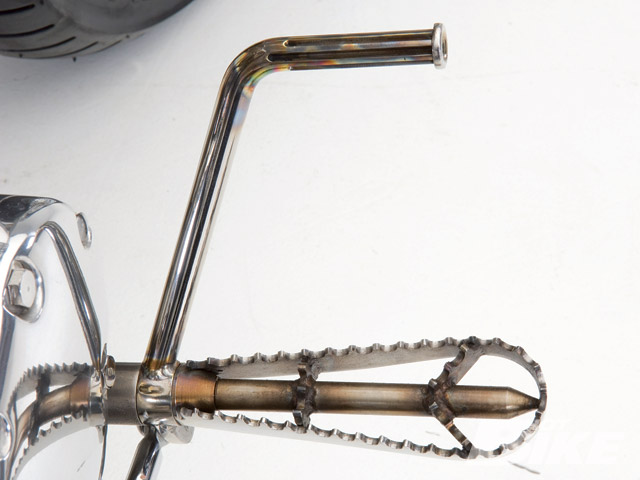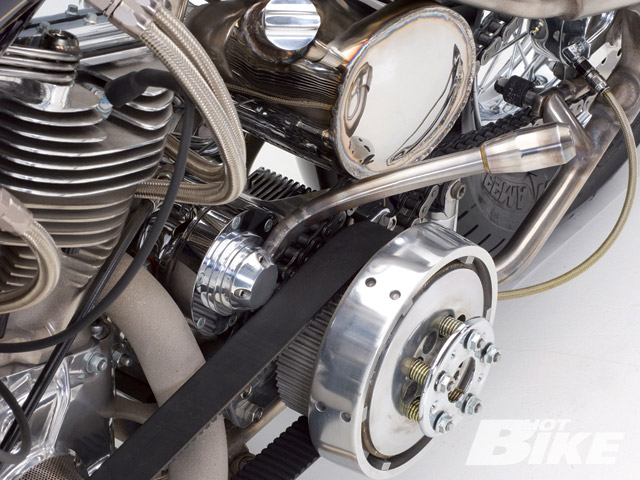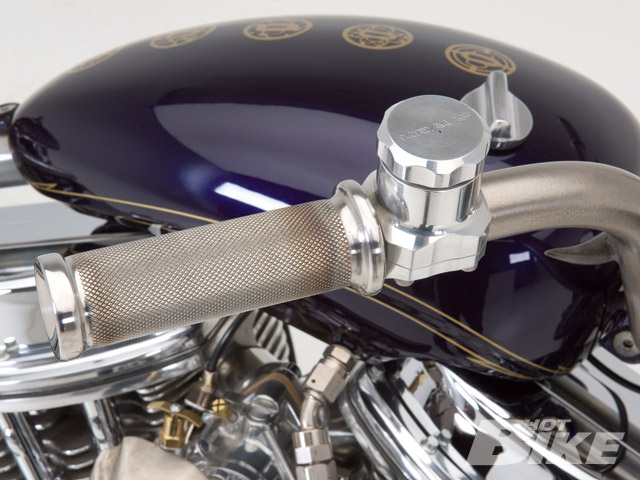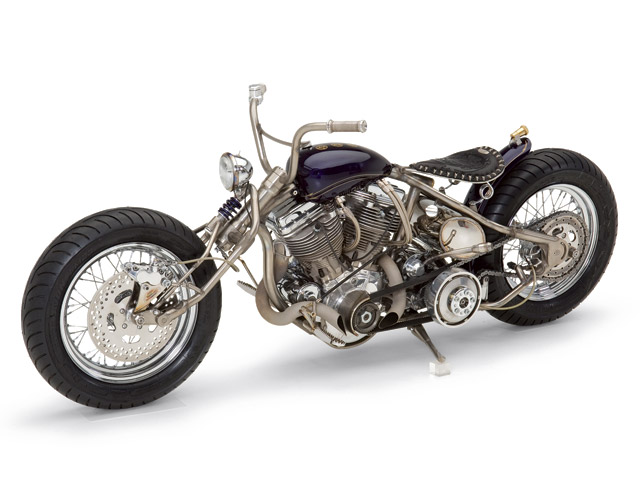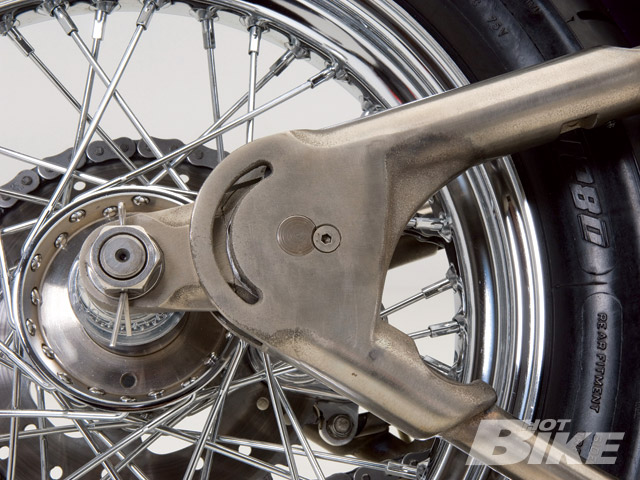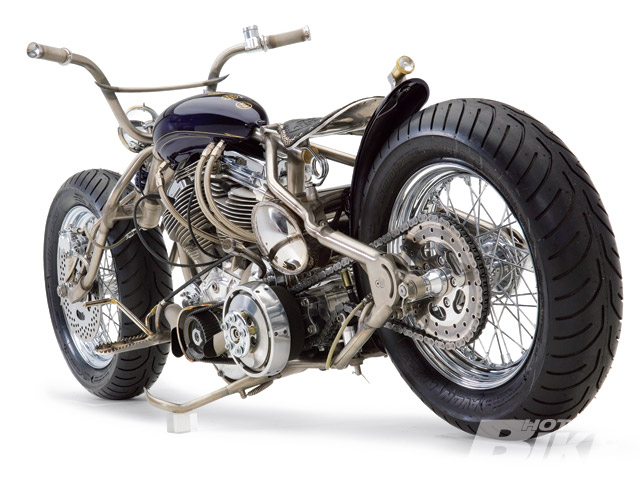 In the western Redwood forest, located in the steep mountains of Cazadero in Northern California, is the Kraus Motor Company, a shop with a vision as original as the bikes that leave it and roll through the canyons. Take the one-off custom before you, named by its builder and shop owner Satya Kraus after the "Mongolian warhorse 'Kyrgyz,' which embodies the spirit of a true rider-broken, but never tamed." Like some builders focusing on keeping up with current trends and bike styles or each other, Satya has found that stepping outside of the mainstream allows for creative designs and an out-of-the-box approach.
Starting as a backyard-wrenching gig, in just a few years Satya transformed the business into a mountaintop full-fabrication company specializing in building high-end motorcycles and components. "Our focus is not to have production line bikes, but one-of-a-kind pieces with spirit and innovation," Satya said. "The Kraus philosophy is to use tried and true design in a new way, reaching into other forms of artistry such as gunsmithing and sculpting to find inspiration." With an appreciation of old school styles and the people that created them, Satya blends form and function in his bikes to mesh the worlds of both old and new school designs, and the Kyrgyz bike is no exception.
The Kraus crew had a definite idea in mind of how the bike would look and behave before any wrenching was started. "It would become a horse of the finest quality, bred for speed and stamina," Satya said. Although they don't think about what can't be done or limitations when building a bike, the Kyrgyz did create some demanding feats to overcome.
Starting with an '07 Kraus custom frame with the neck was raked to 46 degrees, Satya fabricated a roller rocker suspension system for the rear to give the bike a rigid look without the pain of a bruised and battered kidney. After building an 80-inch Panhead motor-kick only-they secured the mill between the framerails, and then installed a custom-made exhaust system. "The visual composition I had in mind for this bike posed many challenges with the frame geometry due to the fact that it is so different from classical positioning," Satya said. If you take a look at what appears to be a peanut-esque gas tank on top of the backbone, it's actually the bike's 3.5 quart oil bag, with its presence revealed by the protruding stainless lines. Mounted under a hand-tooled Bill Wall seat-in the traditional location of an oil bag-is a polished stainless steel fuel tank that holds just under two gallons of fuel.
Front suspension is handled by a Kraus single Springer, and mounted atop the neck sits a set of custom BMX-style handlebars. "The frontend of the Kyrgyz has a distinctively solid appearance," Satya said, "and the triple tree-less neck design that we used was developed originally for one of our other bikes." The Kraus lever-less Twist Brake hand control is the only addition to the bars. "Due to its simplistic design, it keeps a very clean look and adds a level of functionality to the bike," Satya said. After lacing up some spoke wheels wrapped in Avon rubber, Satya custom-made bear-trap-style pegs and toe levers from stainless steel.
One of the most innovative features on this bike is the rear suspension. "It was developed to resemble a rigid frame while maintaining the functionality of a Softail," Satya said. However, unlike a Softail with its hidden shocks mounted under the frame, the rear suspension for this bike it really hidden as a small nitrogen gas spring shock is hidden in the upper rear section of the frame. "The evolution of Kraus' bikes are a testament to my unrelenting pursuit of a combination of radical and functional. This mentality has spawned friendships with other artists and craftsman." This was the case when it came time for paint and having Kirk Taylor of Custom Design Studios treat this bike to layers of royal pearl purple with gold pinstriping and a polished nickel finish. A cool finishing touch on this bike is the five golden rings on the oil bag: "Each of the five rings represents one of the samurai sword strategies: earth, water, fire, wind, and void," Satya said. "These symbols embody the relationship between the rider and the environment."
After almost half a year the bike was finished, and Satya gave it its first kicks. "With a slight timing adjustment and the wheel braced, six months of determination culminated as the roar of the beast filled the shop," Satya said. "We were overjoyed by the synergy of the frame's geometry, classic mechanical structure, and the fit and finish. Victory was achieved." HB
SPEC SHEET
GENERAL
OWNER
Satya Kraus
SHOP
Kraus Motor Co.
PHONE
(707) 632-6252
WEBSITE **
www.krausmotorco.com
**YEAR/MAKE/MODEL **
'07/Kraus Custom/Kyrgyz
**FABRICATION
Kraus Motor Co.
ASSEMBLY
Kraus Motor Co.
BUILD TIME
Six months
ENGINE
YEAR/MANUFACTURER
'65/H-D
TYPE/SIZE
Panhead/80ci
BUILDER **
Kraus Motor Co.
**CASES
S&S;
CYLINDERS
STD
HEADS
STD
ROCKER BOXES
Chrome
CARBURETOR
S&S; Super E
AIR CLEANER
Custom cover
**EXHAUST **
Kraus Motor Co.
TRANSMISSION
YEAR/MANUFACTURER/TYPE
'07/RevTech/
four-speed, kicker
CASE
RevTech
CLUTCH
Primo
PRIMARY DRIVE
Primo
FRAME
YEAR/MANUFACTURER
'07/Kraus Motor Co.
RAKE
46 degrees
**STRETCH **
Negative
SUSPENSION
BUILDER FRONT
Kraus Motor Co.
YEAR/TYPE
'07/Single Springer
TRIPLE TREES
None
REAR TYPE
Kraus custom roller rocker
SHOCKS
Hidden
WHEELS, TIRES, AND BRAKES
FRONT/TYPE
16×3
TIRE/SIZE
Avon AM23
CALIPER
Tokico 4-piston
ROTOR
Solid polished
REAR/TYPE
16×3.5
TIRE/SIZE
Avon AM23
CALIPER **
Exile sprocket brake
**ROTOR
Sprotor
BUILDER (SPOKE WHEELS ONLY)
Satya Kraus
FINISH/PAINT
COLOR
Royal pearl purple with gold pinstriping
PAINTER
Kirk Taylor/Custom Design Studios
GRAPHICS
Kirk Taylor
PLATING/POLISHING
California Metal Spray
POWDERCOAT
None
ACCESSORIES
FRONT FENDER
None
REAR FENDER
Modified Sportster front
FENDER STRUTS
None
GAS TANK & CAP
Kraus custom
OIL TANK
Custom modified Wassel
DASH
None
GAUGES
Liquid filled oil gauge
HANDLEBARS
Kraus BMXRISERS
None
MIRRORS
None
HAND CONTROLS
Kraus Twist Brake
FOOT CONTROLS
Kraus
FOOTPEGS
Bear trap
HEADLIGHT
4.5-inch chrome
TAILLIGHT
Custom brass LED
TURN SIGNALS
None
LICENSE MOUNT
Kraus
SEAT
Bill Wall