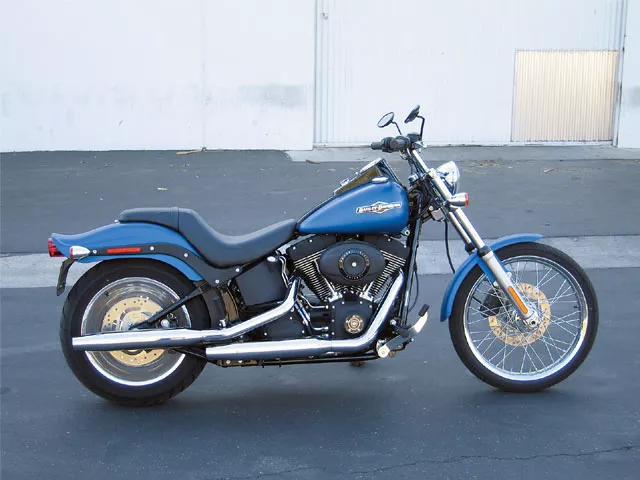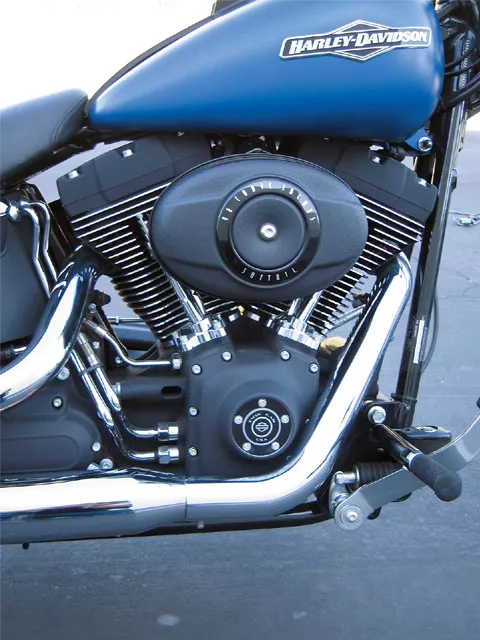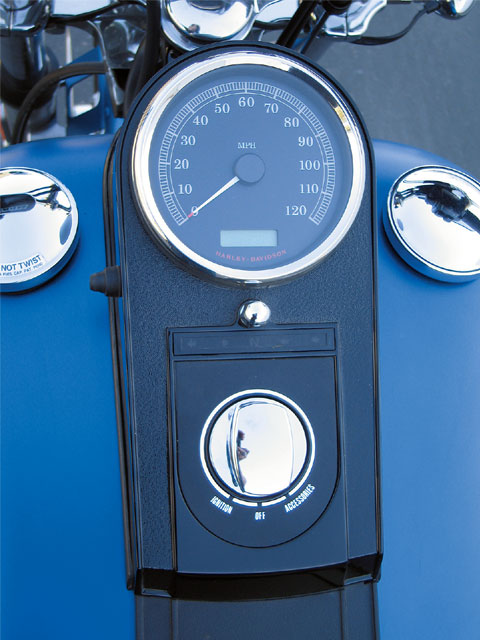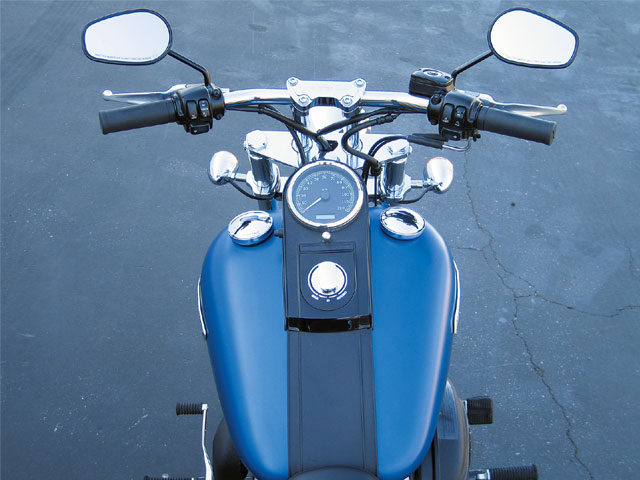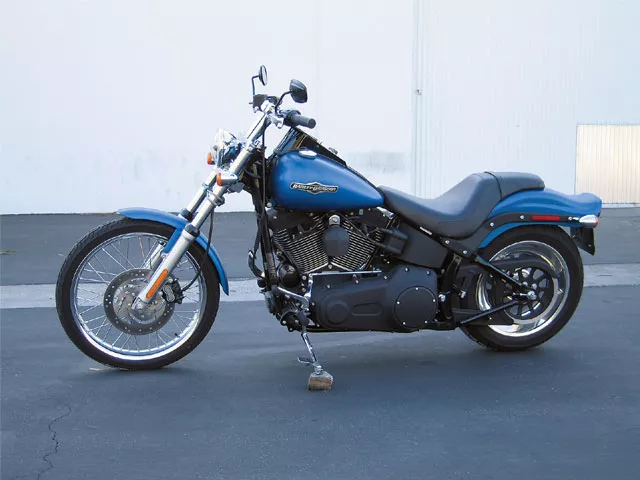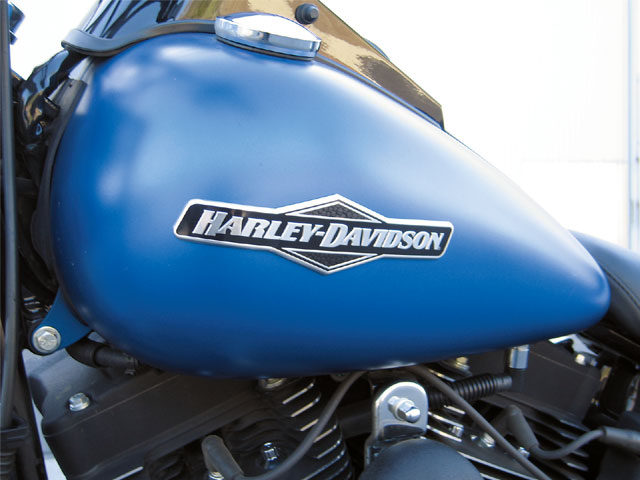 For 2007, expanding on the ever-popular Night Train model, Harley-Davidson unleashed the FXSTB Softail Night Train with some notable changes and goodies for enthusiasts. We were lucky enough to get our paws and boots on the FXSTB model as a long-term test bike. This Night Train has a lot of cool new features that make it a great starting point for customizing.
There is a full line of Softails in the Harley-Davidson lineup, but since the Night Train already has a black powdercoated motor and black powertrain, along with a wrinkle-black oil bag and covers, tank console, fender supports, and air box, a lot of the blacked-out look we like has already been done. In the rear, this model is now rolling on a fat 200mm tire wrapped around a 17-inch wheel, with a chrome 21-inch spoke front wheel.
At the back of the bike, the Factory went with a solid aluminum-disc rear wheel with a color-matched belt sprocket under the bobtail fender. Other notable changes include the new Twin Cam B 96ci motor with standard ESPFI (electronic sequential-port fuel injection) and six-speed Cruise Drive transmission. For those who haven't been paying attention to the '07 Harleys, this model (and, in fact, all models) is carburetor-less; and no, that's not a misprint. Other goodies for enthusiasts include a new extended footpeg and brake pedal that allows the rider to stretch out just that much farther, as well as a raked FX frontend with drag bars on 6-inch risers. For us, there are lots of good things to come with this bike.
This is what we have planned for this bike: We want to start with a motor hop-up like the 103ci Screamin' Eagle kit, or maybe the 110ci kit; we don't want to be greedy. With all the work that will be going into the hop-up, we don't want to run the risk of messing up the paint job. So we plan to do all the big jobs first, such as the teardown of the motor. Once we have the motor work all done and the engine dyno'd, we then want to work on the bike's handling (not as if it isn't great to begin with), and kick it up a notch, maybe with the new blacked-out inverted frontend and the rear lowering kit. We like the rear wheel, but after seeing all the wheels that H-D has to offer, we may want to swap out the front wheel for one of the new billet-cut-design wheels.
Once we have the bike sitting where we want it and running top-notch, we can start to work on its looks-punch it up a little. We like the style of the blacked-out bike, and for this bike's look, the less chrome the better. However, a custom paint job would definitely make it more eye-catching. Once we finally choose a paint job that will suit the look we're after (once we know what that is), we're gonna check out Harley's Color Shop for one of the Company's new custom paint jobs. Finally, we'll swap out some parts such as the seat, covers, controls, pegs, and even add some new lighting. Another thing on our mind is thinking about this bike as more of a tourer. Even as a Softail, there are still a lot of things that could be done to this bike to help with long-distance hauls (like Sturgis, for example), where we need to take more than one small bag. A good-looking, comfortable-riding bike is what we plan to do with our Night Train, so stayed tuned over the next few issues to see the makeover.
FXSTB Night Train
| | |
| --- | --- |
| GENERAL INFORMATION | |
| LENGTH | 95.0 INCHES |
| SEAT HEIGHT | 25.2 INCHES |
| GROUND CLEARANCE | 5.1 INCHES |
| STEERING RAKE | 32.0 DEGREES |
| STEERING HEAD TRAIL | 5.0 INCHES |
| WHEELBASE | 66.9 INCHES |
| FUEL CAPACITY | 5.0 GALLONS |
| FUEL MILEAGE (ESTIMATED) | 53 MPG HIGHWAY; 34 MPG CITY |
| OIL CAPACITY | 3.0 QUARTS |
| DRY WEIGHT | 656.0 POUNDS |
| EXHAUST SYSTEM | CHROME, STAGGERED SHORTY DUALS |
| ENGINE | AIR-COOLED TWIN CAM 96B |
| DISPLACEMENT | 1,584 {{{CC}}} (96CI) |
| BORE X STROKE | 3.75 X 4.38 INCHES |
| TORQUE | 91.0 LB-FT AT 3,000 RPM |
| FUEL SYSTEM | ELECTRONIC SEQUENTIAL- |
|   | PORT FUEL INJECTION (ESPFI) |
| COMPRESSION RATIO | 9.2:1 |
| PRIMARY DRIVE | CHAIN |
| WHEELS | |
| FRONT WHEEL | STEEL LACED |
| REAR WHEEL | SOLID POLISHED ALUMINUM |
| BRAKES | |
| FRONT | FOUR-PISTON |
| REAR | FOUR-PISTON |
| LEAN ANGLE | 31 DEGREES LEFT;34 DEGREES RIGHT |
| COLOR OPTIONS | VIVID BLACK, BLACK CHERRYPEARL, BLACK PEARL, BLACKDENIM, PACIFIC BLUE DENIM,PEWTER DENIM |
| MSRP | $15,895 (BASE) |