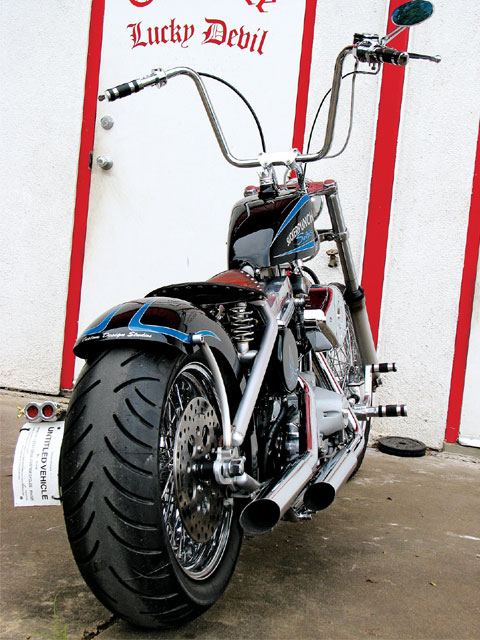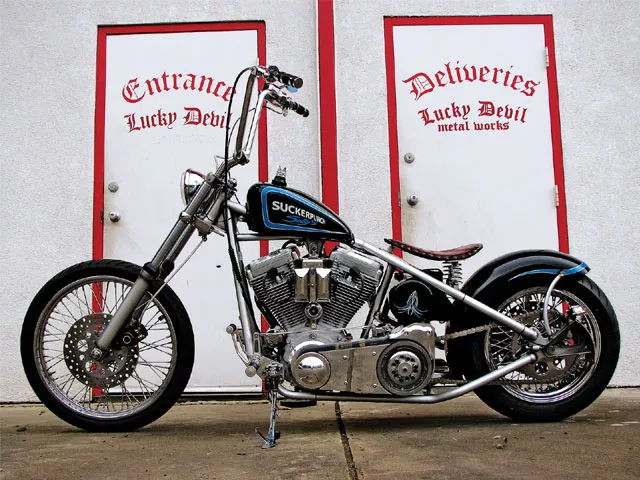 Several months back we began this series with the conception of the build I had started to honor my brother, Joey White, and his service to the country in the Army. In the last four issues of HOT BIKE, we have covered everything from the initial planning, mock-up, final assembly, and now, the presentation. Sucker Punch Sallys picked the bike up from my home state of Texas on their way to Biketoberfest in Daytona, Florida. I thank them again for toting the bike, although if they hadn't, I would have ridden it there. I coordinated getting myself and my brother down to Biketoberfest so we could present the bike to him at the Hard Rock Roadhouse per Carrie Repp. Everything seemed to come down to the wire but ended up going off without a hitch. The only real monkey wrench thrown at us during this was that my brother's exit date from the Army kept getting delayed, causing the bike presentation to be postponed to Saturday afternoon, almost the end of the rally. While it would have been ideal to present it on Friday, he wasn't even scheduled to get out until 5 p.m. Friday evening from Fort Campbell, Kentucky. He ended up getting his papers signed and driving straight from Kentucky to Orlando to pick me up, and we drove from Orlando to Daytona. Needless to say, the final week was a bear for everyone involved, but the bottom line was that we made it.
During the build process, word had leaked of my plan to give him a bike, so I had to lie to him and tell him I ran into major roadblocks causing me to not finish the bike. When we stepped onstage, he was expecting to see a 75 percent complete bike missing several components. When we pulled back the cover and he saw the completed bike, he was obviously overcome with emotion.
As the crowd at the Hard Rock stage snapped pictures and chanted "USA! USA!" I showed him around the bike, trying not to let myself break down and cry. I said a few words to the crowd and spent the rest of the night basking in the glow of my brother's happiness. It must've been an overwhelming sensation for him; he'd just finished his 10-year enlistment, was heading to his new life in Miami, and now he had a custom motorcycle to ride every day.
It was an honor to have been involved at all, but this experience con- firmed my belief in the people of this country, namely bikers. The landscape of the motorcycle lifestyle has changed over the years, and we sometimes find ourselves pointing fingers at this or that due to differences in opinion, styles, bikes, etc. What it all comes down to, at least for me, is do you help someone in need? Not just a relative, but someone you don't even know? That to me is the greatest trait of a true biker, and this whole event magni- fied that for me. Once again, I want to thank everyone involved.
One final word to my brother: Thank you for everything you went through. Your country appreciates it and we are all very proud of you. I hope you experience wonderful success in Miami. Enjoy the bike, as I thought of you during every second it was being built. She was built just for you, so enjoy her and ride every day that you can. I love you, brother!
Special thanks to everyone involved in this project. The list of contributions was great, but several companies provided a bulk of parts with which Iwould have never finished the build.
HOT BIKE Magazine
Sucker Punch Sallys (SPS)
Bikernet.com (namely Keith Ball)
Greg Westbury
Glenn Priddle

Kent Weeks (He single-handedly dragged me through the final build, whether I wanted to come or not! Without him, the bike probably wouldn't have rolled 100 feet.)

Custom Chrome (They came through when I needed it the most.)

Kirk Taylor of Custom Design Studio (He donated the paint job because of how deeply he believed in the project.)
J&P; Cycles (Another Santa of sorts!)
Belt Drives Limited
Ken Conte
Spec Sheet
| | |
| --- | --- |
| GENERAL | |
| OWNER | Joey White |
| BUILDER | Lucky Devil Custom Cycles/Johnny White |
| PHONE | (281) 477-3738 |
| WEBSITE | www.luckydevilmetalworks.com |
| YEAR/MAKE/MODEL | '07/Custom |
| FABRICATION | Kent Weeks/Johnny White |
| ASSEMBLY | Kent Weeks/ Johnny White |
| BUILD TIME | 4 months, 4 Days |
| | |
| --- | --- |
| ENGINE | |
| YEAR/ TYPE/SIZE | '99/H-D Evo/80ci |
| BUILDER | H-D |
| CASES | H-D |
| CYLINDERS | H-D |
| HEADS | H-D |
| ROCKER BOXES | H-D |
| CARBURETOR | S&S; Super E |
| AIR CLEANER | S&S; |
| IGNITION | Crane Dual Electronic |
| EXHAUST | Gift from a Great Motor Guy |
| | |
| --- | --- |
| TRANSMISSION | |
| YEAR/TYPE | '06/Milwaukee Twins five-speed |
| CASE | Milwaukee Twins |
| GEARS | Milwaukee Twins |
| CLUTCH | BDL |
| PRIMARY DRIVE | BDL |
| | |
| --- | --- |
| FRAME | |
| YEAR/TYPE | '07 Kraft Tech/SPS |
| RAKE | 30 degrees |
| | |
| --- | --- |
| SUSPENSION | |
| FRONT | H-D Wide Glide |
| LENGTH | 1-inch under |
| TRIPLE TREES | H-D |
| SHOCKS | Springs under the seat! |
| | |
| --- | --- |
| WHEELS, TIRES, AND BRAKES | |
| MANUFACTURER-FRONT/TYPE | Chrome/60- spoke |
| SIZE-HEIGHT | 21-inch |
| TIRE/SIZE | 21 Avon Venom |
| CALIPER | H-D |
| ROTOR | SPS |
| REAR | |
| MANUFACTURER-REAR/TYPE | 60-spoke chrome |
| SIZE-HEIGHT/WIDTH | 16×5 |
| TIRE/SIZE | 180/60/16 Avon Venom |
| CALIPER | H-D |
| ROTOR | SPS |
| | |
| --- | --- |
| FINISH/PAINT | |
| COLORS | HOK Black/Blue/ Silver |
| PAINTER | Custom Design Studios (CDS)/ Lucky Devil Metal Works |
| GRAPHICS | CDS |
| MOLDING | CDS |
| | |
| --- | --- |
| ACCESSORIES | |
| REAR FENDER | SPS |
| FENDER STRUTS | Lucky Devil Metal Works |
| GAS TANK/CAP | Custom Chrome/Westbury Hot Rods |
| OIL TANK | SPS |
| HANDLEBARS | SPS |
| RISERS | Drag Specialties |
| HAND CONTROLS | CCI |
| FOOT CONTROLS | SPS |
| FOOTPEGS | SPS |
| HEADLIGHT | Drag Specialties |
| TAILLIGHT | Fab Kevin |
| LICENSE MOUNT | Fab Kevin |
| SEAT | Glenn Priddle of GP Leather |
| ELECTRICAL | Crane |
Feedback
[email protected]