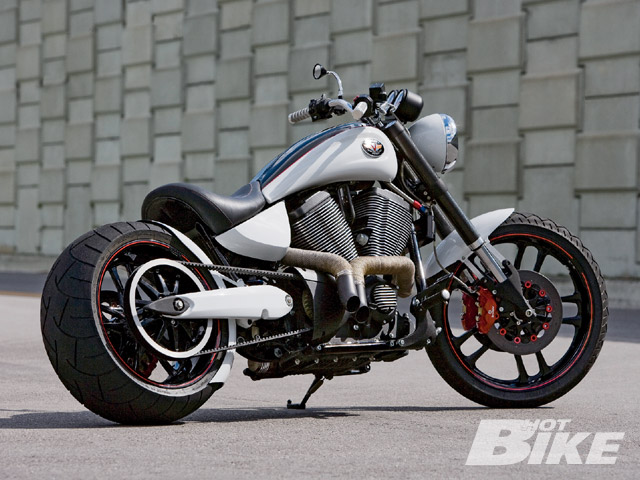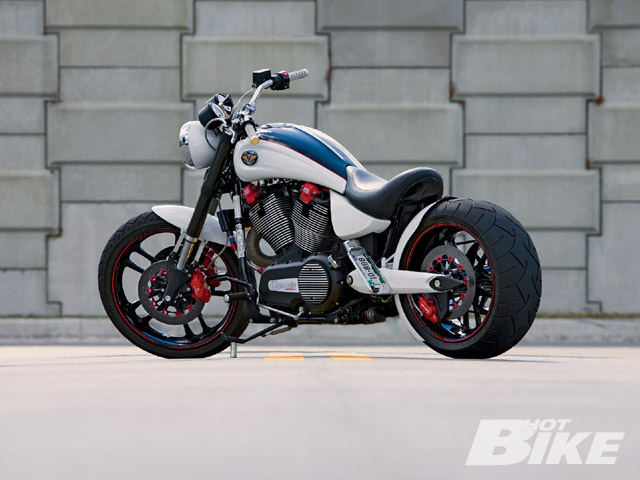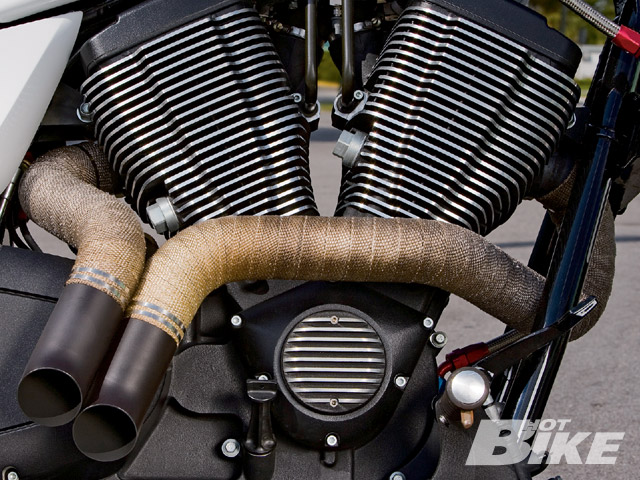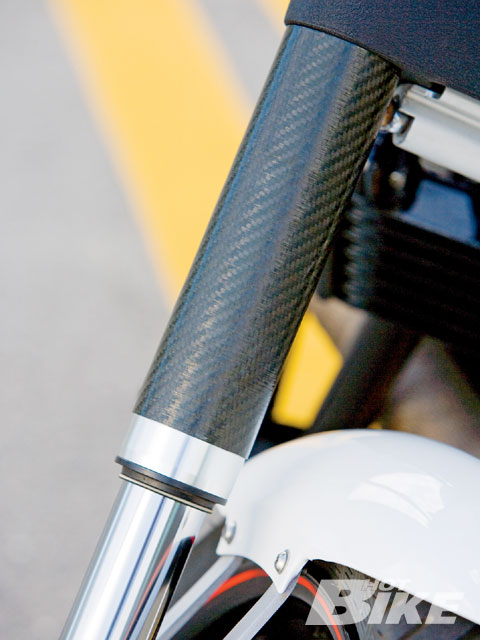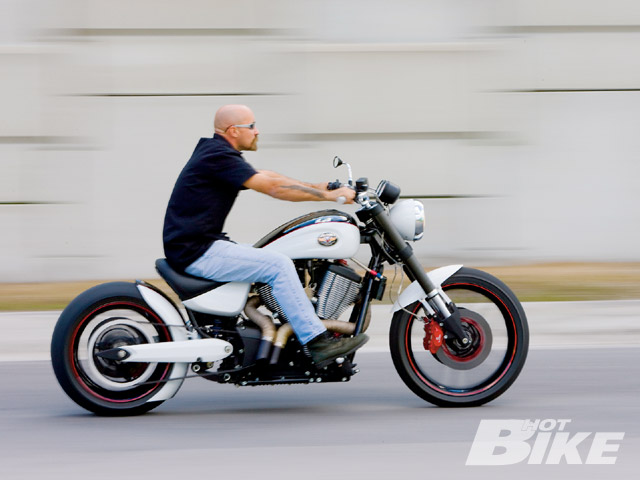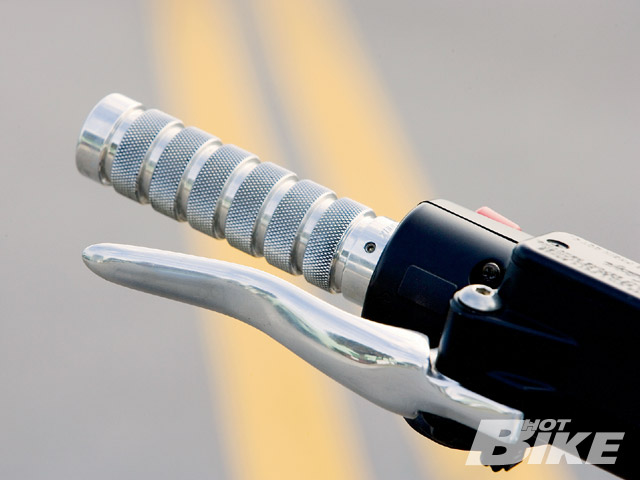 Scott Kietzmann of Conquest Customs has now made his life's work out of customizing Victory motorcycles and helping others to do the same. He has always viewed the Victory brand as an extremely viable motorcycle that has consistently been overlooked by the majority of the custom V-twin world. Back in 2005 Scott picked up a Hammer and began a search for someone to help him customize it. After a visit to a prominent builder in his area who looked straight at him and told him point blank that it just wasn't worth it, Scott decided to take matters into his own hands. He pounded the pavement on a search for aftermarket parts that took him each year to the V-twin Expo, in Cincinnati, where he became known as the guy who'd always ask about Victory parts. It seemed he was right. The Victory brand was pretty much overlooked by the entire industry, but after a whole lot of persistence, people began to listen to him.
Eventually Scott opened his own business, Conquest Customs and he began working directly with manufacturers in the development of parts specifically for the Victory platform. As time went on Scott began to make contact with other Victory owners, through the Victory Motorcycle Club, who felt the same way about this American brand. Scott enjoyed helping fellow club members out with their customizing questions, and ended up making a few new friends and customers along the way.
In the fall of 2007 Scott got a phone call from Sgt. Michael Clark, and after speaking with Sgt. Clark for a few minutes, Scott thought Sgt. Clark was just a homebuilder looking for a little advice about a wide-tire conversion for his '07 8-Ball. The two hit it off right away, and after a few more phone calls, Sgt. Clark told Scott he wanted to send his bike to Scott in a few days so Scott could do the work for him as Sgt. Clark was deploying for Iraq at the beginning of December and his only wish was that he could ride the freshly customized bike before he left.
Scott calls his creations "Enthusiast's Customs" because he builds them to be ridden hard. Victory motorcycles begin their lives as well engineered and sturdy bikes, so they tend to attract a lot of riders making the crossover from sport bikes to V-twins. And Scott doesn't like to compromise that engineering in his builds.
The idea behind this build, as with a lot of Scott's bikes, was a car. Scott has been into American muscle cars from the '60s, '70s, and '80s for a long time and after getting to know Sgt. Clark a little, he realized they were on the same page. Michael's first car, which was still in mint condition in his garage, was a 1986 Ford Mustang GT, so the next logical step for them was to create a bike that would match the car, hence the name, GT.
Scott began the build by customizing the frame with his own fender and strut design so he could fit a wide tire in the rear, utilizing a rear shock that he developed with Penske for the Victory application. Scott got on the phone with Doug from Metalsport Wheels and ordered a custom set of Foose wheels to help bring the GT vision to reality.
He replaced the front fork with an inverted Marzocchi unit with carbon fiber tubes. Another one of Scott's developments is a brake system with ceramic rotors created with the help of Paul from Lyndall Racing Brakes. Of course these were the natural choice for Michael's ride.
Sgt. Clark planned a trip from his base, Fort Carson, in Colorado, out to Florida in late November, so he could get some seat time on the bike before he was to be deployed. Scott was working on getting everything ready so that he and Sgt. Clark could put the finishing touches on the bike together, something Scott feels is really important when creating a custom bike for someone. He believes the customer feels more a part of their bike when they actually get their hands dirty.
"I can say that I have a good bond with my customers, but there are some you get to know at a different level, Sgt. Clark was one of those guys. I looked forward to meeting him in person as all our correspondence had only been over the phone. Our meeting was to be the last couple of days of the build so Mike would have an opportunity to experience the final assembly," said Scott. Complete with all its inherent drama, everything was pushed back a couple days, but on Sgt. Clark's last day in Florida they finally got to ride the bike all over before he had to fly back to his family in Colorado and then off to Iraq for his first tour of duty.
Sgt. Clark left the bike with Scott while he was deployed, so Scott could take it to events all around the country to showcase his skill. During the following months Scott would email Sgt. Clark and tell him about all the bike events and Sgt. Clark was excited about all the attention his machine was receiving at the shows. All soldiers have things that keep them going while they are deployed, for some it's their sweetheart waiting at home, others it's that muscle car they are restoring. Aside from his wife and son, whom he missed and loved dearly, Michael had his new GT custom Victory.
Scott's last update to Sgt. Clark was on Friday, October 3, while he was displaying the bike at Victory Motorcycle's 10th Anniversary celebration. Scott sent an email to Sgt. Clark to let him know his bike was a hit at the party. Sgt. Clark replied to Scott's email on Sunday happy to know his bike appealed to so many people. Then early Tuesday morning Sgt. Clark was killed in a firefight. Scott received the call from Michael's wife later that same morning. "I received a devastating call from his wife on Tuesday October 7, telling me Sgt. Michael K. Clark had been killed in action early that morning. Her tears and anguish will haunt me for a very long time…it was the deepest hurt I have ever heard. Mike's death has forever changed the way I look at war," said Scott.
Sgt. Clark was from Sacramento, California, and came from a military family. His father is a pilot and flies charter flights that bring back fallen soldiers to the states. He flew his son back to Sacramento, and Governor Schwarzenegger flew the flag at half-mast in honor of Sgt. Clark. Sgt. Clark had received several medals during his service including the Army Commendation Medal-2, Army Good Conduct Medal, Iraq Campaign Medal w/Campaign Star-2, Global War on Terrorism Service Medal, Army Service Ribbon, Overseas Service Ribbon-2, and Combat Action Badge.
Michael's wife entrusted Scott to sell the bike and after much thought Scott set up a raffle with the proceeds going to Michael's son, Lucas. They are selling 1,000 tickets at $100 a piece. The drawing is being held August 15, and you can visitwww.lucasclarkeducationfund.comfor more details.
| | |
| --- | --- |
| SPECS | |
| BIKE OWNER | Sgt. Michael Clark |
| SHOP NAME | {{{Conquest}}} Customs |
| SHOP PHONE | 561-715-9494 |
| SHOP WEBSITE | www.conquestcustoms.com |
| YEAR/MAKE/MODEL | '07 Victory 8-Ball |
| FABRICATION | Conquest Customs |
| ASSEMBLY | Conquest Customs |
| BUILD TIME | {{{Eight}}} weeks |
| | |
| --- | --- |
| ENGINE | |
| YEAR/ MANUFACTURER | '07/Victory |
| TYPE/SIZE | Freedom V-twin /100ci |
| BUILDER | Victory |
| CASES | Stock |
| CYLINDERS | Stock |
| HEADS | Stock |
| EFI | Stock/Dynojet PCIII |
| AIR CLEANER | K&N; RamAir |
| EXHAUST | Conquest Customs GPIIs |
| | |
| --- | --- |
| TRANSMISSION | |
| YEAR/MANUFACTURER/TYPE | '07/Victory/five-speed |
| CASE | N/A |
| CLUTCH | Stock |
| PRIMARY DRIVE | Stock |
| | |
| --- | --- |
| FRAME | |
| YEAR/MANUFACTURER | '07 Victory/Conquest Customs |
| RAKE | 32 degree |
| STRETCH | Stock |
| | |
| --- | --- |
| SUSPENSION | |
| MANUFACTURER FRONT | Marzocchi |
| LENGTH | Stock |
| TRIPLE TREES | Stock powdercoated |
| MANUFACTURER REAR | Conquest Customs/Penske |
| SWINGARM | Conquest Customs |
| | |
| --- | --- |
| WHEELS, TIRES, AND BRAKES | |
| MANUFACTURER FRONT/TYPE | MetalSports Foose/1969s |
| SIZE-WIDTH/HEIGHT | 21×3.5 |
| TIRE/SIZE | Metzeler/120/70-21 |
| CALIPER | Brembo |
| ROTOR | Conquest Customs /Lyndall Racing |
| MANUFACTUER REAR/TYPE | MetalSports Foose/1969s |
| SIZE-WIDTH/HEIGHT | 18×8.5 |
| TIRE/SIZE | Metzeler/260/40-18 |
| CALIPER | Brembo |
| ROTOR | Conquest Customs/Lyndall Racing |
| | |
| --- | --- |
| FINISH/PAINT | |
| COLOR | {{{Ford}}} Blue and White |
| PAINTER | Jammin' Graphics |
| GRAPHICS | Jammin' Graphics |
| POWDERCOAT | FloCoat |
| | |
| --- | --- |
| ACCESSORIES | |
| FRONT FENDER | Conquest Customs |
| REAR FENDER | Conquest Customs |
| FENDER STRUTS | Conquest Customs |
| GAS TANK∩ | Stock |
| GAUGES | Stock |
| HANDLEBARS | Stock |
| RISERS | Custom Chrome |
| MIRRORS | JayBrake |
| HAND CONTROLS | Stock/Conquest Customs Levers/Accutronix Grips |
| FOOT CONTROLS | Stock/modified |
| FOOTPEGS | Stock |
| HEADLIGHT | Stock |
| TAILLIGHT | Kryakyn |
| LICENSE MOUNT | Kryakyn |
| SEAT | Stock/Conquest Customs |