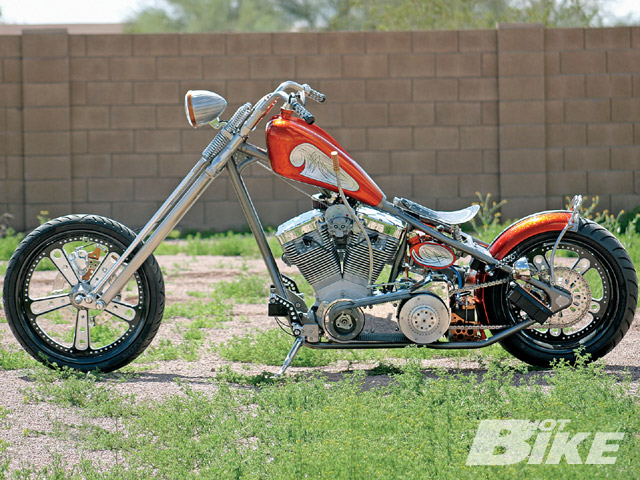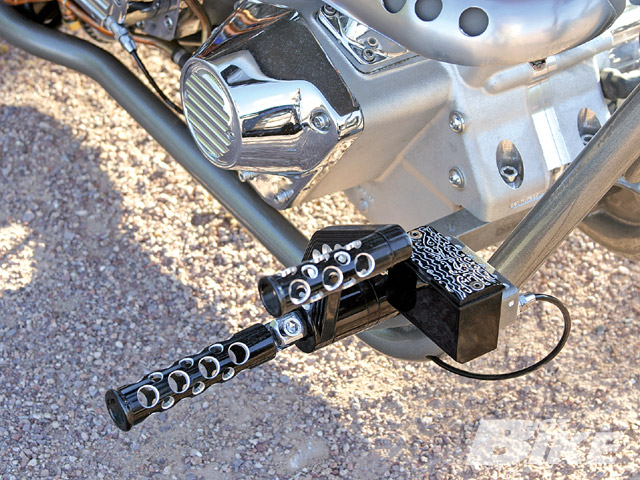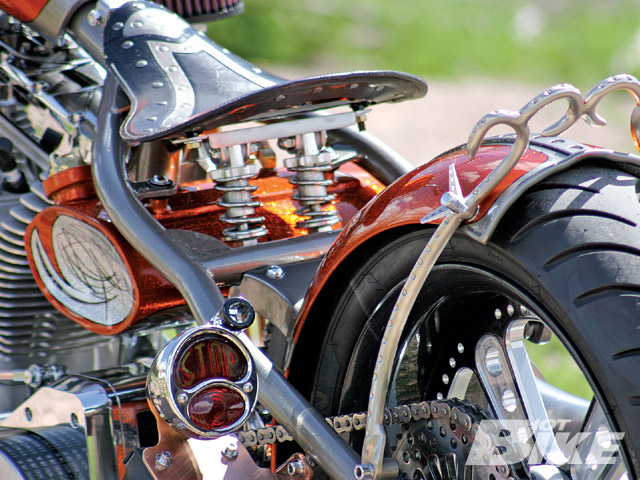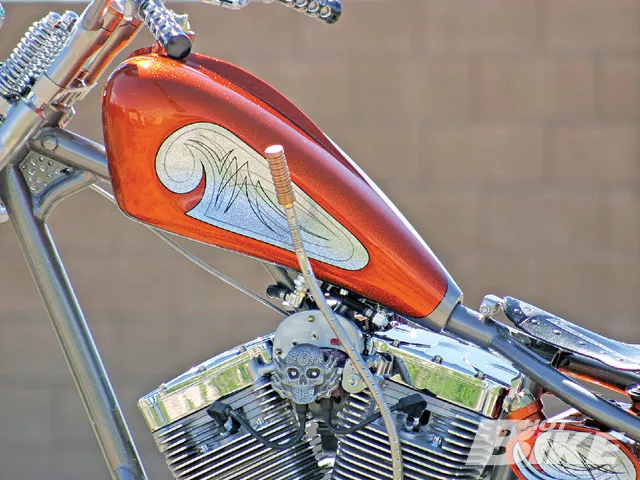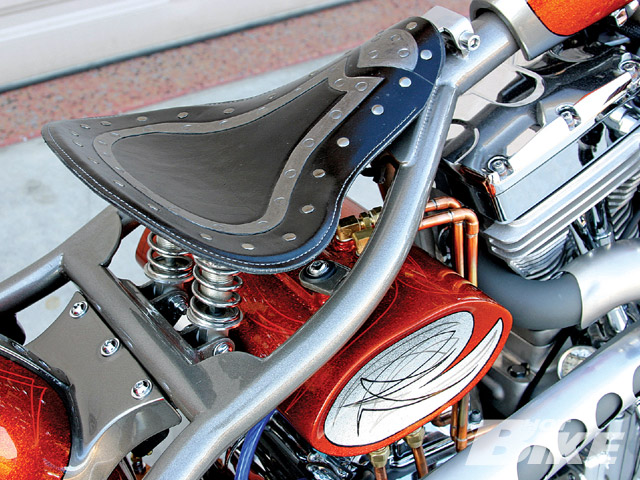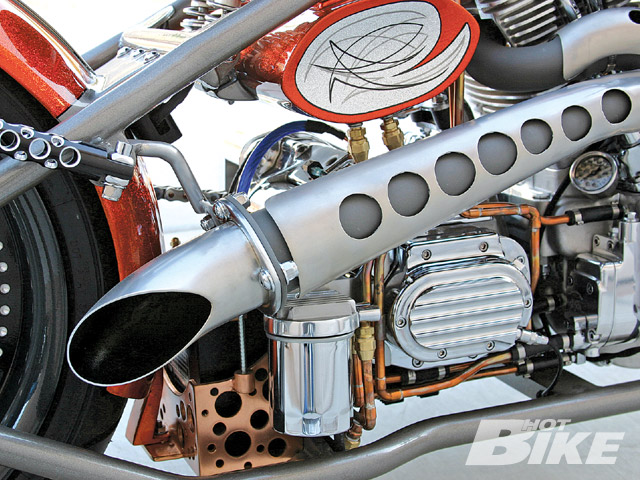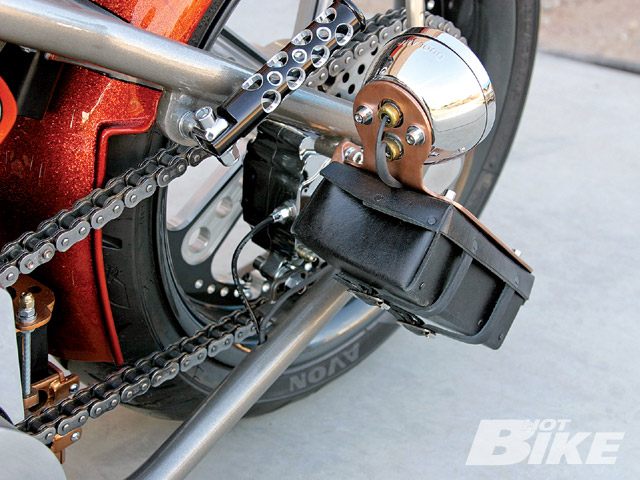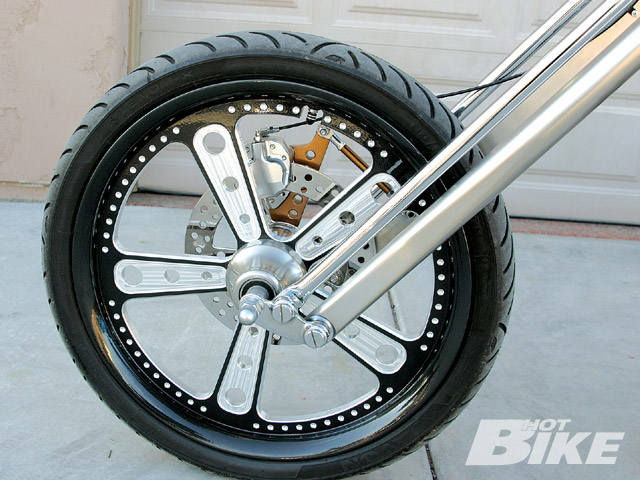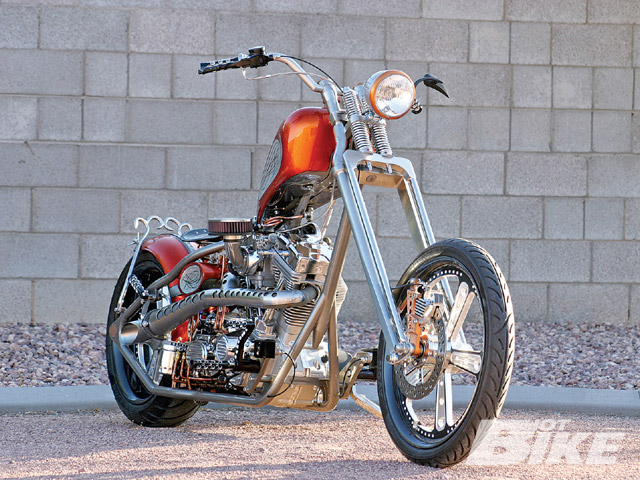 Laughlin, Nevada has hosted the annual Laughlin River Run in mid April since 1983. Usually a premier showcase for the West Coast-based builder, many enthusiasts have left the rally with either a new idea for their personal ride or the desire for something new. More common than not, a guy or gal will see one of the custom bikes on display at a builder's booth and get bitten by the most contagious and wealth draining bug of all, the custom bug. Troy Lepird, a police officer in Mesa, Arizona, attended the rally a few years back and stumbled across a gold chopper with lines he had never seen before. He immediately began to feel his skin itch as the bug crawled over him like an army of fire ants. When he approached Terry Lee, the owner of Envy Cycle Creations and Streetwalker Exhausts, he asked for a bike similar to the one on display, but he had a monkey wrench for Terry's consideration: he had a concrete ceiling of $25K for the build. Thinking the kid was obviously sun weary and maybe even a little overzealous due to the excitement of the rally, Terry gave the young gun his info and never expected to see or hear from him again.
Time went by, but Troy's dream of a custom chopper didn't go away. He pictured a long and lean chopper with a Shovelhead powered mill transporting him across the desert at speeds not suitable for print. He kept in touch with Terry, but the price of the build was still the sticking point keeping the inspiration from coming to fruition. Before long, the challenge to build a show-stopping bike for 25 grand became too much for Terry to turn down and he decided to make an agreement with Troy to build the bike of his dreams; but there were a few provisions that had to be dealt with first.
"I had to convince him that his budget made it necessary to reconsider expensive engine options," Terry said, "but I was able to install a very reasonably priced 120-inch Ultima engine." Terry explained that Ultima 120s are square motors, don't vibrate, run strong, and are reliable.
Besides, a 120ci Ultima can be found for around 4 g's, while a Shovel-styled repop would cost at least $1K more. To keep costs down even further, Terry ordered a Canadian-made frame and modified it by removing the stress bar. To keep Troy's ass in the saddle, he installed one of Streetwalker's hand-tooled leather seats mounted onto a pair of Chopper-Shocks. While the ride won't be mistaken for a Cadillac, the combination of rake, engine, and seat will make this bike run straight and true while still being light enough to whip around SUVs piloted by distracted soccer moms and account executives
Keeping with the stripped-down look, Troy wanted a jockey shift. Terry, having experience with bike building since the '60s, respectfully guided the inevitable hood ornament towards a Grandeur Auto Clutch, which enables Troy to still use the hand shift. "They're terrific for racing, instantaneous launch, but out here in the desert, we need to keep the dust out of the pressure plate or the clutch gets sticky," Terry explained. To assist with Troy's safety and novice experience with the hand shift, Terry installed an indicator light in the headlight bucket to alert Troy when he is in neutral. There's nothing quite as humbling as beginning to rev your engine at a stoplight while still in gear. If you don't kill yourself, you will at the very least have to change your boxers.
Terry handled all his own sheetmetal fabrication, including the rear fender, a slightly larger oil bag (4.25 quarts for long cool runs), frame mods, battery box, and copper oil lines. Terry continued with the use of Streetwalker parts by utilizing a set of his Streetwalker exhaust pipes. If you look at the engine close, you'll notice how he stretched the rear pipe and built the air cleaner out of the way, to allow the rear exhaust pipe extra space and yet maintain that massive shotgun style. "I make every effort to keep the length the same or similar for tuning," Terry said. He built these pipes with a titanium ceramic coating and a brushed satin heat shield protected by the insul-shield for a slightly different hue.
"We have a popular set that is Titanium flat black ceramic on the pipe with gloss black powder on the heat shield with a layer of insul-coat on the inside of the heat shield to create a 2000 degree heat barrier between the two elements." Terry offers his hand-made pipe systems in black, titanium or copper finishes. "I don't even polish the copper. We heat it slightly and it creates a wild patina." When asked about the holes in the pipe's heat shields, Terry explained that he hand drills them in his shop. Together with the ball-milled effects on several of the parts, and the many lightening holes, this bike's components have spent as much time under the drill press as they did in the powdercoating or paint booth.
Terry once again utilized his talent by applying all the paint himself and turning over all plating to Affordable Powdercoating to cover most of the usually shiny stuff with the durable and decidedly more affordable powdercoating finish. Most of the frame and components are either gray, black, or orange, making this bike stand out with its simplicity in design and eye-popping attention to detail.
Overall Troy received a bike that's killer to look at from any angle and as reliable as a custom can be. It just goes to show you, with a little time, patience, and the right builder, you too can own a one of a kind custom without taking a second mortgage on your home. The next time you are traveling through the Nevada/Arizona territory, be on the lookout for a long chopper screaming down the highway. Do not to be distracted by the smiling pilot hanging on for dear life; we assure you he's having the time of his life riding in a euphoric pleasure so few get to experience in this life.
| | |
| --- | --- |
| SPEC SHEET | |
| BIKE OWNER | Troy Lepird |
| SHOP NAME | Envy Cycle Creations |
| SHOP PHONE | (602) 391-8488 |
| SHOP WEBSITE | |
| YEAR/MAKE/MODEL | '08/Envy Cycle Creations/The Neighborhood Bully |
| FABRICATION | Envy Cycle Creations |
| ASSEMBLY | Envy Cycle Creations |
| BUILD TIME | Enough |
| | |
| --- | --- |
| ENGINE | |
| YEAR/ MANUFACTURER | '08/Midwest |
| TYPE/SIZE | Ultima/12Oci |
| BUILDER | Midwest |
| CASES | Ultima |
| CYLINDERS | Ultima |
| HEADS | Ultima |
| ROCKER BOXES | Ultima |
| CARBURETOR | Mikuni |
| AIR CLEANER | Envy Cycle Creations |
| EXHAUST | Streetwalker Exhaust |
| | |
| --- | --- |
| TRANSMISSION | |
| YEAR/MANUFACTURER/ | '08/Midwest |
| TYPE | 6-speed/LSD |
| CASE | Midwest |
| CLUTCH | Grandeur Auto clutch |
| PRIMARY DRIVE | Road Max |
| | |
| --- | --- |
| FRAME | |
| YEAR/MANUFACTURER | '08/Maximum Motorcycles |
| RAKE | 40 Degrees |
| STRETCH | 6 up, 4 out |
| SUSPENSION | Rigid |
| MANUFACTURER FRONTEND | DNA |
| LENGTH | 8 Inches over |
| FINISH | Brushed Satin |
WHEELS, TIRES, AND BRAKES MANUFACTURER FRONT Streetwalker/ TYPE Glory Ole SIZE-WIDTH/HEIGHT 21×2.15 TIRE/SIZE Avon 90/90 21 CALIPER GMA ROTOR Streetwalker/Glory Ole MANUFACTUER REAR Streetwalker TYPE Glory Ole SIZE-WIDTH/HEIGHT 18×5.5 TIRE/SIZE Avon/180 CALIPER DNA ROTOR DNA FINISH/PAINT Envy Cycle Creations
COLORS Sunburst Orange Metalflake PAINTER Envy Cycle-Terry Lee GRAPHICS Pinstriping by Tony Perez PLATING/POLISHING Affordable Powdercoating POWDERCOAT Affordable Powdercoating
| | |
| --- | --- |
| ACCESSORIES | |
| REAR FENDER | Chopped |
| FENDER STRUTS | Struts and sissybar by Envy Cycles |
| GAS TANK∩ | Envy Cycle Creations/Nash gas cap |
| OIL TANK | Envy Cycle Creations |
| HANDLEBARS | Envy Cycle Creations |
| RISERS | Envy Cycle Creations |
| HAND CONTROLS | Battistini |
| FOOT CONTROLS | Streetwalker/PEGS-Battistini |
| HEADLIGHT | 5 ½ inch |
| TAILLIGHT | Streetwalker |
| LICENSE MOUNT | Streetwalker |
| SEAT | Streetwalker |