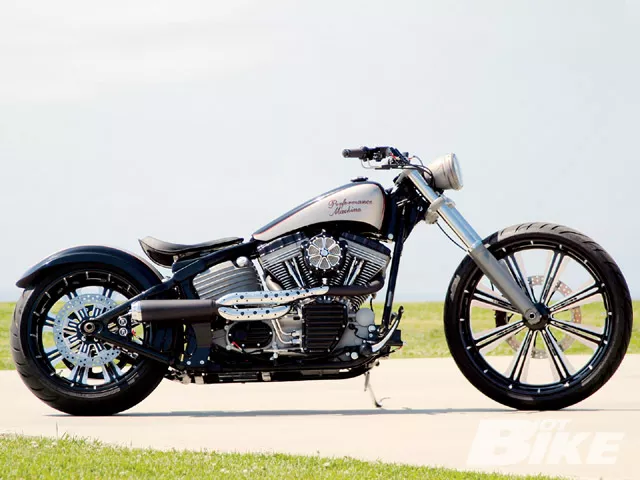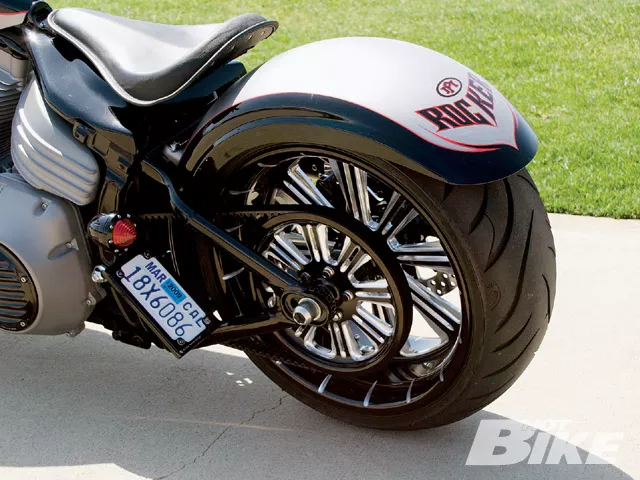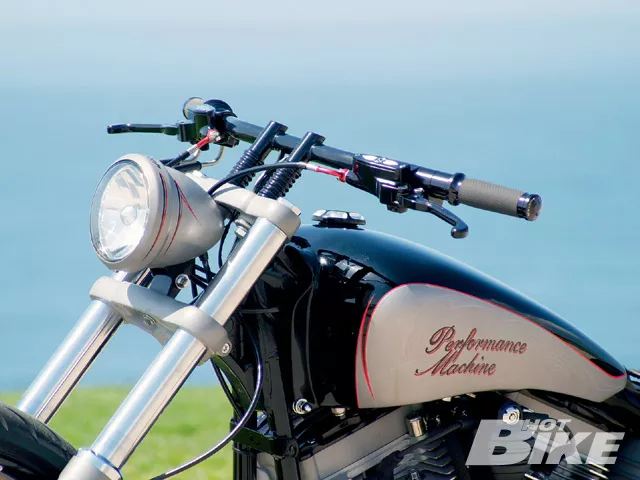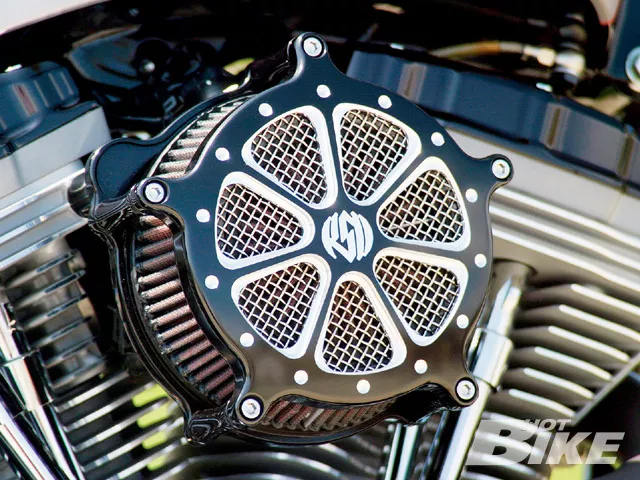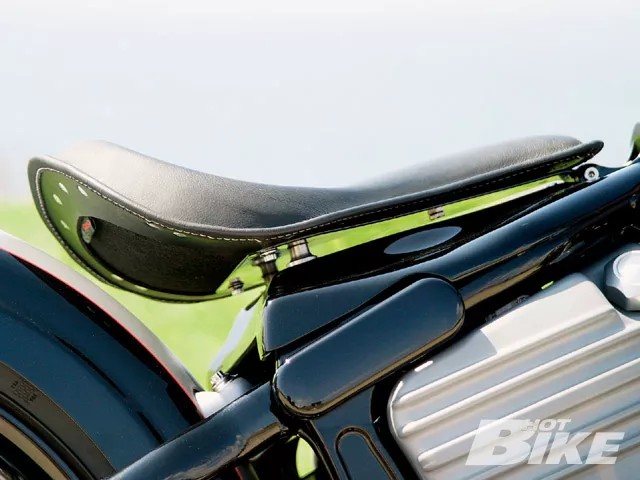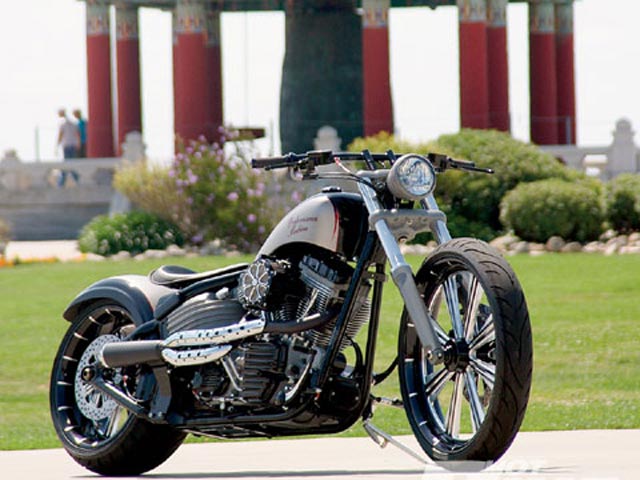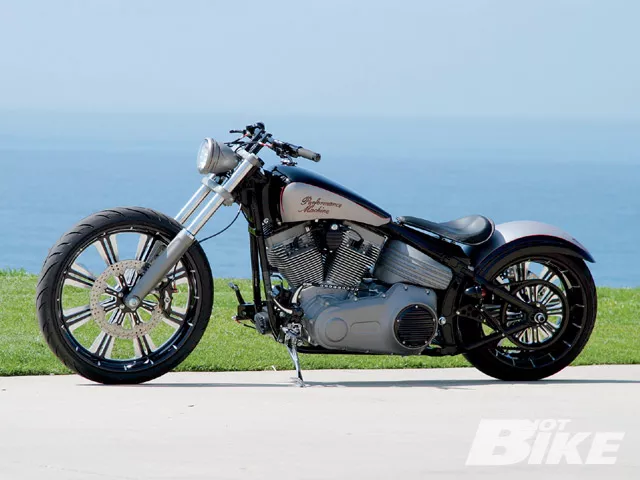 Every year Performance Machine (PM) chooses a Harley model for a makeover and then pimps it as a marketing tool, taking it to events all over the country. These bikes often provide the R&D; department with feedback for future product offerings. This year's lab rat was the Rocker, where PM and Roland Sands Design (RSD) turned the Softail into a born-again cruiser with parts from both company's catalogs. According to Roland, "The Rocker is a great bike with some aesthetic difficulties. The seat and fender combo is a little too spacy for the design of the bike, but there is a great, well-balanced machine under that kooky gas tank and rear seat section." He was pretty enthusiastic about making it, too. "I personally love the bike and if I had to build a 240 bike I would prefer to start with a Rocker rather than anything else. It has all the elements that make a modern-day Harley a great bike to own with the addition of the wide tire and raked out stance. It makes for an amazing chopper styled bike when you throw a little different style at it."
Doing that was a combination of fabrication and straight-up bolt-on parts. Changes to the frame were non-existent; Harley set the tone for a badass customization with the Rocker chassis. However, ask riders out there for their opinions on what they think about the Rocker. There's a real good chance they mention the bodywork, especially the gas tank and rear fender section. Some people like a funky back end, some don't. It's true that the stock Rocker has an unusual rear but PM and RSD did a great job cleaning up the booty. Roland cited the rear fender and seat redesign as the hardest part of this build, and the challenge was getting the back section to look right, and to not have too big a gap back there for the stock fender. "A lot of people like to replace the entire rear fender, where I think it's still a cool design if you get the seat pan right." RSD also created a more chopper-esque tank for this Rocker; something more svelte and stretched, that sits low on the backbone. It's a dramatic departure from the stock gas bag, giving the motorcycle a leaner, more unified look. Sands sanitized the front fender in the time-honored tradition used by many chopper makers: he got rid of it.
Breathing a new life into this project wasn't all cutting and welding, though. We said earlier that PM makes these bad-boy bikes to show off its aftermarket product bling. That means wheels, brakes, rotors, pulleys, controls…in short, all the cool parts PM makes in-house each and every day. In this case, you'll find wheels from its Riviera line, with matching pulley and rotors, naturally. Roland also added some of his own bolt-on parts in the form of Flat-out bars and risers, RSD taillight, motor covers, and a Vance and Hines/RSD 2-into-1 tracker exhaust.
Once all the bolting and welding was finished on this proto-custom, it was time for some color. A call was put into to Chris Wood at Airtrix, who laid down a mix of black and gray to make this Rocker a no-bull, badass custom. PM was happy with the end result.
Although the Rocker was Harley's first serious venture off the reservation and into chopper territory, we all know the Motor Company followed up with the Dyna Street Bob, and now the 883 Iron Sportster. Roland plans on doing those bikes too, but they'd be 100 percent different from this one. "I tend to design around what's currently there and let the bike take me for a ride and tell me what it wants," he told us. "Every bike is different and has a unique personality under its existing skin and that always leads to a unique design."
| | |
| --- | --- |
| SPECS | |
| BIKE OWNER | Performance Machine |
| SHOP NAME | PM |
| SHOP PHONE | (800) 479-4037 |
| SHOP WEBSITE | www.performancemachine.com |
| YEAR/MAKE/MODEL | '08/Harley-Davidson/Rocker Custom |
| FABRICATION | PM/RSD |
| ASSEMBLY | PM/RSD |
| BUILD TIME | one month |
| | |
| --- | --- |
| ENGINE | |
| YEAR/MANUFACTURER | '08/H-D |
| TYPE/SIZE | Twin Cam/96ci |
| BUILDER | H-D |
| CASES | H-D |
| CYLINDERS | H-D |
| HEADS | H-D |
| ROCKER BOXES | H-D |
| EFI | H-D |
| AIR CLEANER | RSD |
| EXHAUST | RSD 2-into-1 |
| | |
| --- | --- |
| TRANSMISSION | |
| YEAR/MANUFACTURER/TYPE | '08/H-D/Six-Speed |
| CASE | H-D |
| CLUTCH | H-D |
| PRIMARY DRIVE | H-D |
| | |
| --- | --- |
| FRAME | |
| YEAR/MANUFACTURER | '08/H-D |
| RAKE | 36 Degrees |
| STRETCH | Stock |
| | |
| --- | --- |
| SUSPENSION | |
| MANUFACTURER FRONT | Progressive Suspension |
| LENGTH | Progressive 1-inch Drop-in kit |
| TRIPLE-TREES | Progressive Suspension |
| MANUFACTURER REAR | Progressive Suspension |
| SWINGARM | H-D |
| | |
| --- | --- |
| WHEELS, TIRES, AND BRAKES | |
| MANUFACTURER FRONT/TYPE | PM/{{{Riviera}}} |
| SIZE-WIDTH/HEIGHT | 23×3.5 |
| TIRE/SIZE | Avon/130 |
| CALIPER | PM |
| ROTOR | PM |
| MANUFACTURER REAR/TYPE | PM/Riviera |
| SIZE-WIDTH/HEIGHT | 18×8.5 |
| TIRE/SIZE | Avon/{{{240}}} |
| CALIPER | PM |
| ROTOR | PM |
| | |
| --- | --- |
| FINISH/PAINT | |
| COLOR | Black/Grey |
| PAINTER | Chris Wood at Airtrix |
| POWDERCOAT | Olympic |
| | |
| --- | --- |
| ACCESSORIES | |
| REAR FENDER | H-D |
| GAS TANK & CAP | RSD/PM |
| OIL TANK | H-D |
| HANDLEBARS | RSD |
| RISERS | RSD |
| HAND CONTROLS | PM |
| FOOT CONTROLS | PM |
| FOOTPEGS | PM |
| HEADLIGHT | H-D/Kuryakyn |
| TAILLIGHT | RSD |
| LICENSE MOUNT | RSD |
| SEAT | RSD/PM |