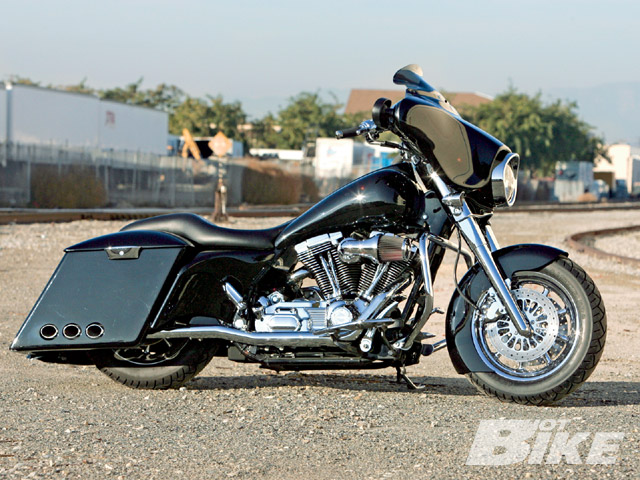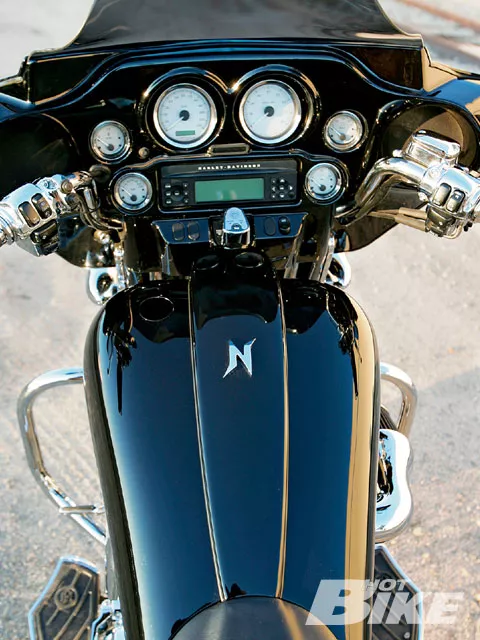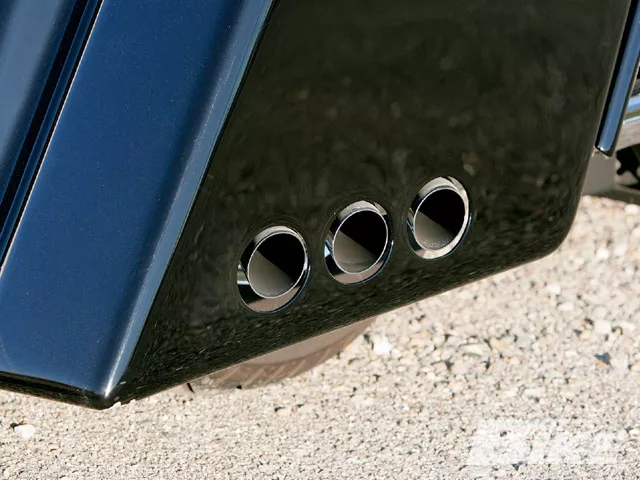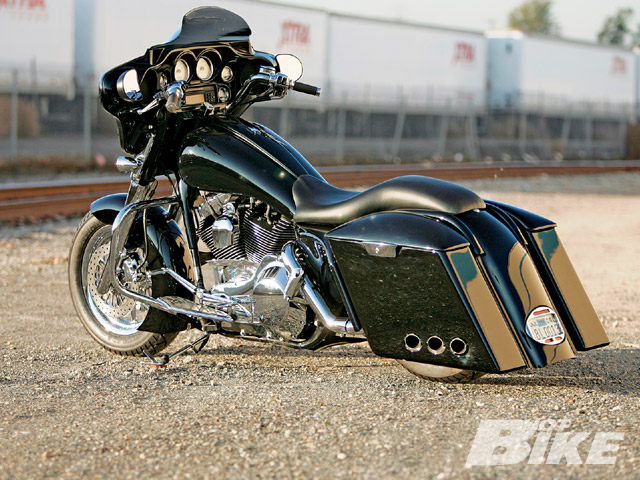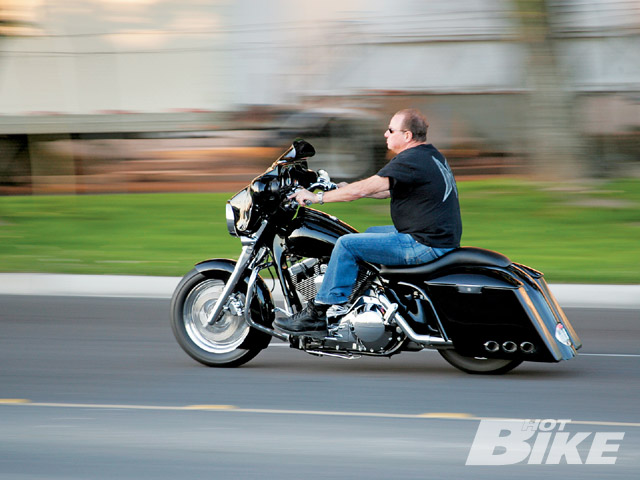 Everyone has heard the saying, "Men are from Mars and Women are from Venus?" Despite the fact that it is pretty damned annoying, the saying is true. More often than not men and women don't share the same interests. You want to sit in your recliner and watch TV, while she wants to go out dancing. But, once in a while, two people find that they share a love for the same thing. Vince and Cathy Torre are two of those lucky people that share a common passion; motorcycle riding. Thanks to their friends at Jim Nasi Customs (JNC), they ride in style, and Cathy no longer has to ride on the back of Vince's cycle.
Vince has always enjoyed fast moving vehicles and the outdoors. He used to get his excitement by boating. Eventually, Vince got bored with watersports and wanted to find something else to do on the weekends. Some friends of his recommended that he try riding a motorcycle. Vince quickly fell in love with riding and bought his first Softail in 1985 and he has been riding ever since.
It was 16 years later that Vince met the love of his life, Cathy. Cathy was happy to ride on the back of Vince's bike. Together Vince and Cathy rode everywhere and they both loved it.
One day, while riding through Brian Head, Utah, Cathy saw a few women riding Street Glides. She decided to go talk to them. She asked them how they liked riding on their own and how hard it was to handle a big bike. They told her they loved it and that she should get the biggest bike possible.
It was at that point that Cathy decided she wanted her own bike, and being a good and smart husband Vince was more than happy to oblige. Cathy got her own '06 Street Glide and then went to school to learn how to properly ride. Once Cathy was confident on the bike, she and Vince quickly became weekend warriors, riding their motorcycles all over, side by side.
Eventually Vince and Cathy got to talking about making some upgrades to her Street Glide. A few years back, Vince had purchased an Afterlife bike from JNC and really appreciated Jim's high quality craftsmanship. One day while attending the Laughlin River Run they ran into Jim, who was talking about a bagger kit he was working on. With a great appreciation for Jim's style, they let Jim have his way with Cathy's bike.
Jim had been working on a Bagger Series Kit for '97-08 H-D baggers that didn't require any modifications. As Jim states, "if you can change the oil in a car, you can do the kit." The kit includes a steel stretched rear fender, stretched bags, radius lids, new side covers, top rail covers, a slip-on "triple shot" exhaust system and a billet license plate mount with LED taillight and turn signals.
Jim did all of the conversion kit work to Cathy's Street Glide, but still wasn't finished. He stretched the gas tank and gave the bike a custom low-profile dash. He also changed out the lower front legs and installed a Legend Air Ride suspension system. This gave Cathy a smoother ride and made the bike sit up higher. When all was said and done, Vince and Cathy were very happy with the modifications.
With the success of his Afterlife motorcycle, the Fat Boy Conversion Kit, and the Bagger Conversion Kit, Jim is working on some new products. In addition to an '09 Bagger Conversion Kit he is working on a bolt-on fairing and a new custom bagger frame, which he plans on unveiling in the not too distant future. Needless to say, you're bound to see another Nasi custom bagger in the pages of HOT BIKE.
| | |
| --- | --- |
| SPECS | |
| BIKE OWNER | Cathy Torre |
| SHOP NAME | Jim Nasi Customs (JNC) |
| SHOP PHONE | (800) 964-NASI |
| SHOP WEBSITE | www.jimnasicustoms.com |
| YEAR/MAKE/MODEL | '06/H-D/Street Glide |
| FABRICATION | JNC |
| ASSEMBLY | JNC |
| BUILD TIME | Four Weeks |
| | |
| --- | --- |
| ENGINE | |
| YEAR/MANUFACTURER | '06/H-D |
| TYPE/SIZE | TC/95 Inch |
| BUILDER | H-D |
| CASES | H-D |
| CYLINDERS | H-D |
| HEADS | H-D |
| ROCKER BOXES | H-D |
| EFI | H-D |
| AIR CLEANER | Ness |
| EXHAUST | Nasi Triple Shot |
| | |
| --- | --- |
| TRANSMISSION | |
| YEAR/MANUFACTURER/TYPE | '06/H-D |
| CASE | H-D |
| CLUTCH | H-D |
| PRIMARY DRIVE | Belt |
| FRAME | H-D |
| YEAR/MANUFACTURER | '06/H-D |
| RAKE | Stock |
| STRETCH | Stock |
| | |
| --- | --- |
| SUSPENSION | |
| MANUFACTURER FRONT | Perse Performance |
| LENGTH | Stock |
| TRIPLE TREES | H-D |
| MANUFACTURER REAR | {{{Legend}}} Air Ride |
| SWINGARM | H-D |
| | |
| --- | --- |
| WHEELS, TIRES, AND BRAKES | |
| MANUFACTURER FRONT/TYPE | H-D |
| SIZE-HEIGHT/WIDTH | 16×3.5 |
| TIRE/SIZE | Metzeler 130/16 |
| CALIPER | H-D |
| ROTOR | H-D |
| MANUFACTURER REAR/TYPE | H-D |
| SIZE-HEIGHT/WIDTH | 16×3.5 |
| TIRE/SIZE | Metzeler 140/16 |
| CALIPER | H-D |
| ROTOR | H-D |
| | |
| --- | --- |
| FINISH/PAINT | |
| COLOR | H-D Black |
| PAINTER | AJ's Custom Paint |
| PLATING/POLISHING | LA Specialties |
| | |
| --- | --- |
| ACCESSORIES | |
| FRONT FENDER | JNC 16 inch |
| REAR FENDER | JNC |
| GAS TANK∩ | JNC |
| OIL TANK | Stock |
| DASH | JNC Low Pro |
| GAUGES | Stock |
| HANDLEBARS | Stock |
| MIRRORS | Stock |
| HAND CONTROLS | PM |
| FOOT CONTROLS | PM |
| FOOTPEGS | PM |
| HEADLIGHT | H-D |
| TAILLIGHT | JNC |
| TURN SIGNALS | JNC |
| LICENSE MOUNT | JNC |
| SEAT | JNC |
| SADDLEBAGS | JNC |
| SADDLEBAG LATCHES | JNC |
| BAG FILLERS | JNC |
| FAIRING | H-D |
| STEREO | H-D |
| SPEAKERS | H-D |