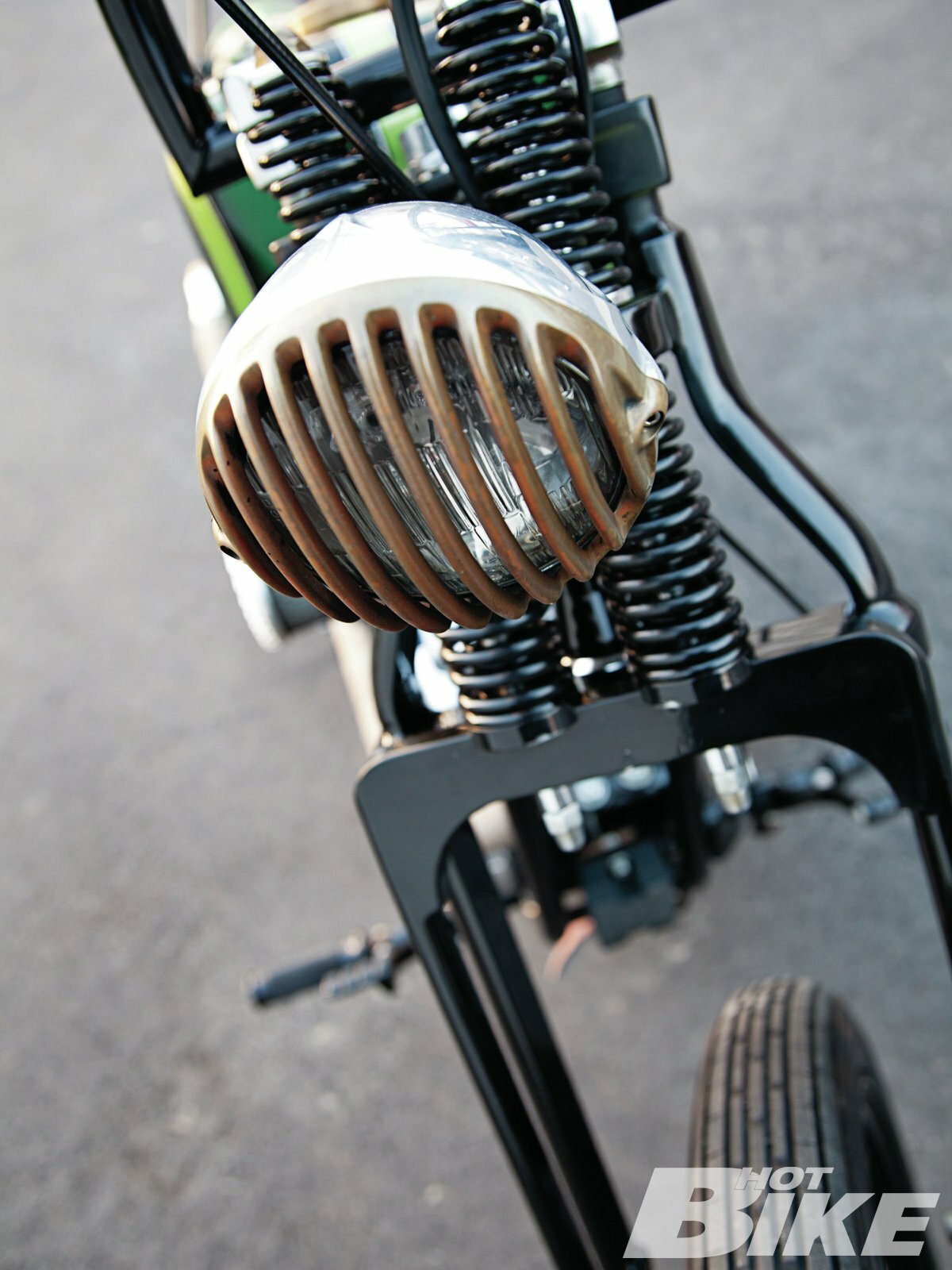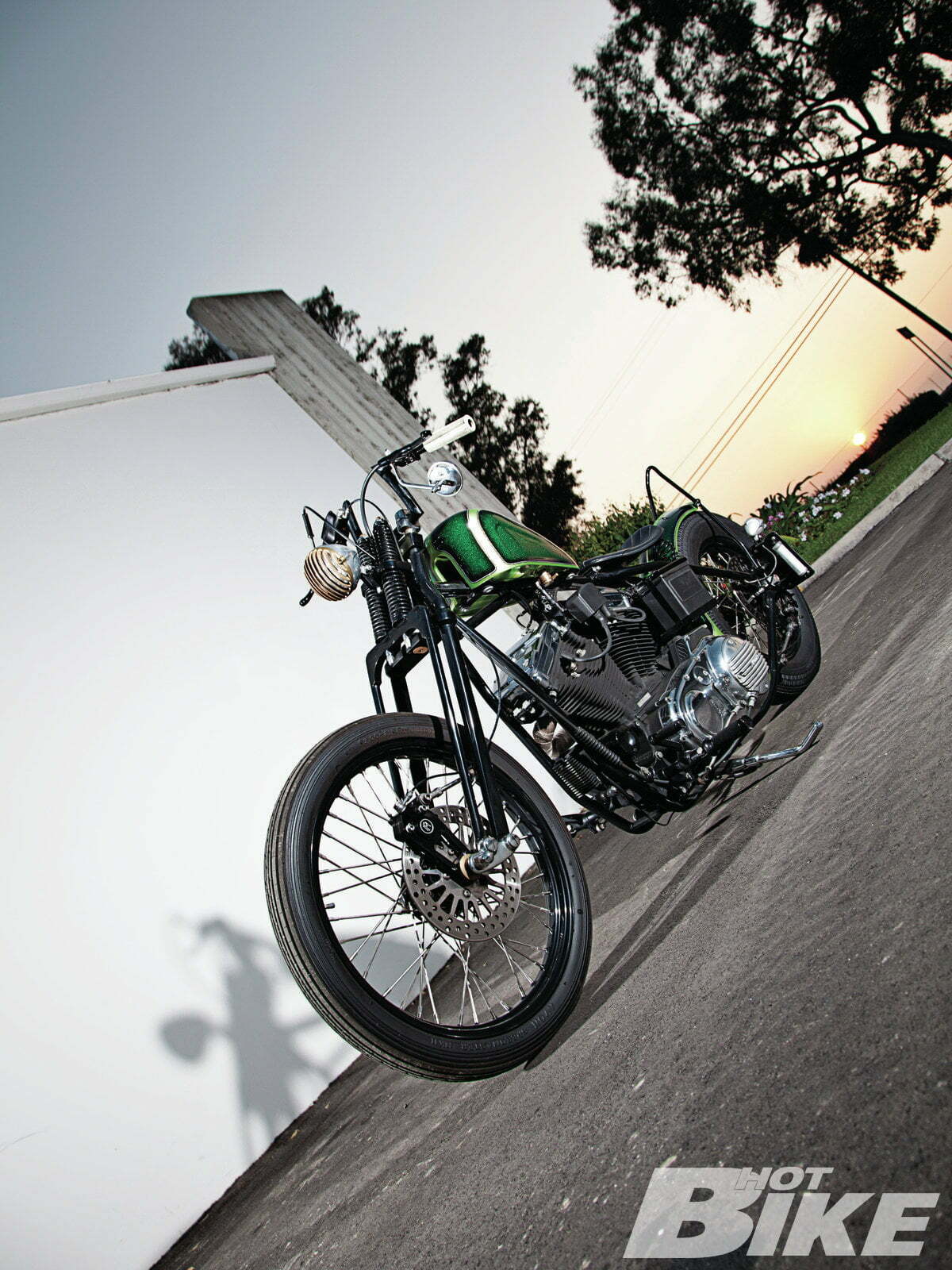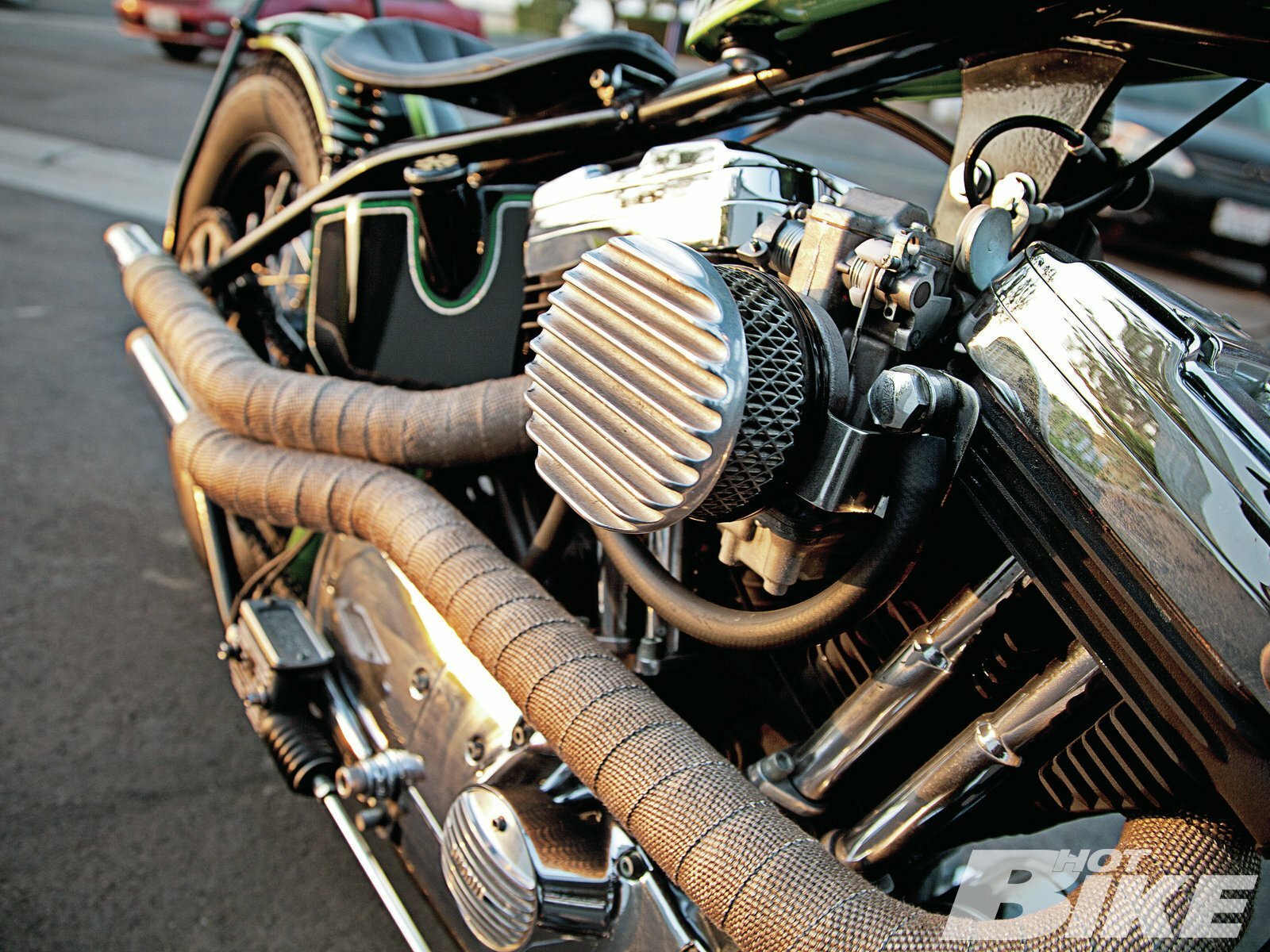 "We know it's all going to fit, like the forks and front wheel and axles, etc. Some guys at swap meets tell buyers 'Oh, yeah, it'll fit.' Well, of course they say a part's going to fit. They're trying to sell it," says Barry LaCour at Top Shelf Customs. Unlike eBay, where sellers get raked over the coals by negative feedback if a deal goes sour, once cash changes hands at a swap meet, the deal's done. Fit or no fit, you're stuck with whatever "bargain" you just made. That's why Barry's shop makes its Basket Case roller kits for Sportsters. Since the tank, wheels, and so forth already fit its frame, you need only shoehorn an XL mill into it and you've got most of a complete bike.
In the time since he opened up shop back in 2003, a lot of bikers have passed through Barry's doors, mish-mash of miscellany in hand, hoping he'd make it all into a great custom bike. One man's swap meet horror story became another's opportunity when Barry saw a market for the cheap roller kits, though. Or, as he puts it, "We thought we'd make it easy for someone who wanted to pull their Sportster motor out of the chassis and put it in a rigid frame. It came about from that."
For Mark McDivitt, though, the Basket Case was a voice in his head. Unlike the one in my head that tells me to burn stuff, though, his convinced him to get back in the saddle. Ten years ago circumstances forced him to sell his 883 to pay some bills. Like most people who get on a bike, the love of riding stayed with him. He always knew he would get another bike when the time was right.
That time hit when he walked into Top Shelf to handle some other business. Scoping the custom iron led to questions, which led to answers. Barry says, "I showed him what it would take to get a Sportster-based Basket Case roller kit on the road and that was it. He thought the time was right for a new bike."
<div class="st-block quote text-
Notice: Undefined index: st_text_align in C:laragonwwwhotbike-importblocksquote.php on line 1
">
This bike was built around the motor out of a clean, used, low-mileage 1999 Sportster 1200 that Mark bought for $2,200.
This bike was built around the motor out of a clean, used, low-mileage 1999 Sportster 1200 that Mark bought for $2,200. The Basket Case roller kits start at $2,995. With used Sporties being gobbled up like corn chips at an "oregano" dispensary these days, getting into a rigid chopper version with a springer fork set for less-than-or-equal-to the cost of a new one doesn't exactly suck. Granted, Mark's machine isn't fuel-injected or rubber mounted but if you're building a rigid with a springer, chances are neither of those things are what you want for your project anyway. "Sportster rigid bikes like that-for someone who's just getting into it, it's a little easier because they're cheaper than a Big Twin bike. That's what I like about the XL platform in general," says Barry.
Like Top Shelf's other Basket Case rollers, Mark's is based around a Paughco rigid frame from Sportster motors. This is how Barry knows all of his custom parts fit to a T every time he creates one for a customer. Consistent frames mean consistent dimensions and a consistent fit. What you have to watch out for with roller kits is too much conformity, though. No one buys a custom job to look exactly like everyone else. Well, not since the Great Chopper Craze of 2002, anyway.
Obviously, the key is creating a sweet spot between fit and form. Basket Cases all have the same wheels, tires, gas tank, frame dimensions, and rear fender. You also get two forks options (springer or glide, naturally) and it comes with mini apes or drag bars. It's the other stuff that sets each one apart.
For the McDivitt project, the name of that game was brass. Barry LaCour sprinkled bits of it throughout Mark's machine as a subtle offset to the black and dark-green paint. Adding in a brass gas cap and wheel spacers was a good idea, but brass exhaust tips? That's just crazy talk. The good kind of crazy talk, though. Not the kind that gets you a million hits on YouTube and a trip to the emergency room.
A touch of crazy is exactly what you need to spice up a roller kit, too. Top Shelf could have just cut-and-pasted Mark's motor into the Basket Case but that's not what good shops do. That sort of attention to detail and professional pride is a lot harder to find at a swap meet.
Specifications
Bike Owner: Mark McDivitt
Shop Name: Top Shelf Customs
Shop Phone: (714) 903-8042
Shop website: topshelfcustoms.com
Year/Make/Model: 2010 Top Shelf Customs Basket Case
Fabrication: Top Shelf Customs
Assembly: Top Shelf Customs
Build Time: Three months
Engine
Year Manufacturer: 1999 H-D
Type/size: Sportster 1200 cc
Builder: Top Shelf Customs
Cases: H-D
Cylinders: H-D
Heads: H-D
Rocker Boxes: H-D
EFI/Carb: Mikuni 42mm
Air Cleaner: Moon Equipment
Exhaust: Top Shelf Customs
Transmission
Year/Manufacturer/Type: 1999 H-D
Case: H-D
Clutch: Barnett
Primary Drive: H-D
Frame
Year/Manufacturer: 2010 Paughco
Rake: 30 degrees
Stretch: 2 inches up
Suspension
Manufacturer Front: Custom Chrome
Length: 2 inches under
Triple Trees: N/A
Manufacturer Rear: N/A
Swingarm: N/A
Wheels, Tires, and Brakes
Manufacturer Front/Type: DNA
Size-Height/Width: 21×2.15-inch
Tire/Size: Avon 100-90-21
Caliper: Performance Machine
Rotor: Biker's Choice
Manufacturer Rear: DNA
Size-Height/Width: 16×3.5-inch
Tire/Size: Avon 130-90-16
Caliper: Performance Machine
Rotor: Biker's Choice
Finish/Paint
Color: MC Green
Painter: ColorZone Designs
Graphics: Top Shelf Customs
Accessories
Front Fender: None
Rear Fender: West Eagle
Fender Struts: Top Shelf Customs
Gas Tank & Cap: Top shelf Customs
Oil Tank: Paughco
Handlebars: Biltwell, Keystone
Hand Controls: Performance Machine, Contour
Foot Controls: H-D
Footpegs: Top Shelf Customs
Headlight: Crime Scene Choppers
Taillight: Crime Scene Choppers
License Mount: Top Shelf Customs
Seat: West Eagle, Azteca