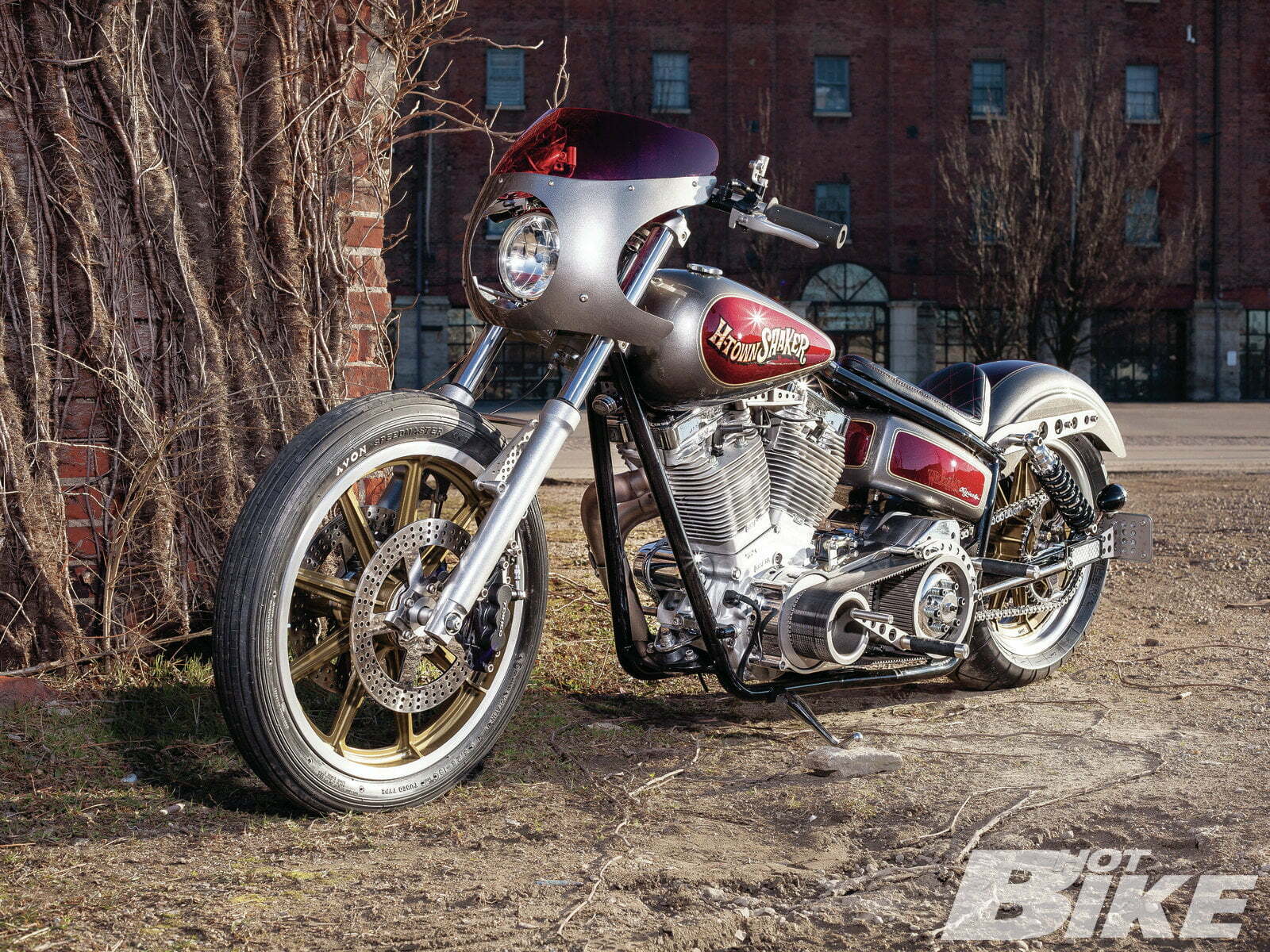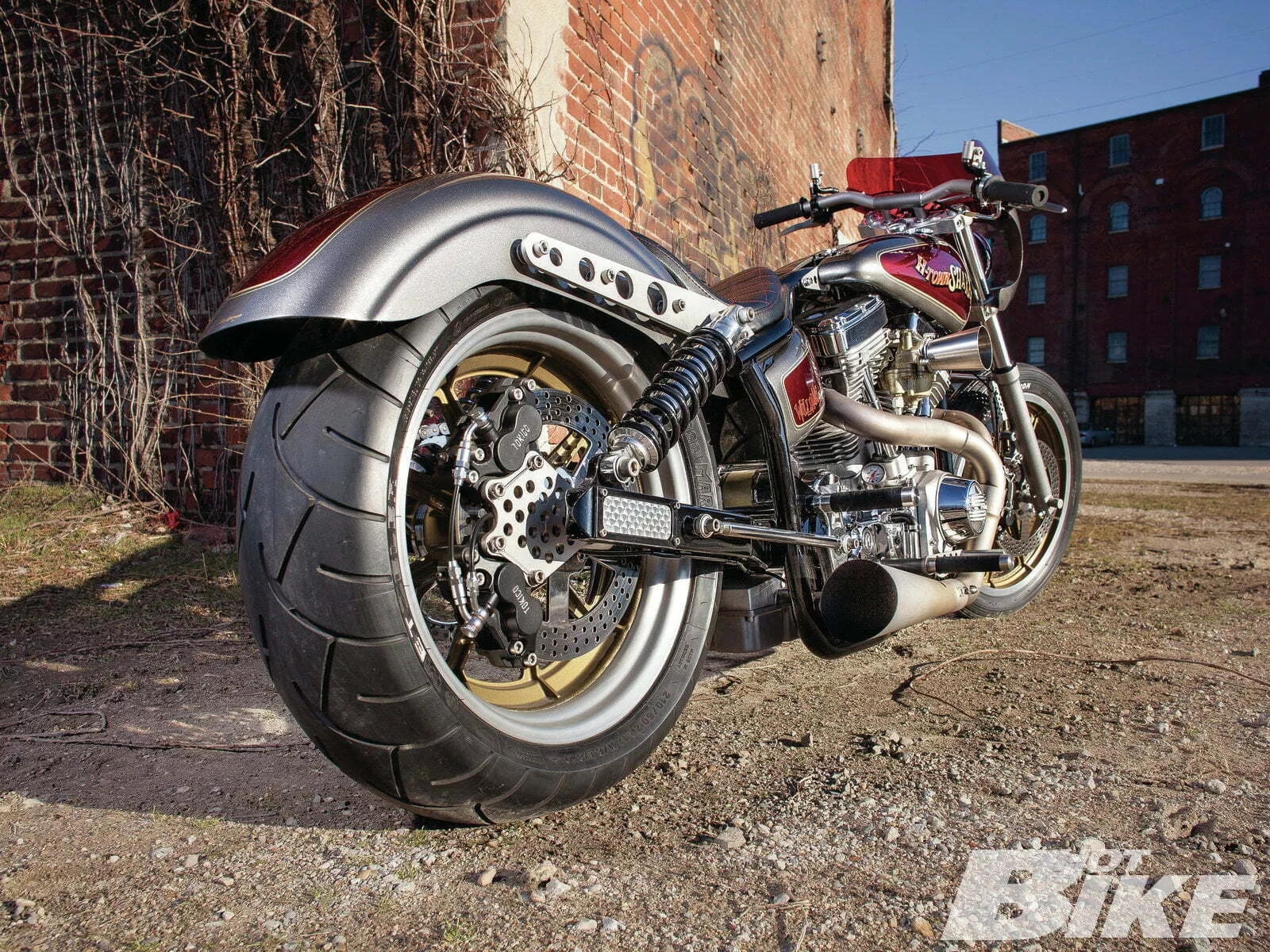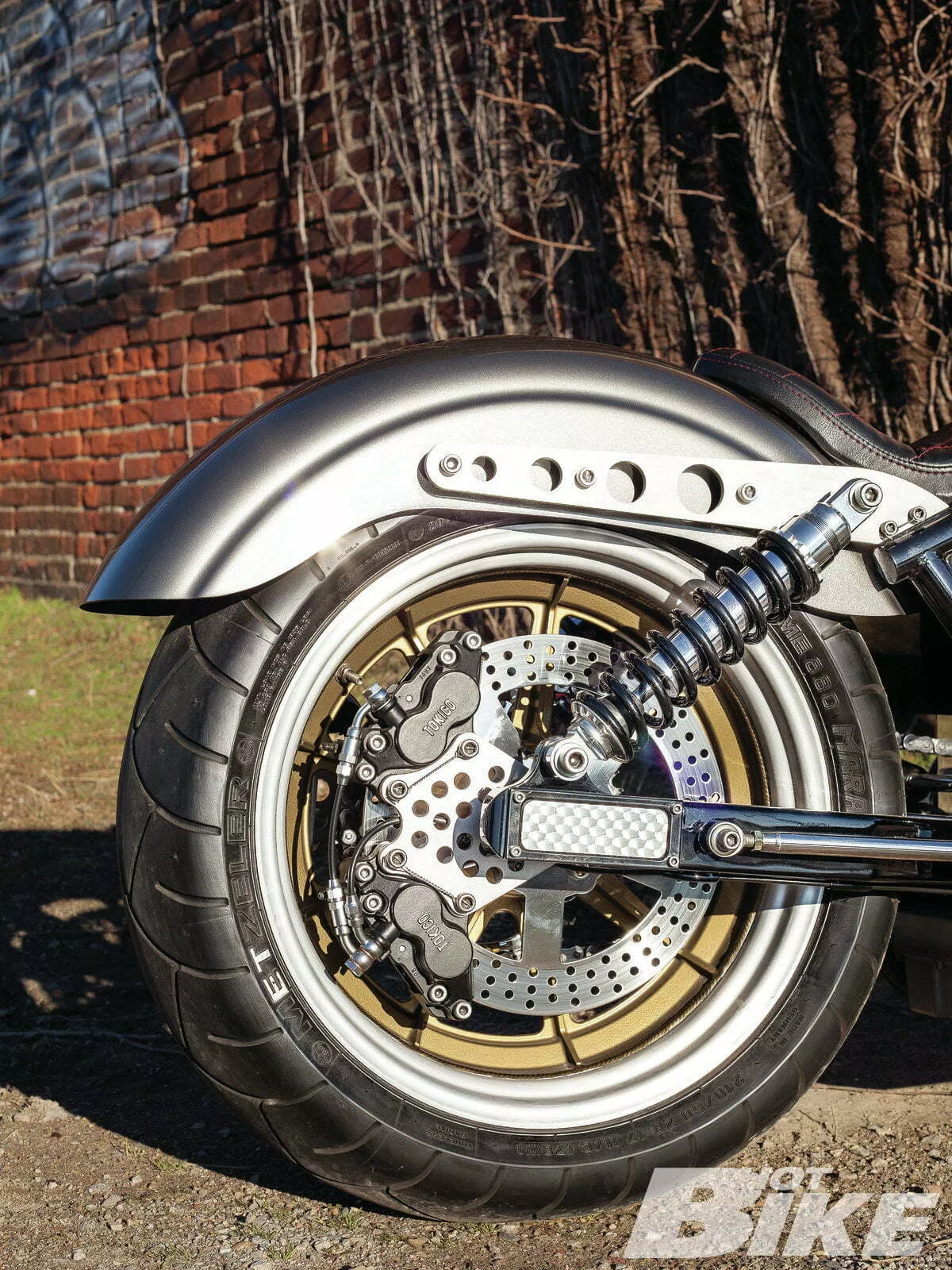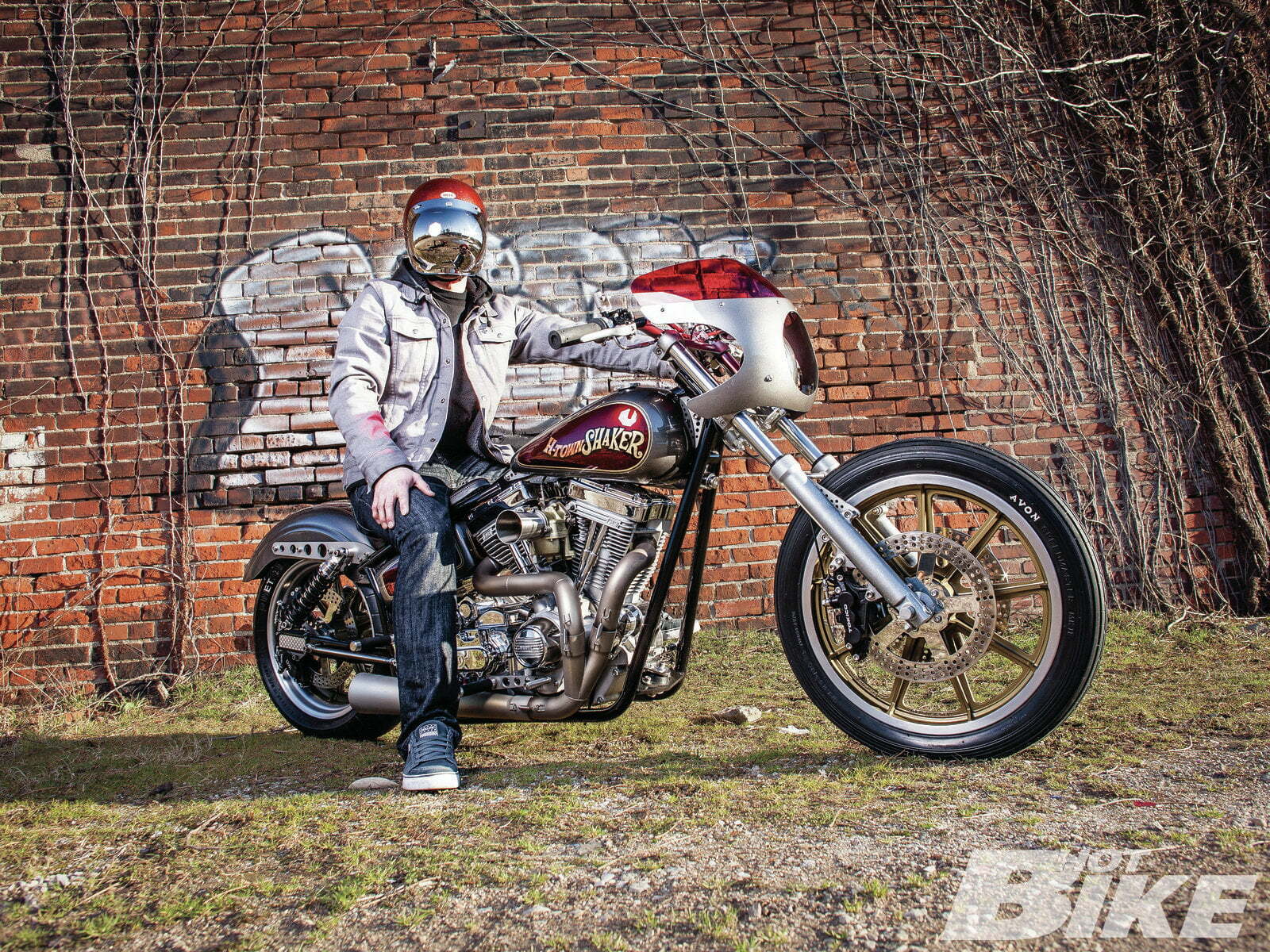 Forefront
While Scotty Williams may have ended the H-Town Shaker as a pony-shooting street dragger, getting it there involved one serious detour. I chose the name H-Town Shaker because my garage I rent is in the town of Harrison, Ohio, and there was an old drag car called the Motown Shaker that I liked, so I combined the two.
A few years ago, Scottys dad wanted his son to build him a custom bike because he wanted to start riding and going to shows with his boy. Papas friend had a custom FXR for sale that had been sitting sad and ignored for two years in a barn with a dirt floor. Inspection revealed that the corpse wasnt too ripe; all of the major organs were worth harvesting; specifically the Pro Street Frame Works bones, solid Evo driveline, and the motor. Having a self-assembled title on it didnt hurt either. All of the aluminum had succumbed to oxidation and the motor and trans bore a sickly brown pallor. None of that deterred dad from writing a check and handing the FXR over to Scotty for its new life, though.
Williams cut away the rotting flesh and examined his patient. The only parts left at this point were the aforementioned frame, driveline, and motor. The rest found new homes thanks to eBay. After breaking the motor completely down and bead-blasting its cases, he dove into the fun part of giving his pops a hot new scoot. At least Scottys dads idea of one anyway.
The two Williams dont exactly agree on what constitutes cool. Ones all flash-and-dash, the others into old drag bikes. Yes, we know youve heard that old story beforedads a fossil who doesnt like anything made after the Shovelhead, sonny boy wont toss a leg over anything without two tons of billet on it. This time, though, dads the one with the shine fetish.
Right as Scotty transformed the old FXR into a slick aluminum monster (sans paint), his father messed up his back at work so badly that even after surgery there was no way hed be able to ride a motorcycle. Getting rid of this machine would be a tragic waste of a family project. Scotty bought the bike from his father, took it back to square one, and transformed it once again.
They resold all of the high-dollar jewelry from the first go-around, reinvested the money for round two, and began again from the motor, trans, primary, and frame. Only this time with Scottys brand of funk: I love hot rods and vintage dragsters so I knew I wanted to build a vintage-style drag bike, but have a rubber-mounted motor, suspension, good brakes, and a gas tank that holds more than 2 gallons. His hunt for Fat Bob tanks led him to Jeff Cochran at Speed Kings who had a set taken from a Shovel rehab project. The nine-spoke mag wheels were a perfect added bonus. There was just one hitch. I love the look of old H-D mag wheels but the frame I had was for a 200 rear tire and this wheel was 3 inches wide. So I started looking into having the wheel widened, Scotty said. In his words, Cosmans are the masters of that particular craft. In the end, they widened the back wheel 2.5 inches and added an inch to the diameter to accept a Metzeler 210×17 tire in short order. The mag wheels sweet gold finish is a shout-out to the gold color on old Dow 7 coated magnesium wheels, courtesy of Armstrong Designs.
Scottys wheels may have been all ready for paint. He had a long trip ahead of him until the rest of the FXR would be, though. First off, those Fat Bob tanks needed a fair amount of modification before theyd be perfect in his eyes. Williams the Younger narrowed them, made stainless mounts, and installed custom billet caps on them. He also mounted a Pingel petcock on the front of the frame to keep the lines of the gas tanks clean. If youre looking for the dash, dont bother. Scotty exposed the backbone on purpose in order to show off the stainless mounts and safety wired bolts. He followed up by cutting and re-shaping a trailer fender into the battery box that sits under the seat. Its also home to the electronics and coils. The rear fender was the one that was on the original bike. It looked good enough to Scotty to keep its place. Its billet struts had to go, though. They werent nearly as hot-rodinspired; stainless ones he used in their stead.
His fairing wasnt nearly as straightforward as those fender struts: This was the first idea I had and the last to finish. I had a hard time figuring out how much to cut it down, mount it, and how much to shorten the windshield, Scotty elaborated. Some of the old gassers of the day had color-tinted windows, which inspired the red tint.
That line of thinking also dictated the classic, clean paintjob Brandon Armstrong applied to Scottys FXR. It mimics what youd see on an old drag car or gasser from decades passed. When Brandon finished the flawless paintjob Williams took the tins to Josh Shaw for the gold leaf lettering treatment and adding Scottys logo.
This being a drag-inspired cycle, wed be remiss if we didnt give you what really counts: the digits. When the bike was finished Scotty took it to his best friends shop, Guy Schaible at Junk Yard Customs, for a dyno run. The H-Town Shaker made a reported 113 ponies and 119 lb-ft of torque.
In the end, Scottys gift to his father didnt work out as planned. Life has a mean way of making things like that happen at times. Although papa didnt get to ride the finished motorcycle, were sure hes proud of his son for all the skill and work he poured into both versions of the H-Town Shaker.
Specifications
General
Owner: Scotty Williams
Shop: Williams Originals
Shop Phone: (513) 460-2444
Website: williamsoriginals.blogspot.com
Year/Make/Model: 2011 Williams Originals FXR drag bike
Fabrication: Williams Originals
Build Time: Nine months
Engine
Year/Type/Size: 2002 S&S; 113 ci
Builder: S&S;
Cases: S&S;
Cylinders: S&S;
Heads: S&S;
Rocker Boxes: S&S;
Throttle Body: S&S;
EFI/Carb: S&S;
Air Cleaner: Williams Originals velocity stack
Exhaust: Williams Originals
Transmission
Year/Type: 2002 STD five-speed
Gears: STD
Clutch: Barnett
Primary Drive: BDL 3-inch
Frame
Year/Type: 2002 Pro Street Frame Works FXR
Rake/Stretch: 35 degrees/none
Suspension
Frontend: H-D/Custom Cycle Engineering
Length: Stock
Triple Trees: Custom Cycle Engineering
Manufacturer Rear: Works Shocks
Swingarm: Pro Street Frame Works
Wheels, Tires, and Brakes
Front
Builder/Size: H-D 19-inch mag
Tire/Size: Avon Speedmaster 19-inch
Calipers: Tokico six-piston
Rotors: Flyrite
Rear
Builder/Size: H-D 17×5.5-inch mag
Tire/Size: Metzeler 210mmx17-inch
Caliper: Tokico four-piston
Rotor: Flyrite
Finish/Paint
Manufacturer: House of Kolor
Colors: Galaxy Grey and Candy Red
Paint/Graphics: Armstrong Designs
Plating/Polishing: J and M Metal Finishing
Powdercoating: J and M Metal Finishing
Accessories
Front Fender: Williams Originals fork brace
Rear Fender: H-D FXR
Gas Tank: Rescued Fat Bobs
Gauges: None
Handlebars: Front Street Cycles
Grips: Williams Originals
Mirrors: None
Hand Controls: Nissin Street Bike with Williams reservoirs
Foot Controls: Williams Originals with Brembo master cylinder
Footpegs: Williams Originals
Headlight: H-D
Taillight: Williams Originals
License Mount: Williams Originals
Seat: Williams Originals, Edge Tech Custom Upholstery