Hello, my name is Jason Cash I live in Fruita, Colorado. I have a 2002 Fat Boy I bought five years ago from a guy who kept it bone stock and in the garage. Here's all I have done to it since then: Arlen Ness rad controls, front fender, Hot Legs, front and rear rotors, triple trees, Progressive mono front and rear shocks, PM front, rear brakes and forward controls, DNA fat spoke 21 x 3.5 front, Arlen Ness 18 x 6.25 rear wheel, 2012 rear Fat Boy fender, Exotic Chopper exhaust, 18-inch Carlini Panty Dropper ape bars, 95-inch motor, BDL 3-inch belt drive, Baker OD six-speed transmission, Alloy Art turn signals, Terry 1.8-kilowatt starter, and pinstriping by Denise Corbett.
I wanted to say thanks to my good friends Eric and Judy Fincher for helping me work on my bike all those late nights and teaching me the old biker tricks to make sure it's done right—and also to Judy for reading the instructions when we got frustrated and cooking up all those great meals! Most important is my wife Kathy who would help out and reach those hard-to-get bolts with her small hands and who put up with my addiction with this bike for all these years!
Jason Cash; Fruita, CO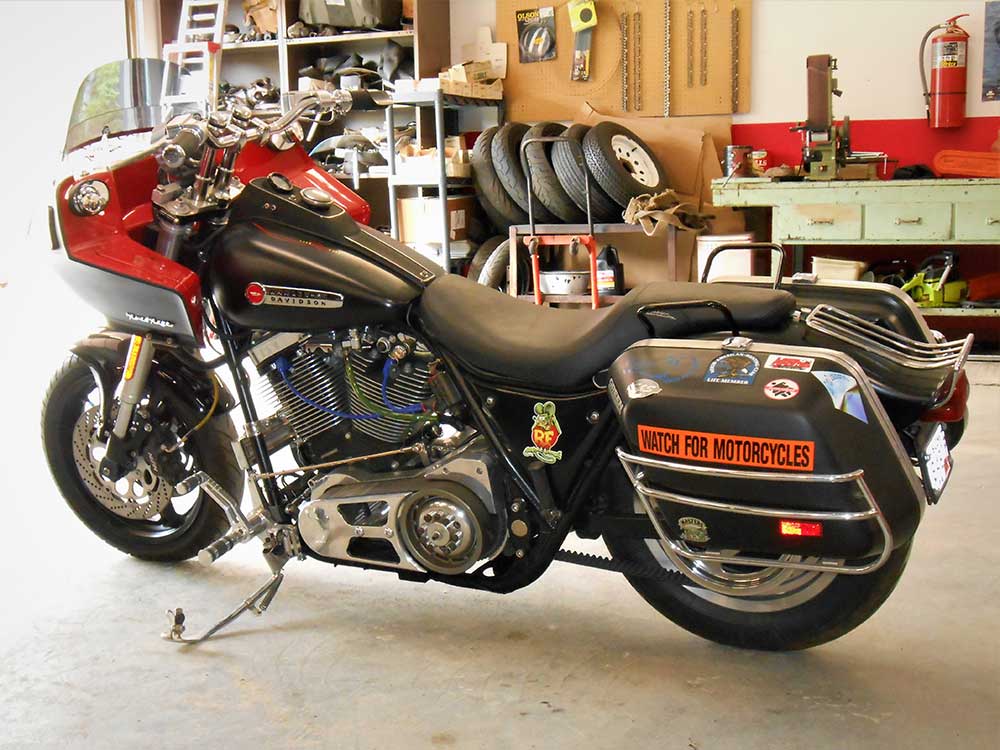 Rigid Reborn
This motorcycle was originally built as a rigid frame in 2003, but due to medical reasons in 2011 I could no longer ride rigid. I did not want to get rid of this 124-inch S&S engine and drive, as they were barely broke in at 2K miles. I began looking for a titled rubber-mounted frame. I learned that a brother of mine had an FXRP chassis sitting in his garage, but it had no papers.
The bike handles like it is on rails and accelerates like a scalded ape. There are things like the Speedo housing on the bars to house the 5-inch speedo. It was all tied in with the custom paint by Dino and pinstriping by Dale Attoe and is a true one-of-a-kind ride.
John Ives; Westfield, WI