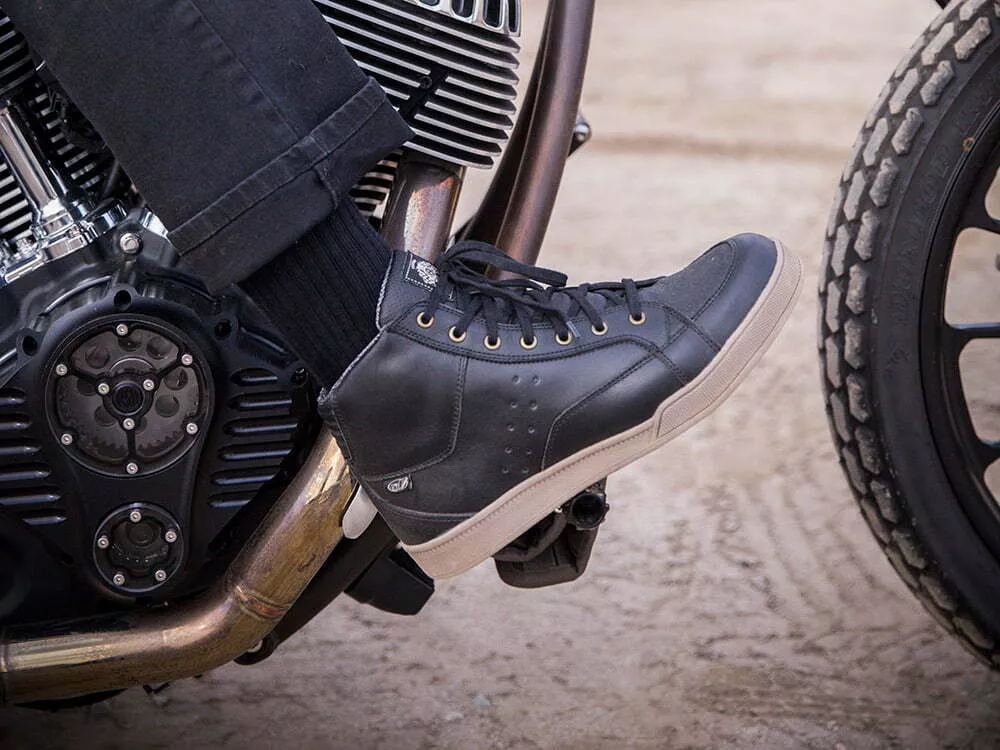 There have been far too many advances in modern motorcycle apparel for you to have to settle on basic work boots when riding. The newer styles out there are geared toward keeping your feet feeling and looking cooler, all while providing a more comfortable fit both on and off the motorcycle.
Whether you're looking for a totally different style, a better fit, or a multi-function shoe that can cover you while riding yet still be comfortable when you're walking around—we've got some ideas here. Take a look at these footwear selections to see which alternative would work best for you and your riding / lifestyle.
H-D's Benteen boot features new heat-resistant leather with TFL Cool System technology that claims to keep its temperature up to 54 degrees cooler than standard leather.
The TFL Cool System technology reduces surface temps of the leather by reflecting infrared rays for improved long-term thermal comfort. To better serve all riders, TFL Cool System- equipped boots are also available in female styles. Don't let the heat get to your feet.
High-quality, top-grain cowhide was used to construct the upper, and reinforced ankle, toe box, and heel cup areas will help keep the rider's feet protected. The fully waterproof membrane keeps you dry from the elements, and a reinforced, textured shift pad, and CE-approved sole ensures the highest level of durability. The Fresno is available in three colorways—all black, black with gum sole, and Tobacco.
An athletic footbed allows the rider to walk around comfortably while still providing the important base structure needed to serve as a legit, safety-minded motorcycle boot.
The Superduty 5 also features an upper comprised of TecTuff-coated leather with superior abrasion-resistant properties, and has a built-in D3O ankle insert for increased protection. While the Superduty is constantly evolving to offer riders the latest and greatest, it still maintains qualities that have made it a rider favorite throughout the years.
The Paddock motorcycle shoe is made from a ventilated fabric for optimum breathability in warmer temperatures, and it features suede inserts, as well as reflective accents for durability and visibility in low-light conditions (respectively). The soles are reinforced and highly resistant to lateral impact. The Paddock is available in four unique colorways to better suit your style.
Indian Motorcycle offers a high-top sneaker/boot that appears every bit like a casual shoe—with a few extra bells and whistles to make it a more than adequate alternative to the standard riding boot. Indian's high-top features a Vibram sole to provide grip and abrasion resistance. The premium cow leather outer gives this shoe the ultimate in durability while perforated inserts allow the shoe to deliver excellent breathability—great for on- and off-the-bike excitement.