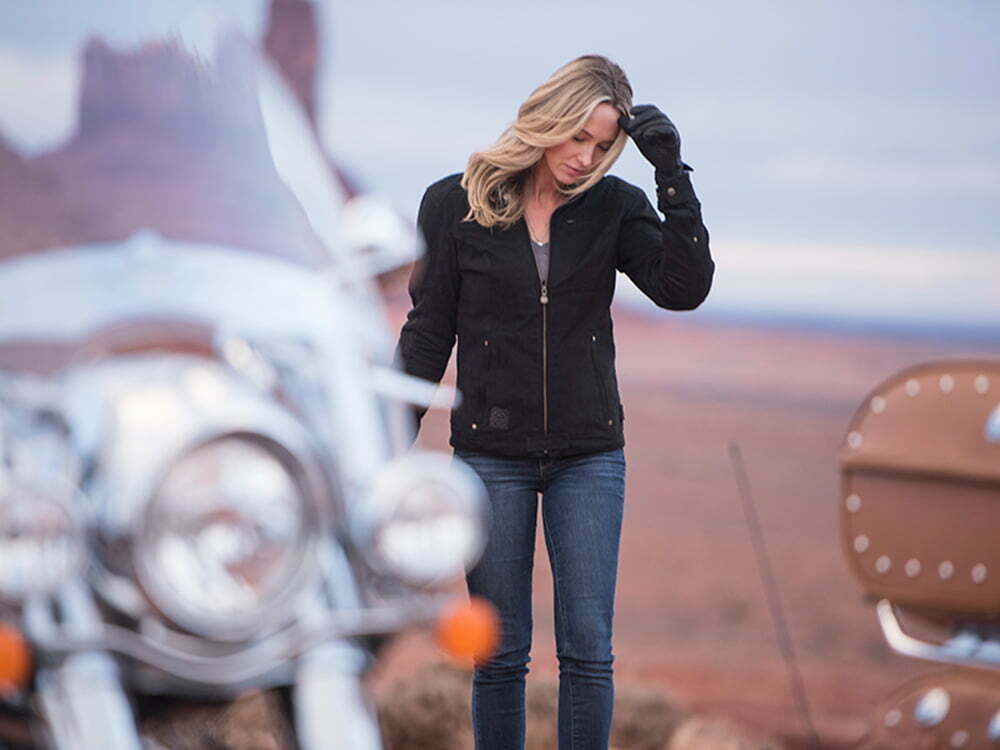 Selecting the right piece of riding gear is important when you're out riding in changing weather conditions for an extended period. A bulkier, insulated jacket is a necessity for the winter, while jackets made to promote airflow and that offer cooling properties are must-haves for the summer riding months.
Overheating is a problem you don't want to experience out on the open road. The sun takes its toll without you even realizing it, with fatigue and other symptoms kicking in. To avoid an unnecessary and unpleasant situation, gear up with a riding jacket that has been designed to cool you down as the temps go up. These days, there are far more options for women to choose from, and all are geared to not only offer a comfortable fit, but also provide you with the proper protection and good looks to boot.
This perforated leather jacket features Coolcore Technology, a sleeve lining that offers chemical-free, moisture-activated cooling properties that help manage heat and moisture for the most comfortable feel possible. The large perforated holes of the jacket's exterior (as well as a vented action back) also play a big part in allowing air to enter and circulate through.
Body armor pockets at elbows, shoulders, and back ensure that you get proper protection while keeping cool under the sun. A bonus liner is also included with the Venos, which offers windproofness, water resistance, and breathability in addition to its other already convincing selling points.
It is comprised of stretch cotton, and features a rib-knit collar for all-day comfort. The Loretto has a fixed inner lining, four exterior pockets (two at the chest and two at the hips), and one interior pocket to adequately stash all personal necessities. This attractive jacket is a good layer while on the road, and perfect to wear on its own when out and about, off the bike.
The Aira jacket allows just that, as the mesh construction welcomes in cool air while allowing it to escape (when it's warm) just as quick. A removable Hydraguard liner offers wind and water resistance when needed. Removable CE shoulder and elbow armor bumps this jacket into a respectable piece of high-quality riding gear that ranks comfort just as high as optimal protection.
Icon has utilized generous front and rear mesh paneling to allow a flow of cooling air to enter the Mesh AF jacket, which is exactly what you need from gear specifically designed for the summer months (even when temperatures creep into triple digits).
While the Mesh AF jacket doesn't feel overly bulky or "heavy," it does still deliver adequate riding protection with the inclusion of an industry-leading D3O impact protector package, complete with shoulder, elbow, and back pads. The unique design of this setup makes it the ultimate in shock absorption and impact protection. Icon's proprietary Attack Fit makes for a slimmer, more aerodynamic shaping that can be comfortably worn over a single thin layer such as your favorite T-shirt.
The Lola D1 features full-grain vintage-style leather that has been specially treated to make for a worn-in, soft feel and fitment. Aside from this jacket's good looks and physical attributes, it also serves as a respectable riding jacket as it delivers CE-certified, removable soft Pro-Armor guards. There's no losing with this impressive riding garment.