This article was originally published in the August-September 1997 issue of Cycle World's Big Twin magazine.
Dave Perewitz, the legendary bike builder and painter from Massachusetts, is best known for his intricate paint schemes—beautiful flights of fancy that are at once intensely contemporary and instantly classic. The hallmark of his work has been kaleidoscope-like graphics brimming with a symphony of contrasting colors—until now. With his new creation, appropriately named Plain Blue, Perewitz has taken a sharp turn from the intricate to the elegant.
---
---
The paint job on Plain Blue is as rich and, well, plain as a starless, twilight sky. And why this simplistic approach? "Well," says Perewitz, laughing through his thick Bostonian accent, "to tell you the truth, I thought this bike would look excellent on the pages of Big Twin." He pauses a beat to see if we're buying his story.
"And I wanted a different look," he continues. "For me, the plain paint in itself is a real different look. Some people think the color is a straight blue until you start looking at it. Then, once you follow the lines, you see that they're interrupted with light shades of purple. We went with that one-color theme to accentuate the bike's rounded edges. It doesn't have the square, whacked-off rear fender look. I'm not crazy about the tail-dragger style of fender; I like nice, clean-radius fenders. They make the bike more realistic to the average person who wants something that can be ridden and used."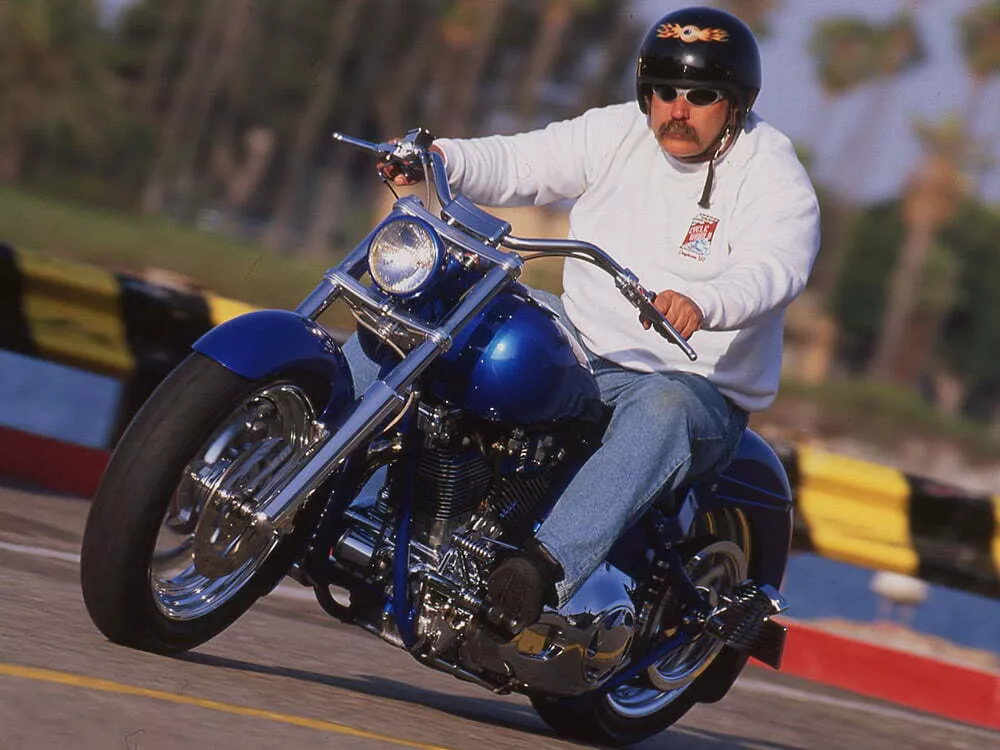 Besides the unique paint job, Plain Blue contains a long list of new parts from Perewitz's burgeoning hardware catalog. The triple-trees are a Perewitz design derived from various custom billet pieces he's concocted over the years. The trees work with 41mm fork tubes at the stock Fat Boy width, and the billet legs accept all late-model H-D factory damper assemblies and progressively wound springs. Again, to maintain the clean look, the lower leg caps hide the ends of the axle.
Nestling between the fork legs is the aluminum "Whammer Jammer" fender made exclusively for Perewitz by famed metal-bender Jesse James. It wraps tightly around the front tire for a close, radiused look. The frame has been stretched just three inches, considerably less than most Perewitz customs. To minimize the amount of wiring running around the gas tank and fork, there are no instruments on the bike.
At the end of our conversation with Perewitz about his new creation, we ask him if he really created this paint scheme for Big Twin magazine. "Sure," he says with a grin. "But then again, maybe I just wanted to throw people off a little bit."
Whether it's with his bikes or his humor, Dave Perewitz never has any trouble doing that.
Owner
Dave Perewitz
Brockton, MA
BASE MACHINE
1990 Softail
Designer/Fabricator
Dave Perewitz
Cycle Fab
909 N. Main St.
Brockton, MA 02401
508/506-2511
| | |
| --- | --- |
| Paint and Chrome | |
| Molding | Dickie Luciano, Cycle Fab |
| Base paint | Dave & Russ, Cycle Fab |
| Chroming | RI Tech & South Shore |
| Polishing | Tom Foran |
| Engine | |
| Year | 1990 |
| Model | Evo Big Twin |
| Builder | Al Wenkus |
| Displacement | 89 cu. in. |
| Cases | H-D |
| Lower end | S&S |
| Rods | S&S |
| Pistons | S&S |
| Heads | H-D by Wenkus |
| Valves | Crane-Sullivan |
| Cam | Crane-Sullivan |
| Pushrods | Crane-Sullivan |
| Primary cover | H-D |
| Ignition | Compu-Fire |
| Coils/wires | Compu-Fire |
| Carb | S&S |
| Air cleaner | Cycle Fab-Sullivan stretched |
| Pipes | Bub's Step Mothers |
| Other mods | Perewitz-Sullivan rocker boxes hexed and polished; powdercoating by Prism |
| Transmission | |
| Type | 1990 H-D |
| Modifications | TP billet trapdoor |
| Frame | |
| Year | 1990 |
| Make | Cycle Fab |
| Type | Softail |
| Builder | Jed, Cycle Fab |
| Modifications | Stretched 3"; neck dropped 1.5"; 37-deg. rake |
| Front  Fork | |
| Year | 1997 |
| Make | Perewitz-Sullivan 41mm billet |
| Type | Wide Glide |
| Modifications | 2" under tubes |
| Rear Suspension | |
| Year | 1997 |
| Make | Progressive/CCI |
| Swingarm | Hand-made to accept 180mm tire |
| Front Wheel/Tire | |
| Wheel | Perewitz-Sullivan Vader billet |
| Tire | Avon |
| Tire size | 130/80-18 |
| Rim width | 3.5" |
| Brake | GMA-Sullivan 4-piston |
| Rear Wheel/Tire | |
| Wheel | Perewitz-Sullivan Vader billet |
| Tire | Avon |
| Tire size | 180/70-18 |
| Rim width | 5.5" |
| Brake | GMA-Sullivan |
| Accessories | |
| Handlebar | Ness |
| Risers | Ness |
| Grips | Jay Brake |
| Mirrors | Legends |
| Gas tank | Cycle Fab handmade by Jed |
| Oil tank | H-D stretched |
| Front fender | Jesse James |
| Rear fender | Jesse James |
| Headlight | Ness |
| Taillight | Legends |
| Seat | Danny Gray |
| Foot controls | Legends |
| Footpegs | Legends |