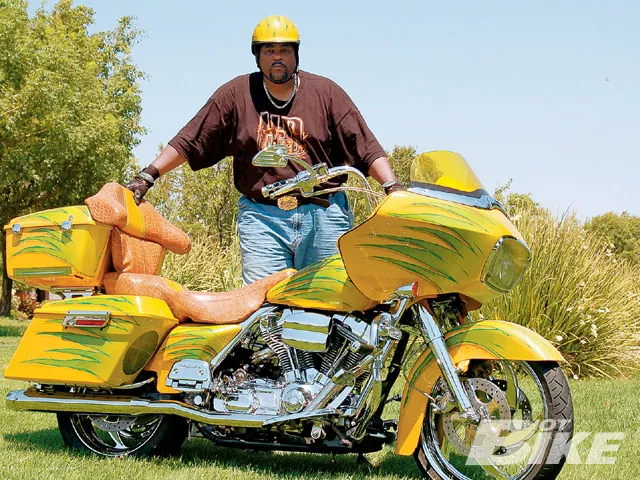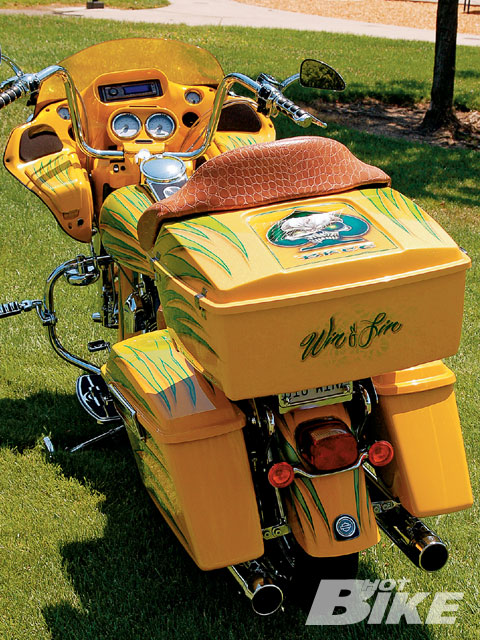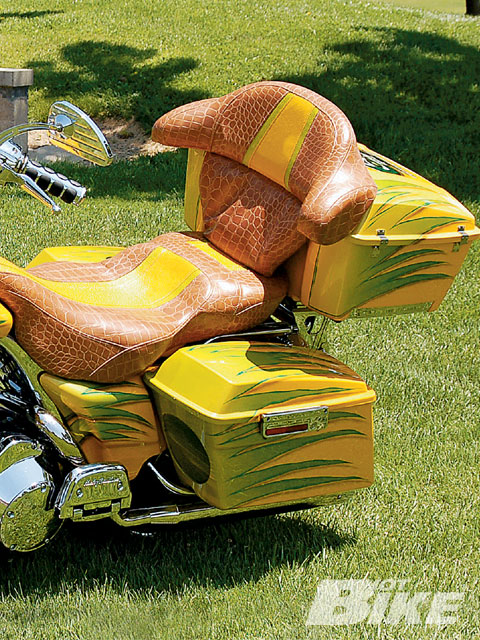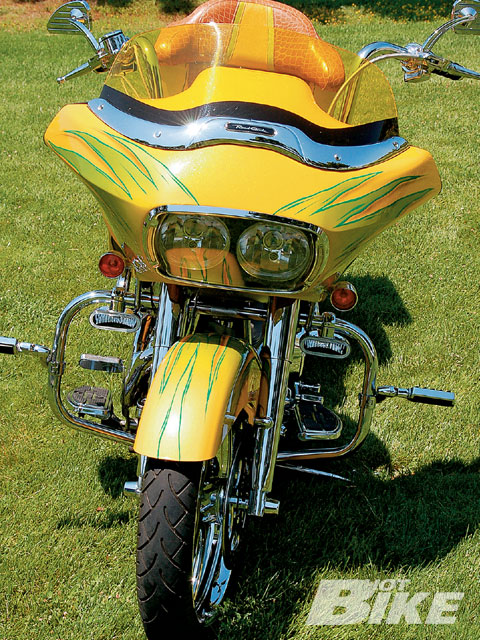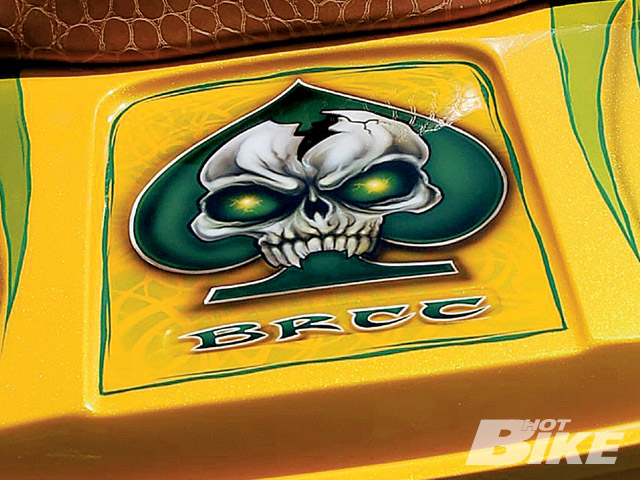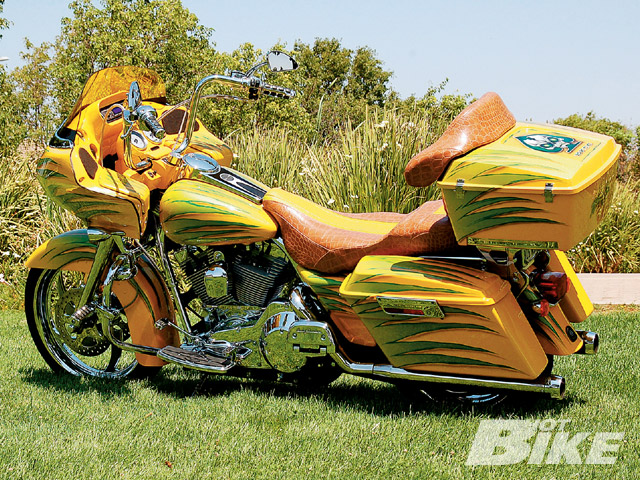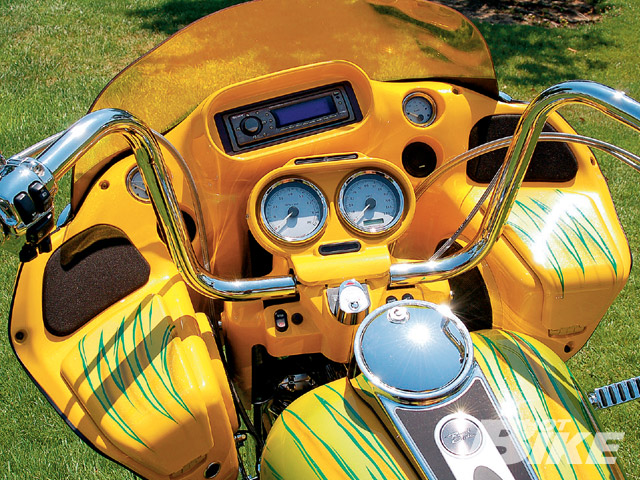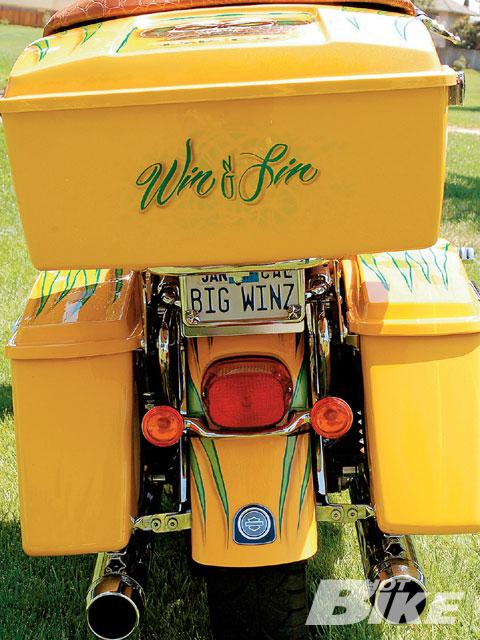 Here at HOT BIKE, we get a lot of rides-Harleys, hogs, whatever you want to call them-submitted by our readers. "Pick of the Pen" is an opportunity to dedicate a few pages to our favorite reader-submitted bike each month. This month's "Pick of the Pen" comes to us from Forest Winston.
My name is Forest Winston, I'm a truck driver from Stockton California. I own an '05 Road Glide and when I purchased the bike it was basically stock. I knew right from the start I could not ride a stock bike-it had to be customized. I would only leave my bike at a shop that had the same vision as I did and knew how to make my dream ride come to life. Checking out the motorcycle shops from the Bay Area to Sacramento I kept hearing that the guys at Back Roads Customs could pull off what I was after. I called Back Roads Custom Cycles in Tracy, California, and talked to the owner Ken. After about an hour on the phone with him I decided to take a ride out to the shop and see some of the other bikes they had built. That day the work started because they were able to supply all my needs under one roof. The owners Ken and Mary worked with me and gave me ideas to improve the vision I had in mind.
To me the work seemed to start off slow. What I did not know was the first week or so was all about getting the parts and lining up the work. So I may have been a pain in the butt with all the calls, but that went on (me calling all the time) throughout the build of my bike. When I picked up my bike from Back Roads Custom Cycles I was blown away. I had seen a lot of photos of the build up but nothing compared to seeing it in person and finished. Now I am at the front of the pack and powering me there is a 95ci big bore with S&S; cams, Keith Black Pistons, and ported and flowed heads.
What's the saying? If it doesn't move, chrome it. Well it does not hold true with my bike. There is chrome everywhere even on moving parts, like the swingarm. I could not stop with just chroming the motor and transmission; it had to be my way when it came to the bling. Also the paint is where I could really give my taste and direction with the custom colors and graphics done in-house at Back Roads. Then a custom set of Sinuous wheels were added: a 21-inch front and an 18-inch rear covered in Metzeler tires with color matched inserts all paired with a matching pulley and rotors. If you can't see me coming up on you, then you will certainty hear me with my stereo blasting. In the bags are 6 x 9 speakers, 150w Alpine amp and 6 1/2 inch speakers in the fairing, and a Rinehart True Dual Exhaust. Also I can't forget that my bike is accented with green LED lighting. I have named her "Big Winz." Now you know.
| | |
| --- | --- |
| SPEC SHEET | |
| OWNER | Forest Winston |
| HOMETOWN | Stockton, California |
| YEAR/MODEL | '05/Road Glide |
| BUILDER | Back Roads Custom Cycles |
| ENGINE | 95ci/H-D/Twin Cam |
| EXHAUST | Rinehart True Dual |
| TRANSMISSION | H-D |
| GAS TANK | H-D/BRCC |
| SHEET METAL | H-D/BRCC |
| FRONT FENDER | H-D/BRCC |
| REAR FENDER | H-D/BRCC |
| FRONT SUSPENSION | H-D |
| REAR SUSPENSION | H-D |
| WHEELS | Sinuous wheels |
| TIRES | Metzeler |
| PAINTER | BRCC |
| SEAT | Seat Works |