Change is constant. Change is necessary. Change is…not always good. (Remember New Coke?) So when Harley-Davidson folded its Softail and Dyna lines into one new lineup for model year 2018, purists were, naturally, alarmed.
Another group of Harley enthusiasts was also unnerved by the change, and it's one that should most concern The Motor Company. The FXR craze of the past few years has spawned a new movement of H-D enthusiasts, one more rooted in fun, adventure, and style than in tradition or heritage. This vibrant generation of wheelie-popping, fairing-wearing Harley riders has to be considered one of the few bright spots in what's often considered a pretty bleak picture of Harley-Davidson's future, so when the new line of Softails was released last fall, it was interesting to see how these young Dyna enthusiasts would react.
Josh James is the founder of HD Hooligans, one of the world's most spirited and successful online motorcycle communities. With an Instagram following of more than 93,000, Josh and the rest of the Hooligans are widely seen laying rubber, planting palms on asphalt at ridiculous angles, and sparking showers of DIY fireworks down roads all over the world. It's a fun, fantastic feed, full of risk-takers, death-cheaters, and, yeah, the occasional moron. But it's always an entertaining scroll, and Josh is one of the lunatics who started it all.
"The day Harley released the 2018 lineup, [my partner] Katie and I were watching the live releases pop up on Instagram and were texting each other as each model was released," Josh says. "Having a lot of influence with my Hooligans page, I saw this as the perfect opportunity to shift the negative hype surrounding the 'death of the Dyna' or whatever.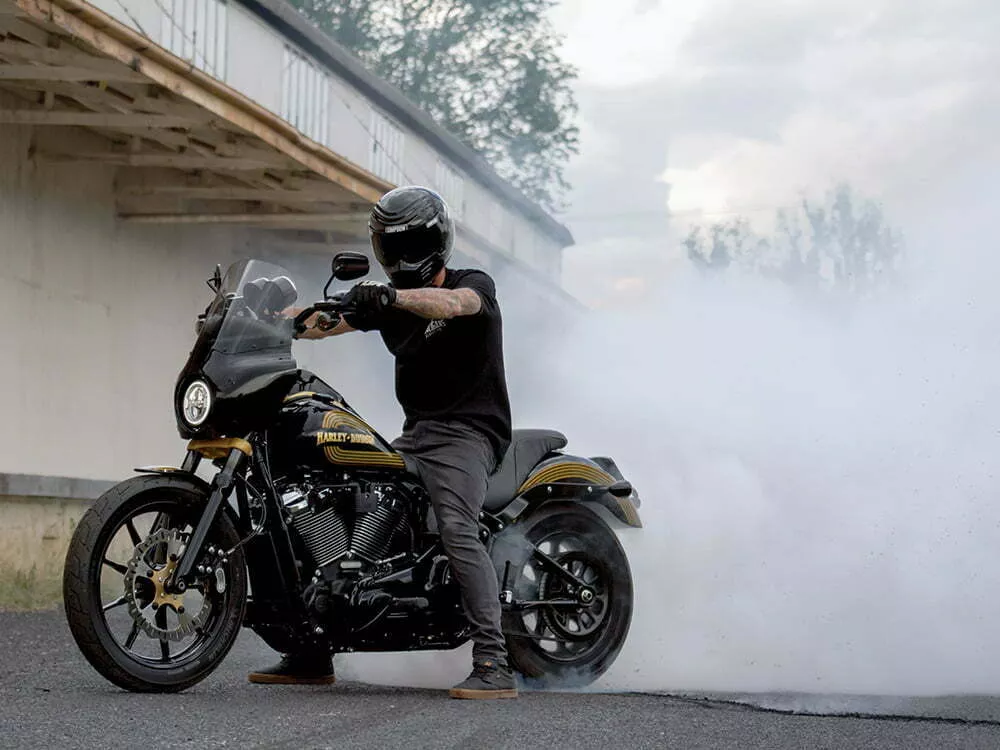 "I was disappointed the Dyna had been discontinued too," he admits, "but after my first ride, it was obvious that this new Low Rider was a force to be reckoned with. So I wanted to show everyone the same potential I saw in it."
But of course, the path from vision to execution is fraught with logistical peril, particularly with a brand-new model as your platform. A custom motorcycle based on the new Harley Softail had, quite simply, never been done in Australia—or anywhere else, for that matter.
"In building this bike there were many world's-firsts," Josh says. "I mean, this was the first 2018 Low Rider that arrived in Australia! We picked the bike up from Fraser Harley-Davidson in Sydney and rode to the beach. Five hours later, I had it stripped down to just the engine and frame with only 140 kilometers on the odometer."
Wanting to ensure his Low Rider would be the first custom built from the new H-D platform, Josh didn't waste any time ordering parts. "I'm a strong believer in staying with what works," he says, "and that's why I contacted my regular guys at Bassani, Hard Case, Memphis Shades, Progressive, Saddlemen, Topline Tubes, and Speed-Kings Cycle.

"But it still took a lot of trial and error to get parts to work right," he says. "All said and done, I was able to have the bike started and finished within a month."
Even with the hype of the new H-D range dying down, Josh's custom Low Rider still turns heads. "I get comments from Dyna lovers saying my build has completely changed their whole mindset on the new lineup," he gushes. "My personal favorite comment was, 'Dude, I think you saved Harley!' "
Not sure we'd go that far, but it's safe to say Josh is on to something Down Under. His successful social media profile has led to the establishment of Hooligan Supply Co., which currently sells only apparel but parts are on the way for the new breed of Harley aficionados—which is clearly alive and well on the other side of the planet.
"Progress is impossible without change," Josh says. And with all the doom-and-gloom speculation surrounding the health of the motorcycle industry, it's refreshing to hear such optimism (especially from a young Harley devotee). The good news is the FXR is a cool but very old bike, Sons of Anarchy hasn't been on TV in years, and the new Harley powerplant is a revelation. Add to that the excitement about the new lineup—the beefy Fat Bob and FXR-inspired Low Rider in particular—and there's plenty of reason to believe the death of Harley-Davidson has been, yet again, greatly exaggerated.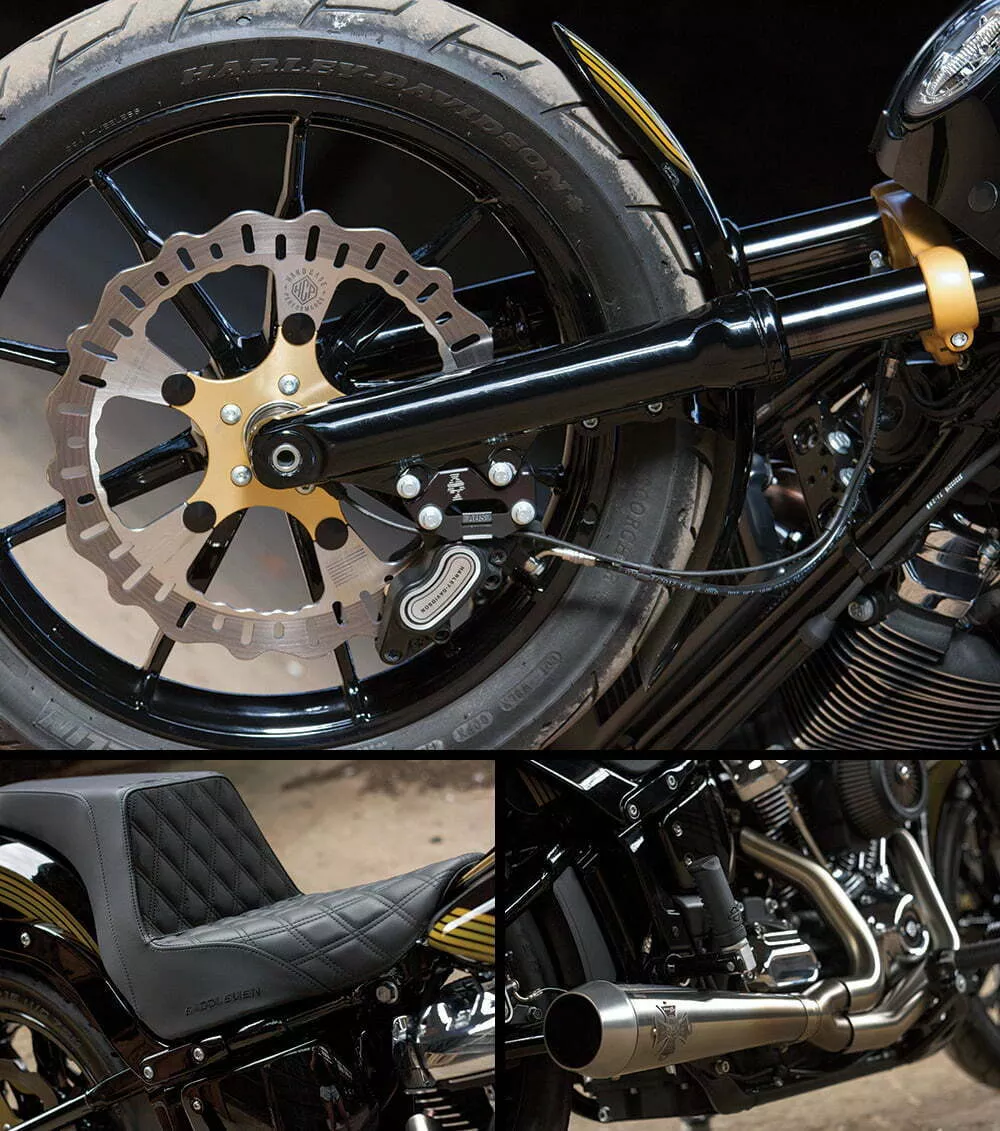 Specifications
| | |
| --- | --- |
| General | |
| Owner | Josh James |
| Shop | Hooligan Supply Co. |
| Shop Phone | 0439-261-001 |
| Website | hooligansupplyco.com.au |
| Year/Make/Model | 2018/Harley-Davidson/Low Rider |
| Build Time | One month |
| Engine | |
| Year/Type/Size | M-8/107ci |
| Builder | H-D |
| Cases | H-D |
| Cylinders | H-D |
| Heads | H-D |
| Rocker Boxes | H-D |
| Cams | H-D |
| Throttle Body | H-D |
| Air Cleaner | Screamin' Eagle |
| EFI Controller | H-D |
| Exhaust | Bassani Road Rage 3 |
| Transmission | |
| Year/Type | H-D |
| Gears | Stock H-D |
| Clutch | Stock H-D |
| Primary Drive | Stock H-D |
| Frame | |
| Year/Type | 2018/Softail |
| Rake/Stretch | Stock |
| Suspension | |
| Front End | Black Top Line Tubes, Burly Brand preload adjusters |
| Length | Stock H-D |
| Triple Trees | Ceramic-coated H-D |
| Swingarm | H-D |
| Rear Shocks | H-D w/ Bung King lift |
| Wheels, Tires, and Brakes | |
| Front | H-D powdercoated |
| Tire/Size | 110/90-19 Shinko |
| Calipers | H-D w/ Hard Case Performance adapter |
| Rotors | 14-in. Hard Case Performance |
| Rear | Galfer |
| Tire/Size | 180/70-16 Shinko 555 |
| Caliper | H-D |
| Pulley | Bung King sprocket, H-D chain conversion |
| Finish/Paint | |
| Manufacturer | Smith Concepts |
| Colors | PPG black base coat; custom faded gold custom-made mix for design stripes; 23-karat gold leaf with a mix of variegated gold leaf; outlined in one-shot enamel; cleared in PPG Deltron |
| Paint/Graphics | Smith Concepts |
| Accessories | |
| Front Fender | H-D |
| Rear Fender | H-D |
| Gas Tank | H-D |
| Dash | H-D |
| Gauges | H-D w/ Hard Case Performance relocate kit |
| Handlebars | Renthal Fatbars on 9.5-in. Hard Case Performance risers |
| Grips | H-D |
| Mirrors | H-D |
| Hand Controls | H-D shorty levers |
| Foot Controls | H-D |
| Floorboards | H-D |
| Headlight | H-D |
| Taillight | Speed-Kings Cycle Slim |
| Turn Signals | Modified Alloy Art |
| Seat | Saddlemen step-up |