The 2018 Smoke Out 19 Ride-In Bike Show at Rockingham Dragway in Rockingham, North Carolina, was a mix of rough Japanese choppers, immaculate Pan/Shovel builds, and late-model hardtails, but what really caught our eye was this homebuilt Ironhead. It's not a full-on showstopper, but a real-deal bar hopper built by a group of Indiana friends. And that's why this '63 XLCH was the Hot Bike magazine Smoke Out Rally pick.
Ed Carroll of Alexandria, Indiana, said the majority of the parts and work on this Sportster came from friends, and since he's owned it, the bike has been rebuilt six times. It started as a '63 model XLCH…until it blew up. Ed then picked up a '69 engine and rebuilt it with '71 rockers and heads, bumping it from a 900cc to 1,000cc in the process.
The AEE Choppers' 45-degree-rake hardtail frame came out of a friend's garage. Ed searched for the right front end to give the bike a proper stance and combination, but after a few purchases, he went back and bought the original girder fork. Meanwhile, he also picked up the SU carb with long intake. It appears that most of the parts came from a former British-esque Ironhead project built decades prior.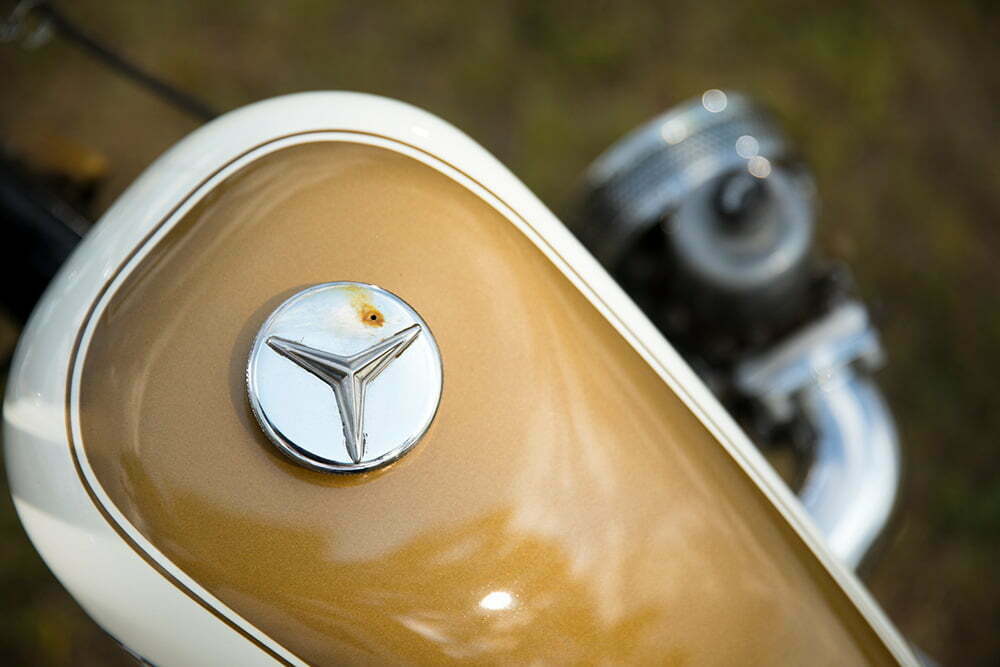 In fact, most of the parts came from random bits hanging on local garage walls, along with a few pieces taken from an abandoned DeSoto in the woods. Ed purchased a piece of brass and liked it, so he started buying more bits to match the bronze theme. You can see the vibe from the kick pedal to the exhaust tips, and even the shifter handle he spun on a lathe.
Ed was surrounded by friends all throughout the build, so he had no problem turning to another, who happened to have some leftover gold color from a Monte Carlo paint job. Ed picked up a can of off-white spray paint from the local NAPA Auto Parts store, and went over to his friend's garage where they shot the gold and white scheme over a couple of cases of beer.
This was Ed's fourth year displaying his bike at the Smoke Out. "Everything I've done to the bike has been for the Smoke Out," Ed said. After the Smoke Out Show, the bike "will probably find a place in the living room," he continued, because he has his eye on a new project. "It's a Led Sled hardtail kit and I'd like to do another one, and build my own this time."