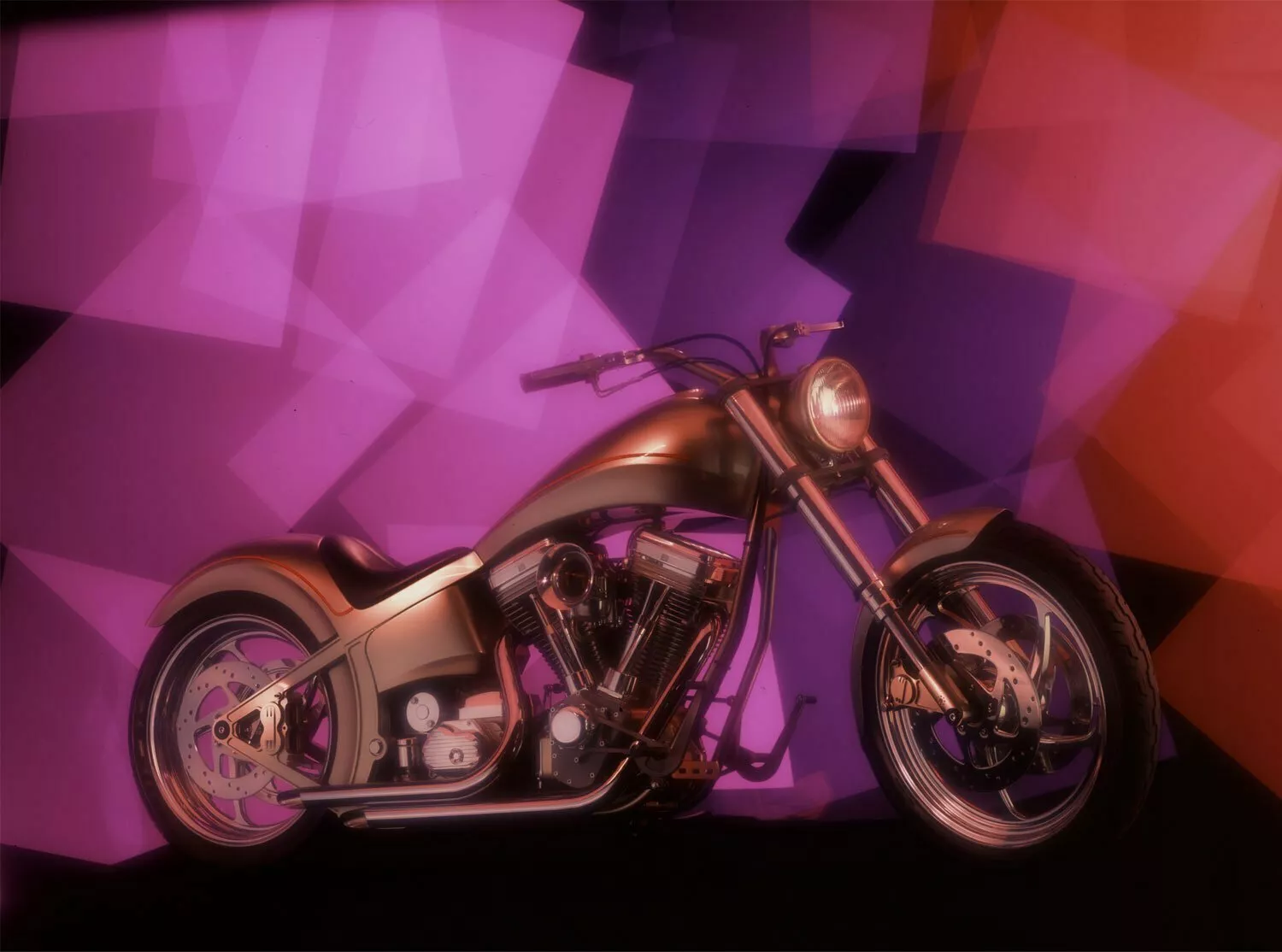 This article was originally published in the April-May 1997 issue of Cycle World's Big Twin magazine.
After you ask John Buttera to talk about custom motorcycles, stand back a few steps, lest you get singed by the muzzle blast of his opinionated reply. "Motorcycles are in the bizarre stage," begins his high-decibel response. "They've got ribbon paint jobs, Salvador Dali-looking gas tanks—they're bizarre, they're gross," he fumes, his voice rising an octave as it builds steam. "The fenders they're putting on them look like they're dripping all over to where you can't see the shape of the bikes anymore."
By now, just like a Southern preacher, Buttera has reached a crescendo. "I saw a motorcycle the other day with a giraffe painted on it," he laments, starting to pace the floor. "Now, when you're in your garage looking at your bike, wondering what will make it a super custom, at what point do you turn to your buddy and say, 'GIRAFFES! That's what it needs. A big giraffe on the tank!'" Buttera then looks to the heavens for a little divine explanation, pausing for a moment in what appears to be inconsolable sorrow. Then, in a low voice, he asks, "What does a giraffe possibly have to do with the shape of something mechanical? If you like giraffes, put a picture of one on your wall, but take it off your motorcycle. I mean, am I completely missing the point here?"
That rhetorical question brings us to the essence of Buttera's troubled soul, and the philosophy behind the two marvelous customs pictured here. Li'l John Buttera is one of the most revered and accomplished custom builders on the planet, and the theme of his motorcycles is simplicity. If something doesn't make the bike work better, it doesn't go on. His theory is that a motorcycle has two wheels, a motor, a place to sit and a thing to hang onto. Everything else detracts from the basic design.
Thus, he creates machinery along basic, efficient lines, and he's been doing it for a long time. His bikes are narrow, light and short. And they wear no chrome.
So, when you study the spare lines and utter lack of geegaws on these two creations, when you know how Buttera has labored untold hours to design frames, tanks, fenders and swingarms that use minimum mass to get the job done, then you understand how a giraffe on a motorcycle would drive him mad.
One of these bikes, the Speedster SS, is an evolution of Buttera's original Speedster, a limited-production custom featured in the Fall, '96 issue of Big Twin. That bike was revolutionary in the cleanliness and cleverness of its design, and the new one is an even better custom, largely as the result of a partnership Buttera recently struck with acclaimed hot-rod builder Boyd Coddington. And like its predecessor, the Speedster SS is in limited production on a per-order basis.
Many of the refinements between that first Speedster and the SS model were heavily influenced by Chip Foos, chief designer at Coddington's huge car- and bike-customizing operation in Stanton, California. Foos smoothed the contours of the gas tank and fenders, making an already-stunning bike into something almost otherworldly.

The other bike pictured here, a black-and-orange custom owned by Ed Branch, is as elegant in design as the Speedster, though with a more big-shouldered, bulky look. Branch had Buttera build him another custom a couple of years ago, a blue beauty similar to this one, and although he was quite satisfied with it, he felt the basic design had even more potential. So, Branch commissioned this custom to allow Buttera the chance to expand upon the original concept. The bike contains numerous one-off pieces, but surprisingly, it also involves a lot of original Harley-Davidson parts.
---
---
The other man in this newborn partnership, Boyd Coddington, is truly a customizing legend in his own time. His four-wheel creations have won so many awards in recent years that virtually every new car he unveils is expected to elevate the standards of custom craftsmanship and creativity. Back in his hot-rod days in the '70s and '80s, Coddington won Car Craft's Builder Of the Year award six times, for excellence in fabricating Top Fuel and Funny Cars; and he's the only man to be awarded NHRA's best engineering award for all three pro classes: Top Fuel, Funny Car and Pro Stock.
Obviously, Coddington understands that in race machinery, weight is the enemy; and he has begun applying his loathing of superfluous poundage to the art of bike building. That, and his admiration for designs that bespeak efficiency, makes him the perfect customizing partner for Buttera.

Indeed, both men solve problems and meet challenges with ingenuity rather than technology, with the application of imagination rather than with the addition of hardware. As Buttera says, "It takes more talent to make one thing do two jobs than to make two things do one job."
When Li'l John Buttera makes such bold statements, he isn't just talking the talk; as evidenced by his bikes, he also clearly can walk the walk.
| SPEEDSTER SS | |
| --- | --- |
| Owner | John Buttera |
| Designer | John Buttera, Chip Foos |
| Fabricator | Robin Hermansen |
| PAINT | |
| Paint | Greg Morrell |
| Graphics | Hot Rods by Boyd's |
| Molding | Greg Morrell |
| ENGINE | |
| Year | 1996 |
| Model | Evo |
| Displacement | 80 cu. in. |
| Ignition | Stock |
| Coils/wires | Stock |
| Lower end | Stock |
| Cases | Stock |
| Pistons | Stock |
| Heads | Stock |
| Cam | Stock |
| Lifters | Stock |
| Valves | Stock |
| Carb | Mikuni |
| Air cleaner | Boyd's air horn |
| Pipes | Speedster |
| TRANSMISSION | |
| Year | 1996 |
| Type | Stock |
| Clutch | Stock |
| FRAME | |
| Make | Speedster |
| Builder | John & Chris Buttera |
| FRONT FORK | |
| Make | White Power |
| Type | Speedster |
| REAR SUSPENSION | |
| Make | Fournales |
| Type | Softail shocks |
| FRONT WHEEL/TIRE | |
| Wheel | Boyd's |
| Tire | Avon |
| Tire size | 90/90-19 |
| Rim width | 2.15" |
| Brake | Speedster |
| REAR WHEEL/TIRE | |
| Wheel | Boyd's |
| Tire | Avon |
| Tire size | 180/60-18 |
| Rim width | 4.5" |
| Brake | Speedster |
| ACCESSORIES | |
| Handlebar | Speedster |
| Front fender | Speedster |
| Rear fender | Speedster |
| Headlight | Speedster |
| Electrics | Chris Buttera |
| Gas tank | Speedster |
| Primary cover | Speedster |
| Seat | Speedster |
| Footpegs | Speedster |
| Foot controls | Speedster |
| Grips | Speedster |
| ORANGE AND BLACK CUSTOM | |
| --- | --- |
| Owner | Ed Branch |
| BASE MACHINE | |
| Year | 1995 |
| Model | Fat Boy |
| Designer | John Buttera |
| Fabricator | Tiki Alvarez |
| PAINT | |
| Paint | Greg Morrell |
| Graphics | Hot Rods by Boyd's |
| Molding | Greg Morrell |
| ENGINE | |
| Year | 1995 |
| Model | Evo |
| Builder | Robert Sands |
| Displacement | 80 cu. in. |
| Ignition | Crane |
| Coils/wires | Crane |
| Lower end | Stock |
| Cases | Stock |
| Pistons | J&E |
| Heads | Patrick |
| Cam | Crane |
| Lifters | Crane |
| Valves | Black Diamond |
| Carb | S&S Super E |
| Air cleaner | S&S |
| Pipes | Thunder Header |
| Other mods | Heads ported |
| TRANSMISSION | |
| Year | 1995 |
| Type | Stock |
| Clutch | Stock |
| FRAME | |
| Year | 1995 |
| Make | H-D |
| Type | Fat Boy |
| Builder | Chris Buttera |
| Swingarm | Boyd's |
| FRONT FORK | |
| Make | Boyd's |
| Type | Speedster |
| FRONT WHEEL/TIRE | |
| Wheel | Boyd's prototype |
| Tire | Dunlop Elite SP |
| Tire size | 120/80-16 |
| Rim width | 3.5" |
| Brake | H-D |
| REAR WHEEL/TIRE | |
| Wheel | Boyd's prototype |
| Tire | Dunlop Elite SP |
| Tire size | 150/80-16 |
| Rim width | 4.5" |
| Brake | H-D |
| ACCESSORIES | |
| Handlebar | Speedster |
| Front fender | Tiki Alvarez |
| Mirrors | Drag Specialties |
| Gas tank | Tiki Alvarez |
| Rear fender | Tiki Alvarez |
| Headlight | H-D nacelle |
| Taillight | Tiki Alvarez |
| Electrics | H-D |
| Speedo | VDO |
| Gas tank | Tiki Alvarez |
| Primary cover | Boyd's |
| Seat | Boyd's |
| Footboards | Boyd's |
| Foot controls | Boyd's |
| Grips | H-D |