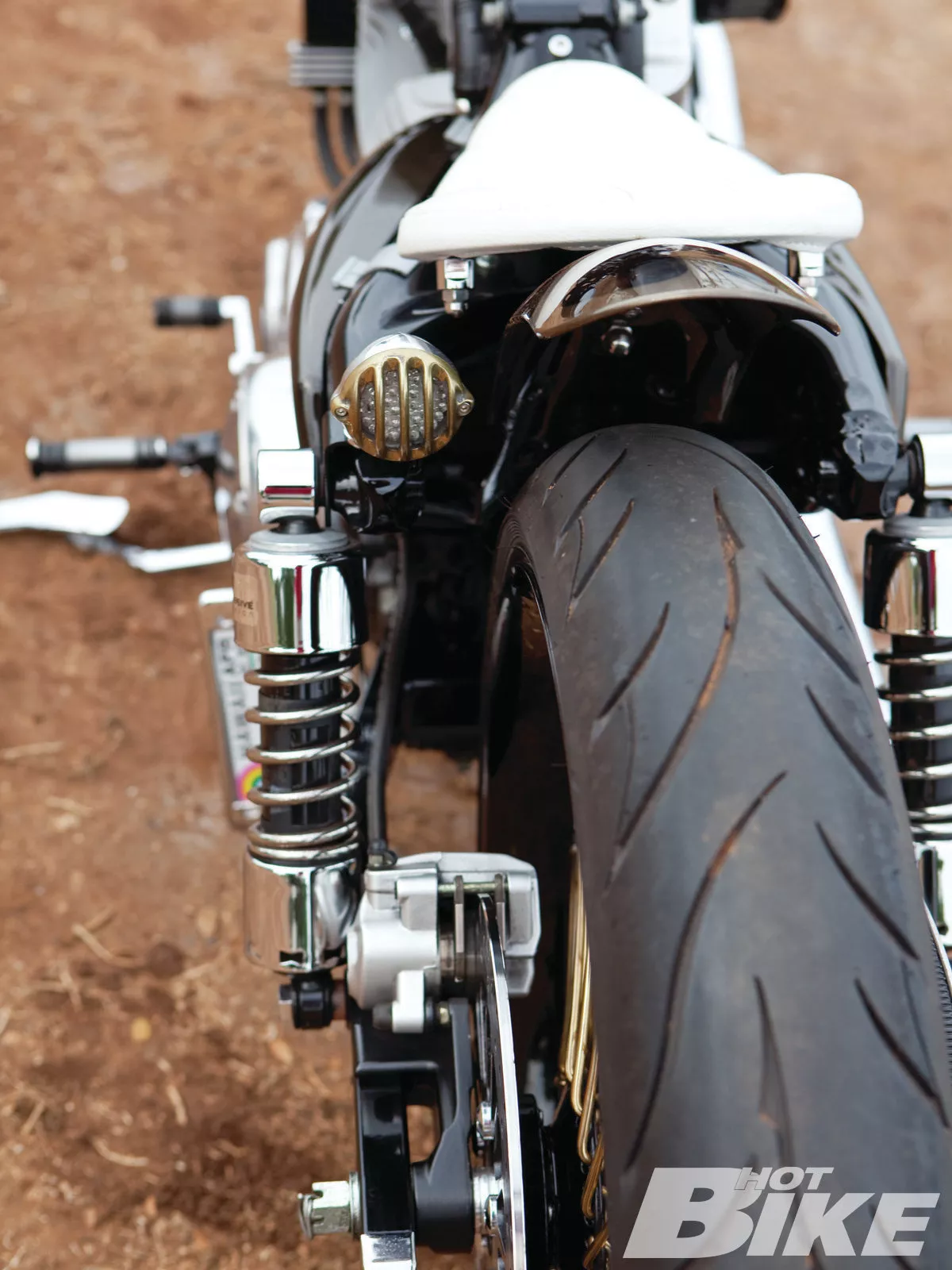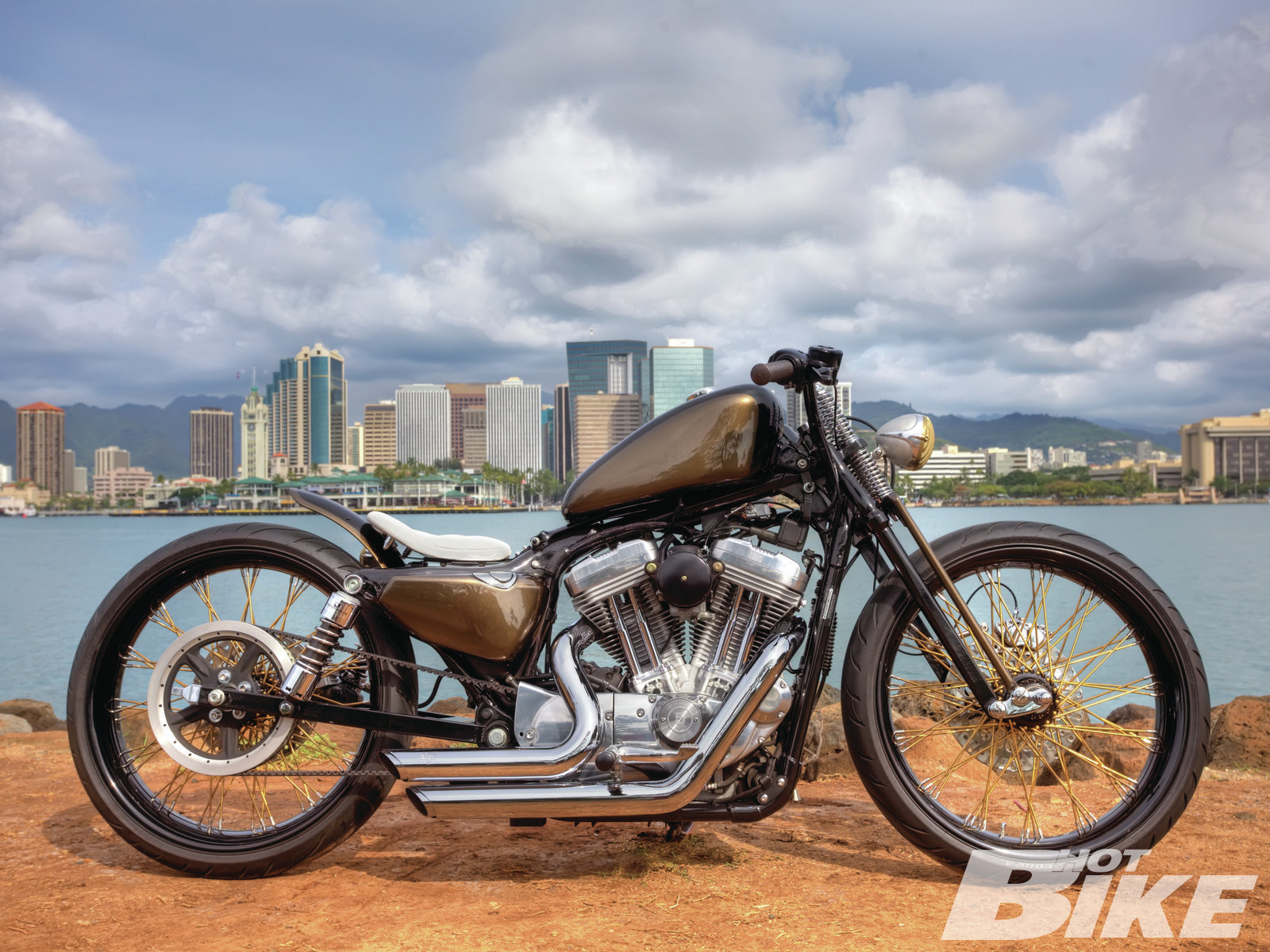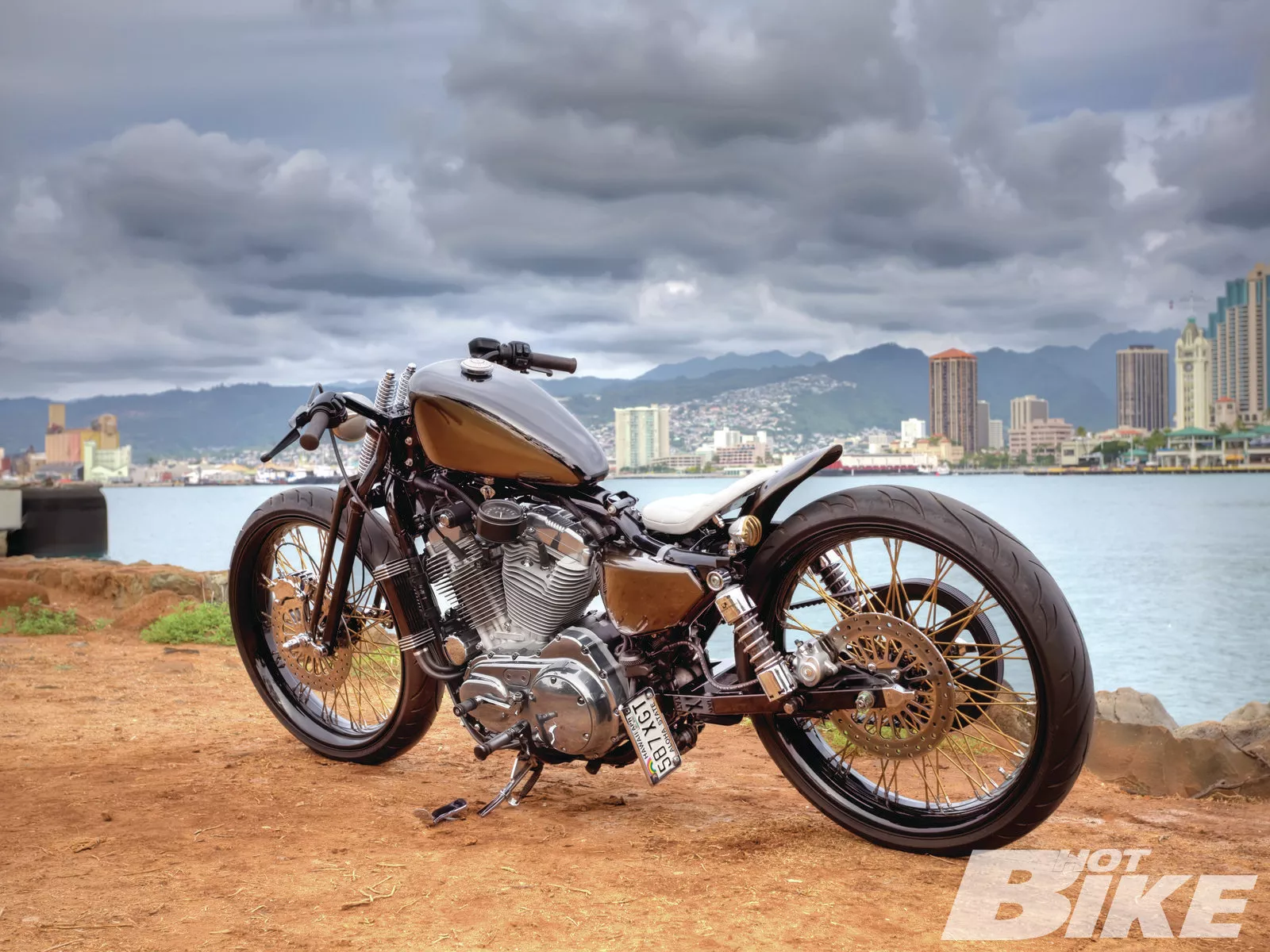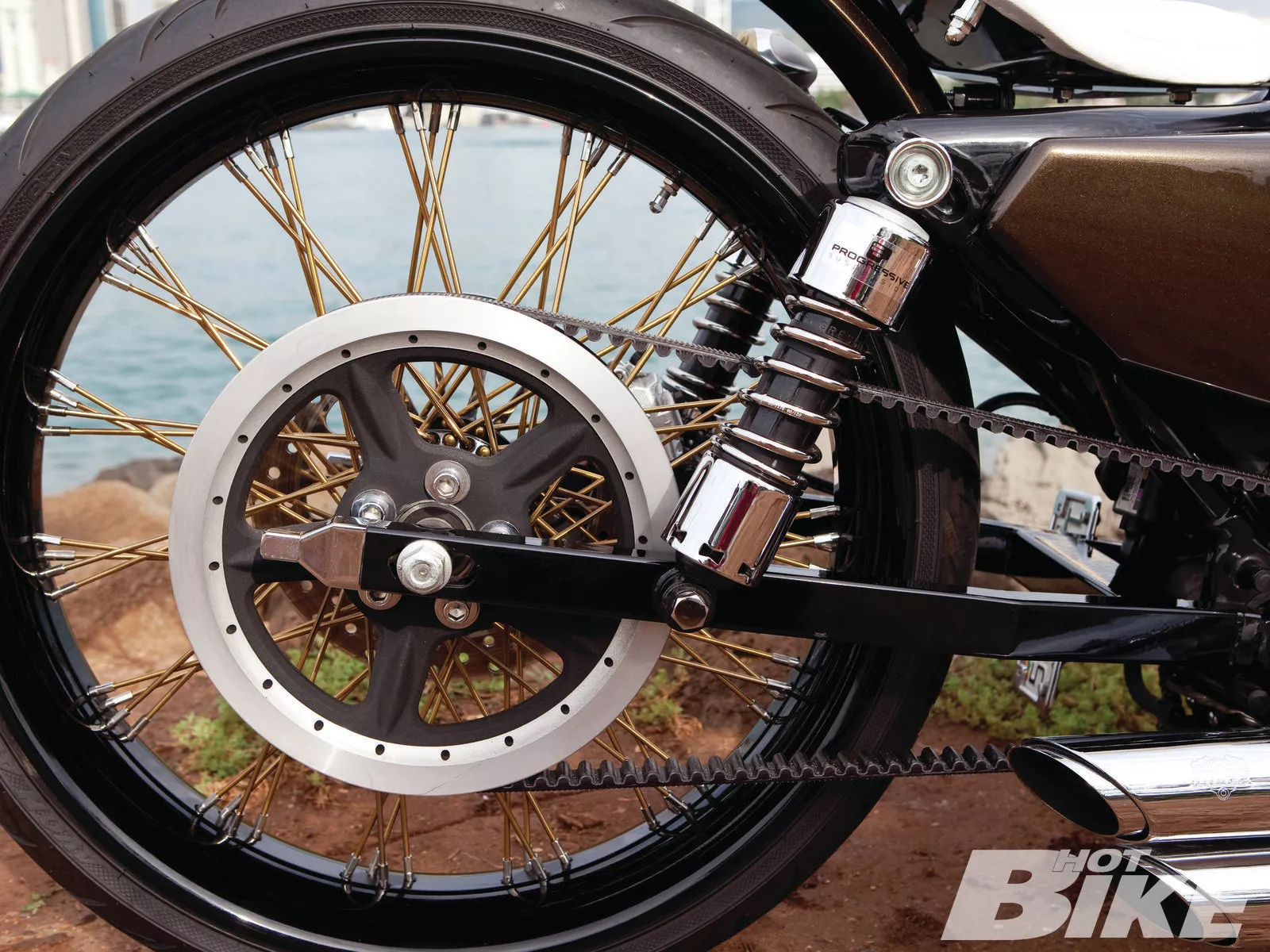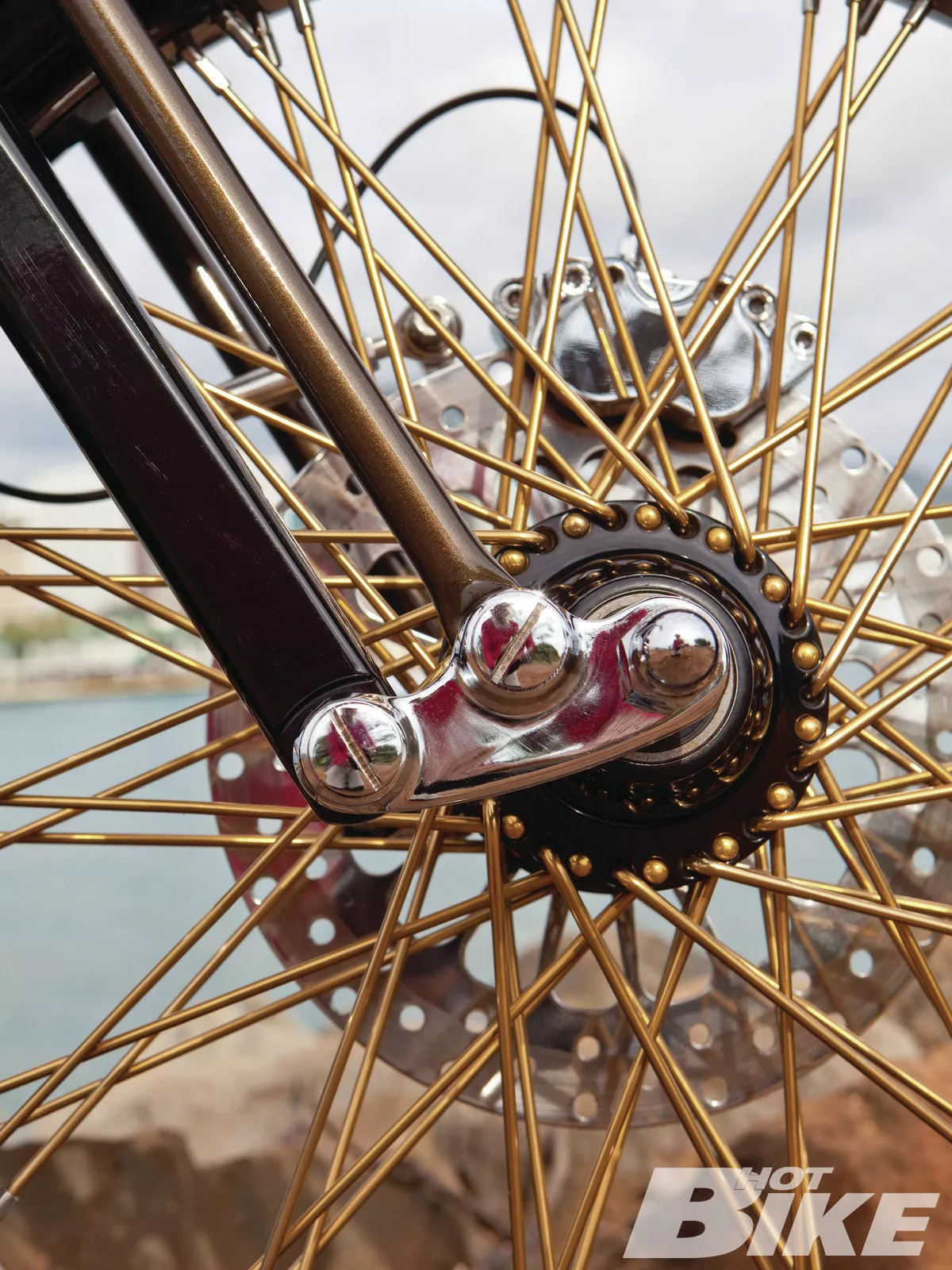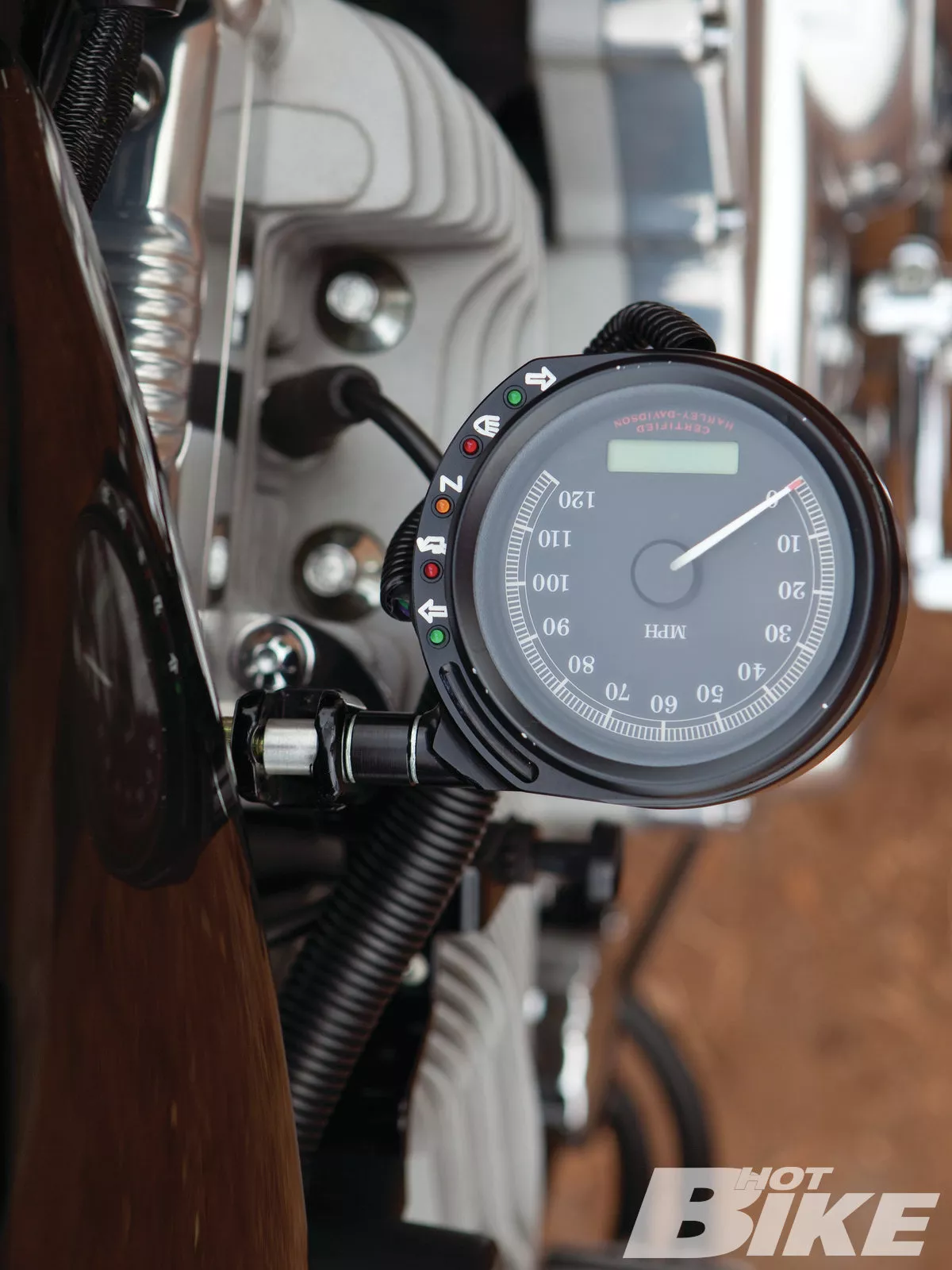 With the economy being as tough as it has been these past few years, you are hearing more and more about big bike shops closing down, probably because there aren't as many people out there that are willing to spend the big dollars on a wild custom bikes anymore. You'll also notice that a lot more people are doing work on their own bikes, taking a stock Harley and customizing it themselves, at home. One such person is Richard Balicoco, from Ewa Beach, Hawaii. A carpenter by trade, Richard has added a new title to his resume this year, part-time bike builder. Richard says that it all started with him just helping out friends, working on their bikes for fun. What came from that is this beautiful customized Sportster. This was the first full build for Richard, which ironically enough, came about from a dare from a friend. The friend dared Richard to build a bike with 23-inch front and rear wheels. Having never seen it done before, Richard thought it would be something really cool to try, and with that, he started to put this build into motion.
The bike that would undergo this project was an '05 Sportster owned by Richards's friend, Mike Belizon. The main thing that they wanted to keep in mind was affordability. They both wanted it to have an old-school look, but still have some "wow" factor to it with the dual 23-inch wheels and yet still try to keep it on a reasonable budget. Richard started off by calling a lot of mainland shops and manufacturers, telling them how he wanted to run the 23-inch wheels. However, what he heard wasn't very encouraging. Everybody was saying that it couldn't be done on the Sporty. Richard thought, "How do you know it can't be done if you haven't even tried?" So he ended up ordering the shortest springer frontend that he could find. When the springer arrived from DNA, he put it on with the wheel, but quickly saw that it was too tall, and decided that he'd have to modify the frontend himself to make it sit just right. So he cut it up and shortened it 2 inches. Richard says this turned out to be the most challenging part of the build.
---
_"They both wanted it to have an old-school look, but still have some "wow" factor to it with the dual 23-inch wheels and yet still try to keep it on a reasonable budget."
_
---
After finally getting the front to his liking, Richard directed his attention to the back of the bike. For this Richard sought the help of Tony and Arin over at Wicked Image, as they had previously built a dual 21-inch Sportster. Tony and Arin built Richard an extended swingarm which was actually meant for a 21-inch wheel, but fortunately it worked out well with the 23-incher. With the wheels finally settled, Richard made his own rear fender for the bike as well as his own brackets so he could Frisco mount the sporty tank high n the backbone. He also made his own handlebars that mount directly to the top clamp on the modified springer. Once he had everything mocked up and to his liking, Richard sent the tank and fender over to his friend, Jason Ko, to lay down the Cappuccino Craze color.
One of the best things about working on a bike at your home is that you get to have your family around you at the same time. Having your wife and kids around can always be a really big help, and Richard says that he got plenty of it from his wife, Crystal, and their two sons. Whether it was grabbing tools, holding a part, or even Crystal picking out the color for the bike, Richard says that he couldn't have done it without the help of his family. Richard says that he also needs to thank his friends, Mike and John Belizon, for all of their help too.
When the bike was finally completed, Richard took it out on its first test spin, and while out on that ride, he caught the attention of a lot of people, and the response was really positive. Everybody really seemed to like it. In fact, one person liked it so much that they knew right then and there that they had to have it! After seeing Richard ride by on the bike of his dreams, Jubie Nabong quickly called his brother-in-law, whom he knew rides Harleys, describing the bike he had just seen. As it turns out, his brother-in-law is a friend of Richard's, so he ended up introducing Jubie to Richard. Jubie told Richard that he just loved the bike and really wanted to buy it. Richard explained that the bike belonged to Mike, but offered to build one for him if he wanted to. Jubie told Richard that he really wanted that exact bike, so Richard introduced him to Mike. With Jubie's persistence and the encouragement of Richard, Mike decided to sell Jubie the bike. Since then, Richard has gone on to build two more Sportsters both with eye-catching 26-inch wheels front and rear. When it comes to wheels, we guess the old saying is true: bigger is better. One of the 26-inch Sportsters belongs to Mike, so as it turns out, everyone ended up being happy. Richard says that he's still getting a really good response to his bikes when people see them. With the really big tires, it kind of reminds you of an old board track racer. While still holding his full-time construction job, Richard is continuing to work on bikes in his spare time. Be on the look out for even more beautiful, big-wheeled creations from this talented young builder. HB
Specifications
| | |
| --- | --- |
| ### Bike Owner | Jubie Nabong |
| **Shop Name ** | Richard Balicoco Designs (RBD) |
| Shop Phone | (808) 306-0401 |
| Year/Make/Model | '05/H-D/Sportster |
| Fabrication | RBD |
| Assembly | RBD |
| Build Time | Four Months |
| | |
| --- | --- |
| ### Engine | |
| Year/Manufacturer | '05/H-D |
| Type/Size | Sportster/883cc |
| Builder | H-D |
| Cases | H-D |
| Cylinders | H-D |
| Heads | H-D |
| Rocker Boxes | H-D |
| Carburetor | H-D |
| Air Cleaner | Joker Machine |
| Exhaust | Vance and Hines |
| | |
| --- | --- |
| ### Transmission | |
| Year/Manufacturer/Type | '05/H-D |
| **Case ** | H-D |
| **Clutch ** | H-D |
| Primary Drive | H-D |
### Frame
Year/Manufacturer '05/H-D
Rake Stock
**Stretch **4 Inches Out
| | |
| --- | --- |
| ### Suspension | |
| Manufacturer Front | DNA Springer |
| Lengths | Shortened 2 Inches |
| Triple Trees | DNA |
| Manufacturer Rear | Progressive Suspension |
| **Swingarm ** | Wicked Image |
| | |
| --- | --- |
| ### Wheels, Tires, And Brakes | |
| Manufacturer Front/Type | HDW/Spoke |
| Size-Height/Width | 23×3.75 |
| Tire/Size | Avon/130/60-23 |
| Caliper | H-D |
| **Rotor ** | Ride Wright |
| Manufacturer Rear/Type | HDW/Spoke |
| Size-Height/Width | 23×3.75 |
| Tire/Size | Avon/130/60-23 |
| **Caliper ** | H-D |
| Rotor | Ride Wright |
| | |
| --- | --- |
| ### Finish/Paint | |
| **Color ** | Cappuccino Craze |
| **Painter ** | Jason Ko |
| | |
| --- | --- |
| ### Accessories | |
| Rear Fender | RBD |
| Gas Tank & Cap | H-D |
| Oil Tank | H-D |
| **Handlebars ** | Rbd |
| Hand Controls | H-D |
| Foot Controls | H-D |
| **Footpegs ** | H-D |
| Headlight | Crime Scene Choppers |
| **Taillight ** | Crime Scene Choppers |
| License Mount | RBD |
| Seat | West Eagle |