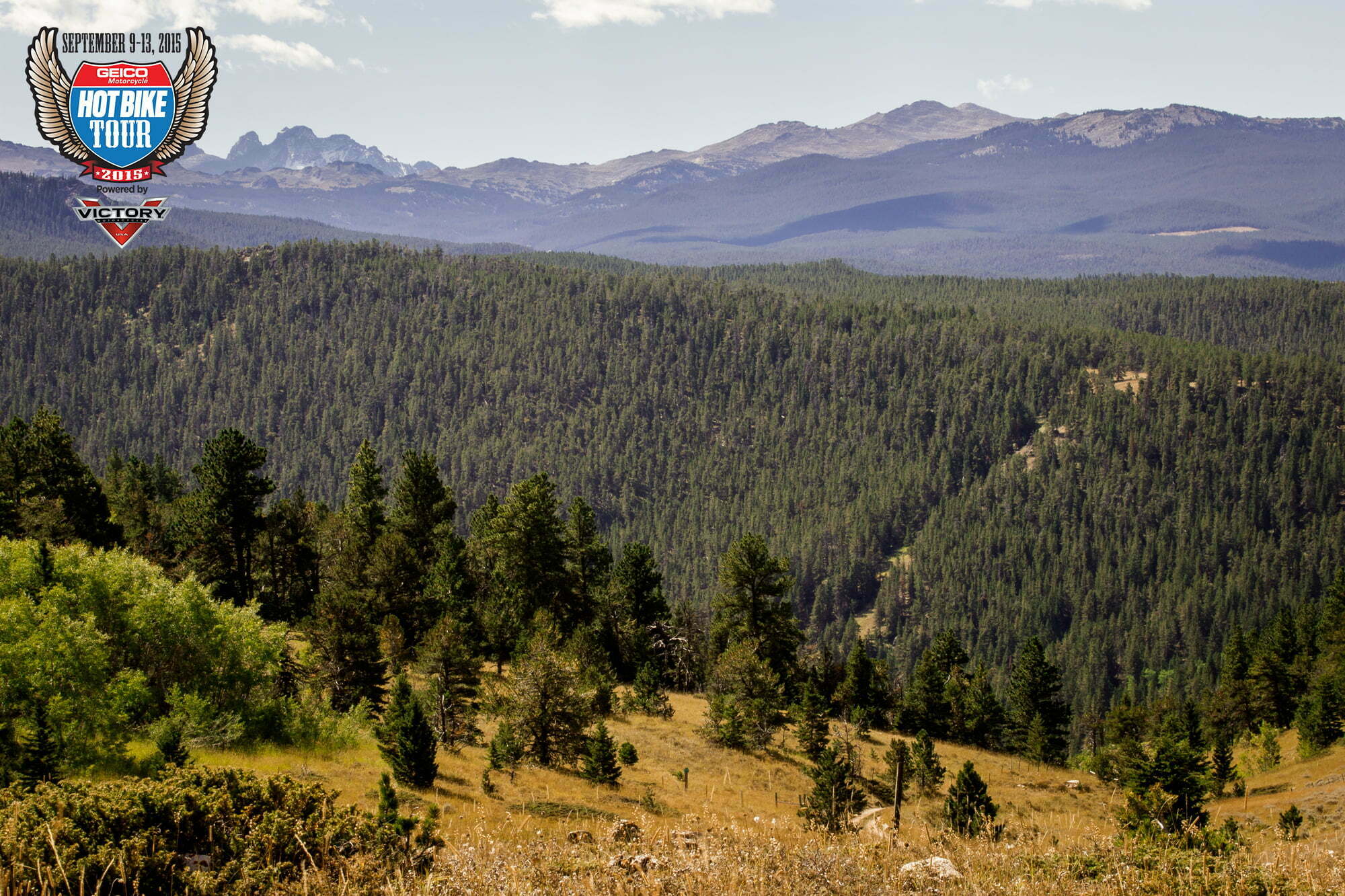 Day 4 of the GEICO Motorcycle Hot Bike Tour 2015 roars into Sheridan, Wyoming on Saturday September 12
Sheridan sits at the base of the the Bighorn National Forest and the Bighorn Mountains and short distance away from the site of the infamous Battle of Little Bighorn.
Fun Facts about Sheridan, Wyoming:
● Buffalo Bill Cody used to kick up his boots at the Historic Sheridan Inn, auditioning talent for his Wild West Show off the front porch of the hotel.
● Queen Elizabeth II visited Sheridan in 1984 to purchase polo ponies.
● Sheridan has numerous accolades from 2014:
A Top 10 Mountain Town (North American Hunter)
Top 20 Small City in the USA (Citydescribed)
Top Trails in the West (SnoWest Magazine)
Best Place to Live Like an Old West Cowboy (True West Magazine)
● Sheridan was named after General Philip Sheridan, Union cavalry leader in the American Civil War.
● Sheridan is a short distance away from the site of the Battle of Little Bighorn, in which General Custer was killed.
● Eaton's Ranch, the world's first Dude Ranch, is just a short distance from Sheridan in the unincorporated town of Wolf.
● The three highways traversing the Bighorns are designated Scenic Byways by the US Forest Service and the State of Wyoming. These include U.S. Routes 14, 14A, and 16.
Also at the Sheridan stop of the Hot Bike Tour along with the other 4 stops will be the Hot Bike and Baggers Invitational Build-Offs. Featuring over 30 builders building one-of-a-kind motorcycles AND riding them each day of the Tour! Here's your chance to chat with some of the world class bike builders you have seen on television and see their rolling works of art firsthand! If that's not enough there will also be live stunt shows by the Unknown Industries Riders along with ride in bike shows, giveaways, vendors, music and more!!
All brands and styles of motorcycles are welcome to join our invited builders, industry VIPs, and the staffs of Hot Bike and Baggers magazines for the rides, shows, parties, and more as part of the 2015 GEICO Motorcycle Hot Bike Tour Powered by Victory.
Participation is easy. Become a LongRider and take part in all five days. Don't have that sort of time? Join us for a day or two, or just stop by the evening most convenient for you. As a registered participant you will receive a custom goodie bag, exclusive parking, special activities, product giveaways, and daily navigational materials.
Learn more and join the GEICO Motorcycle Hot Bike Tour 2015 by going to www.hotbikeweb.com/tour. Or call (877) 413-6515 to sign up.