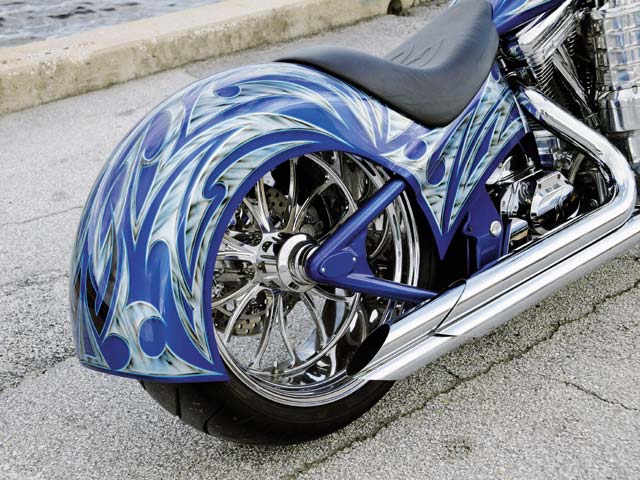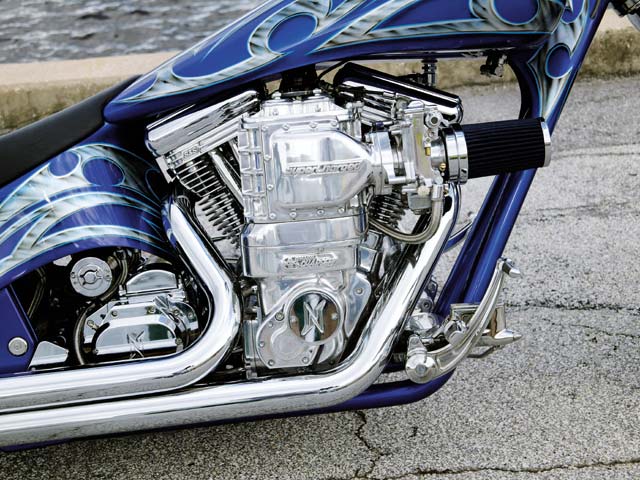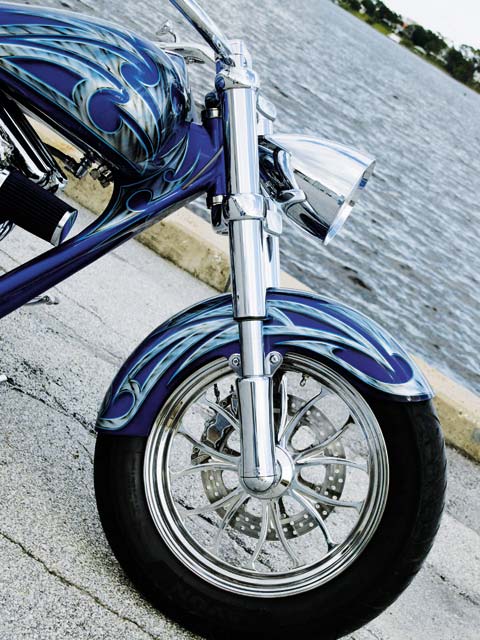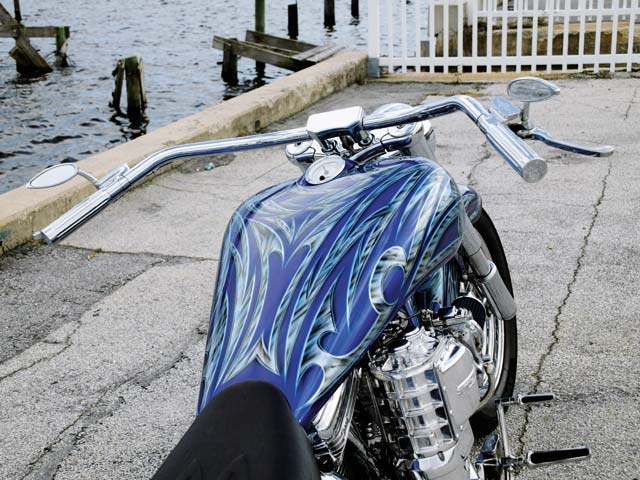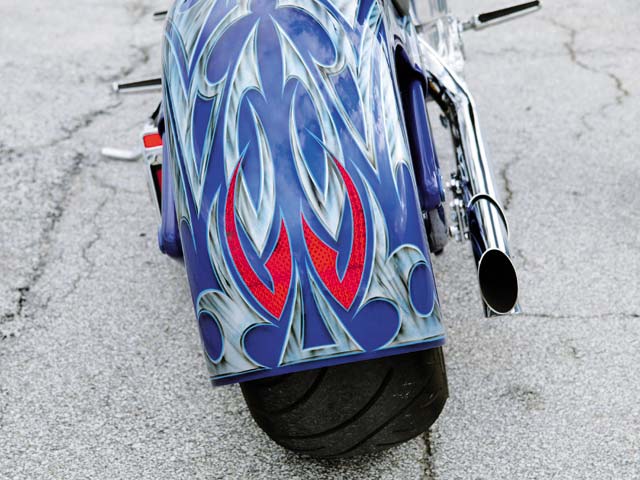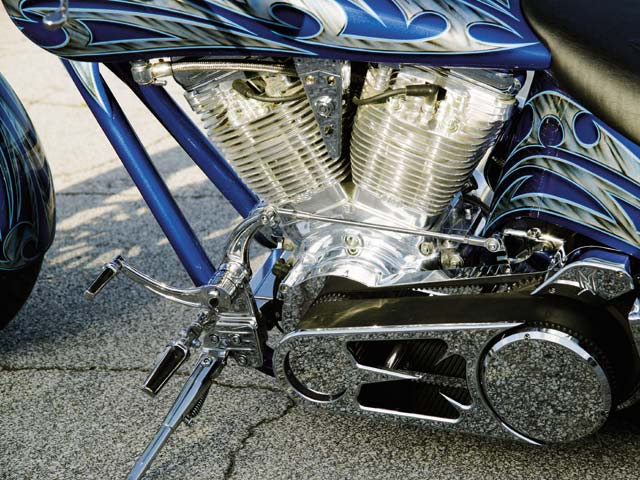 John Cardeno lives in Pompano Beach, Florida, and had met Jim at Bike Week in Daytona a few times. Each time John looked at the bikes Jim had on display, he found another one he wanted. However, John had been building up a collection of parts in his garage to assemble a custom of his own, so he was torn on what to do. Finally, he went out to visit Jim at the shop, and after seeing the work being done there, he decided to ship all the parts he had amassed to Phoenix.
As he does with all his customers, Jim spent a lot of time talking to John, and was able to draw out the design of the bike he really wanted. With some sketches faxed back and forth, they finally agreed on what the finished project should look like. Then Jim took a look at what John had assembled for parts, and a few substitutions were necessary to get started.
Like all projects, John's started by putting a frame up on a bench. This one was a Daytec with 38 degrees of rake and 5 inches of stretch in the backbone. The Daytec swingarm was wide enough to hold an 8.5-inch rim and is suspended with a Legend Air Suspension unit. Up front, an American Made 63mm inverted fork, set at 2 inches under, was installed.
Giving motion to the chassis came from a big Performance Machine box. Inside, Nasi found a 17×3.5-inch Hustler for the front, equipped with a matching rotor and Avon 150. For the rear, another Hustler, this time 18×8.5 inches, was equipped with a drive-side conversion and a 250 Avon. Stopping power comes from PM calipers at both ends.
The plan was for big, fat heavy sheetmetal, so Jim decided that lots of horsepower was going to be necessary. His crew started by pulling an unassembled S&S; 113 out of the back room and sending it to MecLec for polishing. Upon its return, they added Ross pistons, a Crane cam, JIMS lifters, and a Dyna ignition. After a bit of discussion, the crew concluded that it wasn't enough, so they added a billet Magnacharger with a 48mm Mikuni and a Wimmer intake. "Now that should make the bike move," they thought.
After dropping the motor in place, a Baker six-speed transmission was installed and equipped with a Nasi hydraulic clutch mechanism. The link between the transmission and motor is a Nasi open belt primary that runs a Rivera Pro-Clutch.
Moving on to the metal work, the JNC team got creative. They knew the overall plan for John's ride was fat, but until they built the massive one-piece rear fender/oil tank surround panel, they didn't really know just how fat it would be. Jim sat looking at the rear assembly and decided the only way it could be balanced out would be with an even bigger gas tank — so big in fact, a stretched 6-gallon setup was formed to cover the backbone and house the speedometer. Up front, the 17-inch tire was covered up with a JNC fender that hugs the tread and barely has enough room for tire expansion.When the metalwork was satisfactory, Jim sent it to Mike Learn Airbrush. There, Mike and Krash went to work on the basecoat and graphics, spending some extra time making the Nasi LED lights in the fender become part of the design.
Getting the bike on the road was easy in comparison to all the extra things done to get it built. The JNC team added Nasi bars with an internal throttle and PM Contour hand controls. Down below, more Contour controls hold John's feet and a Headwinds/Nasi headlamp lights up the road in front. To carry the license plate, a Nasi side-mount was installed, and the rear lighting, as we said, is hidden in the fender. The last piece installed was a Guy Tieman seat.
When John was let loose on his new bike, Jim had already handled the break-in procedure for him. As he left the shop to burn some fuel around Phoenix, he left a 60-foot-long black stripe on the parking lot, for which Jim called and ordered a new rear tire. A job well done.
SPEC SHEET GENERAL
OWNER John Cardeno YEAR/MAKE '03/Nasi Custom FABRICATION Jim Nasi Customs ASSEMBLY JNC BUILD TIME Six months ENGINE
SIZE/TYPE 113ci S&S; CASES S&S; FLYWHEELS S&S; RODS S&S; PISTONS Ross CYLINDERS S&S; HEADS S&S; CAM Crane CARB Mikuni IGNITION Dyna PIPES Nasi
TRANSMISSION
YEAR/TYPE '03/Baker CASE Baker GEARS Six-speed CLUTCH Rivera/Nasi PRIMARY DRIVE Nasi
FRAME/SUSPENSION
YEAR/TYPE '03/Daytec RAKE 38 degrees STRETCH 5 inches SWINGARM Daytec REAR SUSPENSION Legend Air FORKS American Made EXTENSION 2 inches under TRIPLE-TREES American Made
WHEELS, TIRES, AND BRAKES
WHEELS Front: PM Rear: PM TIRES Front: Avon Rear: Avon BRAKES Front: PM Rear: PM FINISH
MOLDING Mike Learn PAINTER Mike Learn COLOR Blue GRAPHICS Krash CHROME PLATING L.A. Specialties AND POLISHING ACCESSORIES
BARS JNC RISERS JNC HAND CONTROLS PM HEADLIGHT Headwinds/JNC TAILLIGHT JNC GAUGES Speedometer ELECTRICAL JNC FUEL TANK(S) JNC OIL TANK JNC FRONT FENDER JNC REAR FENDER JNC FENDER STRUTS JNC PEGS PM FOOT CONTROLS PM SEAT Guy Tieman