When a boy turns 16 years old, everything changes. While most boys that age are consumed by getting their driver's license in order to impress girls, Jake Cutler, from Barnstorm Cycles, was busy formulating plans on how he could turn his motorcycle passion into a full-time gig.
Jake started out riding dirt bikes, but bought a Sportster when he was 16. He caught the Harley bug at an early age thanks to his old man and Barnstorm co-owner, Doug Cutler. In fact, Doug used to take Jake to all the East Coast biker rallies during Jake's childhood, including one of the oldest motorcycle events in existence, Laconia Motorcycle Week. To this day, Doug and Jake still roll together. It's clear this father-son relationship is so much more. They're best buds.
Eventually, Jake thirsted for knowledge and hung around a local shop, Z and Z Cycles, picking up tricks from owner Paul Quitadamo (aka PQ). Sweeping floors, grabbing lunch for the crew, and taking out trash weren't the most glamorous of jobs, but Jake understood the work ethic being instilled in him and pushed through with humility. It also helped that he was trading labor for Sportster parts. Not long after, he tackled oil changes and other maintenance gigs, and then he began tinkering.
When Jake turned 18, he enrolled in Bennington College in Vermont, a liberal arts school. As a freshman, Jake didn't really have much direction, but he always looked up to his father's acute business acumen in the real-estate game, which was demonstrated to Doug by Jake's grandfather's (Doug's father) success and work ethic in the construction and property development business.
While Bennington didn't initially offer what Jake was looking for by way of trade, opportunity came knocking. Bennington offered "field work" terms, which allow students to take an internship within an area that complements their major. Jake had the bright idea to approach his teacher and see if it was possible to be his own boss for a startup custom-motorcycle shop. "I thought, This could be a cool time to get some college credit and some business experience simultaneously, Jake recalls. Initially, his teacher told him to kick rocks. But after Jake and his dad put their heads together to really dissect their objectives, they came up with a solid business plan, and a little startup dough to boot. The teacher made an exception.
Barnstorm's business model was simple: Build a bike for fun, sell it, and use whatever money it made to fund the next project, and hopefully its efforts were fruitful. Part of the field-work requirement was to build a website, so Jake tackled that, but took the experiment a few steps further by incorporating the company by himself. Jake then went on to produce and sell some Barnstorm-branded merch in the form of T-shirts, hats, and such. The field-work requirement was a minimum of 210 hours throughout the seven-week term, but Jake documented 700 to 800 hours. After things started flowing more seamlessly, he and Doug decided to keep it going even after the term ended. And it all kind of snowballed from there.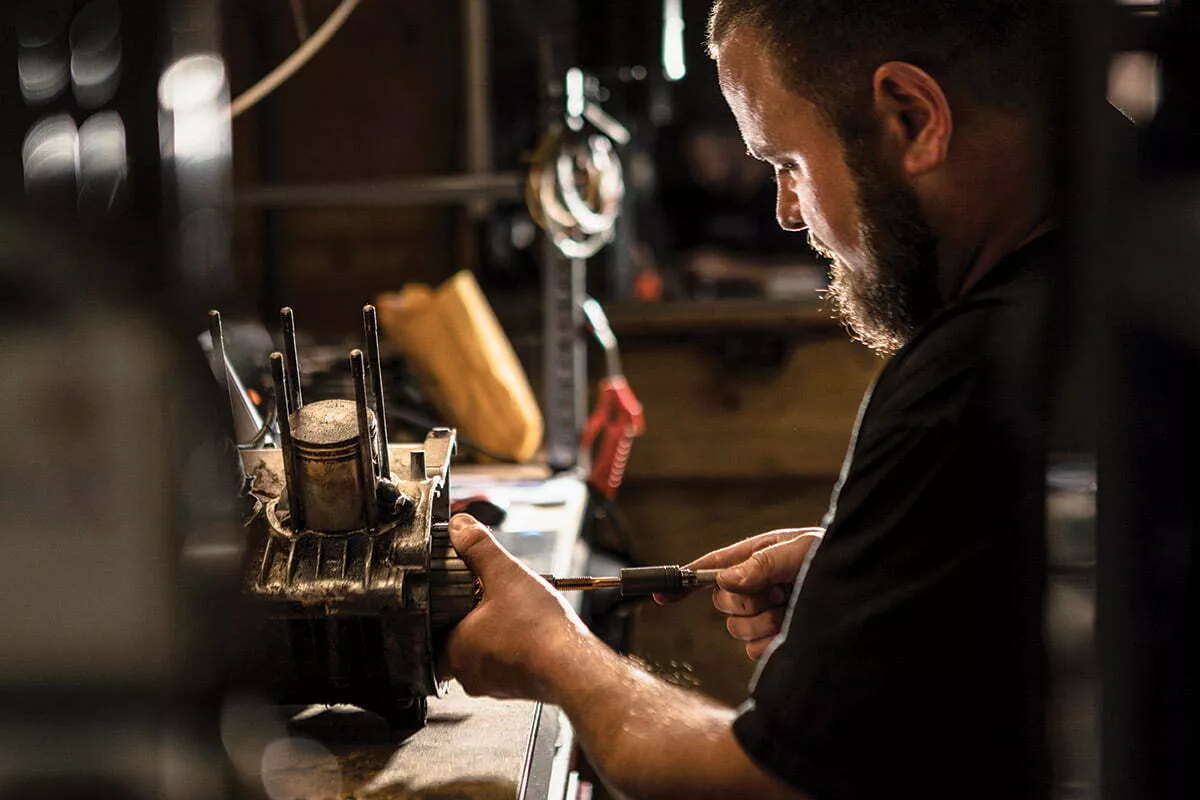 The business model changed after that because Barnstorm gained a reputation as a no-BS shop that treated its customers right, and did the work well and in a timely manner. Business picked up, and service jobs were rolling in. Jake was also busy forming relationships with parts suppliers, such as Custom Chrome and others, and before long, he was up and running as a full-service bike shop and aftermarket parts retailer. And while all this was going on, Jake was working part time at not just one but two machine shops in order to better hone his bike-building skills.
Jake and Doug had used a local machine shop, Vangy Tool, to help them make parts for some of their projects. The full-service shop, equipped with a water-jet machine, lathes, and CNCs, was well-equipped to tackle some Barnstorm projects here and there. Obviously, a relationship started between the Cutlers and Vangy Tool's Paul Ottaviano, and Jake approached Paul about doing another field-work term at Vangy. Jake offered free labor in exchange for learning the trade—a win-win. Paul put him to work learning MIG, TIG, lathe operation, and some limited water-jet experience. Then they started to give Jake special projects. "I built a lift in the back of the shop out of an old Ford truck once," Jake recalls. It was basically a "here's some parts, kid, make it work" type scenario. Giving Jake the creative freedom to "make it work" really opened his eyes to future possibilities.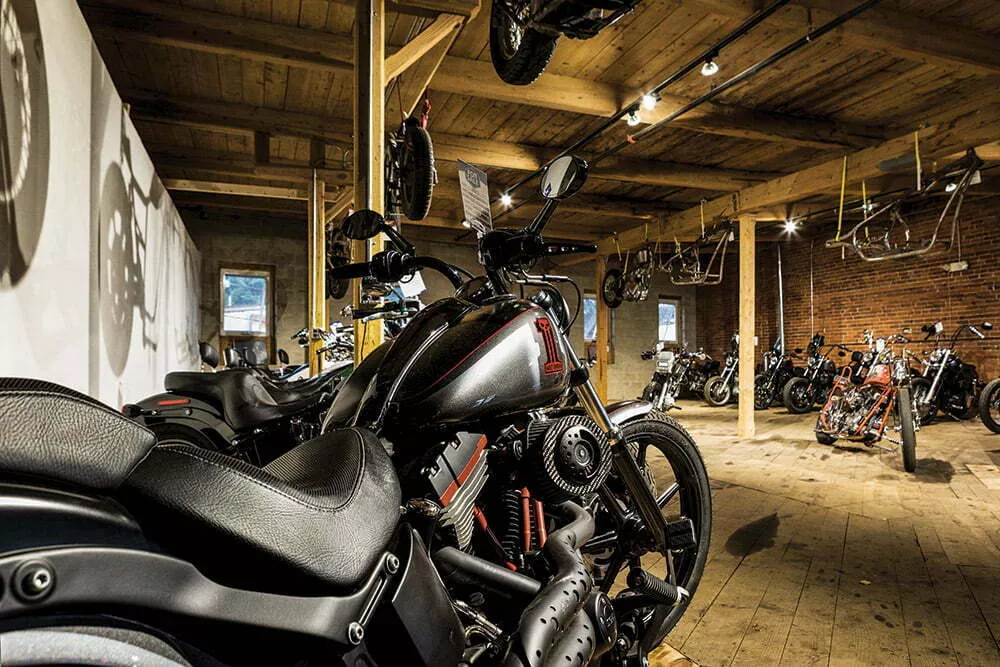 Jake was working at Vangy, still trying to run a small business, and still carrying a full load of credits at Bennington. Something eventually had to give. The midnight oil was running out. And since Jake was doing so well with his business venture, Bennington College got axed from the equation in 2008. But because of all that free time (ha!), another chance encounter appeared. Jake went on to meet another guy who would equip Jake's motorcycle fab toolbox for life.
A local welding phenom from Advanced Welding and Fabricating named Danny Burmer was something of a legend around Jake's town. One of Jake's customers had a leaky gas tank that needed some fresh beads. Jake took it to Danny for the solution, the two started talking, and after a while, Danny offered him a job. "Working under him was just a huge stroke of good luck for me," Jake says. "He's one of the best welders I've ever seen." Jake worked for him for a year or two and became especially proficient in the aluminum-welding department. Jake would come in late and work after hours to hone his skills in order to become more valuable to his employer. "It paid off in the long run," Jake admits.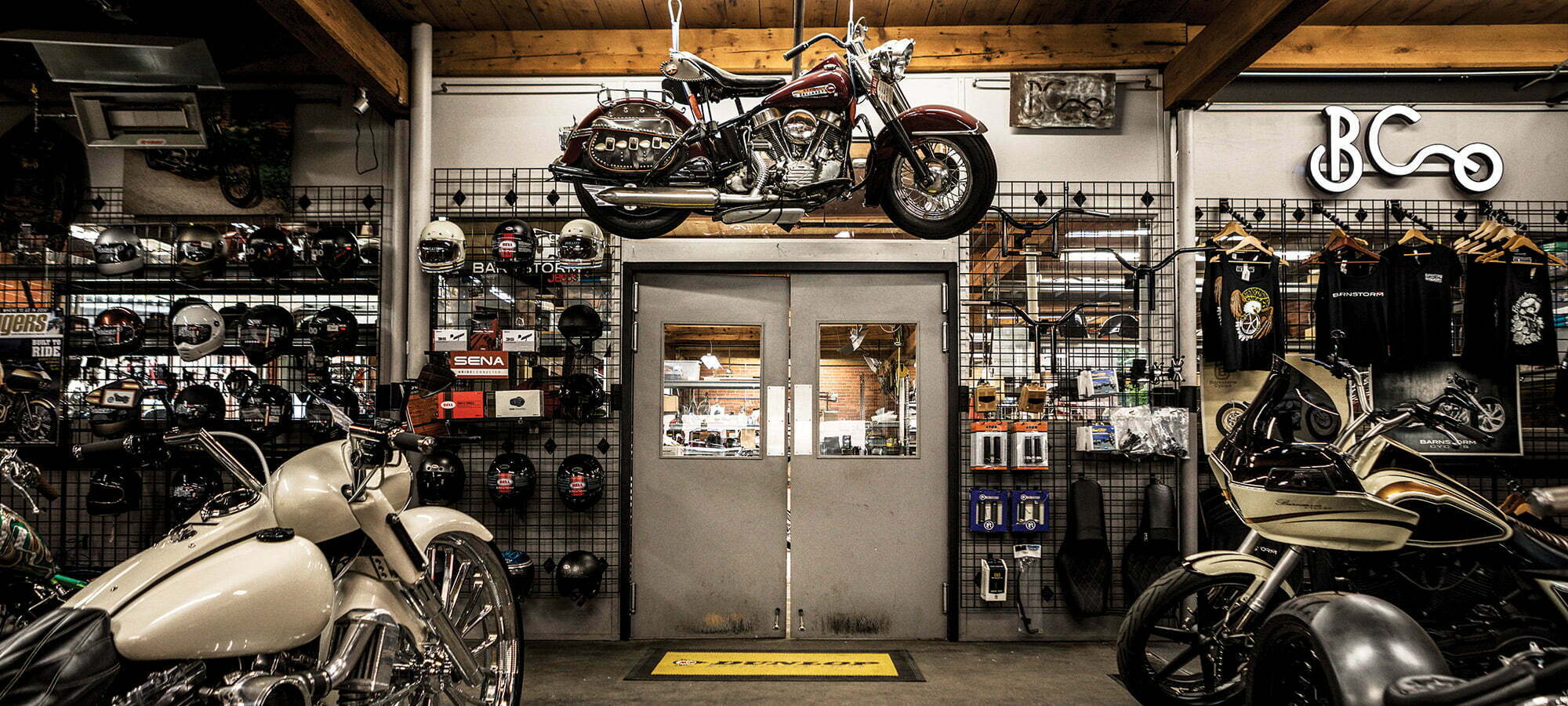 In 2009, Doug and Jake gave Barnstorm a serious look. It was time to s—t or get off the pot. If they wanted to take Barnstorm to the next level, they needed to invest more time. Jake then quit Vangy and Advanced Welding, and focused his energies on Barnstorm full time. Initially, service was the bread and butter. Selling parts for service jobs seemed to be the staple of Barnstorm's newfound direction. "If you do decent work and you're not an asshole, people tell their friends," Jake says.
Jake and Doug were also figuring out their own business relationship. You hear time and time again of failed family businesses, but there's a genuine mutual respect and appreciation for each other. They don't just work together, they play together too. Doug handles the financial and growth area sides of the biz, and Jake handles the day-to-day of the motorcycle shop, which includes the building and fab work of the bikes. "I've learned a lot over the years, but I'm still a more in-the-shop kind of guy, and he's the behind-the-scenes, business-development kind of guy. We work well together," Jake says. And they've always gotten along. In fact, the Cutler tribe in general is pretty close-knit. "We're very low drama," Jake says. "We would not do well on TV!"
Barnstorm originated in an old barn in Worcester, Massachusetts. Hence the name. Jake and Doug bought a new building in nearby Spencer in 2011 (still headquarters today), which was a total rehab job. They got a great deal on an old mill factory, which is exactly what they wanted: something cool, with character, exposed beams, brick, the whole nine yards. Regular Barnstorm business as usual was suspended during the rehab for about nine months, so Jake shifted gears from running a motorcycle shop to being the general contractor on the job—is there anything this guy can't do?
When they bought the building, they were looking for other avenues as to Barnstorm's expansion. They were doing service, some light fab work, some custom bike projects, and then Barnstorm started selling pre-owned bikes that they'd doctor up a tad, and because they had the space to house the inventory, they flipped more and more. "We started doing bike sales, and that seemed to augment business tremendously. And because we were doing that, we started needing more employees."
---
Related: Hot Bike Tour Builder: Barnstorm Customs' Steven Berthiaume
---
Currently, Barnstorm employs 10 full-time workers, a few part-time folks, and during the summer there are a few guys who help out for some extra dough. "I always view this as more of a team effort," Jake says. "It's more about working together than it is to work for somebody."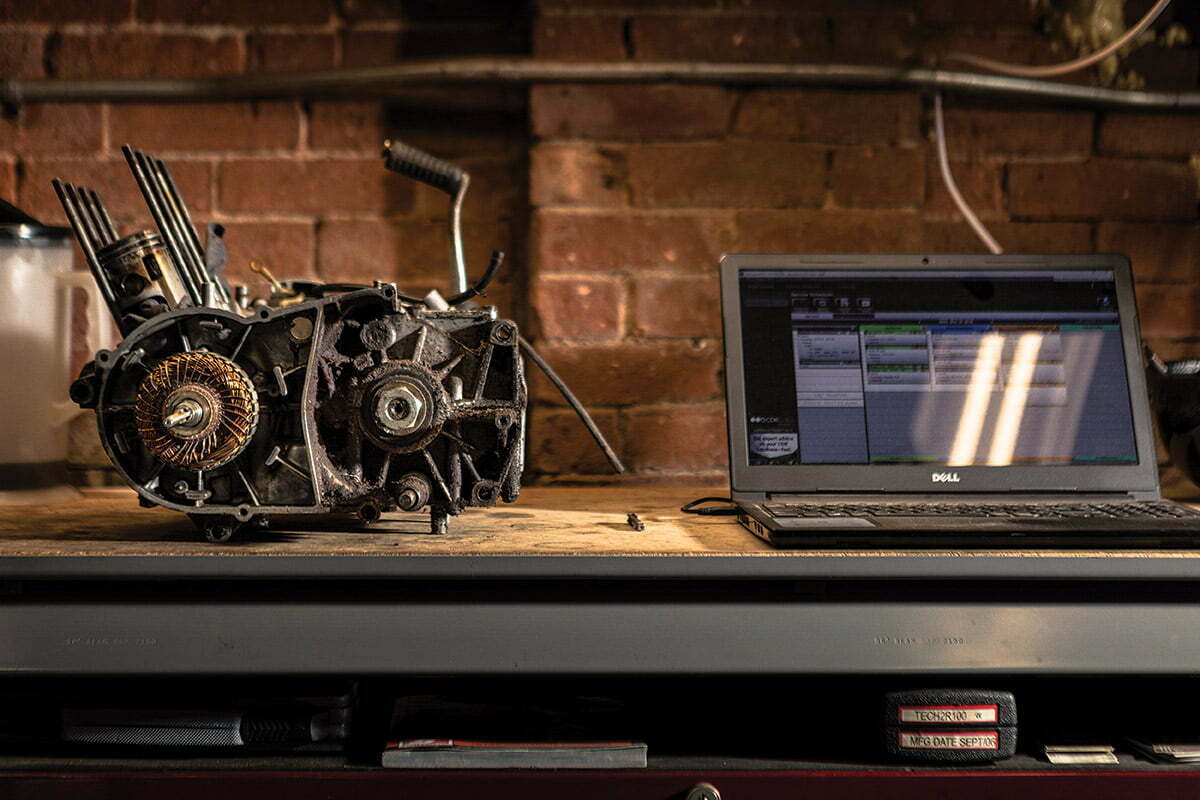 Because winters in Massachusetts don't facilitate year-round motorcycle riding, there's another hobby that local Massachusetts folks take part in: jeepin'! Off-roading jeeps is huge in Barnstorm country. So why not offer a custom jeep experience? Barnstorm sees many parallels to the jeep and motorcycle spirit: They're highly customizable, they've been around for a long time, and just as people on motorcycles wave to one another, people in Wranglers wave to one another. It's another tightknit community connected by a vehicle. "We weren't really jeep people to begin with, so we started driving them and off-roading them, and it paired well with what we did so we kind of eased into it, and we've been doing it four or five years now," Jake says. And they've done well. The motorcycle-and-jeep crossover turns out to be way more than Jake expected it to be. "They're tanks in the snow," Jake says. "They're like four-wheeled motorcycles in some weird way."
It's hard to put Barnstorm's specialty into a box. There's custom fab, service work, sales, parts, and vehicles, but Jake says that Barnstorm's je ne sais quoi is that it offers its customers a chance to build relationships with the Barnstorm crew that aren't just part of a corporate campaign. "We're two lifelong enthusiasts, and everyone who works here is passionate," Jake says. "This is what we do. We do it for fun. It's not just a job. There's an authenticity, which sounds so corny when you say it, but we really care about the people who come here and the people who work here, and at the end of the day, it's about motorcycles and what we're passionate about."
So where does Barnstorm see itself in 10 years? "We have a really good team of people at the shop, and I would love to see everyone who is still here still be here and enjoying working here and having been part of 10 years' worth of growth and success," Jake says. That, and he aspires to have every household own at least one motorcycle and one jeep. Considering that Barnstorm started as a college experiment, we hypothesize that the company is well on its way to accomplishing that very feat. But in all reality, Jake and the Barnstorm dudes are just stoked on the day-to-day motorcycle life. So even if the community doesn't fully immerse itself in the jeep and moto cultures, he'll be plenty satisfied doing what he loves, and sharing his passion with the rest of the world for many years to come. "If you stay in business long enough, a certain amount of business will always show up at your door, as long as you're doing good work."