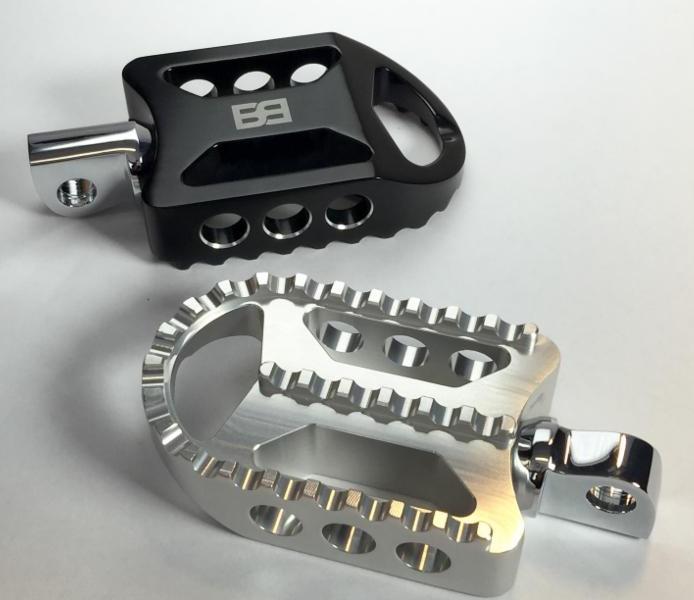 More and more bike builders are creating BMX-inspired Harley parts. Dar Holdsworth casts his gauntlet into that ring with his new BBMX (Brass Balls Moto-X) foot pegs. These tootsie rests are what happens when badass looks and high functionality make a baby.
Precision machined from aircraft grade 6061 T6 billet aluminum and clear anodized. Included with chrome plated steel clevis. They are light weight and strong. The outermost edge is tapered underside to optimize lean angel. Brass Balls logo located on the underside. Brass Balls Cycles makes the BBMX pegs to fit all Harley-Davidson models. You can buy a set for your next chopper here.
About Brass Balls Cycles
Brass Balls Cycles (d/b/a Darwin Motorcycles) was created in June 2006 by motorcycle designer Dar Holdsworth. The award winning firm meticulously hand crafts timeless, Uncompromising American Motorcycles, having twice won the AMD World Championships of Custom/Production Bike Building. The Oklahoma City, USA-based, NHTSA licensed, custom motorcycle manufacturer builds bespoke custom/production bikes for customers worldwide. Additionally, Brass Balls Cycles designs & creates unique parts for the customization of motorcycles. Brass Balls Cycles also customizes other brands of bikes with their signature style.
Come screw off the rest of your work day with us. Browse Hot Bike's most recent custom iron.