It's amazing that Yaniv Evan even has time to shake anyone's hand when they walk through the doors of Powerplant Motorcycles in Hollywood, California. Seeing him ping-pong back and forth between the garage and the retail store on Melrose Avenue, it feels like a workout just watching him operate. Turns out he's just a passionate dude, tending to his business. At warp speed.
Yaniv isn't your typical yes-man. Maybe it's because his reputation and impressive body of work have allowed him a certain carte blanche to say no to things that simply don't apply to his tastes or schedule. That's a place we humans strive to reach, right? A place where you can say no to things in order to focus on what really matters. Or maybe it's because of Yaniv's self-proclaimed ADD.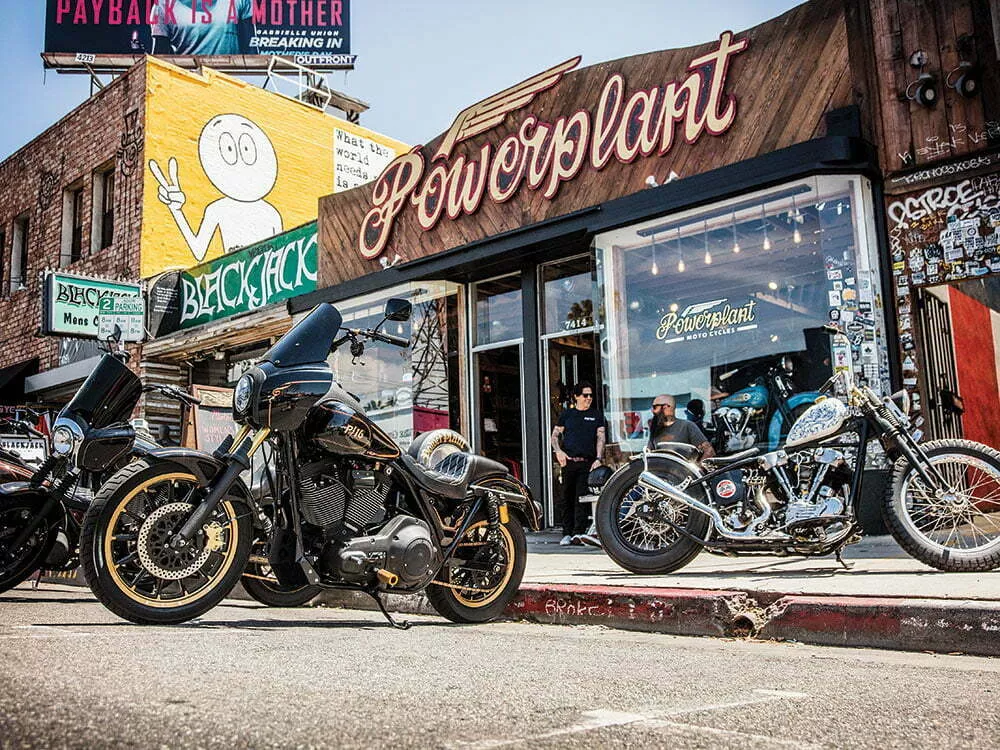 We like to think his disorder stems from having so many proverbial irons in the fire: hand-building customer bikes (literally making certain parts from scratch), managing a global retail store with clientele sporting Powerplant merch pretty much everywhere, and managing a staff that comprises an eclectic mix of folks, all engaged and talented in their own right. And Yaniv gladly pays it forward with his apprentices. He understands the talents of each one of his employees and nurtures those skills to ensure they'll flourish. Yaniv also has his eye on creating a community spot at Powerplant where his friends and customers can ride down and hang out for a bit while sipping a latte and enjoying a panini from the coffee shop he plans to open one day. Basically, Yaniv's pretty damn ambitious.
Yaniv is also a pack rat, hoarding motorcycle and hot-rod trinkets, takeoffs, blown-apart Shovels, Knuckles, Pans, and the gas-tank graveyard hanging from the rafters where poorly executed concepts go to die. Yaniv's a perfectionist. If it's not exactly what he envisioned, it's either tweaked until it's perfect or it's thrown out—and by thrown out, we mean he puts it somewhere else. He usually can't bring himself to part with anything because of the blood, sweat, tears, and beers he's poured into every project.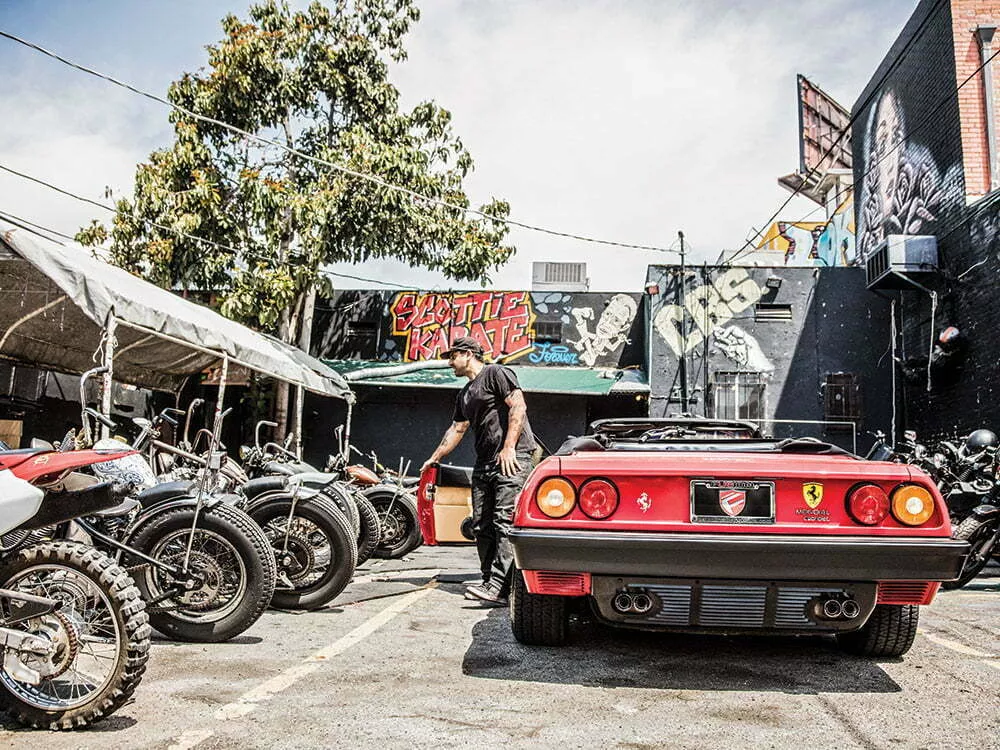 Yaniv's an interesting cat; very much a pleaser. Maybe it's from his culinary background, in which his father instilled the importance of service when Yaniv was a wee lad. Maybe it's his background in aeronautics school, where nothing he did was right (in their eyes). You can tell from the Powerplant hang-arounds, but more importantly his staff, that he's not interested in people with nothing to offer or who aren't sucking the marrow out of their own lives. "If they're not stoked, they're not here," Yaniv proclaims.
Powerplant Motorcycles opened its doors in 2002, but Yaniv's skills were developed from an early age. He grew up in Tampa, Florida, where a few stock-car-racing-junkie neighbors saw the stars in Yaniv's eyes and proudly took him under their wings. Yaniv spent all his free time in his neighbors' garages, soaking up every ounce of gearhead knowledge. The one thing his mentors instilled in Yaniv that stood out: The sky is the limit. "When you have something like that [psychology] in your head, that anything is possible and that you can make it happen if you've got the time and materials, you really can make it happen," Yaniv says. "So from that age, I was already like, 'I could build a
f­—king rocket if I want.' "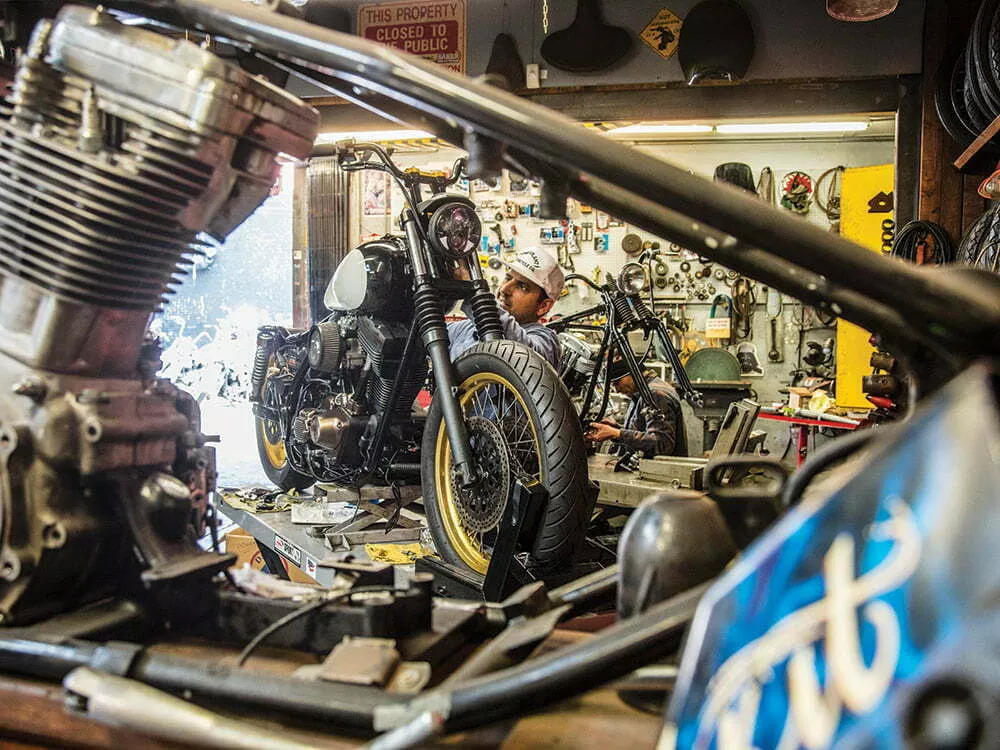 Talk about drive and passion. Yaniv applied this philosophy from an early age. Fast-forward to 1984. Yaniv and his family moved to Los Angeles. Yaniv wasn't a huge fan of school, and when he was 17, he thirsted for knowledge in the trades. This led Yaniv to the airframe and powerplant (A&P) school where he'd hone certain skills applicable to building custom bikes. "We learned how to work on the outside structure of an airplane, aluminum work, riveting, anything hydraulic," Yaniv remembers. In a year, Yaniv learned how to patch panels of aluminum and became a pretty skilled riveter. But he hated it.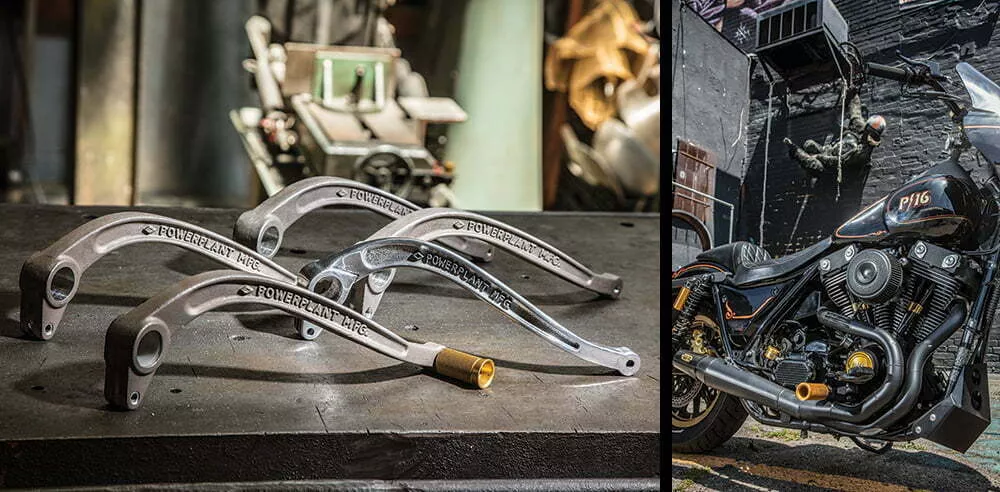 He hated that it had no soul. He hated the assembly-line vibe. It lacked creativity. Yaniv was a right-brainer in a left-brain world. "It was just a bunch of old dudes and then me," Yaniv says. "I got to learn a lot from those dudes, but at the same time, I had no interest in doing that for a living because you can't really get your emotions or your ideas out, because it doesn't matter. Everything's inspected to code. I'd literally have two FAA inspectors judging [my work], and everything would be wrong, no matter what I did." But through those trials, Yaniv pushed on and encountered a solid work ethic along with the fabrication expertise he'd apply for a lifetime.
The one thing his mentors instilled in Yaniv that stood out: The sky is the limit.
Taking those tools from A&P school, Yaniv became obsessed with Chevrolet Chevelles, then hot rods, then, ultimately, Panheads. Yaniv's motorcycle career began with a simple trade between him and a certain proprietor of a Long Beach, California, custom-motorcycle shop known as West Coast Choppers. "I had a '36 Ford at the time and I wanted a Panhead," Yaniv recalls. "I was so into Panheads, and Jesse James had a Panhead called the Vanilla Gorilla. He liked my '36 Ford and I liked his Panhead, so we traded." When Yaniv got the bike, he blew it apart and realized he kind of liked tweaking two-wheeled machines.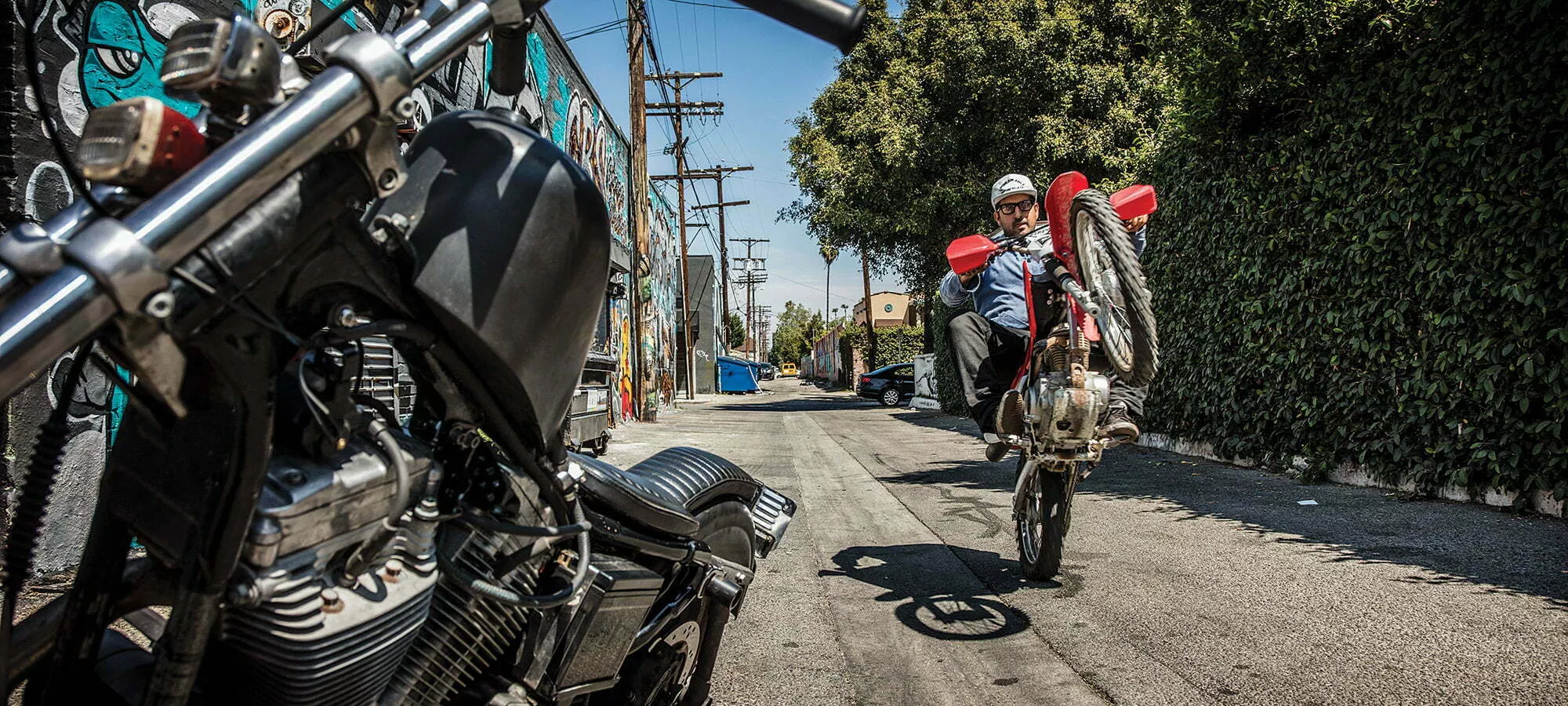 That all happened when the custom-bike world was exploding. And there were a few men in the custom-bike world who were making memorable waves in Yaniv's mind.
"It was Jesse James, Billy Lane, and Indian Larry," Yaniv recalls. "I got to spend a lot of time with Indian Larry, but after he died, I realized how lucky I was to spend 'garage time' with him." Taking things for granted is something we all do, but Yaniv realized what an integral part Indian Larry played in stitching together his own artistic fabric. "He would come by the shop and visit." But Yaniv never got the chance to visit Indian Larry's shop. Not until Indian Larry's funeral. Yaniv took the news pretty hard. His mentor—his muse—was now gone. "We spent a lot of time on the phone. [Indian Larry] would give me lessons over the phone. We just clicked," Yaniv explains. But Yaniv took the advice, poured a little liquor out for his homie who was now looking on from above, and went full steam ahead with customizing.

Yaniv opened Powerplant in 2002, and he hasn't looked back. What was a very small space in the heart of Hollywood became a staple among those looking for passion-built machines. "Yeah, I've expanded, but it was really small and it is still small," Yaniv says. "But we've expanded the whole area and then the front of the store, which was kind of a fluke." Yaniv's referring to the retail storefront that at the time lay vacant on Melrose Avenue, once a Hollywood shopping landmark. His landlords said to put a chopper in the window for passers-by to ogle, and maybe they'd buy some shirts. "I had some T-shirts and s—t, but not enough to make a store out of." But his landlord had faith, and gave Yaniv the space to park his bikes—and some well-placed merch—in the space until it was rented. It blew up. Turns out Hollywood likes choppers.
"I'm not a chopper guy or an FXR guy. I just love two wheels, always have. I don't support any clubs, I support two wheels. That's what it's always been about."
Things were going well until the landlord came knocking with a permanent tenant. Yaniv's retail days were over. Or so he thought. "I had to give it back to him while he rented it to this guy. But the guy couldn't make his rent, and a year later [the building owner] said, 'Look, he's moving out. You want the place?' I was like, I still can't afford it, but let me make some calls." He started reaching out to others in the industry, and before he knew it, he found someone who knew the spot had potential and stepped in to invest in the retail side of Powerplant. The two are now business partners, which couldn't have worked out better. Yaniv focuses on what he does best: motorcycles. And the retail store slings merch. "They're actually making s—t," Yaniv says. "And with that, it allows me to have more freedom in the garage."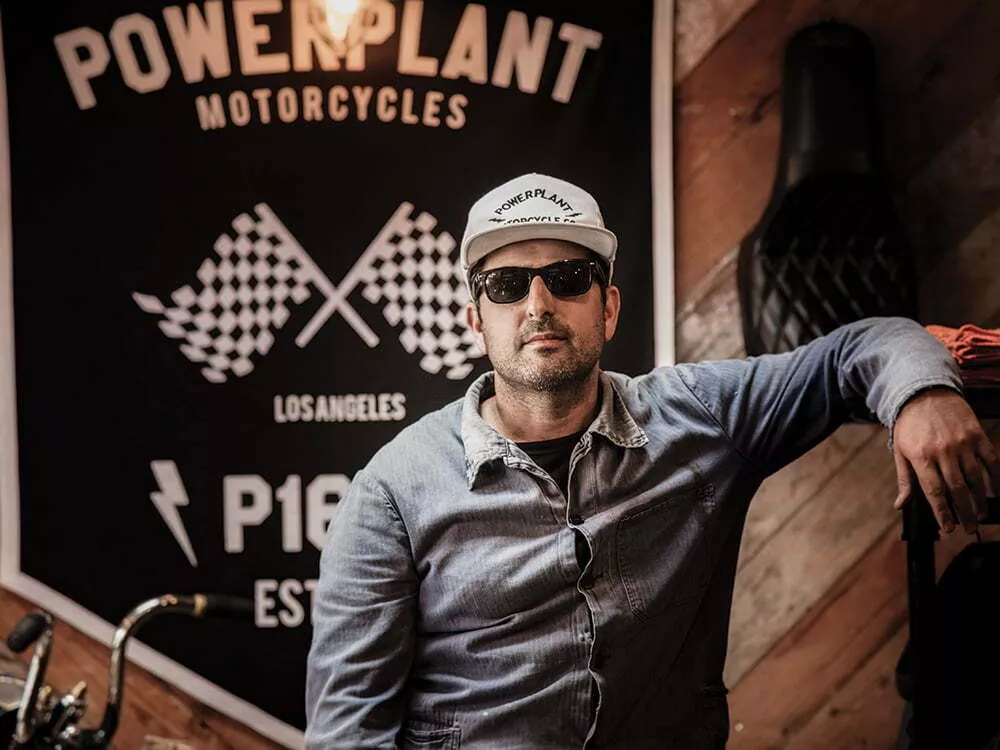 One thing led to another, and now Yaniv's got a little bit of money that he can reinvest into Powerplant's parts line. "I started manufacturing some parts. My parts are like pretty much just for what I need right now." Yaniv grabbed a throttle full of the burgeoning FXR trend and saw potential to create his own line. "I probably bought over 30 sets of other people's risers, to the point where I realized I'll just make my own risers," Yaniv says. And the parts line continues to grow.
But Yaniv also understands the current climate of owning an independent custom-motorcycle shop and has been fixated on building FXRs. He sees Powerplant's future being very bright. "I'll always like [motorcycles]," Yaniv says. "I love old choppers, knuckleheads and Shovelheads, you know? But I also love my business, and I want to keep it open." But Yaniv doesn't hold allegiances to any one particular style of motorcycle or genre. He's just a big fan of motorcycles in general. "I'm not a chopper guy or an FXR guy. I just love two wheels, always have. I don't support any clubs, I support two wheels. That's what it's always been about," Yaniv says. "And you can see it in the bikes."