One of the biggest downsides to working in this industry is that your own bike takes a back seat to your customer's work. If not, you don't eat. Or, as the old saying goes, "The painter's car/bike is always the last to get finished."
And the better painter, the more true that statement rings. Why? Because he's always busy busting out work for customers and friends alike.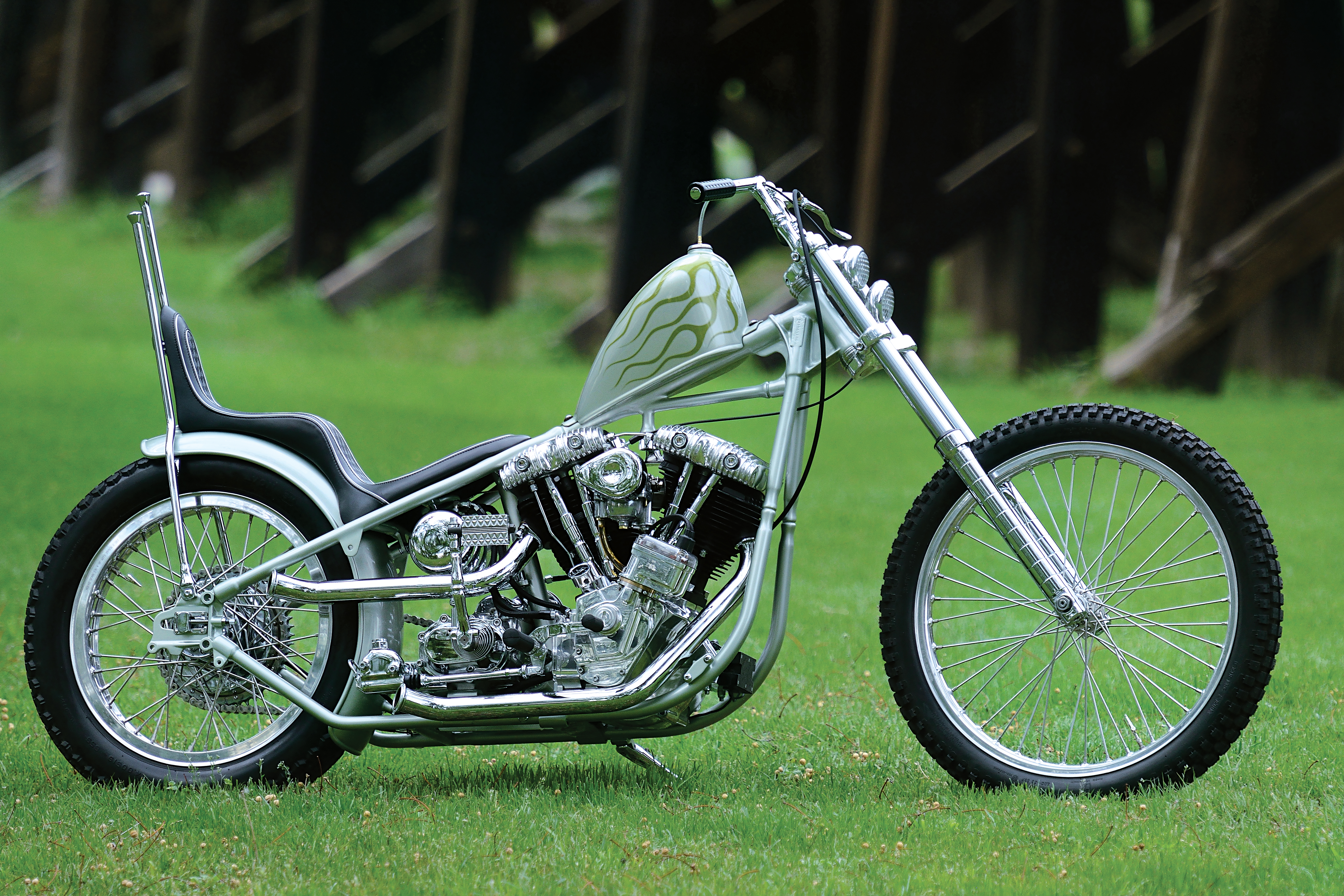 Scott Hoepker is the man, the spray gun, and—most importantly—the creative genius behind Chemical Candy Customs. He's what many would consider a step (or two) above that "better painter" status, especially when it comes to his way with flame jobs, flawless fades, and the occasional acetylene soot tricks.
A couple years back, Scott became acquainted with Jim Harper and Kirk Sharp—from a business standpoint initially, but that soon budded into a natural friendship. Beyond that three-way action, Hoepker's personal Shovel was birthed, as it's told through the words of its main builder, Jim Harper:
"The story of this bike is a story of three friends. Kirk Sharp and I met Scott in early 2012. We liked him immediately, which was not hard considering he was demanding to paint our bikes…for free! Our friendship grew quickly, and he did paint both of our bikes shortly after meeting us. In June of that year we all three went to Born-Free 4 and spent seven days riding around California. Our friendship was etched in stone after that.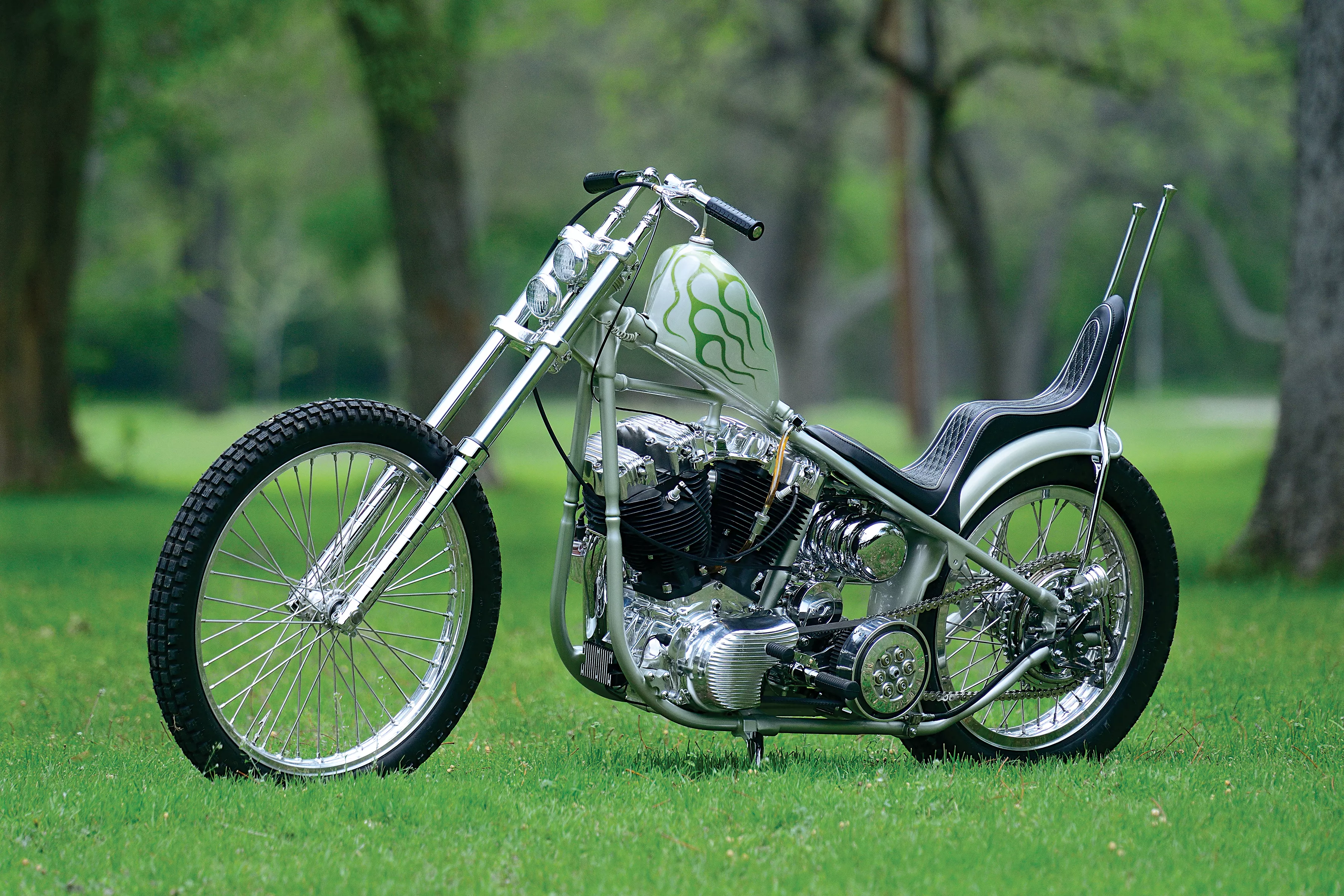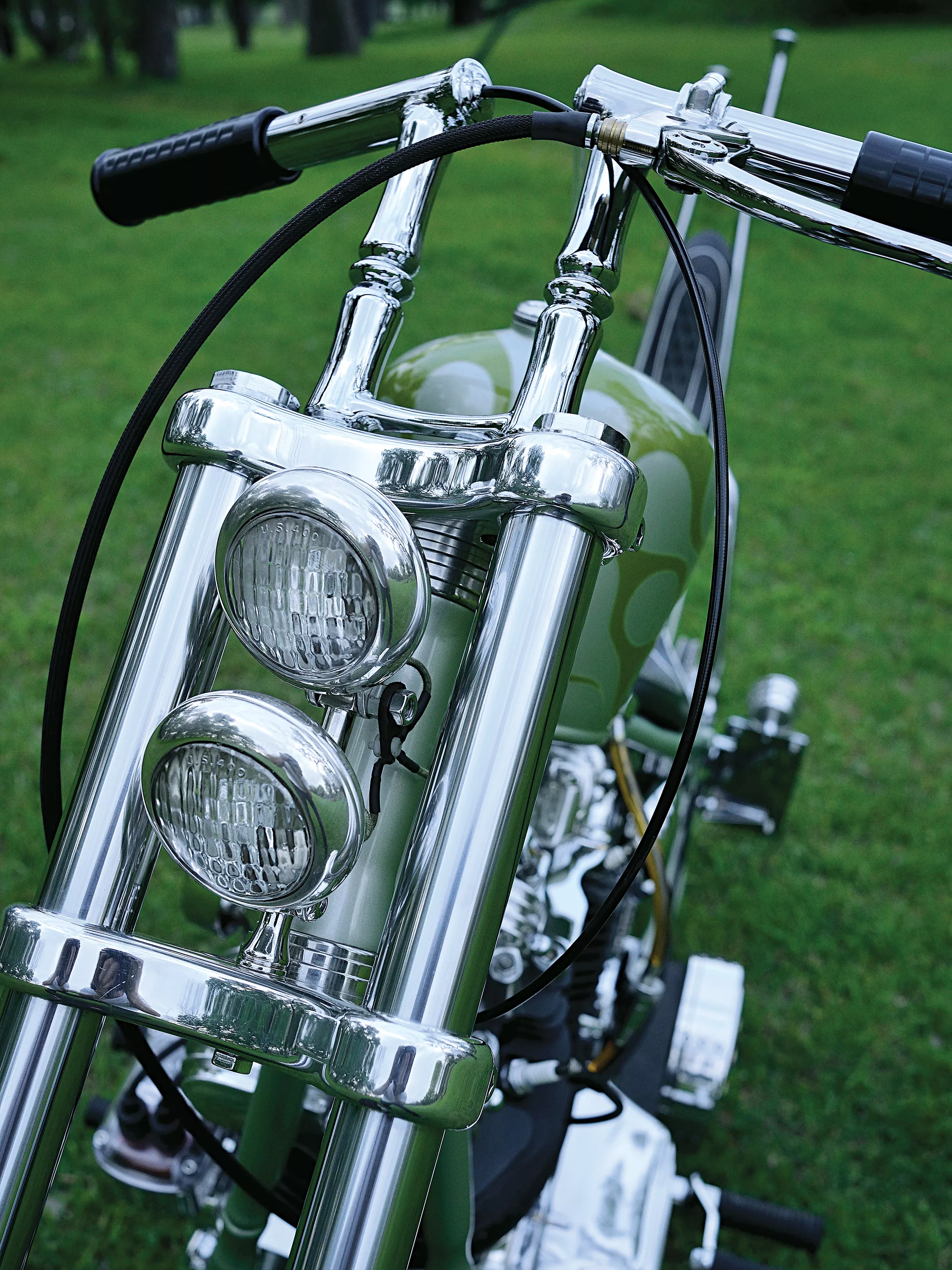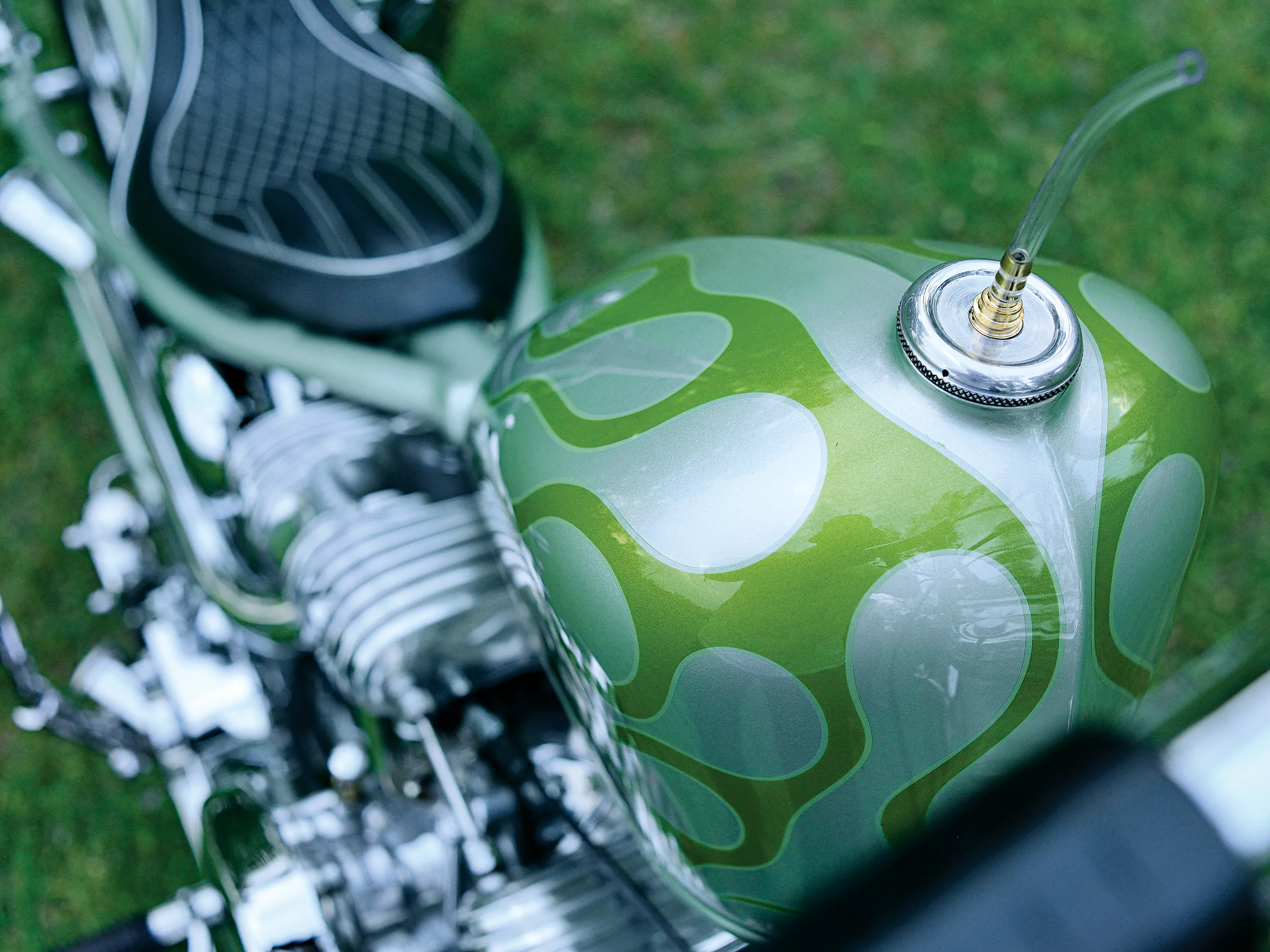 "After that Scott's taste in motorcycles changed. He had fallen out of love with his custom Twin Cam and wanted to build a Shovelhead chopper. In early 2013 Kirk found and bought the start of Scott's dream, a matching-numbers 1976 Shovel motor, frame, and title.
"Scott spent most of 2013 collecting parts for this new chopper. Whenever possible, Scott trades paintwork for parts and other goods. Scott painted Masa's [Luck MC Japan] Born-Free 5 Knucklehead, and in trade, Masa built the handlebars, oil tank, and gas tank for Scott's new chopper.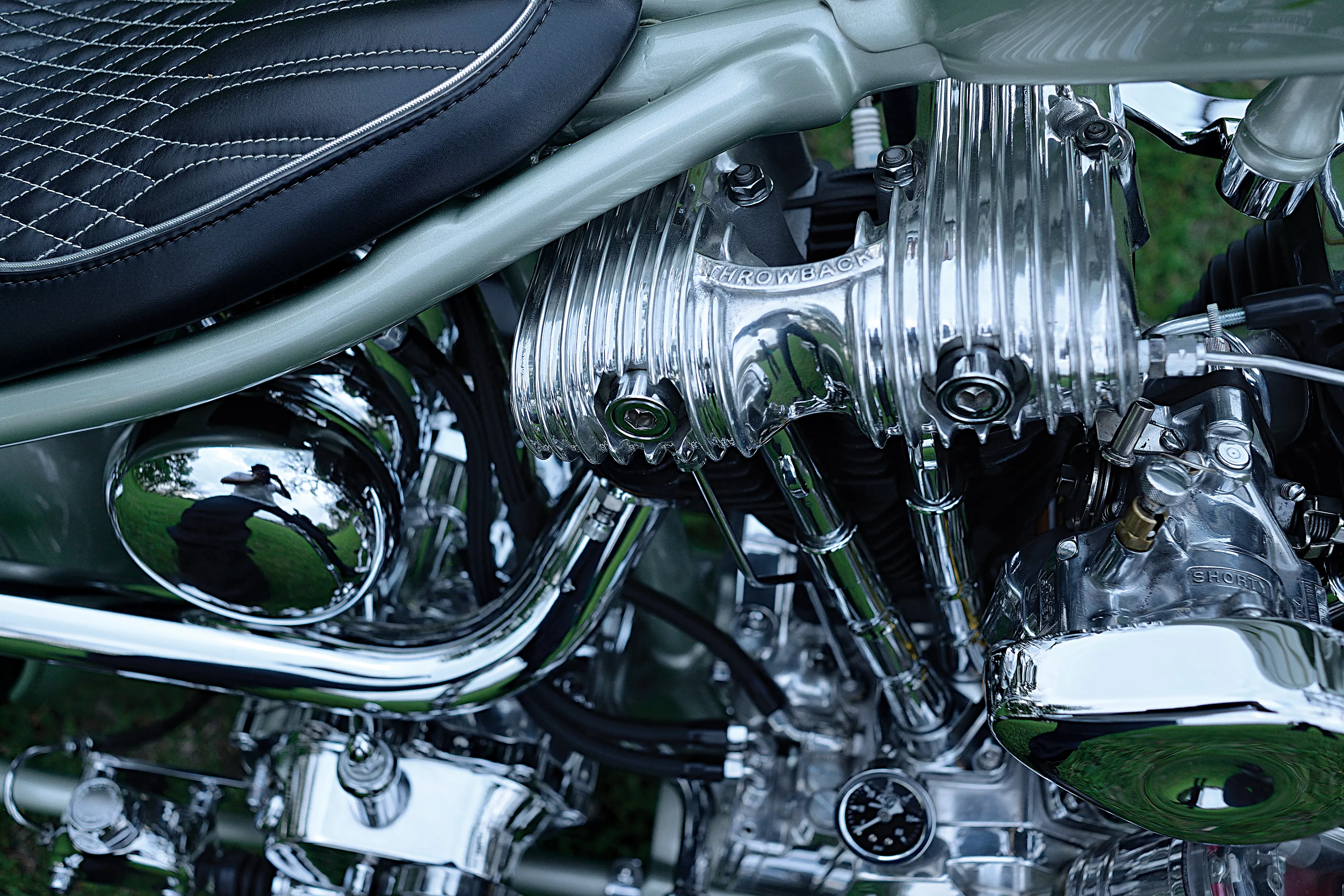 "In January of 2014, Scott brought his pile of parts to my shop and we got started. Framework was first—the stance is everything. The goal was not only to hardtail the frame but also to stretch it up just enough to get a straight line from the neck along the backbone all the way to the axle plate. The result is 3 inches up in the downtubes and zero out in the backbone with the steering neck at 38 degrees. In addition to the dimensional changes in the frame, I modified the original neck casting by removing the stock dash mounts, key lock, and reworking the backbone brace tube and motor mount.
"With the frame work done it was made into a roller with 6-inch over forks, 23-inch front wheel, and a 19-inch rear. The gas tank, oil tank, and bars from Masa were mounted. The rear fender is from Cooper Smithing. I reinforced the fender internally and built mounts for it. The fender was also notched for chain clearance, keeping the beautiful bead-rolled edge.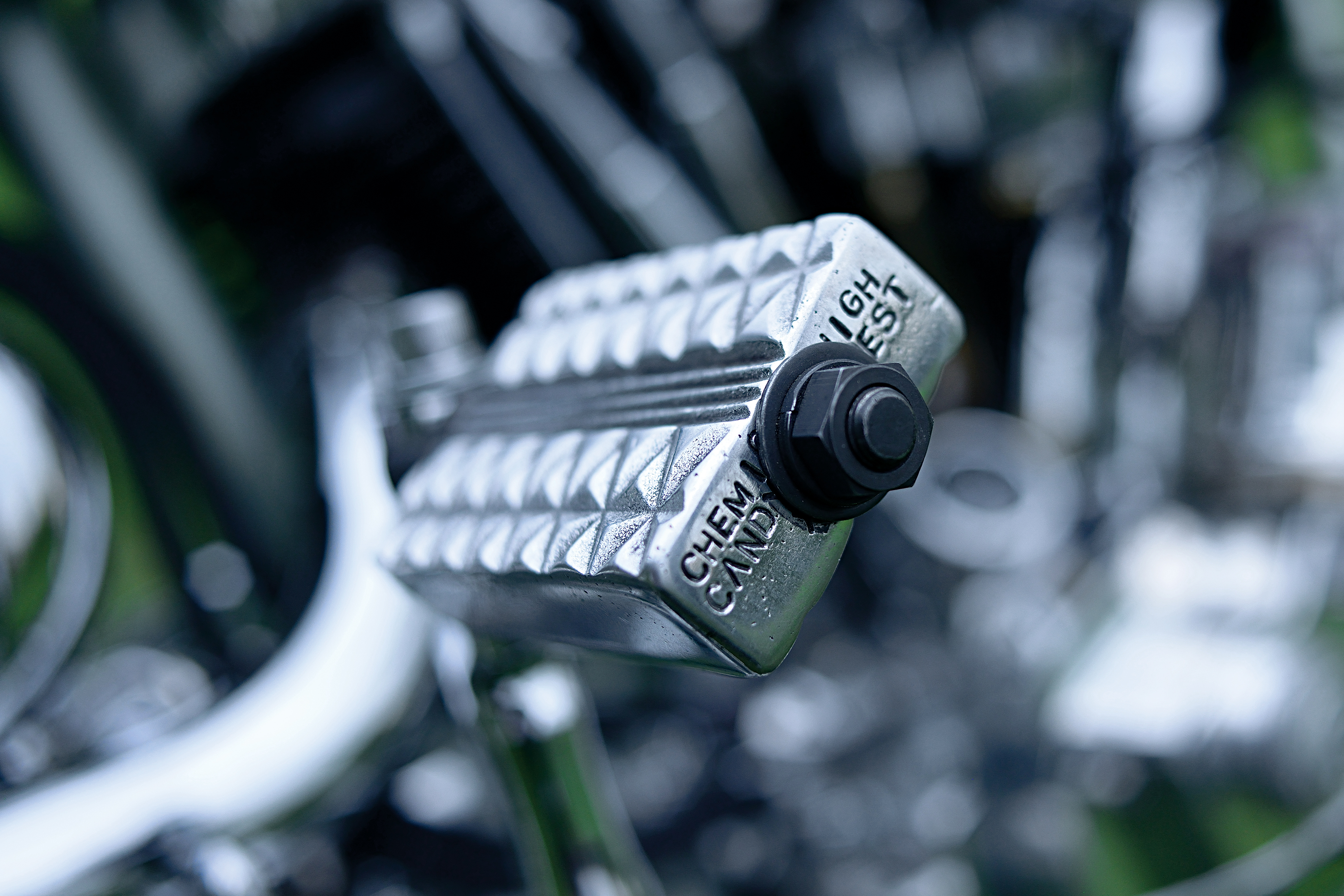 "The detailed handlebars from Masa provided inspiration for many other parts of the bike. I incorporated that similar shape into the frame downtubes, backbone brace, motor mount, sissy bar, brake pedal linkage, and even the headlight mount. Throughout the process Scott and I were very concerned about not over-doing it with all the details, and I think we succeeded.
"It took about 14 months to build the bike. I have no idea how many hours I have in it, but it is a lot. Many of those hours were spent with Scott by my side. Scott learned quite a bit in this process—how to lace/true wheels, how to run the lathe, and generally how these bikes go together.
"This bike really is a product of our friendship, and it took all three of us to make it happen."