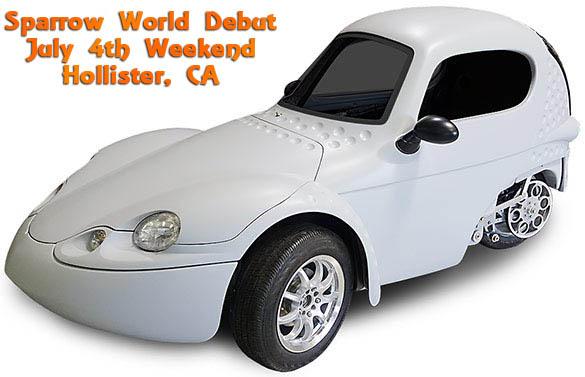 Everyone knows the story of the Phoenix, the colorful great bird that rises from the ashes, reborn to fly another day. A similar story of a great bird is the remarkable little single passenger vehicle that captured the hearts and minds of a unique group of progressive thinkers in the late 90's and early 2000's, the "Sparrow" built by Corbin Motors.
After crashing in 2003 the ashes of this little bird lay dormant but fortunately a hot ember remained. That ember kept the dream alive. Quietly the R&D continued even through the toughest of financial times and finally in 2010 Sparrow was reborn and the return flight was underway.
This will be a technologically advanced version of the original Sparrow. It will feature its original configuration, 3 wheeled, single passenger ZEV but will utilize a lithium ion power source with an electronic battery management system to produce prolonged battery life and greater range. It will incorporate the futuristic body styling it became know for in a new stylistic model that will turn heads and bring smiles. All this and more will be part of Sparrow's return.
World Debut was on the Fourth of July Weekend 2016 during our annual Hollister Rally / Open House at our World Headquarters. It was a great day, and the all new Sparrow was well received. The good news for the Sparrow continues as Corbin has been awarded a United States Patent.
2017 will be the start of 100 Beta Sparrows. Corbin will create 100 hand built Sparrows in Hollister, California. The 100 Beta Sparrows will display an exclusive number which will also be the individual VIN # 1/100 through 100/100.
For more details about the beta program, contact Spa[email protected]. To view the Sparrow on Corbin's website, click here.