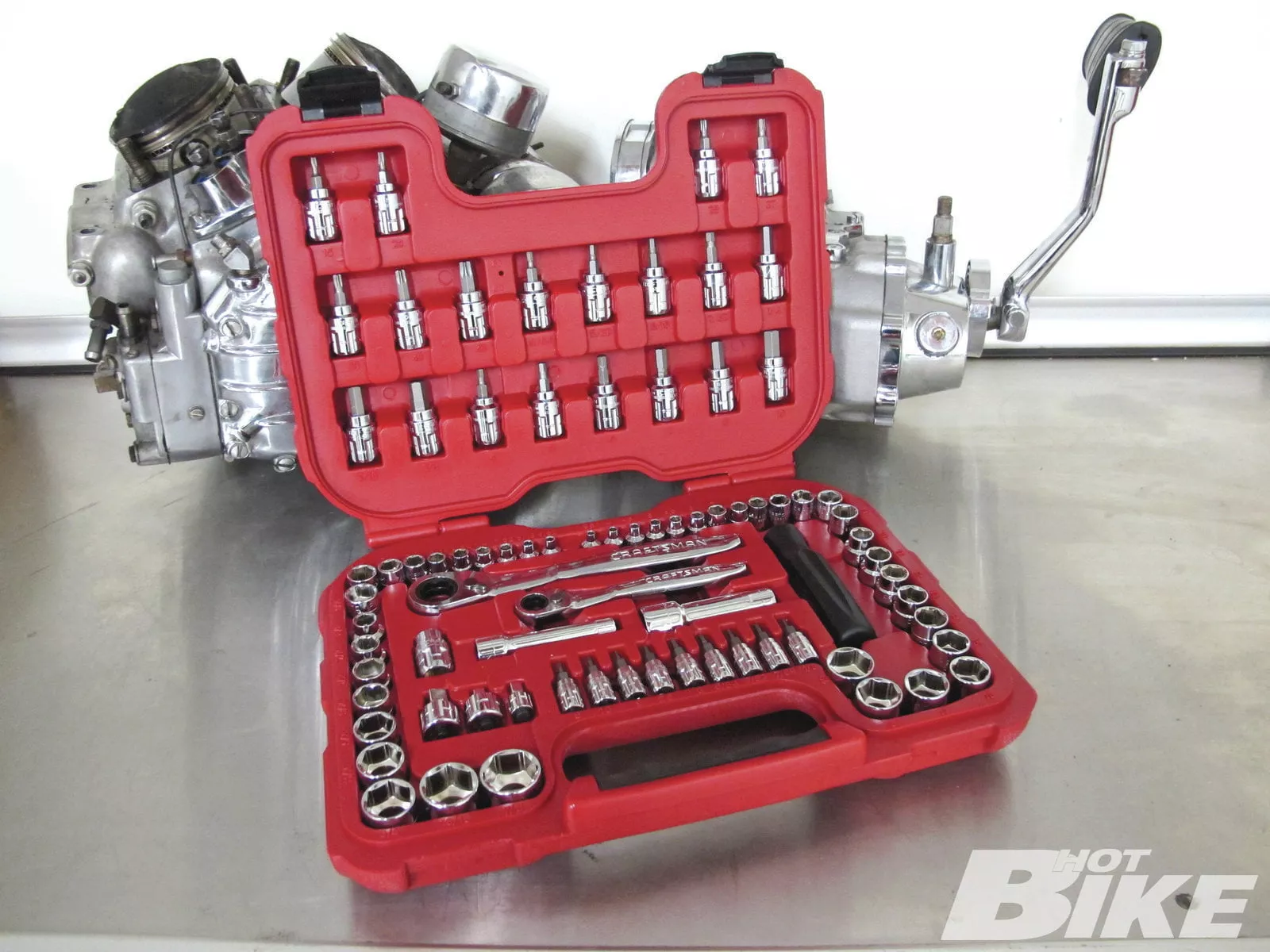 Craftsman
51 Piece Max Axess Tool Set
"Wow, another socket set" I said to myself snidely as I opened up the package. My mood changed pretty quickly as I opened up the case and saw that it was not your run-of-the-mill socket setup. The Max Axess kit came in a carrying case small enough to fit into H-D hard saddlebags with 42 sockets from 5/32 to 13/16 in standard and 3.5 to 19 mm in metric. Also included in the kit are, two Go-Thru ratchets, two extensions, a hollow shaft handle and a Go-Thru adapter. That's a lot of chromed-out trinkets stuffed into ton small red box. After studying the contents of the kit, I decided to do some wrenching and while getting into many tight places reserved for open and and box wrenches, the Max Axess ratchet's ultra-thin profile fit into many narrow spaces like no other ratchet I have tried before. Also, by not having a closed back on the socket or ratchet the tool fits over long bolts such as exhaust clamps. Craftsman also includes adaptors for the usage of regular sockets with the Max Axess ratchets, so the kit will work with anything currently laying around your toolbox.
After using them for quite some time I found that the ergonomics, fit, and finish of this tool set is great. My take on this set is if you are in the market for a ratchet set that can get the job done the Max Axess is a solid deal for the price with some added features over sets of the same price.
$59.99 Craftsman.com
Braven
625s Mobile Speaker
Working in the garage or washing the bike outside without music really sucks. The silence for me is deafening. Plus with the type of music I play it keeps the neighbors from strolling over and inanely gabbing with me for what seems like forever. In short, by blaring some Swedish death metal or the Geto Boys it helps me keep focused on the task at hand.
I also get pretty heated by having to pick up the phone when it rings at the most inopportune moment. Trying to juggle and talk on my trusty iPhone with wet or greasy hands seems to always enrage me when I'm trying to get my bike ready for a putt.
These problems are completely gone now that the Braven 625s has entered my life. This wireless shock-proof and water-resistant mobile speaker with Bluetooth 3.0 capability not only streams my favorite music anywhere I go, it also lets me use it as a hands-free speakerphone when somebody calls me. Have no fear all of you non-bluetooth having peeps with MP3 players, the Braven has a 3.5mm audio jack for you and your dinosaur electronics. Another killer thing is if I plug my phone into it the Braven's mini USB port it offers up it's own 16 hours of battery life to recharge my mobile device.
All features aside, the Braven is a speaker and if it sounds like there is doo doo coming out of the thing, it's worthless. Well, I can tell you that with its 11-ounce weight and 6 1/2 x 2 1/2 x 2-inch size is really small for something with this amount of sound clarity. Trust me its no Marshall stack, but it kicks out the jams much better than I could ever think something this size could. Nice work, Braven.
$179.95 braven.com