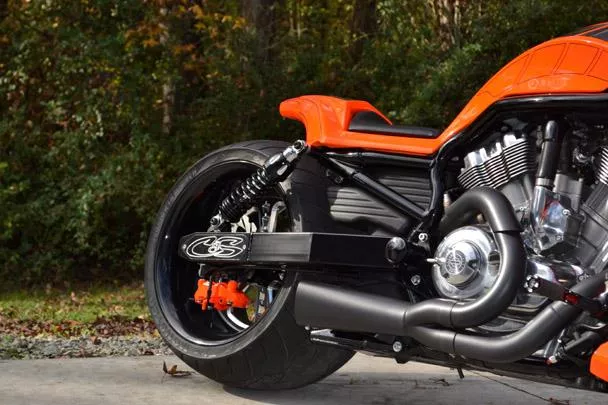 C&S Custom announced today that they have delivered the world's widest tire kits for Harley-Davidson V-RODS. These custom kits are available in 240mm, 300mm, 330mm, and 360mm sizes. C&S Custom provides all the components that are required to install the wide-tire kits.
C&S Custom products are born from drag racing and custom bike pedigree, and their products have won multiple competitions and custom bike shows. They look good, work good, and are incredibly strong and reliable.
Enthusiasts can select length and finish (raw, custom painted, polished, chrome, and over 1000 powder coat choices). Accessory options include extended length, chain drive, louvers, nitrous bottle bracket, custom engraved swing arm plates, custom engraved chain guards, and performance brake caliper and racing rotor.
C&S Custom utilizes proven technology to deliver a custom look at affordable prices. The swingarm is machined in-house using only top quality custom extrusion and 6061 T6 aluminum. This aluminum is military aircraft quality. It's specified by C&S because of its tensile strength, fatigue limit, and resistant to corrosion even when the surface is abraded.
"Having been in business since 1999, C&S Custom has streamlined our production process down to a fine art, to keep our prices extremely competitive," explained Steve Garwood, General Manager. "We build our products to deliver on quality, price, and performance."
C&S Custom recommends a professional installation. Pro-consumers who have mechanical ability should budget a weekend for the conversion.
About C & S Custom
Since 1999, C & S Custom has staked out a reputation for being innovators in the sportbike and motorcycle industry. From simple billet accessories to wide-tire kits to one-off custom built motorcycles, the firm delivers products that are on the leading edge of design. The quality of C & S Custom products and of its custom service always comes first. Visit the company online at www.candscustom.com/, as new and innovative products are continually profiled.
We've got a lot more P & A for you in our Products department.