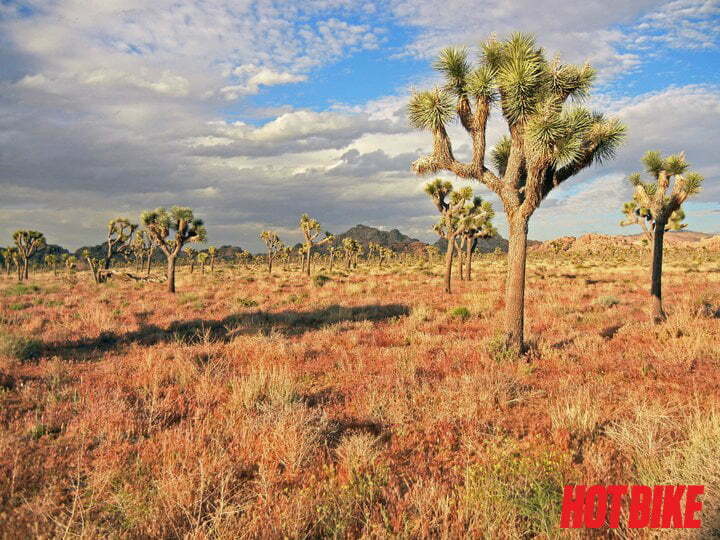 // THE TRIP – Joshua Tree and Pioneer Town
I recently snuck out of the Southern California Hot Bike offices and away from my keyboard duties of online editor for a day of throttle twistin' out to Joshua Tree National Park and Pioneer Town in the Mojave Desert.
Although the weather may be a bit too hot at the moment for some high desert adventuring and sightseeing, I share the story and photos with you now for in a few short months prime riding conditions will prevail. Fall, Winter and Spring are the ideal times to visit the area.I happened to ride in on the tail end of spring just as summer was setting in and was greeted with temps in the high 70's and a light breeze.
<div class="st-block quote text-
Notice: Undefined index: st_text_align in C:laragonwwwhotbike-importblocksquote.php on line 1
">
From the greater Los Angeles and Orange County areas it's a 2 to 3 hour ride to Joshua Tree National Park, approximately 130 miles from Downtown Los Angeles
This jaunt out to the picturesque high desert is a great little day trip if you live in Southern California or are just visiting the area for a short time . From the greater Los Angeles and Orange County areas it's a 2 to 3 hour ride to Joshua Tree National Park, approximately 130 miles from Downtown Los Angeles.
I took off from the Hot Bike offices in Irvine early one morning as my two-wheeled freedom machine led me east on Interstate 10, the quickest and easiest way into Joshua Tree. Just a few miles east of the Morongo Indian Reservation is where things started to get interesting. As I headed north on HWY 62 ( Twentynine Palms Highway) , I became dwarfed by the massive wind turbine generators that populated the hillsides like 100 ft tall blooming wildflowers . These turbines are a type of windmill that produce electricity by harnessing the wind. The wind that spins through those turbines is a boon for those voltage needs and makes for a stimulating time behind the bars to say the least.
The gusts of wind weren't too bad and after just a few short miles I was through the San Gorgonio Wind Park as it is called and entered into the much calmer high desert closer to my destination. Just be aware and ready for some windy conditions on this short stretch of highway and all will be good. The views of the valley as you gain elevation and the assembled army of about 2,700 wind turbine generators is a sight to be seen.
Continuing on HWY 62 led me to Yucca Valley , right at the doorstep of Joshua Tree National Park. It is here where one can head north for a handful of miles on the Pioneer Town Road ( a designated California Scenic Drive) and arrive at you guessed it, Pioneer Town.
Pioneer Town was originally created as a old west movie set in the 1940's where the actors lived and worked."King of the Cowboys" Roy Rogers was among one of the original developers and investors of the town.Gene Autry "The Singing Cowboy" regularly taped segments of his television show in Pioneer Town. Fast forward to the modern day where the western town movie sets are kept intact and old west gunfighter shootouts are re-enacted on the weekends, there is even a mock OK Corral on site! While there you can mosey into Pappy & Harriet's Pioneertown Palace for some cold beverages and grub. Pappy & Harriet's is also a thriving music venue that plays host to artists ranging from the classic rock and funk of Eric Burdon ( Animals and War) ,the garage-esque rock sounds of the Murder City Devils and the new age soul and rhythm of Solid Ray Woods.
After a refreshing sarsaparilla and harnessing my inner Sam Elliot for a bit, I mounted up on my steel steed and continued on a short 15 mile stampede into the Joshua Tree visitor center and main entrance to the park. Joshua Tree National Park encompasses a land area of nearly 800,00 acres, that's bigger than the state of Rhode Island! The park is aptly named after the Joshua tree that is native to the land and decorates the terra firma so brilliantly that at times it resembles a fake movie scene. Along with the Joshua Trees, the park features some stunning geologic rock formations that were created over 100 million years ago.Make sure you have plenty of spare memory on your photo taking device beforehand because you will be taking photos aplenty!
There are nine campgrounds within the park should you decide to extend your stay, be warned though, those campgrounds fill up quick and reservations are recommended due to the parks 1.3 million annual visitors. There are numerous hiking trails also in the park that range from under 1 mile to 35 miles in length. I decided to stretch my legs a bit and went for a 1.5 mile hike on the Barker Dam trial loop. A desert oasis is what I came upon midway through the loop. The dam was constructed by early cattlemen in 1900 as a way to keep their herds hydrated. In the present day it attracts a myriad of desert wildlife ranging from rare species of birds to desert bighorn sheep.It also made for a nice place to relax for a bit,take some photos and bask in the natural beauty of all that Joshua Tree has to offer.
<div class="st-block quote text-
Notice: Undefined index: st_text_align in C:laragonwwwhotbike-importblocksquote.php on line 1
">
So alluring is the beauty of Joshua Tree that Jim Morrison is said to have written the classic Doors song "Riders on the Storm" after a peyote induced visit
So alluring is the beauty of Joshua Tree that the band U2 named an album after the park and Jim Morrison is said to have written the classic Doors song "Riders on the Storm" after a peyote induced visit. Nothing tops what 'California Rock' originator Gram Parsons had schemed up for his love of Joshua Tree though . Per his request when he died, which ironically was at the Joshua Tree Inn back in 1973, he was to be cremated at the Cap Rock section of the park and his ashes spread over it. The problem with this is that his body was already on it's way to Louisiana for a family organized burial,not to mention it's illegal and a federal offense to burn a corpse within National Park boundries. While the coffin was in transit at LAX, it was stolen by his friends and they immediately drove out to Joshua Tree to carry out Gram's final wish.They placed the coffin on the outcropping of rocks and poured 5 gallons of gas over it and lit a match.It resulted in a botched cremation and created a huge fireball that attracted local police and Gram was eventually buried back in Louisiana properly.HIs friends got a slap on the wrist, a $750 fine and a footnote in a legendary rock-n-roll tale. Times were different and laws were a lot more relaxed back in '73!
While my visit didn't result in the creation of a classic rock song or an opiate induced journey into the nether regions of self discovery, I did have a most enjoyable time riding through the moonscape like terrain and felt I received a bit of a recharge to my soul. Along the way I snapped some photos of the gorgeous scenery and got to escape my pesky keyboard for a little while,hehe.
For any and all info about Joshua Tree National park, please go here: www.nps.gov/jotr
// THE BIKE – Victory Motorcycles Judge
The Judge from Victory Motorcycles was my weapon of choice for this 1 day desert raid. The Judge has a great blend of performance and comfort that is ideal for an all day ride that mixes long jaunts on the interstate with twisty, peg scraping backcountry highways. The muscley 106 cubic inch v-twin offers 110 ft-lb of torque that will take you from a mellow lope to an arm stretching blast with just a flick of the wrist. That kind of potency really comes in handy when overtaking vehicles and generally staying out of the way of inattentive cage drivers. I should also mention that it makes for a ear-to-ear grin that will practically show through a full-face helmet. The smooth operating transmission ensures for a seamless power delivery and the 6th speed overdrive keeps the motor rpm's low during prolonged assaults on the Interstate. The stylish 5 spoke mag wheels are adorned with nice wide ( 5″ front , 5.5″ rear) Dunlop Elite II tires that made for sure-footedness on even the most dubious desert road conditions.
As much as myself and the other members of the Hot Bike staff enjoy the Judge, we all felt that there was some room for improvement in the styling and ergonomics department for our tastes.It's actually the general nature of all motorcyclists with any and every bike , haha. If you notice in the photo gallery above, we had some custom T-Bar handlebars fabricated that were well suited for our California lane splitting activities. The taller riders on staff, in the 6ft range, thought the stock bars were too much in their lap. They are digging on the higher rise and more forward position of the custom bars and feel that it opens up the cockpit a bit and gives them less of a cramped up feeling. With that being said, the shorter riders on staff actually preferred the feel of the stock bars. Everybody shared the opinion that the T-Bars were aesthetically, a bit more pleasing for our taste though.
You will also notice in the pics that some of the bits for the tail section are done away with. That is because we are in the midst of having a cutom tail section fabricated for the Judge. Stay tuned for an online feature of that process along with some other snazzy custom mods we are working on for the Judge.