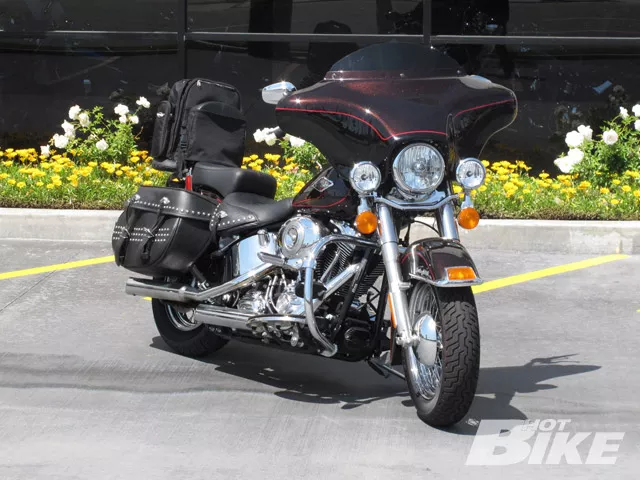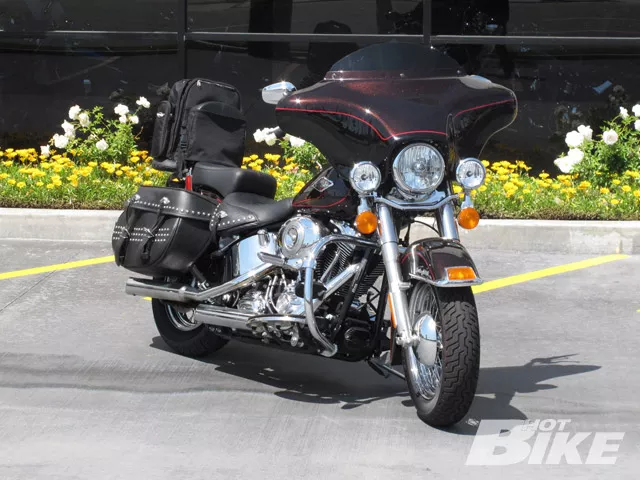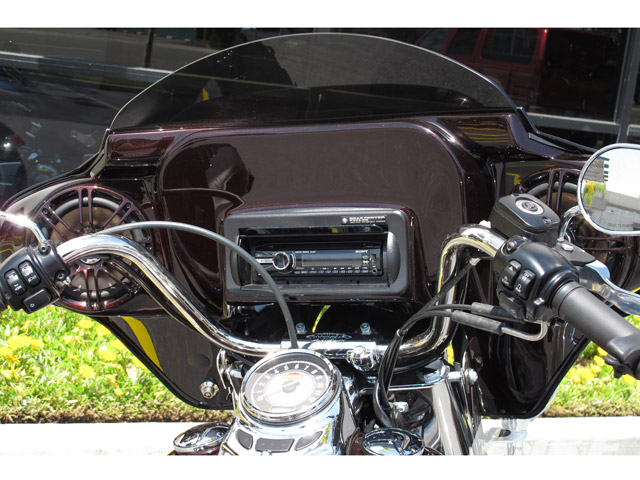 One of our friends, Disco (not his birth name) purchased a 2011 Heritage Softail Classic as soon as it hit the floor of his local dealership. Unlike most new Harley owners whose first part/accessory purchase is new pipes, Disco went strait for tunes-the nickname kind of explains itself now, right? He outfitted his Heritage with one f H-D's Boom Audio setups with 3.5-inch handlebar mounted speakers.
While the Boom Audio system helped Disco get through long road trips, he just wasn't completely satisfied; he wanted more; more volume and more protection from the wind than what his quick detach windscreen provided. The obvious solution was a quick-detach fairing/stereo unit. When Disco asked our opinion about the Dead Center Cycles fairings we admitted we hadn't had much hands experience with them but we had seen/heard them at various shows and events and on several readers bikes, and that they appeared to be of quality construction and produced great sound.
Made of lightweight fiberglass, the DCC fairings are comprised of a light Resin Transfer Molding (RTM) process. RTM is a process in which catalyzed resin is transferred or injected into an enclosed mold where fiberglass reinforcement has be placed. The resin is pushed in under pressure which helps push out air bubbles resulting in smoother more consistent part. The DCC fairings fit various '04-later Road King models and '00-later Twin Cam Softail models with FL frontends. The fairings come standard with stainless steel mounting brackets, keyed lock on the left side, a Sony CDX-540UI head unit, Polk Audio Marine certified 6 1/2-inch speakers, and a gloss black gel-coat finish that doesn't require paint. DCC back its fairings with a 30-day satisfaction grantee, as well a one-year manufacturers warranty. DCC also offers many options/upgrades such as color-matched paint and speaker and stereo upgrades such a Sirius or XM satellite radio.
After reading through DCC extensive website Disco ordered a standard fairing/stereo setup ($1,699) in gloss-black gel coat. To see the installation of the fairing, pick up the August 2011 issue of HOT BIKE. Check out this video to get a general idea of how the system sounds are we rock out to Mike Hansson's Moto Tune.
Video url:
Sources
Anaheim-Fullerton Harely-Davidson
(714) 871-6563 | harleyfullerton.com
Dead Center Cycles
(866) 971-3323 | deadcentercycles.com
Danny Martinez Paint
(714) 974-9453 | dannymartinezpaint.com