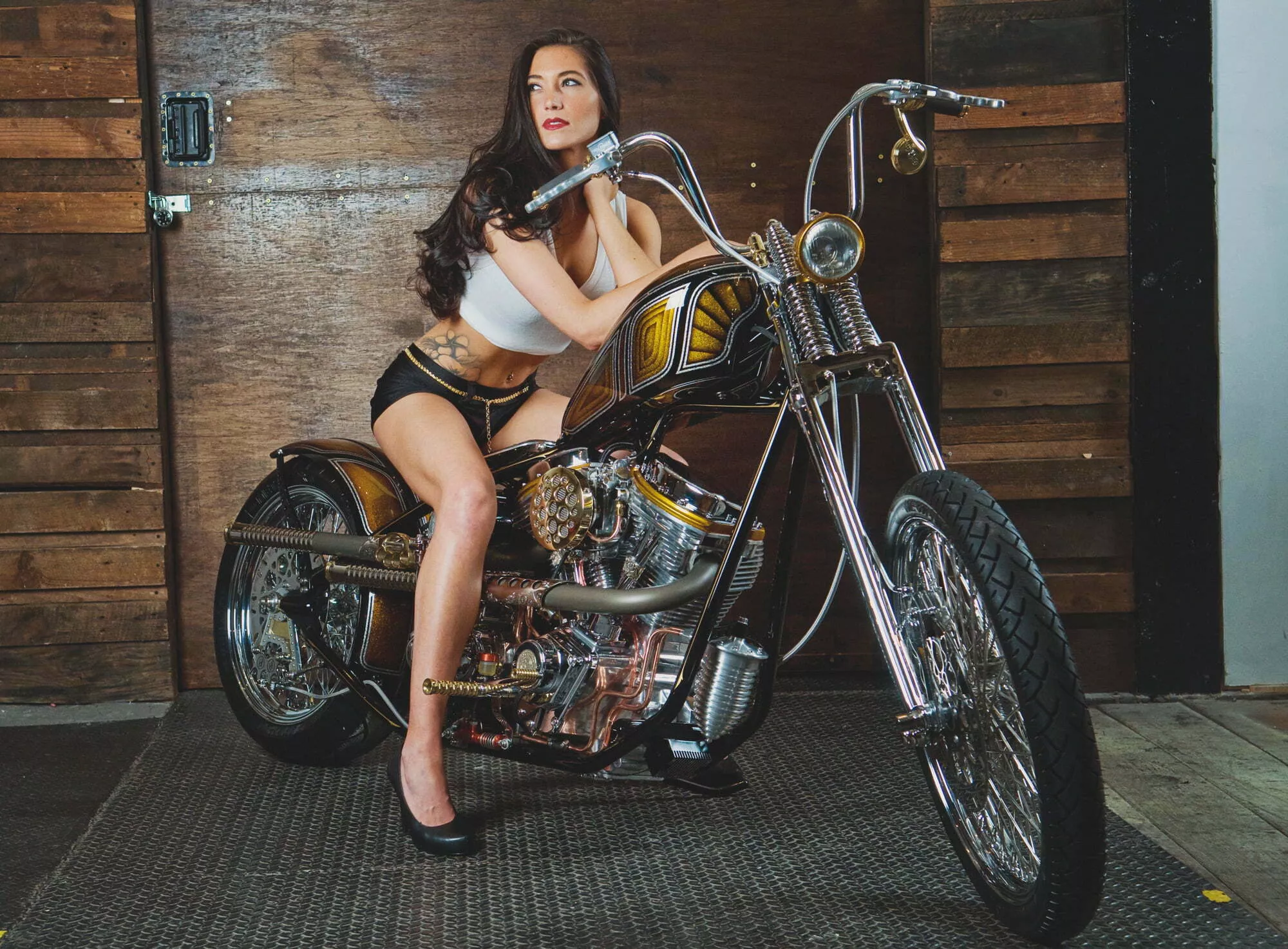 This bike has real history for me. When I was a know-nothing kid at the confused age of 21, I was able to work with Kirk Taylor at Custom Design Studios in the Bay Area of Northern California. I had just graduated from MMI in Phoenix a year prior but had hardly retained my everyday functions. Kirk was kind enough to employ me part time and show me the ways. I learned so much in those 10 months I was under his employment.
This was a key moment in my life—a turning point. We all have them. Some for better and some for worse. This was when and where my fire was lit. I wanted to build motorcycles. And Blood on Blood gave me my first taste. Blood on Blood was this bike's first christened name, after a Johnny Cash song. Devil's Right Hand, another Cash song, was my way of keeping the soul of the original build alive. The bike was first built for the Artistry in Iron competition in Las Vegas, and it was amazing. The whole process from start to finish was amazing. I couldn't get enough of it. This bike in its original form, to me, was a 10.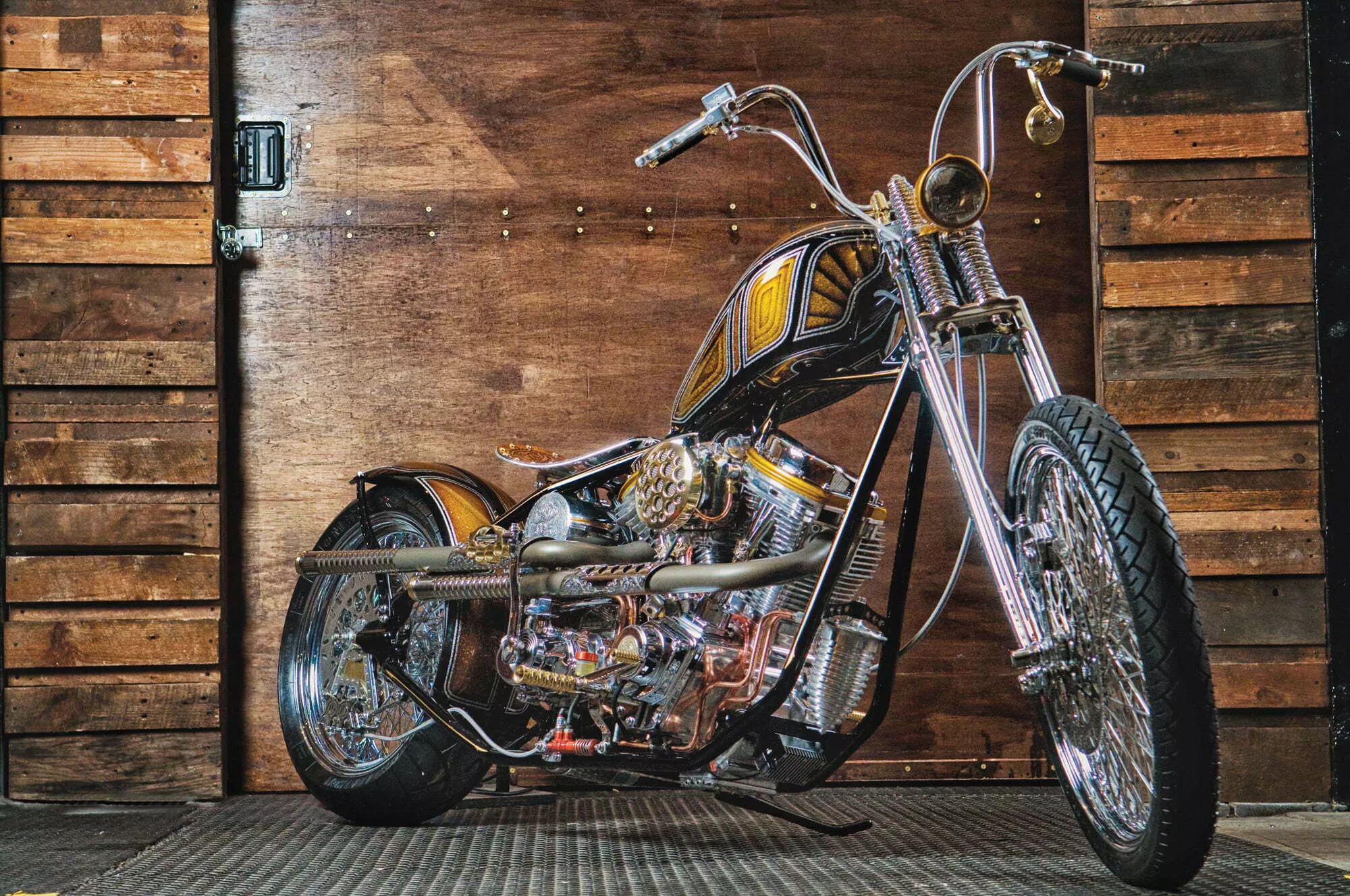 So why change it? Why take something iconic and distort, twist, and reform? Why not? It had been eight years, and the bike needed some love. In those eight years I had continued to follow my passion for metal forming and bike building. I had moved to the Atlanta area to work for another great visionary, and then last year I decided it was time to open up my own shop. I was tired of the limitations of working for someone and wanted to stretch my legs, as they say.
So when I was approached by the owner of Blood on Blood, it felt like it was all meant to be. At first, the owner only wanted to change a couple of things. He wanted to remove the air ride from the seat and change out the front end. But as it goes, in this industry things just snowballed. The next thing you know, the bike was on the bench naked as could be. We were down to the engine, transmission, frame, and tins.
One of the more notable and key aspects of this bike was the engravings done by Tay Herrera. We knew these had to stay. He had done such beautiful work on the oil bag, heat shields, clutch cover, brass knuckle kicker, and the gas cap, which had the owner's initials carved into it.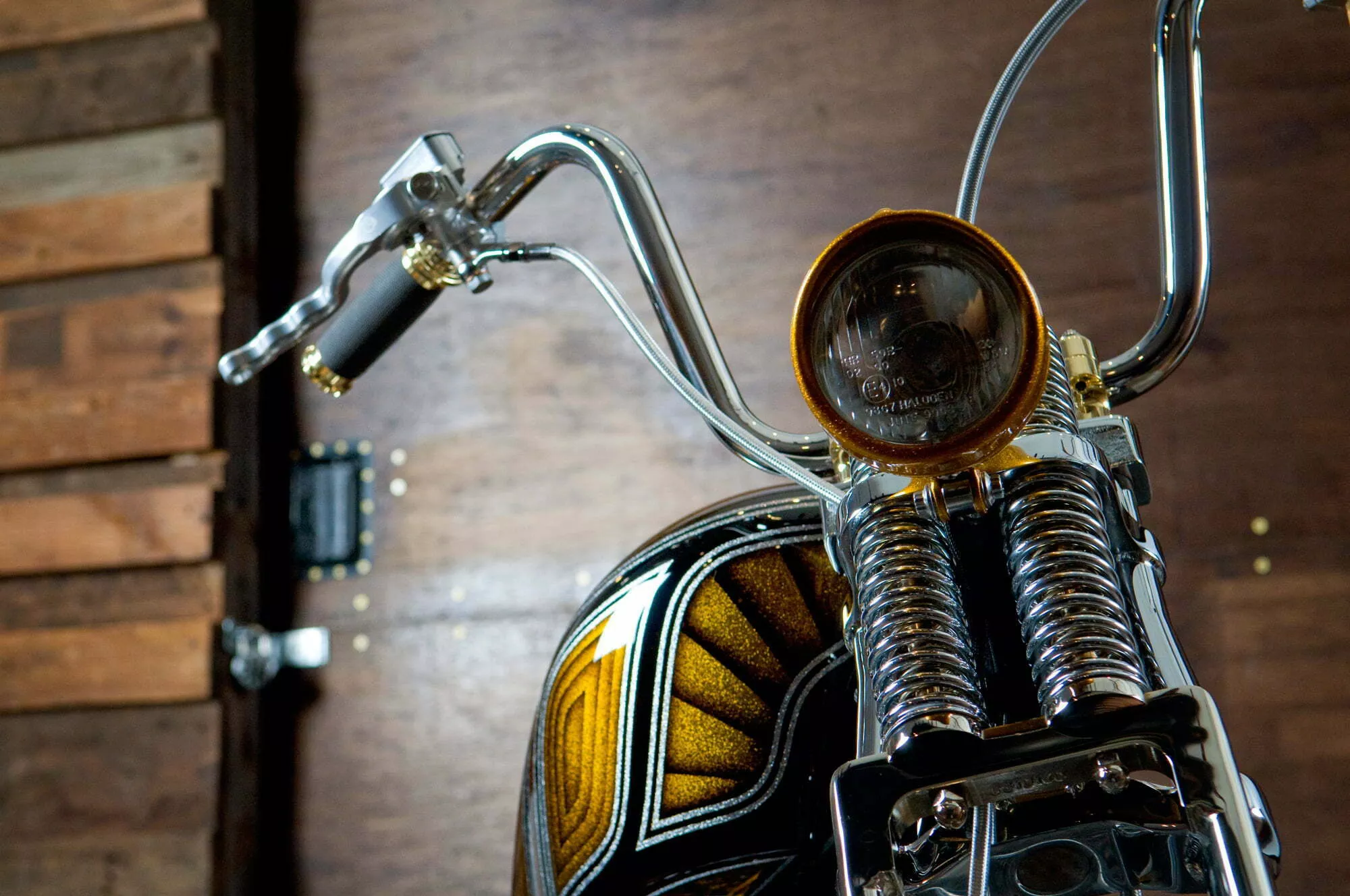 At first, the bike was going to stay red, but when we eliminated the forward controls and reformed that area we knew a change of color was a new option. The forward controls were replaced for some aggressive mid-controls. Hours of love and thought went into every aspect of this build, and for me it all started with the mids. Comfort with aggression. The mids were made in-house out of stainless and then polished. Toe pegs were turned down on the lathe out of solid brass, and the pegs are modified Bison Motorsports honeycomb. The linkage, along with both brake stays, is made from hand-twisted stainless hex rod. Got to keep it classy!
The front end was a special-order 6-inches-over Paughco springer. We ended up flipping the rockers to get the right riding height, which also gave it a very cool look. The bars were purchased from Zombie Performance and narrowed an inch. The engine is a RevTech 110 with Xzotic pan tops.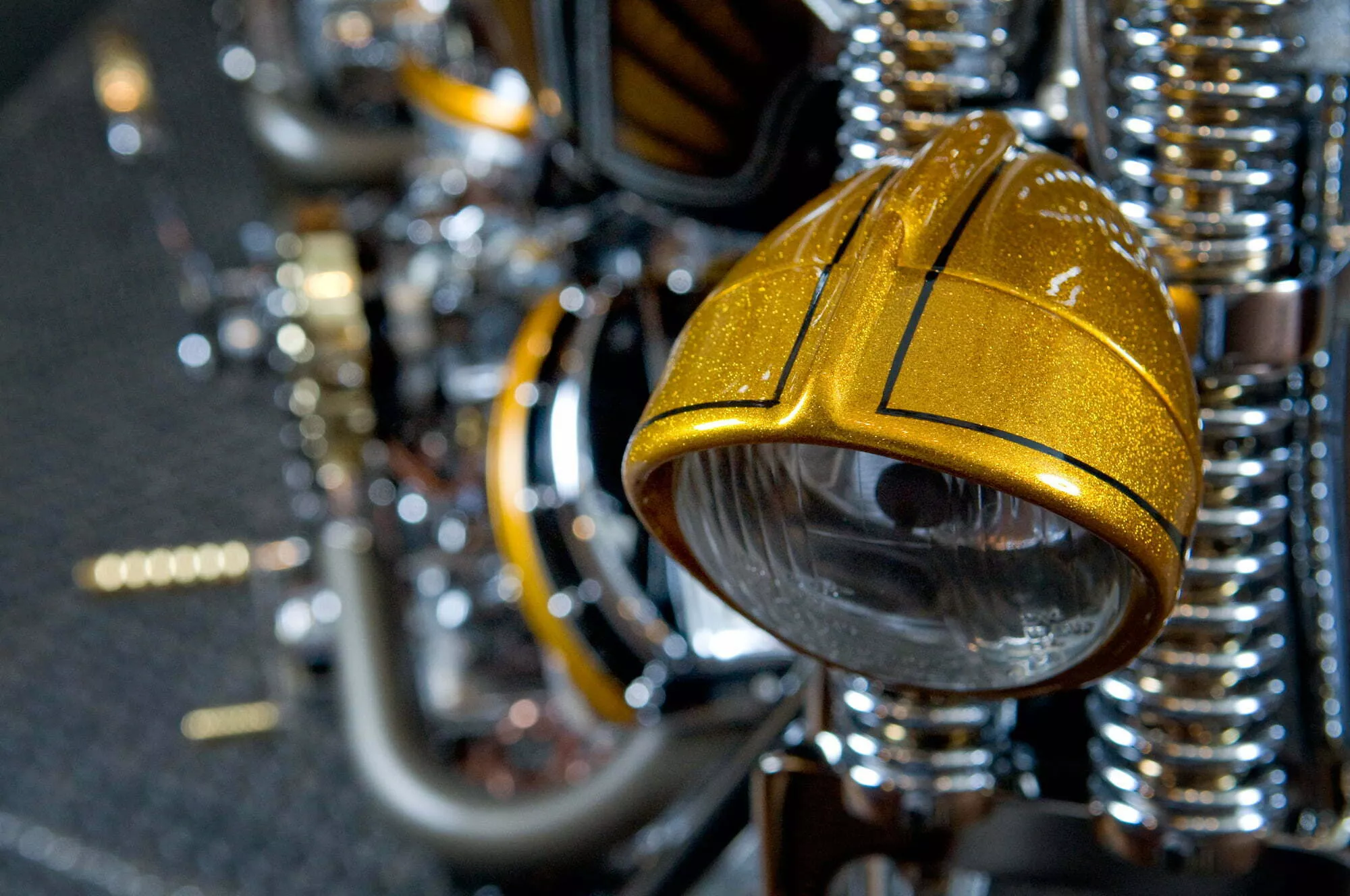 With all that power we needed some badass stopping power. We went with PM calipers front and rear—so shiny! The hand controls and rear master cylinder are Beringers. The Baker six-speed with kicker transmission is lifted up to allow for the Indian Larry hidden starter kit.
When it came to making the exhaust, I wanted to try something a little different than what I had done before. I'm obsessed with the ripple pipe sections made by McDonald Handmade. I contacted him and had him make up some stainless sections with a flared tip. The coating on the exhaust is a custom-colored, high-heat piston coating. The brass tips were a last-minute eBay score, which truly set the pipes off.
We wanted to keep the tooled-leather seat done by OB Leatherworks. The seat pan had been rolled out by Bryan Schimke at TPJ Cycles, so that had to stay also. I ended up using Chopper Shox to support the seat and help preserve the customer's back. Keeping with the leather theme, I made a belt to hold down the battery cover. I was able to make the buckle on the belt by twisting stainless hex rod. The buckle turned out to be way more complicated than I thought it was going to be.
Joe Patterson at JDK Collision did the paint. Joe knocked it out of the park on this paint job. When we decided to change the color of this bike, we had talked about gold—not only gold but a metallic gold, almost like honey—and a black with unfathomable depth. Joe's execution was perfect. I remember sending a picture to Kirk when the bike was complete and being very nervous about his reply. But as usual, Kirk was super chill and happy with the way things turned out. The best part was how excited the customer was to ride this golden chariot around the streets of Atlanta.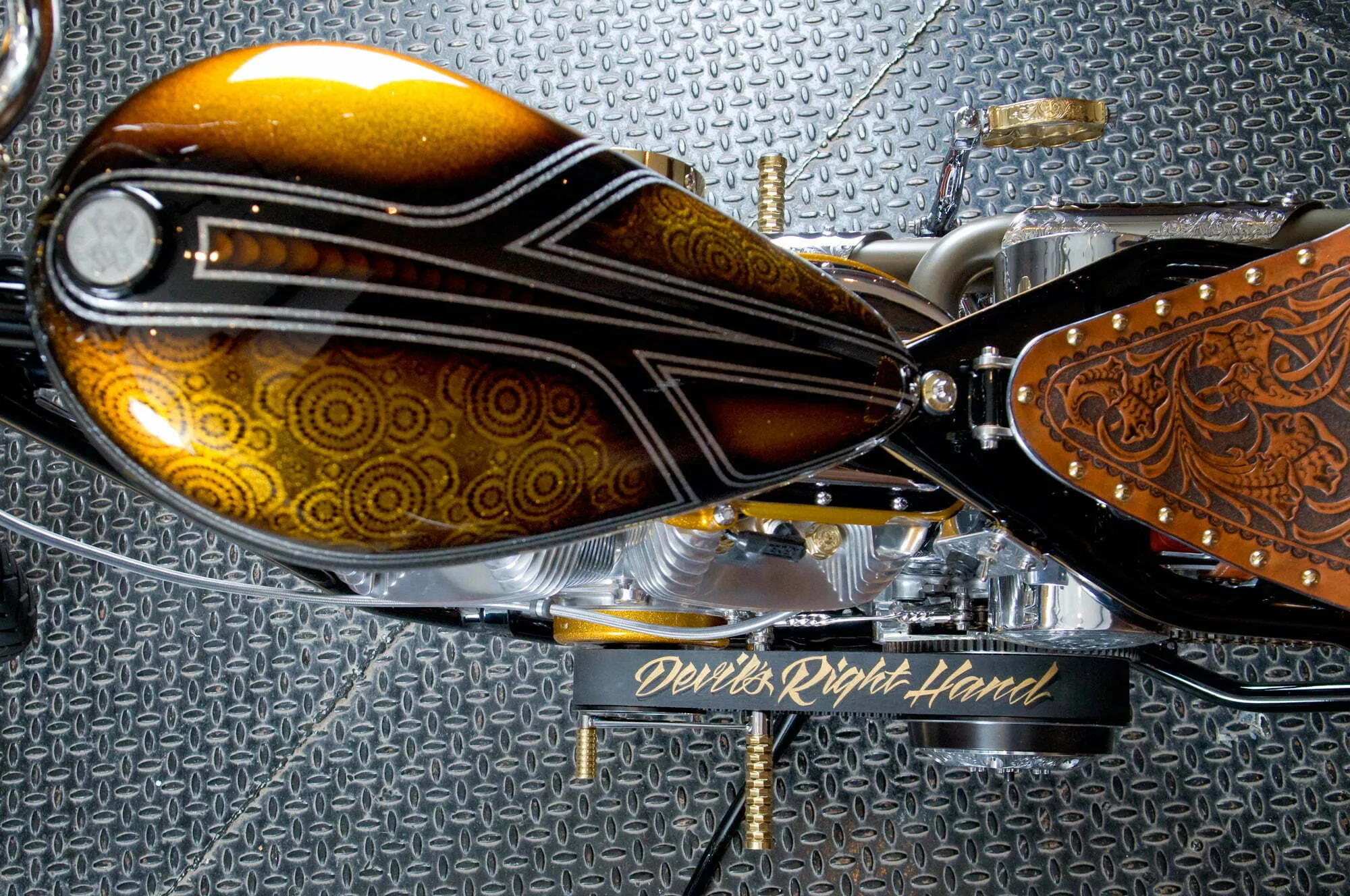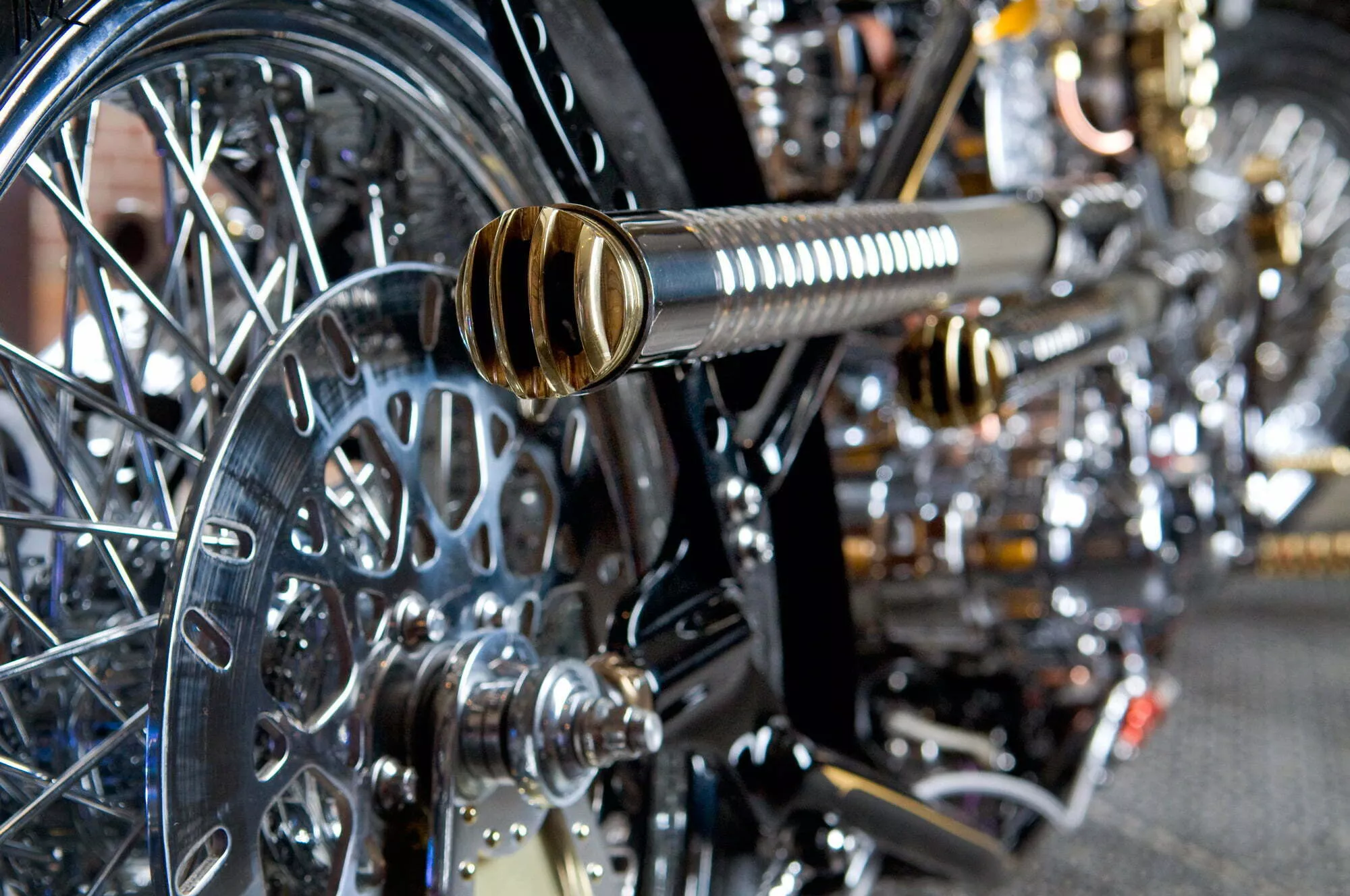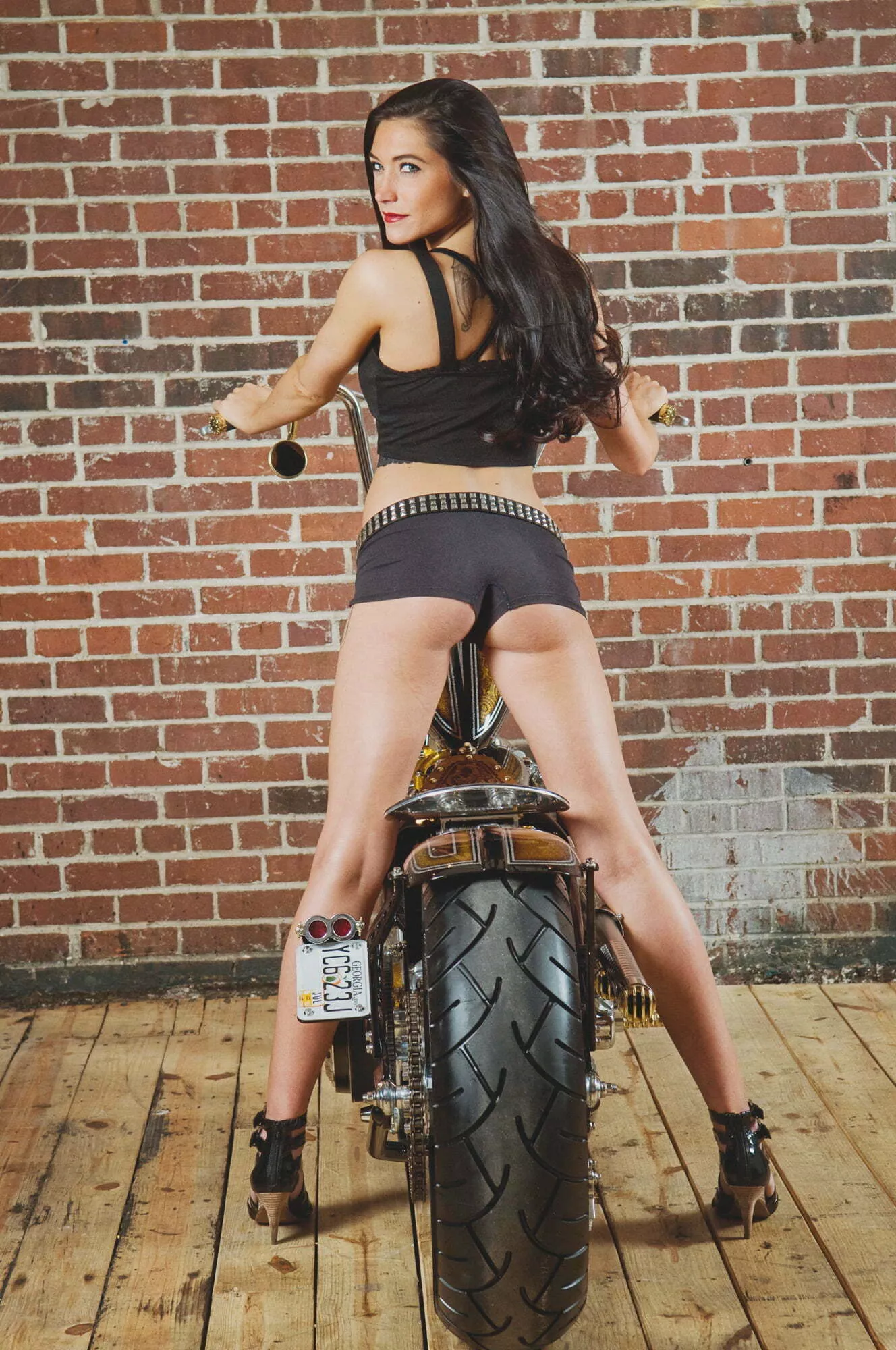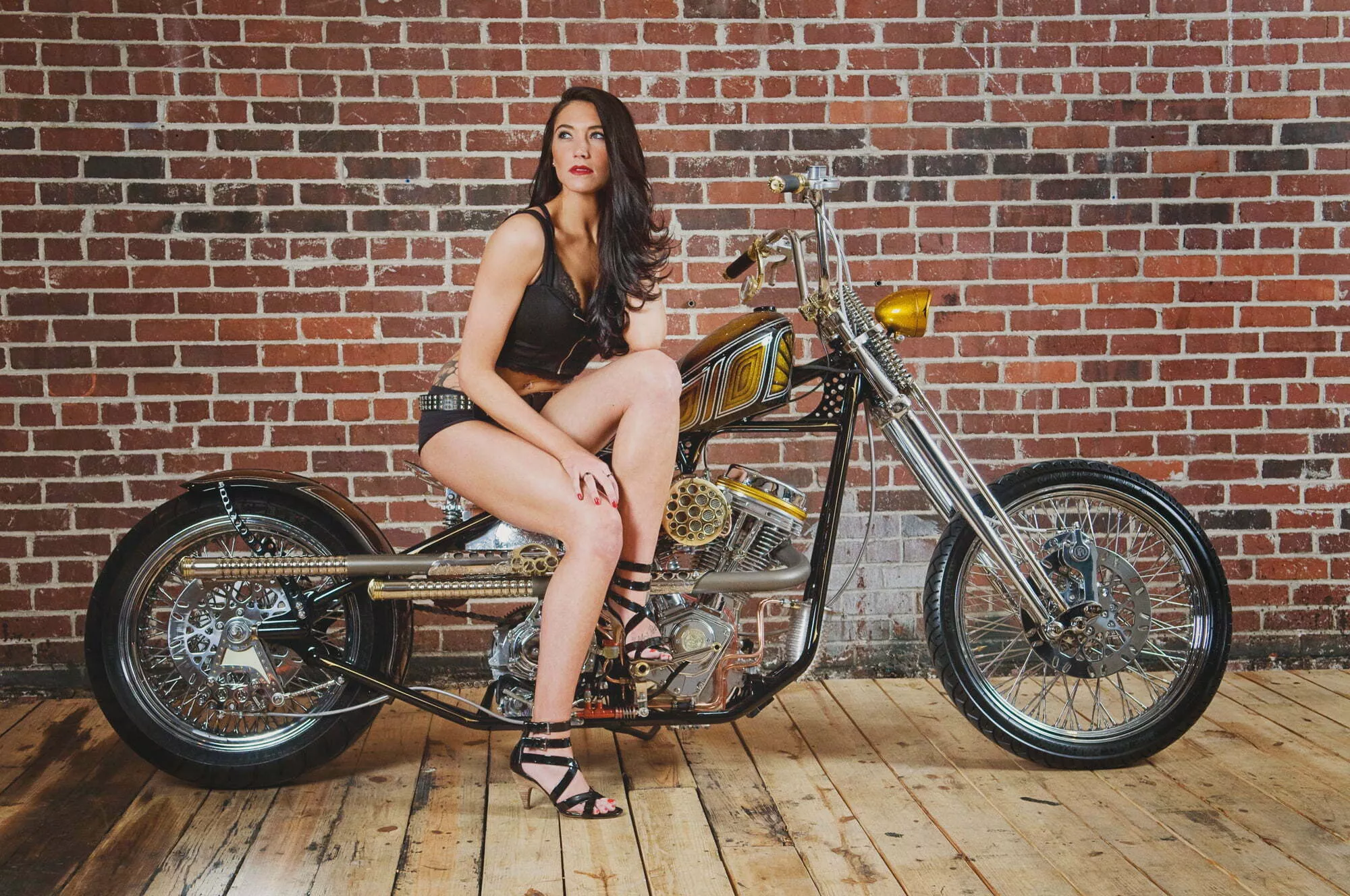 | Specifications | |
| --- | --- |
| General | |
| Owner | G.M.E. |
| Shop | Pop's Garage Fabrication |
| Website | popsgaragefab.com |
| Year/Make/Model | '07/CDS/Cowboy Chopper |
| Fabrication | Nick Erickson/Kirk Taylor |
| Build Time | 8 months |
| Engine | |
| Year/Type/Size | '07/RevTech Pan top/Evo bottom/110 |
| Builder | Pop's Garage Fabrication/CDS |
| Cases | None pending |
| Cylinders | RevTech |
| Heads | RevTech |
| Rocker Boxes | Xzotic Pan Tops |
| Carburetor | Mikuni |
| Air Cleaner | Honeycomb |
| Exhaust | Pop's Garage Fabrication |
| Transmission | |
| Year/Type | '07/Baker/6-into-4 |
| Clutch | Tech/Bandit |
| Primary Drive | Tech Products |
| Frame | |
| Year/Type | '07/Cowboy Chopper CDS |
| Rake/Stretch | 34º/4 up, 2 out |
| Suspension | |
| Front End | |
| Length | Paughco 6 over |
| Triple Trees | Paughco |
| Swingarm | Rigid Frame |
| Wheels, Tires, and Brakes | |
| Front | |
| Builder/Size | Drag Specialties |
| Tire/Size | Metzeler/21 in. |
| Calipers | Performance Machine |
| Rotors | Biker's Choice |
| Rear | |
| Builder/Size | Drag Specialties |
| Tire/Size | Metzeler/18 in. |
| Caliper | Performance Machine |
| Rotor | Biker's Choice |
| Sprocket | PBI Sprockets |
| Finish/Paint | |
| Manufacturer | House of Kolor |
| Colors | Silver Mini Sparkle/Pagan Gold Candy/Root Beer Candy/Deep Black |
| Paint/Graphics | Joe Patterson/JDK Collision |
| Plating/Polishing | Pop's Garage Fabrication |
| Powdercoating | Miller's Powdercoating |
| Photography | Hollie Lytle, Lytle Foto |
| Accessories | |
| Rear Fender | Pop's Garage Fabrication/CDS |
| Gas Tank | Pop's Garage Fabrication/CDS |
| Handlebars | Pop's Garage Fabrication/Zombie Performance |
| Grips | RSD |
| Mirrors | Speed Dealer Customs |
| Hand Controls | Beringer Brakes |
| Foot Controls | Pop's Garage Fabrication |
| Pegs | Pop's Garage Fabrication/Bison Motorsports |
| Headlight | CDS |
| Taillight | Fab Kevin |
| License Mount | Fab Kevin |
| Seat | TPJ Customs/Tommy T., CDS R.I.P. |
| | |
---
Get the all the latest issue of Hot Bike magazine! Subscribe directly from us.