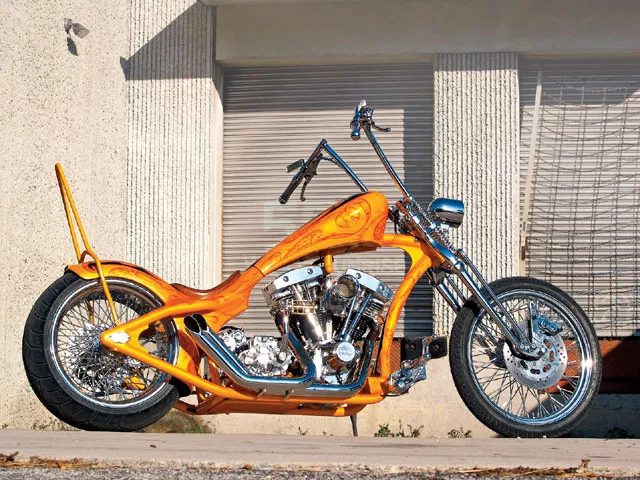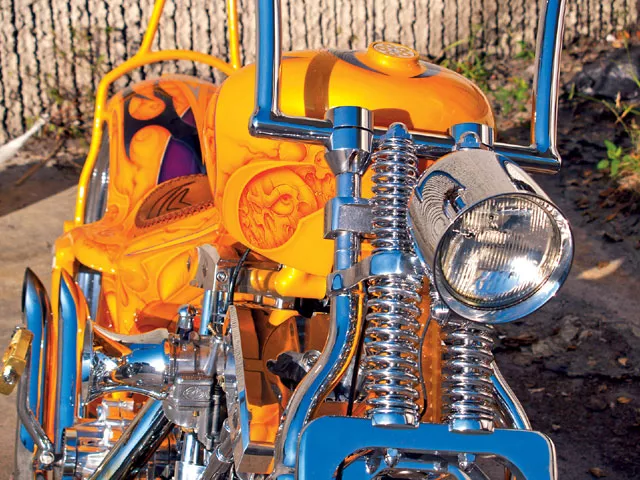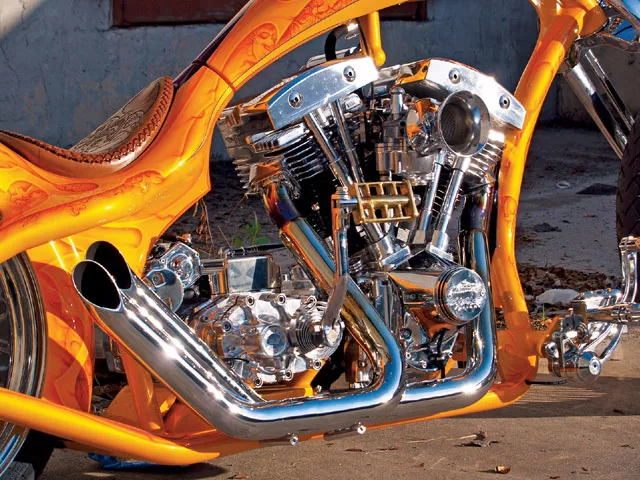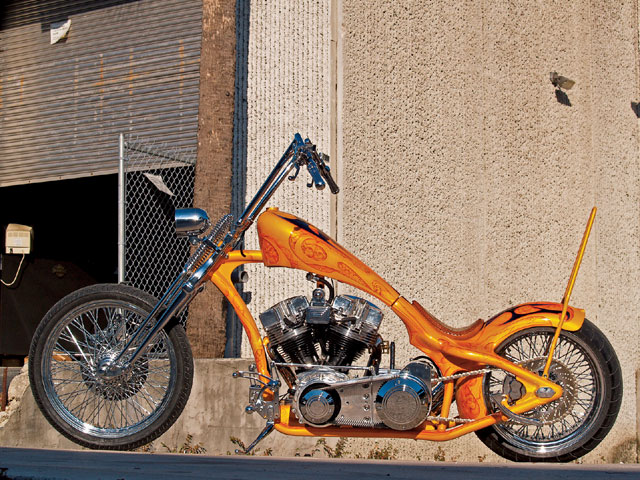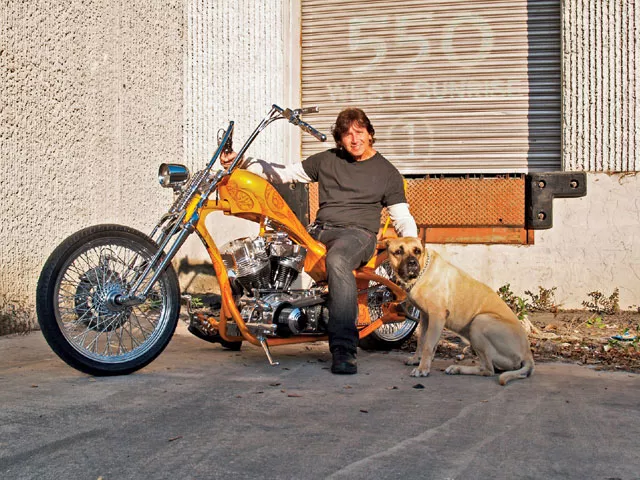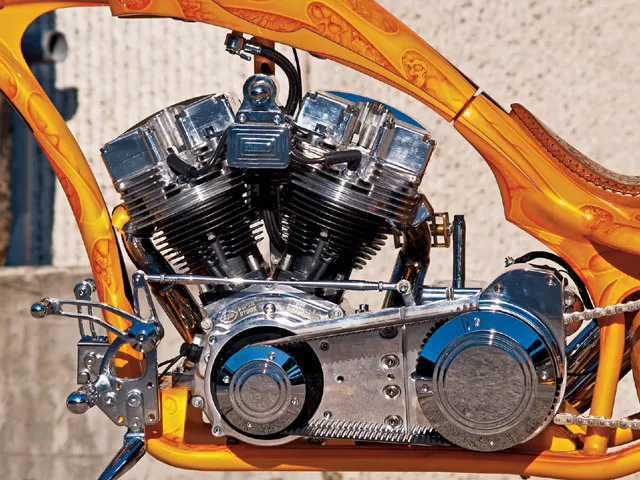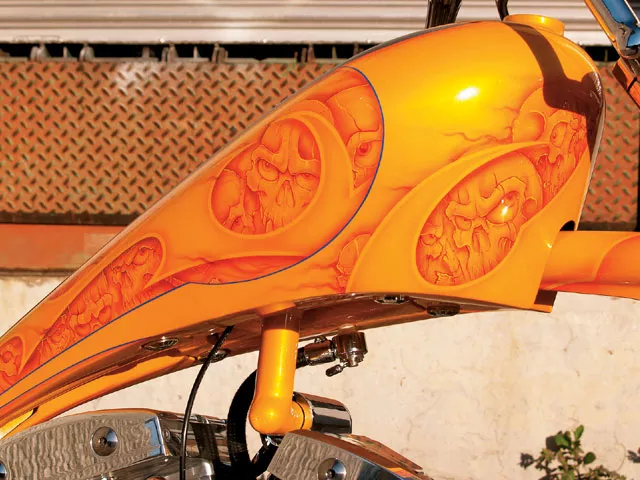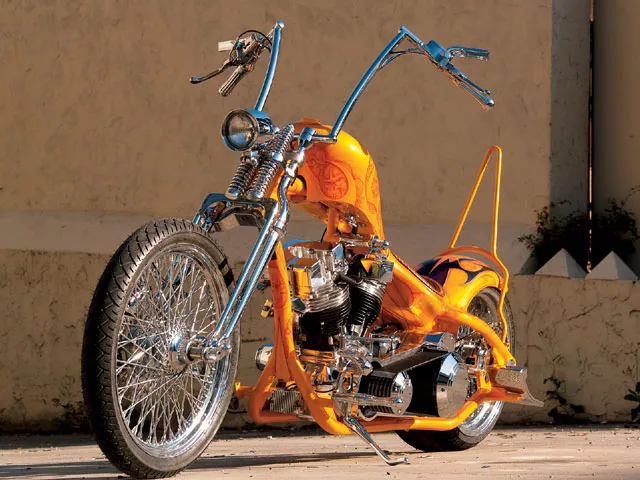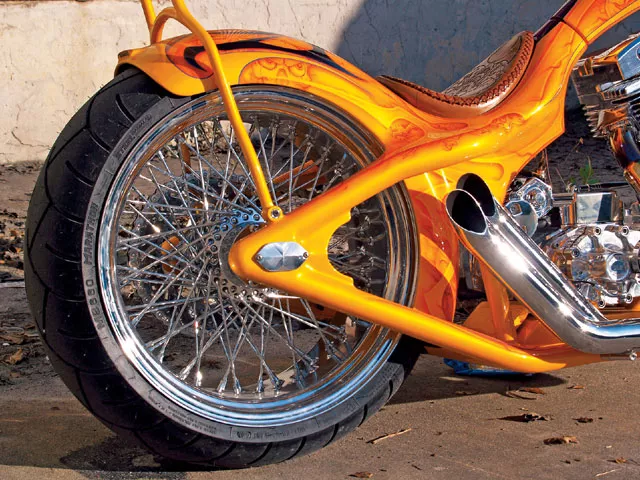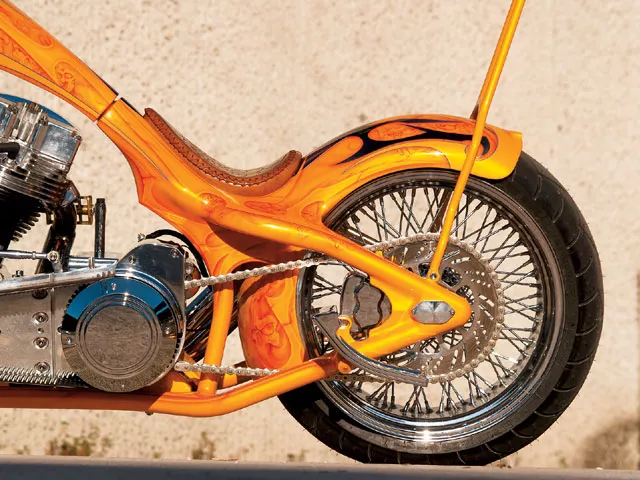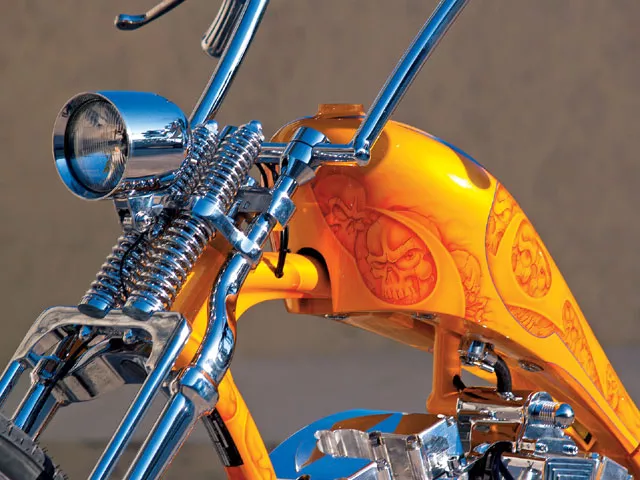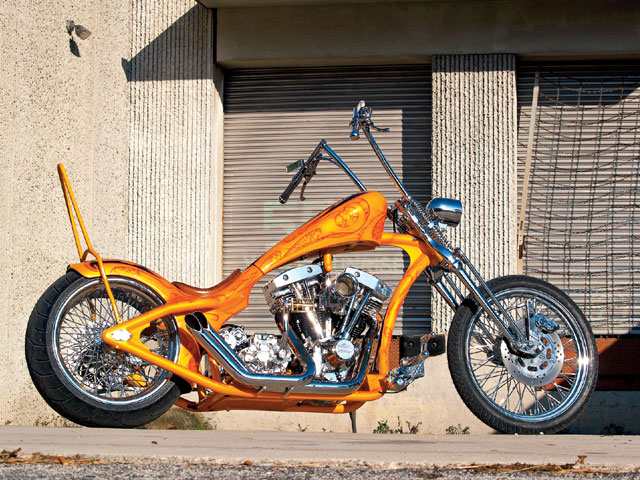 Eddie Trotta needs no introduction. There are few people I know who have as much of a diversified history as Mr. Trotta. His early Outlaw Bike Gang days in Connecticut weren't about scaring little old ladies, but rather striking fear into the hearts of grown men and entire communities ("You know, I never wanted to leave Connecticut," Eddie recalls). It's not so much a jump as a huge leap to where he is today, running one of the world's most influential custom motorcycle shops, Thunder Cycle Design (TCD), in Fort Lauderdale, Florida. In between, there have been many adventures in this man's life. If you think you have some tough guy stories, you may want to keep them to yourself around Eddie, because when he returns the favor you might just end up sounding lame. High stakes all the way, from the unmentionable to championship offshore racing that most of us would never have lived through; the rest of us would still be behind bars as guests of either state or federal authorities. Having too much fun can be considered a criminal offense by some.
There is also something about Eddie that is often difficult to find in the custom motorcycle world, a world that he's been a part of since before most of today's builders were little wigglies behind Papa's zipper. Eddie exudes class in every sense of the word, from his bikes to his shop, his cars, his home, and the way he takes care of his family, friends, and customers. Eddie does not neglect what's important to him, and he never forgets a friend. During my visit, we pulled into the Western Union on the way to the shop and he jumped out saying, "I've got to send a buddy some cash…he's in prison." It took a lot longer than it should have; many people came and went before he was done, and when he got back in the car, he was pissed. "Every time you tell those people the money's going to a prison, no one wants to help, and it's like pulling teeth to get through it," he said. Obviously, this wasn't the first time, so I asked how long he'd been doing it. "Seventeen years…he's my friend." Who do you know that would send you cash for 17 years while you're behind bars?
The motorcycle industry these days is one tough nut. It has gotten huge, and competition in everything related to motorcycles has grown exponentially over the last few years. It has grown so much and so fast that there are many areas where it seems it's literally collapsing under its own weight. Between bandwagon jumpers, TV stars that learn their newfound trade with cameras rolling, and downright poaching of parts, Eddie has seen it all, and will remain a driving force in an industry where many will not survive. And he'll do it with class and style that very few can. This bike is a perfect example.
If there were ever a living subject for a biography, Eddie is it, but this story is about another top shelf bike of his, so enough of the intro.
Jay Hodge: Eddie, this looks like a bit of a departure from the norm for you. You've got to tell me about this bitchin' Shovelhead Springer.
Eddie Trotta: This little bobber is Steve McMillan's; he's bought 10 of my bikes in the last 15 years. He wanted me to build him something like the bikes we used to build him a long time ago, a little Springer. He's got a few of my long bikes, and he wanted something he could just throw around. You know, something lighter for him, easier to handle. There's nothing up, 2-inches out, with 38-degrees of rake-real simple dimensions. I put a big curve in the top tube so the tank will sit up high. It's a retro chopper that has a lot of attitude.
JH: It says Eddie Trotta all over it…
ET: Yeah, bodywork that you'll only see come out of here. I don't see anybody else doing this…you know, I'm sure you will, though.
JH: It's too much work?
ET: Yeah, but you know, it's monkey see, monkey do.
JH: But most just can't do that. They can't do the curves like that.
ET: Some can do it, or will find a way of doing it, but they didn't do it first. You know, I think it's something that you're going to see a lot of in the future, because everybody's building bobbers now. A few guys started building bobbers again fairly recently, and it was great, you know, they're a great motorcycle. I don't even know if I'd call this bike a bobber; it's just a retro chopper. Look at Jesse James' old bikes; they didn't have a ton of stretch. They just had that look. This might have a little bit of his look, like his older bikes with just the tank sitting up high, and in fact, I used one of Jesse's tanks on it. I modified it of course, but it's one of those Villain tanks. Usually I would use one of my own tanks, but I figured as I was building the bike that I liked his early look, so I stuck with it. We were working on one of his earlier bikes one day, it was in the back, and I said, boy, that's a good look, let me see if I can use some of this look in this bike and add the bodywork to it. I'm real happy with the bike. It rides great and it's got a 98-inch Shovel motor that will definitely get it down the road.
JH: 10:1 compression?
ET: Yeah, 10:1. It's got STD heads, the rest is S&S.; H&L; built it for me. That's a Baker tranny with a hydraulic side cover, with a kicker, so it's something you don't see every day.
JH: I don't know if my narrow ass could kick that sucker! I'd be using that starter button a lot…Bill Dodge could kick it over, but he can kick pretty much anything over.
ET: He's young.
JH: I like everything about this bike…where'd you get the frontend?
ET: That's a Paughco frontend. They taper the rear leg on the Springer and it's got the look of an old Harley Springer without the aggravation of trying to build one.
JH: What about those wheels? They're great on this bike.
ET: Those wheels are just some wheels I get from Bobby Dice; you know, we've got about a hundred sets of 'em in stock. They're real affordable.
JH: Beautiful, too.ET: We sell a set of those wheels for about $1,000. Front and rear 80-spoke wheels.
JH: I don't think Dave (the mechanic) wanted to come back from the test ride…he was gone awhile.
ET: I know. I can't wait to ride it again, either.
JH: Who had the idea for the pipes? Was that all you, too?
ET: No, actually that was McMillan's. I wanted to do something a little more new school and he wanted to do something. First, I was going to do these big upsweeps. I used to have these Bub upsweeps on a bike I built 10 years ago. He wanted me to copy those, but the problem was with the kicker. You've got that kicker hanging out there, so you're always working around that kicker pedal. We managed to fit those little upsweeps just right. Not real tall, they tuck in real nice, and they're good looking. I'm just going to make heat shields for 'em now. I'm also gonna build a shroud for the belt. I just didn't want to use one that I use on all my other bikes, so I'm gonna do something a little different.
JH: With forward controls, it's good to have another place to rest your feet. I end up with my left foot somewhere on the primary most of the time. If I can get my right foot on the timing cover, I'll use that, too. Nice handlebars!
ET: We built about four sets of those handlebars at different heights because McMillan was a pain in the ass. He'll never OK the first thing you do, so when we do something for him, we need to do at least three different versions so he can change the plan and drive me crazy. That's the only reason he buys motorcycles from me, so he can give me ulcers!
JH: Somebody's got to f*#k with you besides your dog.
Spec Sheet
| | |
| --- | --- |
| BIKE OWNER | Steve McMillian |
| SHOP NAME | Thunder Cycle Design (TCD) |
| SHOP PHONE | (954) 763-2100 |
| SHOP WEBSITE | [ |
| YEAR/MAKE/MODEL | '07/Thunder Chopper |
| FABRICATION | TCD-Dustin |
| ASSEMBLY | TCD-Dave, Jack |
| BUILD TIME | Six Months |
| | |
| --- | --- |
| ENGINE | |
| TYPE/SIZE | Shovel/98ci |
| BUILDER | H&L; Performance |
| CASES | S&S; |
| CYLINDERS | S&S; |
| HEADS | STD |
| ROCKER BOXES | S&S; |
| CARBURETOR | S&S; |
| AIR CLEANER | TCD |
| EXHAUST | TCD-Craig |
| | |
| --- | --- |
| TRANSMISSION | |
| YEAR/MANUFACTURER/TYPE | '07/Baker Drivetrain |
| CASE | Baker |
| CLUTCH | Primo |
| PRIMARY DRIVE | Primo |
| | |
| --- | --- |
| FRAME | |
| YEAR/MANUFACTURER | '07/TCD-Craig |
| RAKE | 38 Degrees |
| STRETCH | 0 up, 2 inches out |
| | |
| --- | --- |
| SUSPENSION | |
| MANUFACTURER FRONT | Paughco |
| LENGTH | Stock |
| TRIPLE TREES | Paughco |
| | |
| --- | --- |
| WHEELS, TIRES, AND BRAKES | |
| MANUFACTURER FRONT/TYPE | TCD/Spoke |
| SIZE-HEIGHT | 21-inch |
| TIRE/SIZE | Metzeler/21 |
| CALIPER | HHI |
| ROTOR | TCD |
| MANUFACTURER REAR/TYPE | TCD/Spoke |
| SIZE-HEIGHT/WIDTH | 18×8.5 |
| TIRE/SIZE | Metzeler/240mm |
| CALIPER | HHI |
| ROTOR | TCD |
| | |
| --- | --- |
| FINISH/PAINT | |
| COLOR | Sunrise Pearl |
| PAINTER | TCD-Bones, Matt |
| GRAPHICS | Bones |
| PLATING/POLISHING | Chrome Master |
| | |
| --- | --- |
| ACCESSORIES | |
| REAR FENDER | TCD |
| FENDER STRUTS | TCD |
| GAS TANK∩ | TCD |
| OIL TANK | TCD |
| HANDLEBARS | TCD |
| RISERS | TCD |
| MIRRORS | TCD |
| HAND CONTROLS | PM |
| FOOT CONTROLS | TCD |
| FOOTPEGS | TCD |
| HEADLIGHT | Headwinds |
| TAILLIGHT | TCD |
| LICENSE MOUNT | TCD |
| SEAT | Phipps |