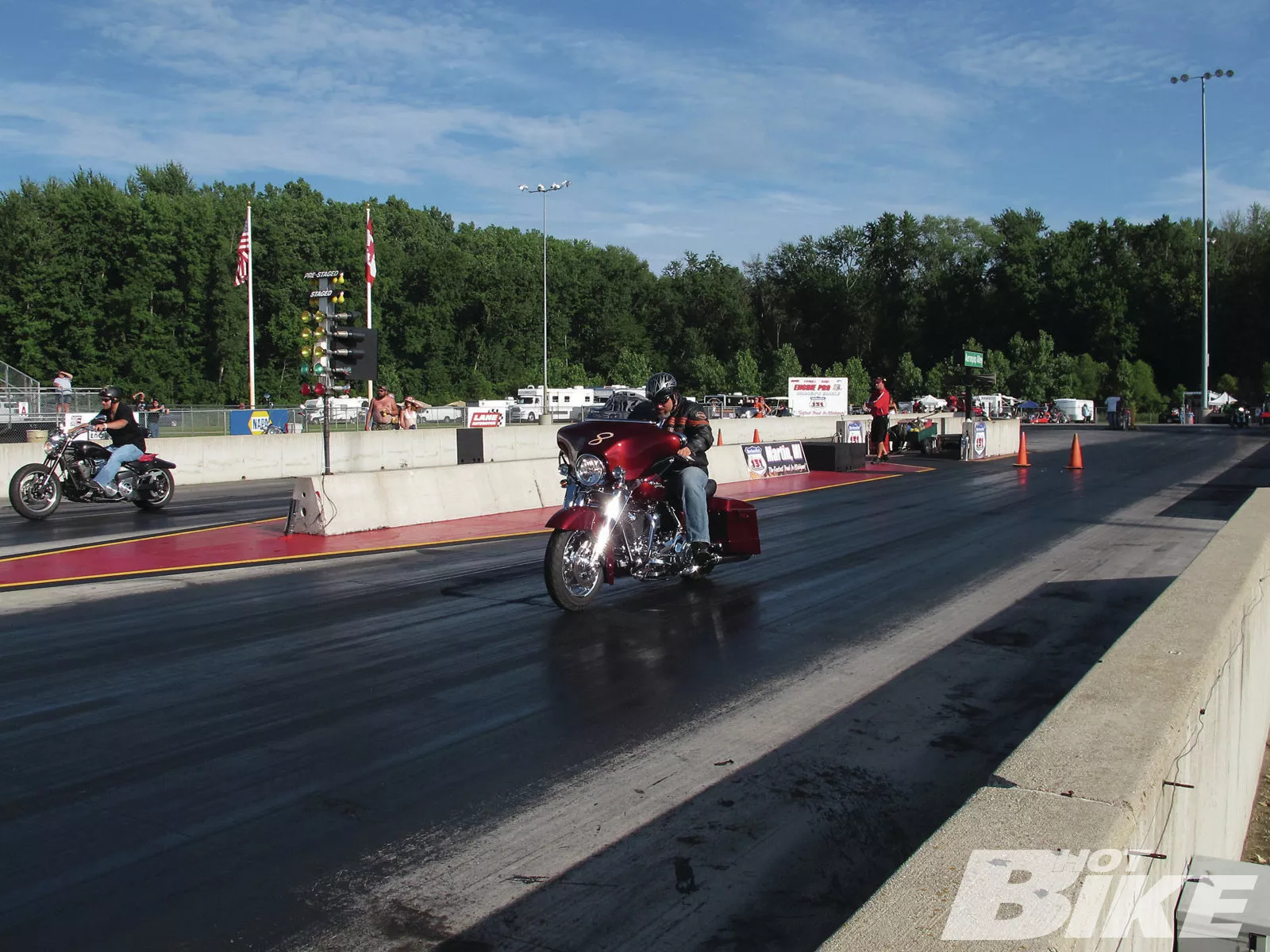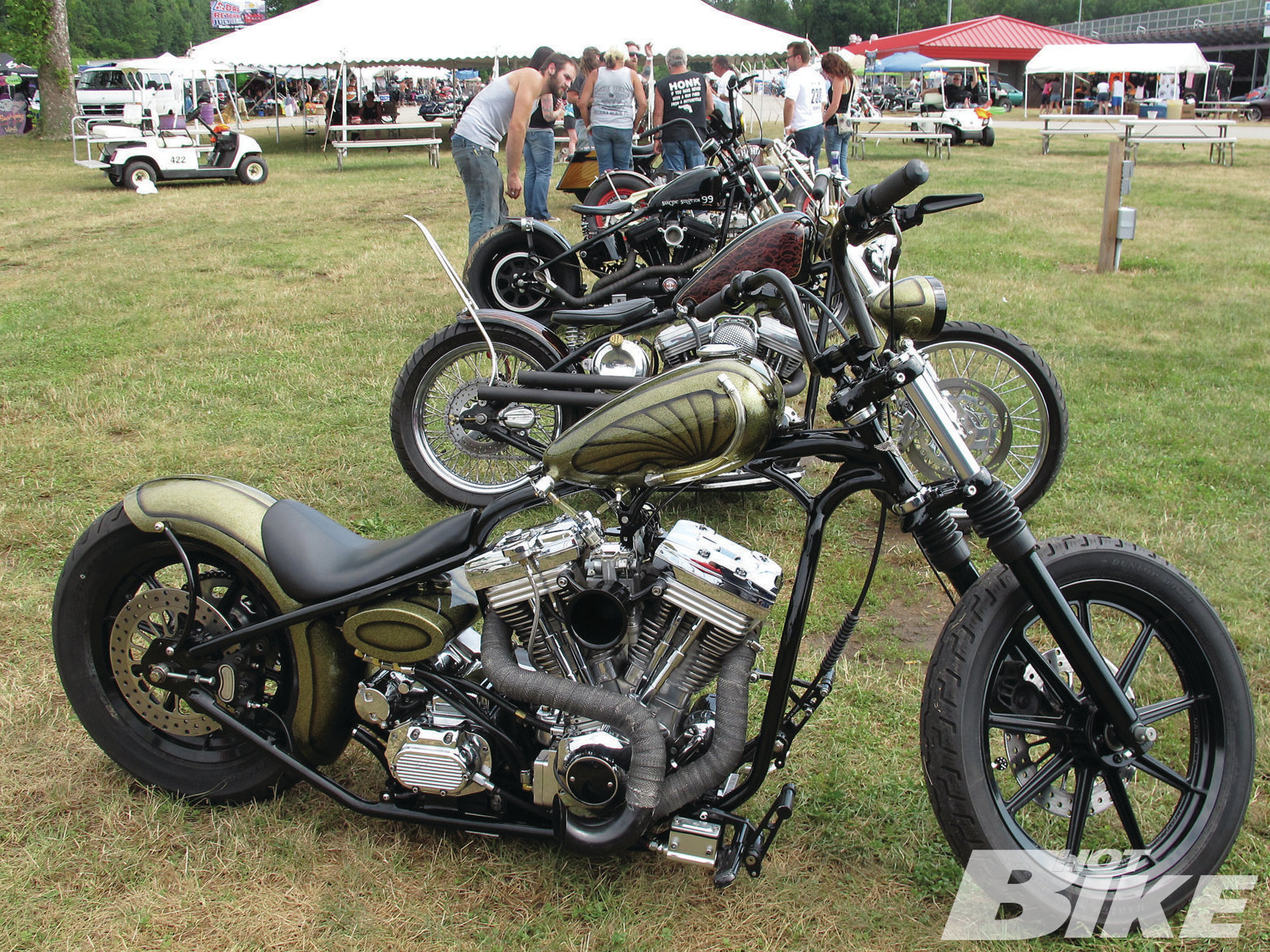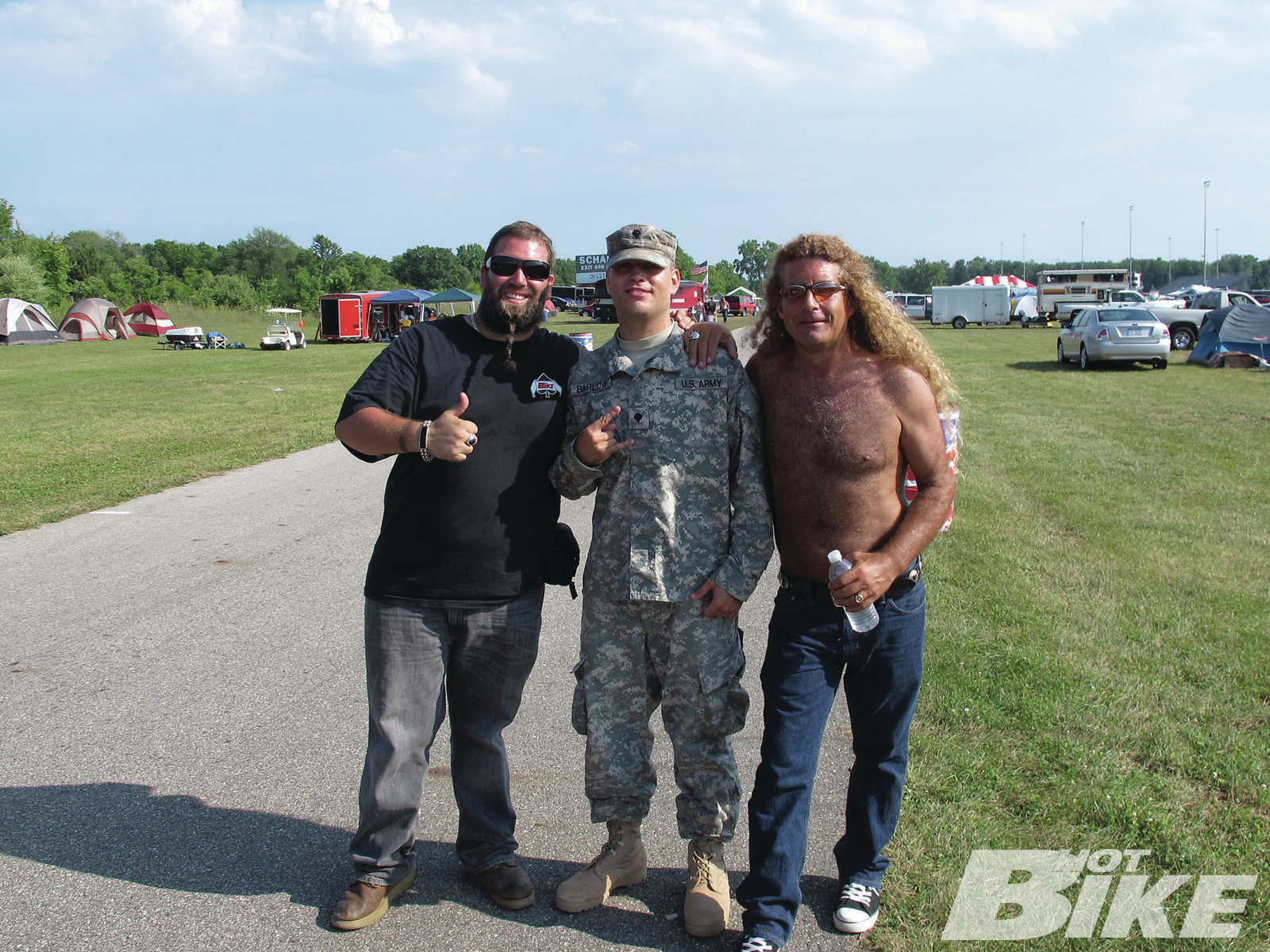 Last July I spent some time cruising the Midwest on some old bikes owned by Matt Olsen of Carl's Cycle Supply. During our travels, Matt, his girlfriend, Brittney Wuertz, their friend, Gareth Howell, and I were invited by Larry "LD" Davidson and his wife Patty to celebrate their annual Chopper Fest event. I met LD years ago in Sturgis and within a minute of meeting him, I could tell he was a fiery ball of energy whose passion revolved around motorcycles and any sort of fun that can be had involving motorcycles. So I was stoked that I was finally going to be able to attend this event that LD had been telling me about.
Rolling into its sixth year, Michigan Chopper Fest is about all things motorcycle. Held at "The Fastest Track in Michigan," US131 Motorsports Park in Martin, the grounds are a massive gated area centered around a rubber- and high-octane-infused 1/4-mile drag strip. Running along the eastside of the drag strip is a huge camping area able to accommodate everything from the smallest two-person pup tent to a luxury tour bus. And with a price tag of only $50 per person to camp for the entire weekend, people started piling in as early as Thursday morning to stake out the prime campsites.
So you might be thinking, "Ok it's really inexpensive, but what do I get for my 50 bucks?" Like I mentioned earlier, LD loves motorcycles and this event proves it. Since the event is held at a drag strip, it only makes sense to put said drag strip to good use, and on Saturday and Sunday, ARMA National Drag Racing teams were burning up the 1/4-mile. It made for some great high-speed, eardrum-rumbling excitement as the racers smoked the track. And for all the Chopper Fest attendees who wanted to put their bikes to the test, for a small fee they could line up and rip the strip themselves. I'd have to say that while Matt might not have clocked the fastest time, he had to have taken the title for oldest bike on the track running his '36 Knucklehead.
For those that like to turn more than just going fast and straight, there were a couple rides touring Martin and the surrounding area. The Antique ride saw a great turnout with more than 20 bikes kicking to life and rolling around the beautiful back roads. There were even some mini bike races held at the far end of the drag strip with several rounds of corner cutting and tire-rubbing action. Brittney scored a quick little scoot from one of the guys we made friends with and showed her two-wheel prowess and natural racing instinct and tore up the small circle track dusting men, women, and maybe even a couple children.
Of course there were bike shows as well. Actually there were several bikes shows all weekend, so many in fact that there was a bike class/show for just about anyone to enter his or her bike. There was a bagger build-off, antique bike show, ride-in bike show, and the Michigan Mafia (the name was used as a nod to iconic flat track racers from Michigan, such as Jay Springsteen and Scott Parker) competition—featured up-and-coming young builders from the Michigan area. Breaking the Michigan Mafia into an eastside versus westside put an interesting twist to the competition, but LD upped the ante even further by limiting the builders to a maximum $10,000 build limit. This really challenged the contestants, but with their fresh perspective and knack for making use with what's readily available, the builders crafted some really cool bikes. Ultimately, Mike Rabideau was dubbed the up-and-coming "Godfather" of Chopper Fest—big shoes to fill when compared to the original Godfather of the Michigan chopper scene, Ron Finch. (Look for a feature on Mike's winning bike in an upcoming issue). If anyone had mechanical issues, needed some parts to spruce up his bike, or was in the market to buy a new bike, LD's shop, Davidson Express, was just a few miles down the highway in neighboring Otsego.
Each day as the sun dipped below the horizon, the camping area turned into party central, or as LD would say "Team Pahhrrty" with a parade of bikes cruising up and down the aisles as crowds of attendees popped from campsite to campsite visiting with old friends and making new ones. Live entertainment was plentiful with 11-year-old Fletcher shredding guitar with his band, The Wild Woodies. Things really heated up when the sultry Jasmine Cain took the stage. If you've never seen or heard Jasmine and her band do their thing, you are missing one of the best rock acts currently blowing up the motorcycle rally circuit. Sexy, but with a hard take-no-shit rocker edge—and the voice to back it up, Jasmine and her band don't just play the typical crusty '70s biker tunes, they cover a mix of '90s grunge and current guitar-heavy riffs with a splash of their own original songs. She'll be rocking her hometown of Sturgis this year, so make sure you catch her in the Black Hills.
If you're looking for a fun and inexpensive grassroots event filled with good people and good times, put this event on your calendar. The sixth annual Michigan Chopper Fest takes place July 26-29. And if you see LD at the event or any of the major motorcycle rallies for that matter, stop him and say hi. You can't miss him, he'll be the guy with the long curly hair, running a mile-a-minute, and chatting people's ears off about motorcycles. For more information, visit davidson-express.com. HB